Get to know Jordy and Marijke from Mojo and Friends
Meet Mojo and Friends
We've got a really exciting update for you today, as we have joined forces with the lovely folk at Mojo and Friends for a collaborative post. If you haven't come across these guys before, you should totally check out their website. Jordy and Marijke are travelling around Europe in their self-converted van, along with their very adorable dogs, Mojo and Venus. Follow their blog to find out about their adventures with their four-legged friends. Since we have no fixed home, and they take their home-on-wheels with them wherever they go, we thought it would be interesting to have a chat about our different styles of travelling. But that's enough from us – we'll let them tell you all about themselves! 
Who are we?
Hi there! We are Jordy and Marijke, a young couple from The Netherlands. We both recently earned our Master's degree at Wageningen University. Jordy knows all the ins and outs of Earth System Sciences, and Marijke specializes in Animal Adaptation and Behavioral Biology. Instead of embarking upon our scientific career, we chose a different path. One full of excitement, but also one of many uncertainties and dangers. We chose to travel the world.
We are not alone though. Our two lovely dogs, Mojo and Venus, accompany us on our journey each step of the way! As a family of four, we're traveling the world for an indefinite amount of time.
We have both been eating a nearly vegan diet for quite a while now – except for organic eggs currently – whilst our dogs enjoy their meat-based diet. We believe in species appropriate food! Our new challenge at the moment though, is plastic free grocery shopping and slowly moving closer to a zero waste lifestyle!
Although we will stay in certain locations for longer periods on end to work, we have no plans to return to the Netherlands any time soon.
How and where do we travel?
Traveling can of course be done in a variety of ways. We've heard about people going by foot, and hitch-hiking all the way, and others that go by bike. Or, like David and Charlotte, find a place to stay for longer and thoroughly get to know the place.
We have chosen to travel the world in our self-built campervan (well, as long as it lasts, that is 😉 ).
In October 2017 we took the plunge and bought a 330L Ford Transit, and finished our conversion at the start of May this year. We have been traveling full time ever since.
As we are both from the Netherlands, we decided it would be a great start to explore our backyard first. Europe, that is. Before we drive on towards Africa and Asia. Currently, we're exploring Sweden, where we arrived three weeks ago.
Since we really love nature, we'll probably stay here for a few months before we drive on to the next country. We rather take our travels at a slow pace so we really get the chance to get to know the area and the culture. Besides, there really is plenty to see here!
Our current goal in Sweden is to visit all it's national parks. We are unsure whether we'll be able to, but we'll just have to see how things pan out! Especially driving through the north of Sweden in our campervan, as we are not used to snow in the Netherlands. Fingers crossed!
Why did we choose to travel this way?
The urge to travel was there, that was no issue. Choosing how to travel however, was one of the most difficult decisions we ever had to made. We initially thought about simply traveling with a backpack on our backs, as many people do.
Thinking about it though, we mainly like to spend our free time outdoors rather than in cities. If we want to be able to do so, we'd have to carry a backpack weighing around 20 kg each at all times. We'd have to take along a tent, sleeping gear, cooking gear, all of our food (for the four of us) and many more items.
We've done this previously, when hiking through Norway and the Ardens in Belgium. The difference though, is that these were simply two-week holidays. That is quite different from traveling indefinitely. There are people out there who travel by foot for an undetermined amount of time, and we admire them greatly. Personally though, we did not dare to try it just yet. Who knows, we might do it in the future after we've become more experienced living a nomadic lifestyle.
Traveling with a backpack does have quite a few advantages. The main one being its low initial costs. You don't really need much to get started. If our family did not include dogs, and city life appealed to us more, we definitely would've simply packed our bags and bought a one way train ticket to wherever.
After a long time of research, and looking at all the amazing pictures that other nomads shared online, we decided upon converting our own campervan. It meant that we had to work shitty full time jobs for a few months to save enough money to do so – but that was definitely worth it.
Traveling in our campervan allows us to stay away from crowded places, comfortably, for long periods on end. We can surround ourselves with nature for several days without a worry in the world. How amazing is that!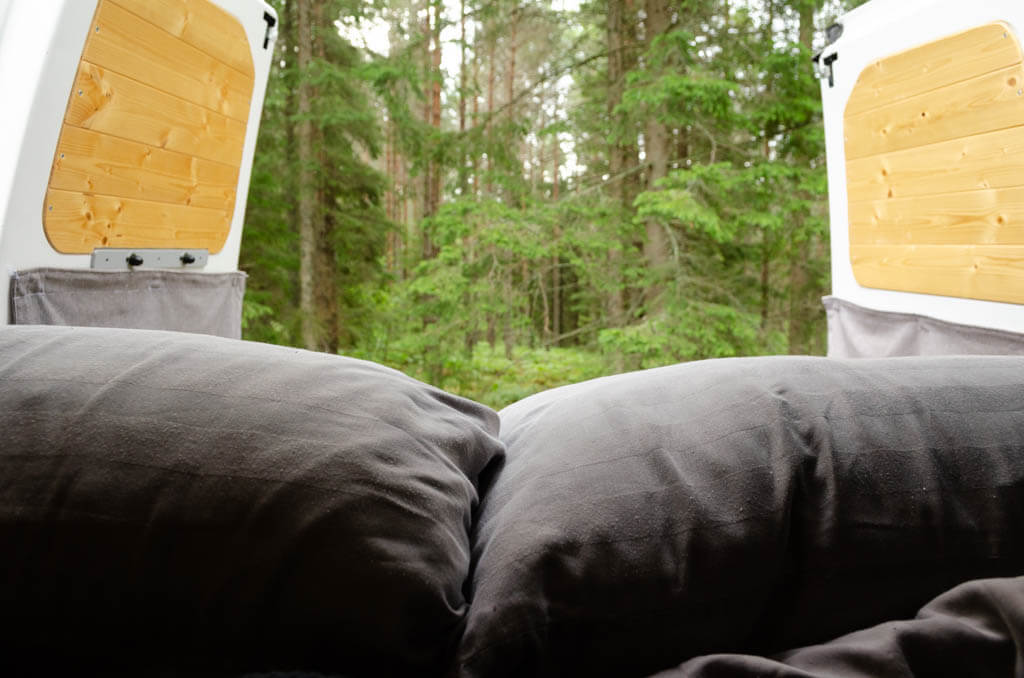 What do we love the most about our way of traveling? 
What we value most is the fact that we take our 'home' along, wherever our travels take us. If we do not particularly like our surroundings – such as remote industrial areas – we can close our doors and we are in our own little cozy home. At times we really forget were we are for a second.
Most days though, we are parked up in beautiful large nature areas. After waking up in the morning, we open all our doors, and our home becomes one with the area around us!
We can eat our breakfast on our comfy sofa in nature, or work on our laptop. It truly is one of the best feelings.
For us, the most important part of our home is certainly our kitchen. We just love to cook and experiment with new flavors. Cooking meals with much variety has become a fun challenge due to all of the choices we've made. Following a vegan diet and limiting plastic whilst living on the road isn't at all easy. But we have our own little kitchen with us at all times, and we couldn't be happier about it!
We love having the ability to park our van next to a large lake, and cook up the most elaborate meals we crave at the moment.
The costs of traveling in a campervan are low, after you're finished building it, that is. There's no need to pay for hotel stays or campsites, and you can decide not to drive if diesel is too expensive. Aside from that, we can easily visit remote places where public transport is limited!
What are some of its downsides?
One of the things we love most about living in a campervan is also one of its downsides; having a place to sleep each night. Well, it's more of a luxury issue really. Finding a spot to stay is relatively easy, but finding a perfect place that is free can be quite challenging. Especially when you want to explore a large city.
A woman here in Sweden told us how the popularity of campers and campervans had exploded over the past 10 years. As a result, spending the night is forbidden at many places nowadays. We do not understand much of the Swedish language yet, but we are fluent in reading parking signs now! Sadly, the difficulty in finding a nice spot to park eventually was the reason for this lady to sell her campervan.
The main downside however is probably the fact that you'll have to build your home on wheels out of a metal shell that is a van. When you're looking at professionals, or people that have professionals in their family or are befriended to them, their YouTube videos all make it seem quite easy and doable. Doing it yourself in a public parking lot is a whole other story.
Going from wanting to travel around in a self-built campervan to actually doing so, certainly does not happen over night. A lot of sweat and tears have gone into our build. But once the end goal was reached, it became clear that it had all been worth it. We would do it again in a heartbeat!
What are our best travel moments so far?
We've only been on the road for a very short while, but we have experienced and learned so much already.
Talking to the locals has been incredibly fun and educational. Seeing the joy on our dogs' faces as they explore the forests together makes us smile every day.
It's quite difficult to choose a favorite moment, but waking up to this view is definitely one of our best memories!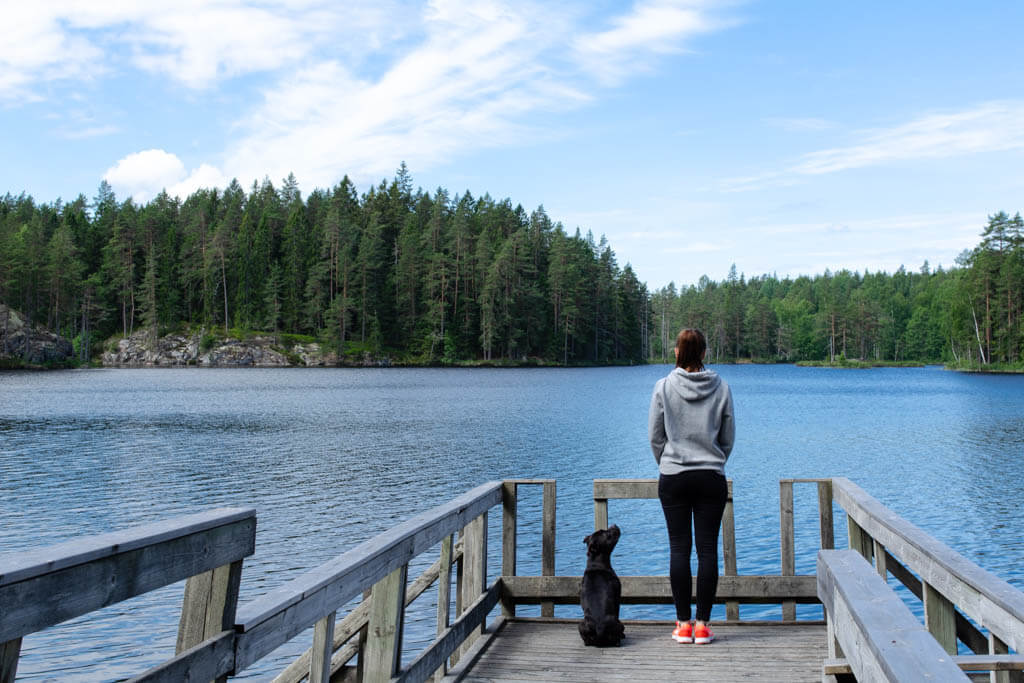 Do we have travel plans for the future?
Honestly, we don't really have any long-term plans. One of our reasons to live in a campervan is to live life on a day to day basis and just see how things work out.
Although we have nothing set in stone, we do see ourselves living a nomadic lifestyle and writing about it for a long, long time. It allows us to live freely, and determining each day what we'd like to do the next. We currently see life as a challenge, and we're ready to face everything that we encounter along the way!
After traveling Europe for a while though, however long that may be, we would love to explore Africa and Asia. There are many locations on our list of places we want to visit, but time will tell when we arrive there! And we're sure that David and Charlotte – who kindly let us share our story here – can help us determine which places we should visit first.
Many thanks to David and Charlotte for having us over at their website!  If you're curious to find out what they wrote about theirselves, head on over to their blog post on our site here. And if you'd like to read some of our travel stories, or gain knowledge about dogs and sustainable living, you can find it all on our website. Our adventures are also on display on Instagram and YouTube.
Lots of love from Sweden,
Jordy and Marijke
Mojo and Friends