One of the things that Ella is fantastic for is hiking, and (after the gigantic free breakfast provided by our guesthouse) that's exactly what we did. The town is perched high up in Sri Lanka's hill country, surrounded on all sides by lush greens, rolling hills and dramatic valleys. Since we had already climbed Adam's Peak, we thought it was only polite to visit its baby brother – Little Adam's Peak! This is a fairly easy walk from Ella, around a kilometer along the road and then another kilometer uphill through some pretty tea plantations, with some fairly challenging steps to finish off with. The view from the top is probably one of the best in the whole of the hill country – no exaggeration! Once you pass the small queue of people waiting to take a photo sitting on the Instagram-worthy rock (where it looks like you're sitting with your legs dangling right over the steep drop into the valley) all you can see for miles around is green. The imposing Ella Rock stands guard the other side of the sweeping valley, flanked on either side by endless hills. Opposite, you can see where the hill country gives way to plains of green fields and forests – apparently on a clear day you can even see as far as the lighthouse on the coast. We decided to follow the path a little further onwards to the next viewpoint, sliding down a fairly steep and slippery path and clambering up rocks on the other side. A few grazed palms and one fairly muddy pair of shorts later, we felt like we were standing on top of the world.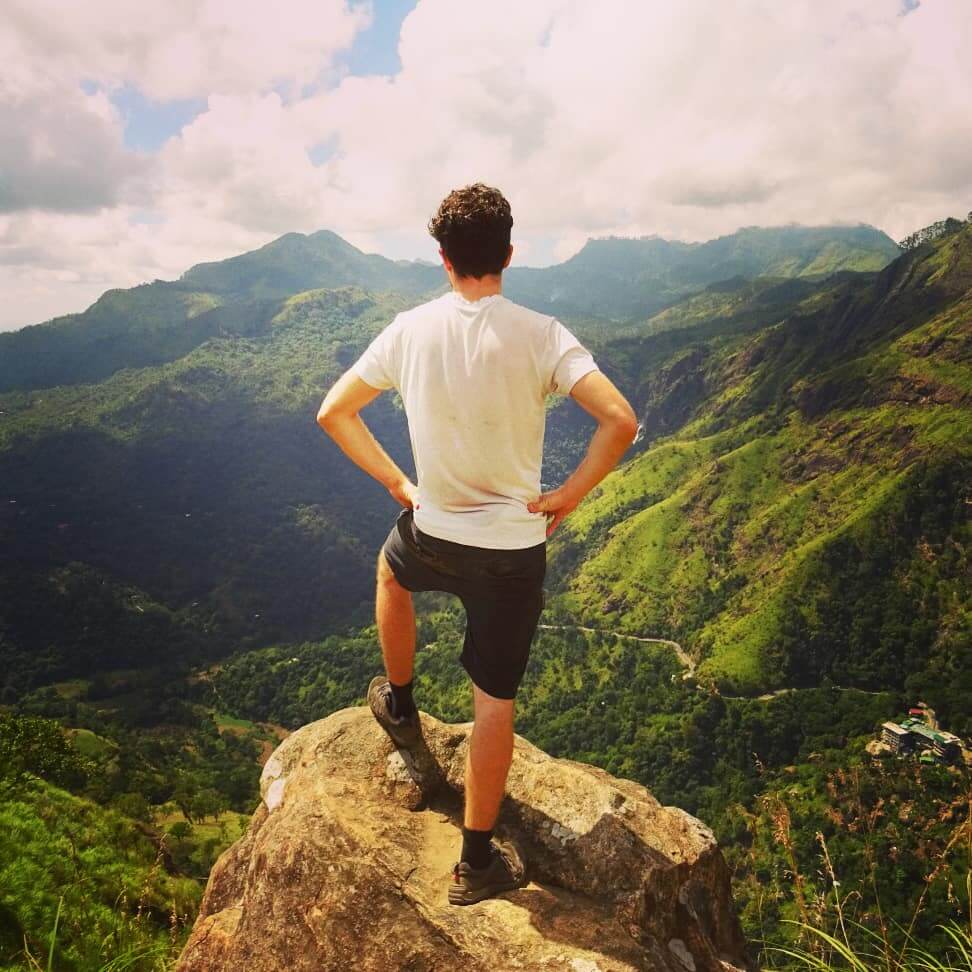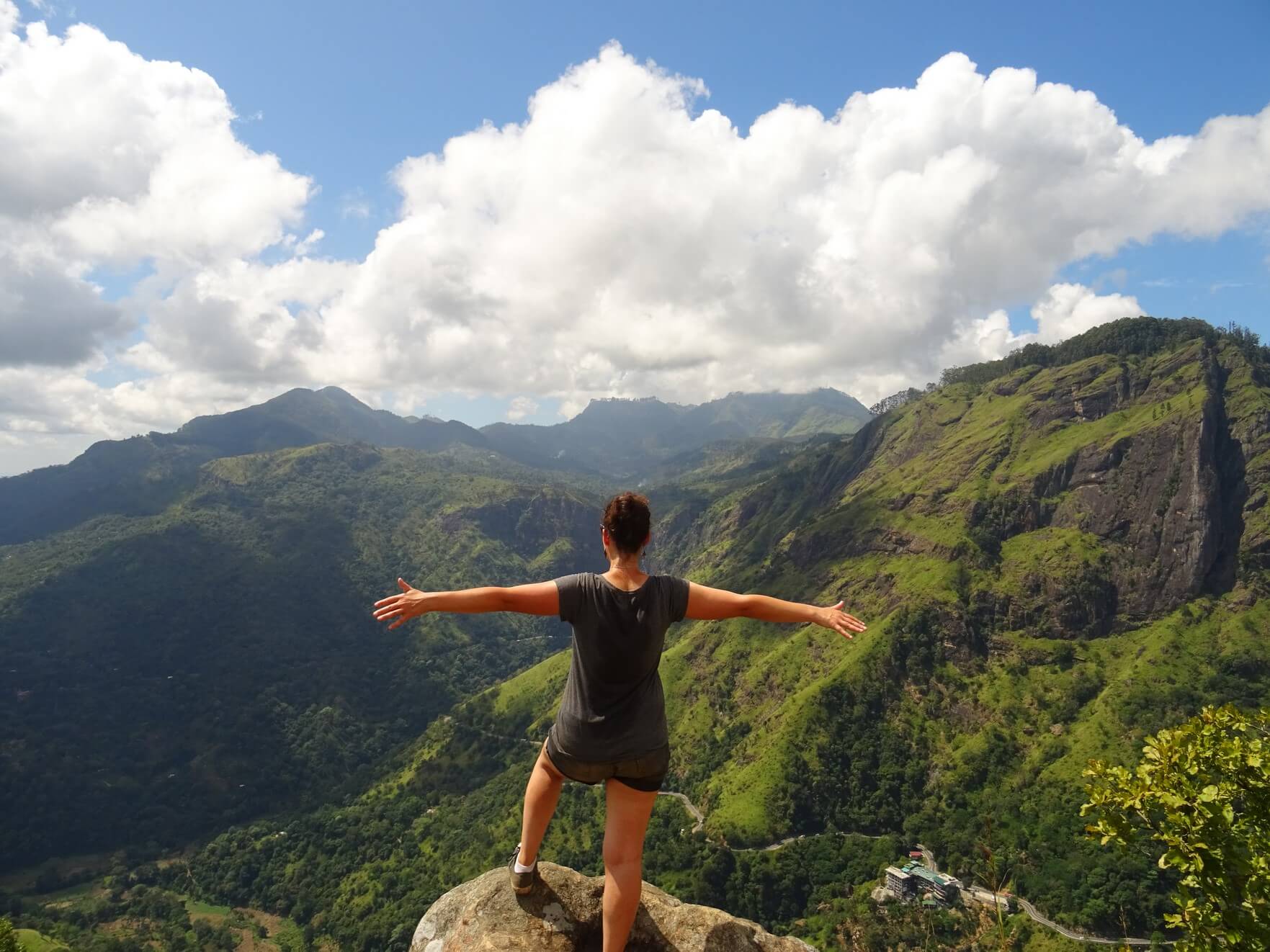 Even after our breakfast feast, our stomachs were rumbling from our ramble in the countryside, so we found a cosy little cafe for lunch and shamelessly used their wi-fi for the next few hours, planning out our next couple of weeks of travel. As we were heading back to our guesthouse for the afternoon, we were chatting about the best place to see the sunset, and decided that Little Adam's Peak would be the perfect spot. So yes, we climbed it twice in one day, because we're suckers for a good sunset! Although the sky was a little overcast, the view from the top was even more impressive in the evening light – we sat and watched and snapped a few photos, and then hurried back down the steps so that we would be off the hill by the time it got dark.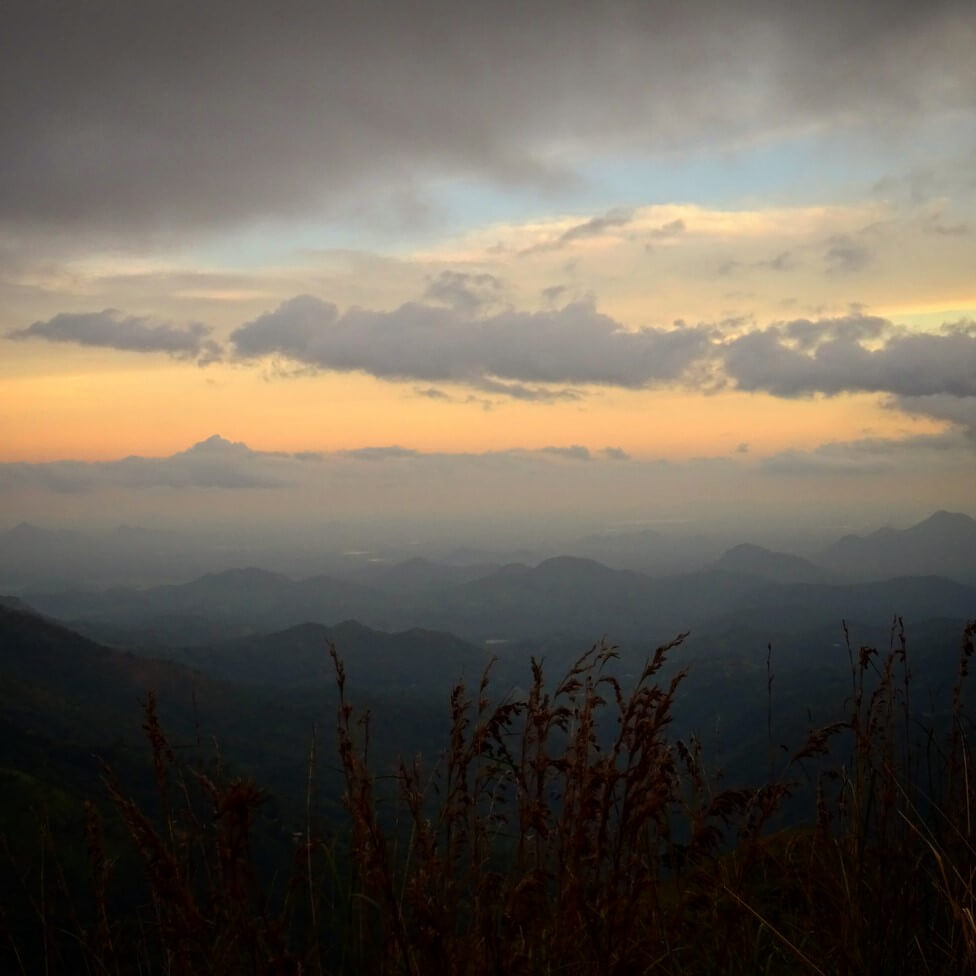 On the road back to Ella we found an amazing vegetarian restaurant who plied us with enough curry and rice to feed a whole family. After a very welcome cold beer in a bar back on Ella's main road, we sat down at the bus stand in the hopes of getting the last bus back to our place. The bus ended up being more than half an hour late, but we had the most adorable company that we didn't care! Seems that David is secretly some kind of dog whisperer – dogs quite often follow us around here, and as soon as we sat down a puppy appeared, climbed into his lap and fell asleep. When he got up to check the bus times he lifted the puppy up and put him in my lap. It was the cutest thing.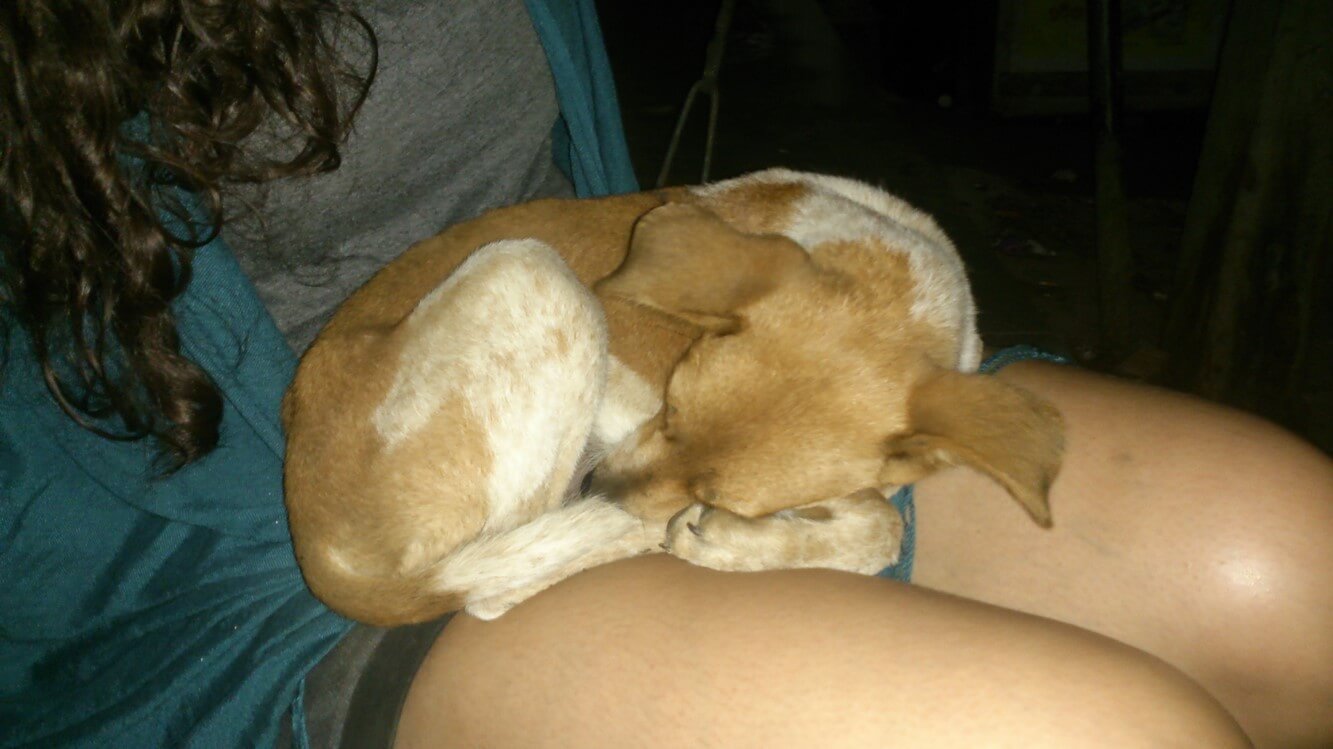 The following day we got up fairly early and hopped on a bus before breakfast for the brief trip up the road to see Ravana Falls. This is a really pretty little spot, and since we were there around 7.30am we had the place almost entirely to ourselves. We took some photos, enjoyed the peace, watched some monkeys playing, and then jumped back on a bus just as the first of the day-trippers appeared. After we had (another huge) breakfast we began our journey to Udawalawa, our next stop and the location of Udawalawe National Park. We were a bit apprehensive about the journey as we had to take not one but two local buses, but luckily neither of them was too full – despite the warnings of the tuk-tuk drivers hanging around the bus station at Wellawaya who assured us the next bus would be 'very full, standing for two hours' in the hopes that we would decide to go with them instead. In actual fact, we had a seat each and space for our rucksacks, and the bus only took an hour.
Our next guesthouse was a gem of a place – the owner told us that they'd only been open a month, so it was really new and clean. The best part was that she cooked us an evening meal of rice, plus five different curries, salad, papad and then fresh fruit with homemade curd and honey. The owners watched anxiously as we ate, constantly asking if it was OK and topping up our portions. It was easily the best food we've had in Sri Lanka, and we ate so much that we thought we might pop! They also arranged our safari in the National Park the following morning for a good price, so that was really easy.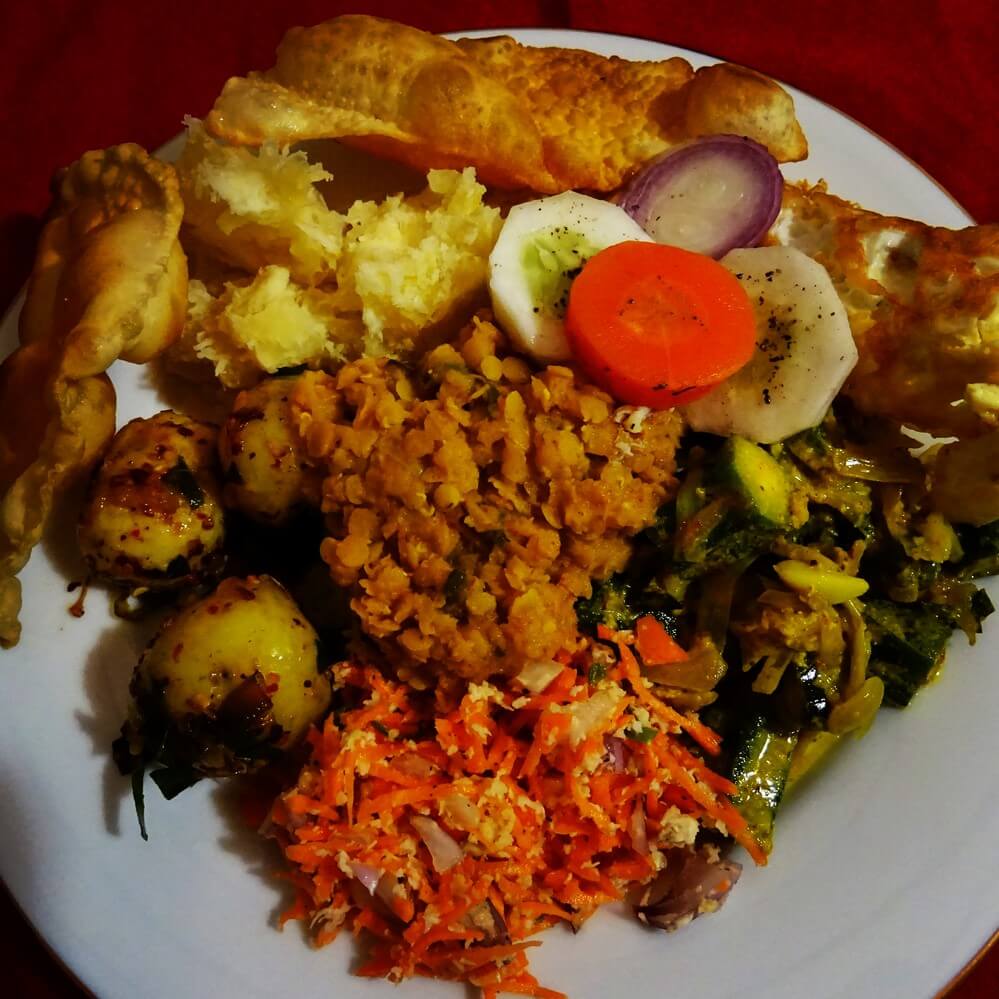 In the morning, our alarms blared at 5am but we didn't care because we were so excited for our trip to Udawalawe National Park. It's one of the best places to see elephants in the wild, so our hopes were high – and we were not disappointed! Within about ten minutes of entering the park, as the sun was just creeping over the horizon and painting the sky orange and pink, our jeep slowed to a stop and we got our first glimpse of an elephant, a young male who was munching away in the trees not too far away from the track. To actually see one of these beautiful animals in the wild was incredible, and honestly we would have been happy with that one sighting, but that was just the beginning. Next, we turned off onto a smaller track and there was a larger elephant in the middle of it! The driver killed the engine and we sat quietly while the elephant slowly wandered past us, happily munching away the whole time. He was so close that we could almost have reached out and touched him. It was amazing. After this we stopped at a small lake where there was a herd of wild buffalo, some grazing and some hanging out in the water. Then our jeep driver pointed out some dark shapes moving across the surface of the water…crocodiles! At this point we couldn't get a proper look, but we could tell from the shape that they were big. Definitely an animal that we don't want to get up close and personal with – but it was pretty cool to see them. Later on we saw one who was out of the water and sunbathing on a small island – he was massive!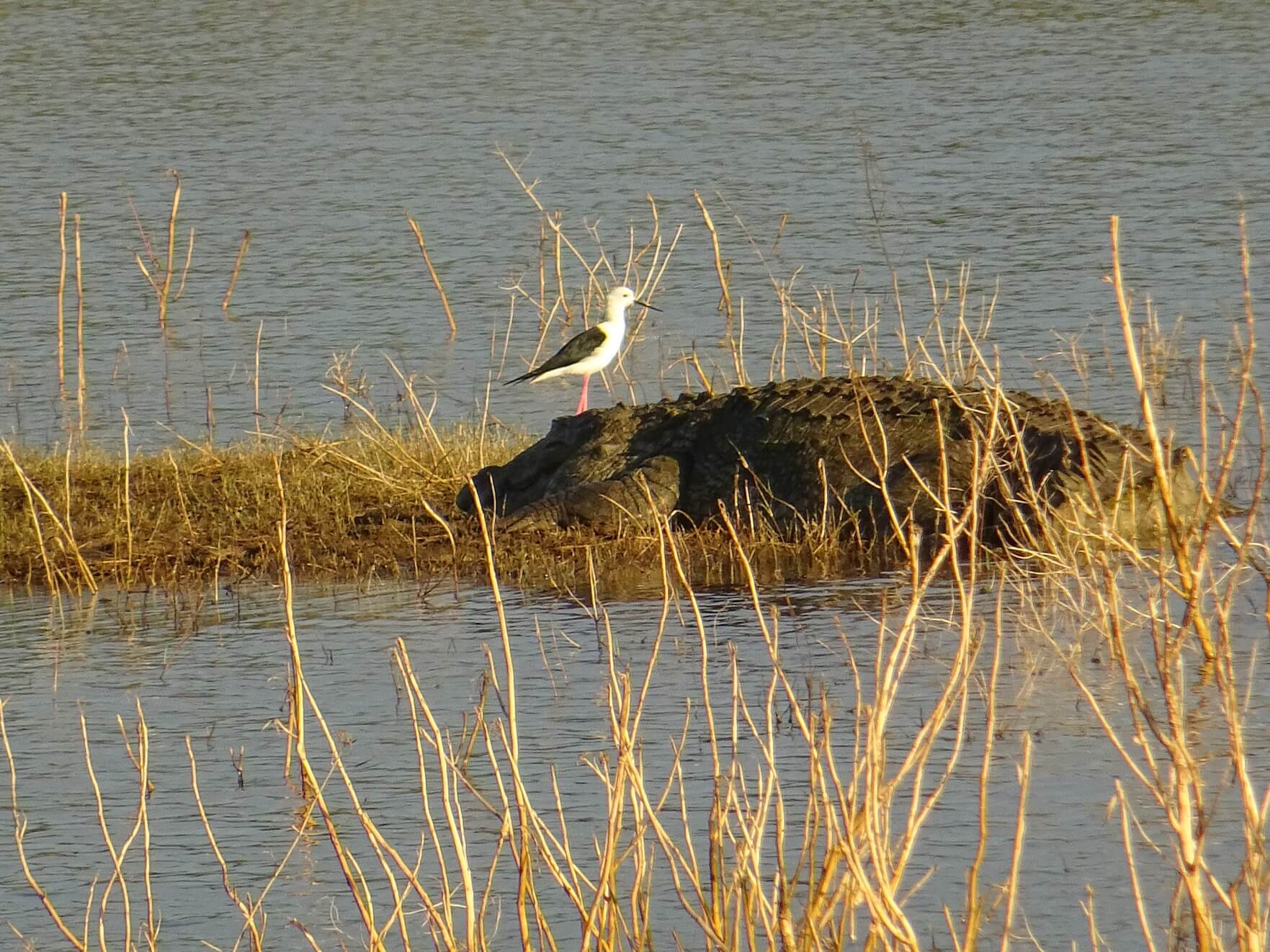 Our jeep driver must have had eagle eyes as he also spotted tiny creatures like birds and lizards! We saw a group of monkeys playing in the trees, peacocks, eagles, iguanas and more elephants. But the best part came when we were heading back to the gate, happy with our safari and thinking that it was over – we happened across a family of elephants who had stopped to enjoy a watering hole, drinking and splashing in the cool water. There were a few adults and some younger elephants, and then the most amazing thing happened; a baby elephant appeared alongside them! It was just the cutest thing, he was happily flapping his trunk around in the water, playing. Words can't really express how happy it made us to see wild elephants, it was definitely a bucket list, once in a lifetime moment. If you want to see some of the videos that we took of these beautiful creatures, head over to our Facebook page here: #/nofixedhome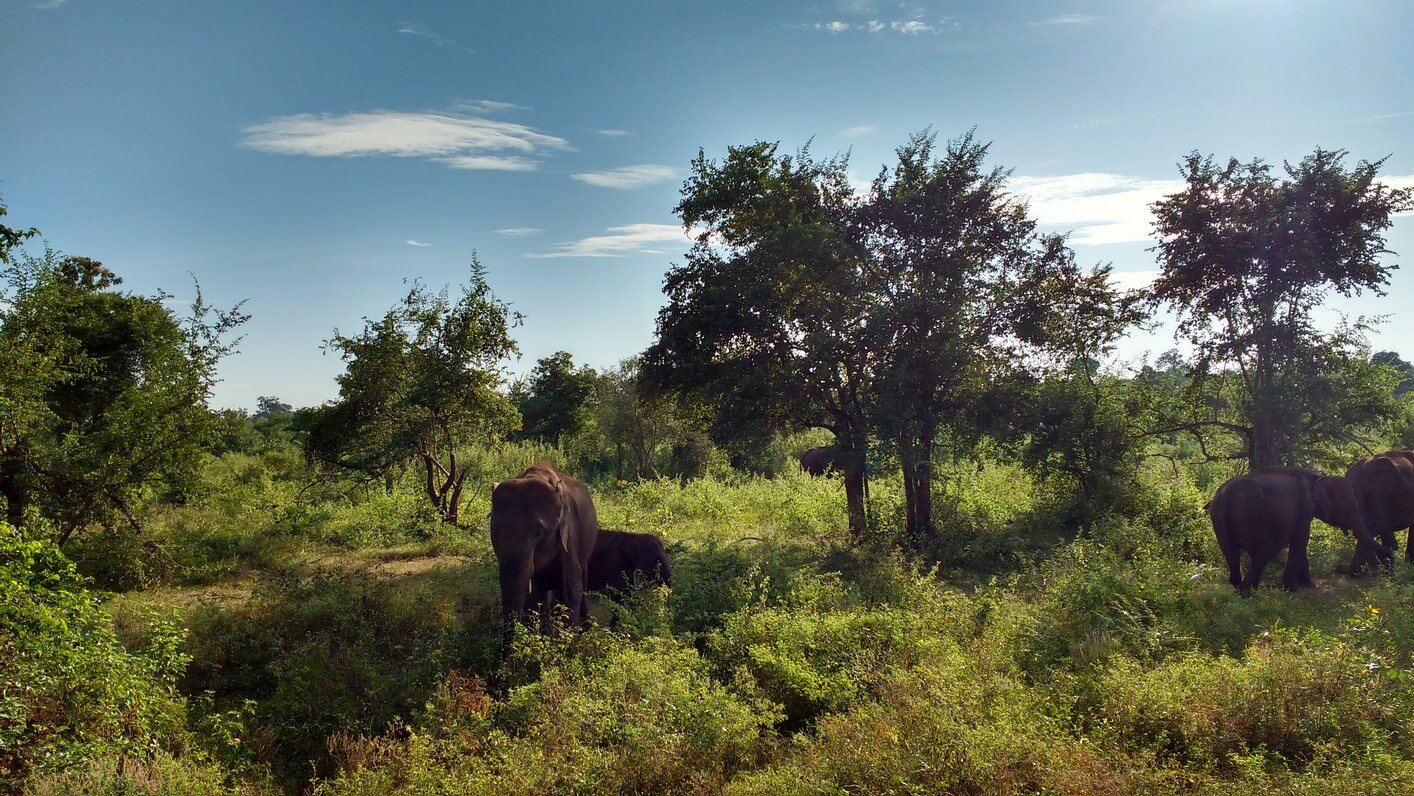 Sri Lanka's hill country has been a fabulous part of our trip, but now we are heading down to the South coast for some sun, sea and sand.
C & D xx
Our Top Tips for Ella and Udawalawe
We stayed at Ella Wildlife Village which was great value at 1928 rupees per night for a double room including one of the nicest and biggest breakfasts we've had so far. It was very far outside of Ella, about twenty minutes on a local bus.
Little Adam's Peak and Ravana Falls are both free to visit – Little Adam's Peak is walkable from town, and Ravana Falls is around 15 minutes away on a bus, costing 20 rupees each way
Little Folly vegetarian restaurant serves amazing food – it's not the cheapest we've been to but the portions are huge and it's all made fresh by the owners. It cost us 500 rupees for veggie curry and rice.
We stayed at Peacock Villa in Udawalawe – just 1km from the National Park Entrance. We can't recommend this place enough, the owners were so friendly and helpful and seriously made the best food we've had in Sri Lanka. It cost us 1850 rupees for a double room for one night.
Udawalawe National Park is a must-visit even if you're on a budget. Trust us, it will be worth it. Cost for two to enter the park was 7000 rupees, plus we paid 4000 for our jeep and driver, and a 1000 rupee tip at the end. If you have more people to share with it ends up cheaper. The best time to visit is 6 – 9am or 3 – 6pm. Personally we'd recommend the morning – smaller queues and beautiful dawn light!
It's easy to get there and away – from Ella to Udawalawe was a two-hour journey on two very cheap local buses.