When is a Hotel not a Hotel?
…When it's a delicious restaurant of course! If we were to give you just one budget tip for India, Sri Lanka and Nepal it would be this – Hotels are your friend. No, we're not talking the swanky Hilton kind..in fact these hotels don't have any rooms at all. Yes, it's slightly confusing, but many local family restaurants in these countries call themselves 'hotel'. Perhaps the most famous example is Hotel Saravana Bhavan – a global chain of South Indian restaurants. Or, if you've visited Sri Lanka's capital city Colombo, you may have heard of Hotel de Pillawoos, famed for its tasty, cheap and filling kottu and rotis. So why should you eat at one of these places?
In India, hotels are found in every town and city – offering a wide range of dishes. The absolute best value thing on the menu, the one you need to look out for is a thali. These may come on a banana leaf or on a special plate with lots of little compartments – you get four or five small portions of different curries, chappatis, yoghurt, pickle all served with a huge mound of fluffy rice. If you're lucky you even get a sweet dish to finish – maybe a syrupy gulab jamun or a fragrant rice pudding. Some places will even come round and top your plate up with seconds. The cheapest thali that we have found in a hotel was around 90 rupees – just over £1! Other good value options on the menu are dosas – delicious savoury pancakes with optional fillings (our favourite is a masala dosa which is filled with spiced mushy potato) served with a sambar. Teas and coffees are also served here for a really cheap price. A cup of masala chai will usually come in a metal cup with a second dish underneath. This is for you to pour the tea back and forth a few times – doing this stirs in the sugar and makes the milk frothy. Be careful though – these cups are red-hot! Because these hotels generally cater to locals, they don't shy away from the chillies, but you can usually ask for it to be less spicy when you order (for us it's the spicier the better!) Each region serves slightly different takes on dishes, some will be light, some fruity, others rich and floating in ghee.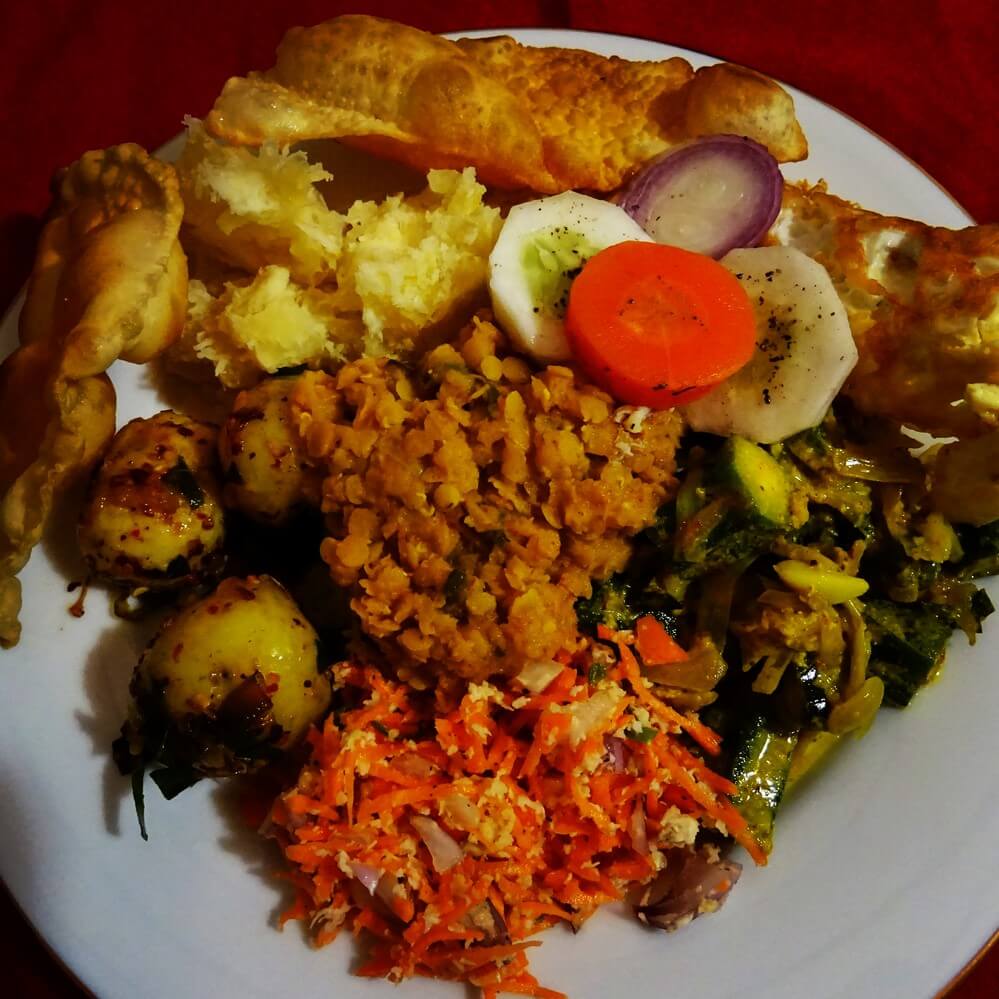 In Sri Lanka, these hotels usually serve different dishes depending on what time of day it is. There will usually be 'short eats' (bakery type food such as curried buns) and rotis available throughout the day, with a set lunch of curry and rice available from around 11am – 2pm. Curry and rice is the Sri Lankan answer to India's thali, and it's almost always the best value thing on the menu. We've eaten this almost every day while in Sri Lanka, and the cheapest one we've had was only 130 rupees – around 65p! Similar to a thali, you get a pile of hot fluffy rice and usually three or four curries to accompany it, along with fresh crunchy papad.
In Nepal the dish that powers the nation has got to be dal bhat, and again the cheapest and most authentic places are often the restaurants which call themselves hotels. It's fairly similar to a thali, you get rice with a few different curries, pickles, papad and always a delicious portion of lentil dal. So popular is this dish that the shops in Pokhara sell T-shirts with the slogan 'dal bhat power 24 hour!'
But why are they called hotels? Is it just to confuse poor tourists? Well, it's probably due to the fact that restaurants didn't always exist in these countries. Local people would either eat at home, or at someone else's home, or grab a snack from a street-side vendor. The only people to eat out would have been tourists, and generally speaking in the early days of mass tourism this would have been in the restaurant attached to their hotels. Somehow, when more places to eat opened in towns and cities, the name 'hotel' must have stuck.
Generally speaking, most hotels are safe to eat in. But we recommend that you look for two things – is it clean, and are there locals eating there? If a place is busy with families it's usually a good sign. In actual fact the only time we've had a spot of Delhi Belly was from eating in a tourist restaurant (appropriately enough, in Delhi!)
Now, go forth and stuff your faces!