Cooking Cambodian Yellow Curry – Vegan Style!
Anyone who knows us will know that we love a curry. No fear – becoming vegan has not stopped us from enjoying this much loved food! Today we're going to share with you our take on a Cambodian Yellow Curry.
A few days ago I tweeted that David had been experimenting in the kitchen, and had cooked up his version of a Cambodian Yellow Curry. I also mentioned something about him being an amazing cook and that I was surprised that I am not the size of a house because of it. But I won't repeat that here – don't want his head getting too big! Anyway, quite a few of you liked the tweet and it got me thinking that we should start writing down some of our vegan kitchen creations.
The following night, I made David cook the exact same meal all over again. Not just so that I could eat it again (though I'll admit that was an added bonus!) but so that I could watch over him like a hawk and write down every step. Because, you guys, this is a recipe that needs to be shared! Despite me hovering and firing questions at him, David produced another amazing dish.
What is Cambodian Yellow Curry?
This dish is hugely popular here. I suppose you'd say that it is to Cambodia what Green Curry is to Thailand. The fresh yellow colour of this meal and the fragrant spices are so cheerful, it's bound to put a smile on your face. The foundation of it is, like many other Cambodian dishes, an amazing paste called Kroeung. The fact that this word directly translates to 'ingredients' shows you just how important this vibrant little concoction is here! Kroeung is a yellow curry paste that is used as the basis for many Khmer dishes, including amok and the incredible wedding day dip.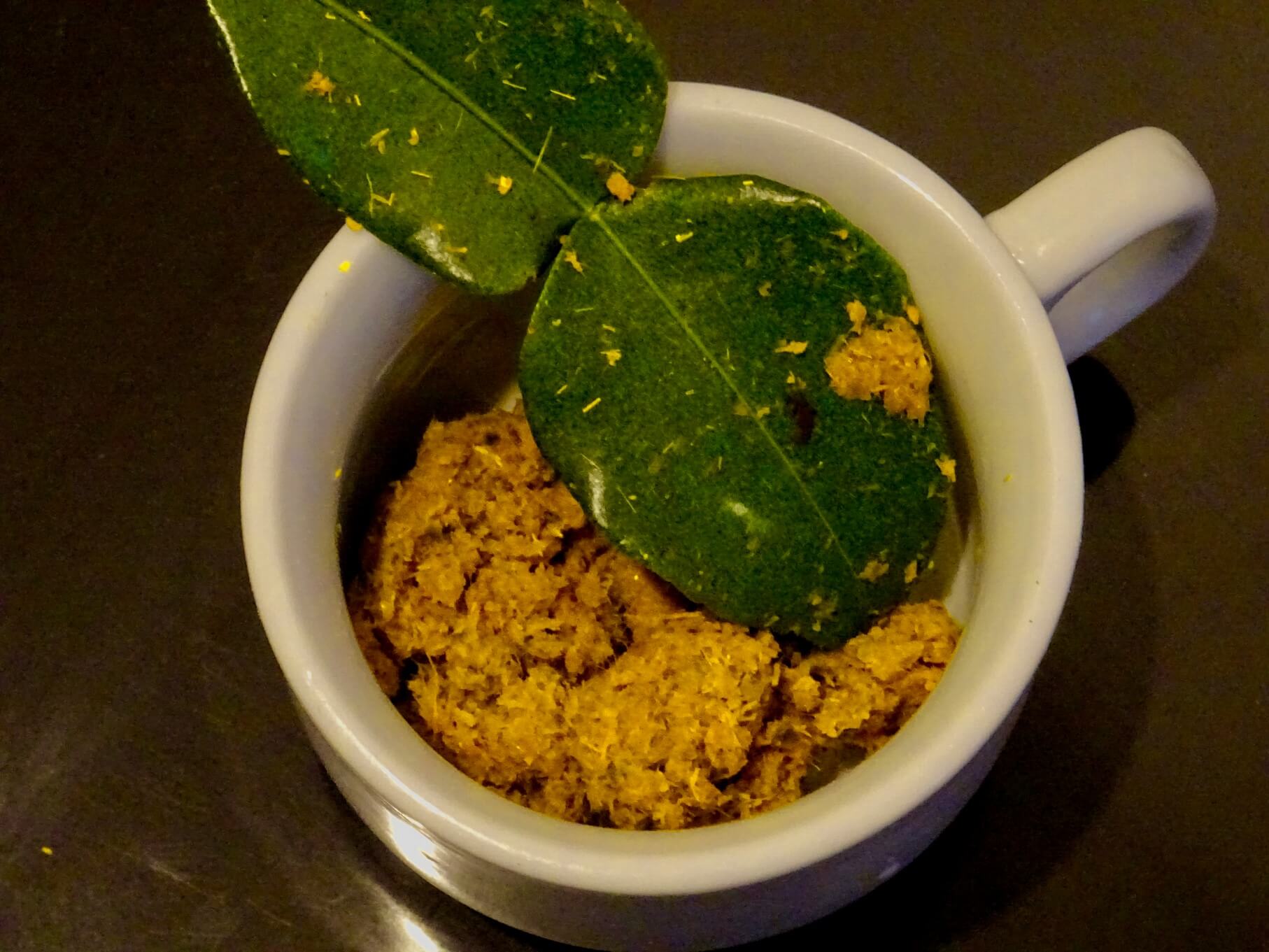 What is Kroeung? Can we make it?
Yes absolutely! While we are in our temporary home here in Siem Reap, we are lucky enough to be able to buy it freshly made from the local market for mere pennies. However it is probably not something that you'd be able to get your hands on at your local Tesco. Don't worry though, as it is super easy to make. The taste is similar and yet different to other Asian curries. The lemongrass gives it a Thai feel, and the scent is pretty reminiscent of a Thai curry, but other ingredients such as vibrant turmeric and citrus-y galangal give it a whole new depth of its own.
Kroeung Recipe
Kroeung is made by grinding lemongrass, galangal, kaffir lime leaves, garlic, shallots and turmeric into a paste. The best recipe I have found is on the Refugee Kitchen website here. The added bonus is that the author writes so evocatively about the paste, her family recipe, and what it means to her. Kroeung is one of the things which connects her to her roots and her culture. I love how food is one of the things which can always bring us back to ourselves.
Our Recipe for Cambodian Yellow Curry
Ok, now you have your amazing bright yellow Kroeung paste, here is our version of a Cambodian Yellow Curry. One sniff of the curry paste will give you a pretty good idea of how amazing this dish is going to smell while it is simmering away, but to that we are also going to add some lovely creamy coconut milk, some chillies for heat, and a whole load of awesome veggies.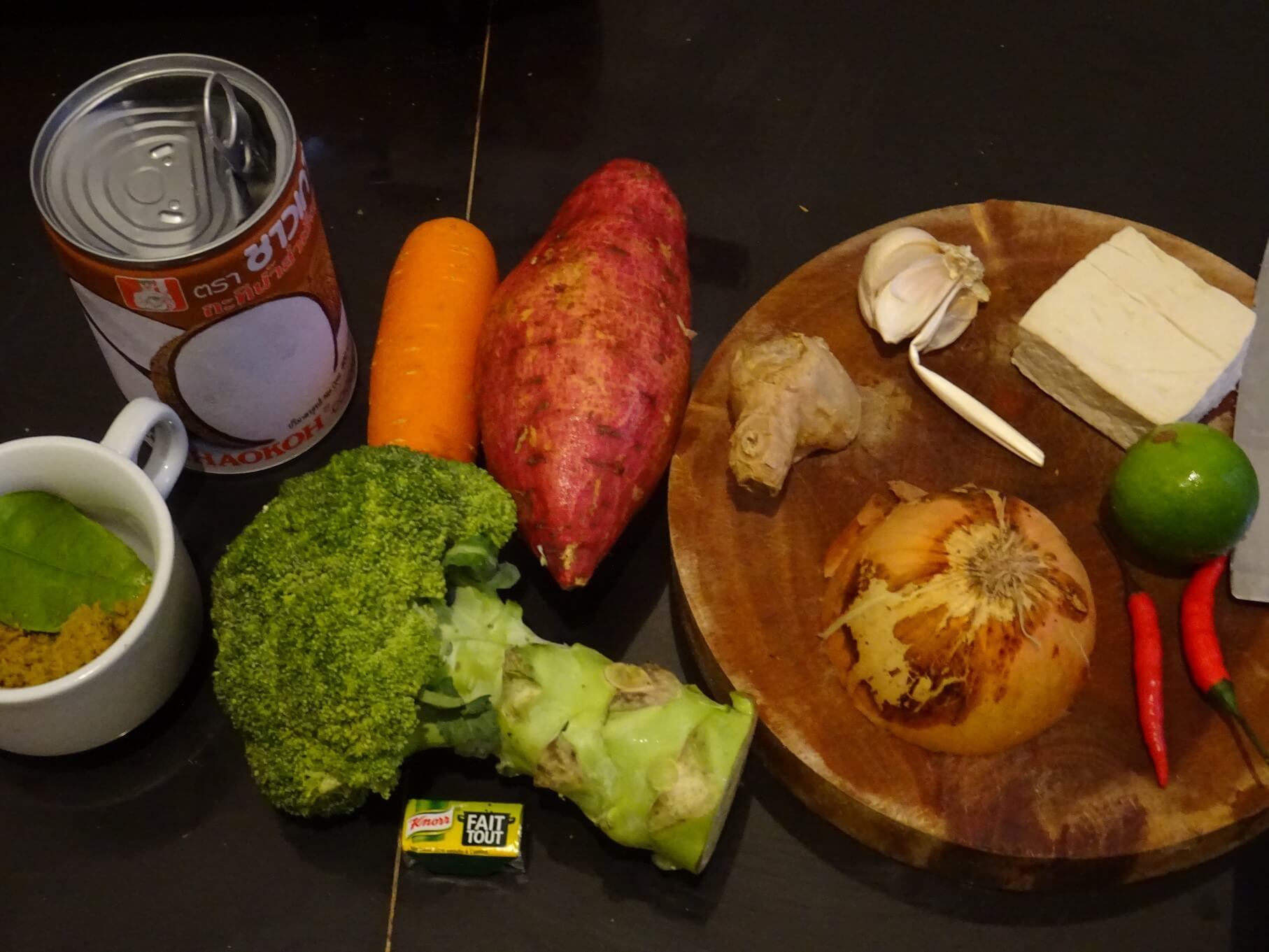 Ingredients
1/2 an onion, roughly chopped
3 cloves of garlic, roughly chopped
1 thumb-sized piece of ginger, roughly chopped
2 red chillies, roughly chopped
1 tablespoon of Kroeung – Cambodian Yellow Curry Paste
1 veg stock cube
1/2 a can of coconut milk
1 carrot, cut into half moons
1 sweet potato, peeled and cut into small chunks
1/2 a head of broccoli, cut into florets, plus peel and slice the stalk (don't chuck it, it's good, honest!)
150g firm tofu, cubed or cut into small slices
1 dried chilli (optional)
1 lime (optional)
2 spring onions (optional)
1 kaffir lime leaf (optional)
Directions
Over a medium heat, gently fry the onion, garlic, ginger and chilli in a little oil, until softened – around 10 minutes. You don't need to chop these too well as they will be getting chucked in a blender later. Add a splash of water if they are starting to catch on the bottom of the pan.
Now add your yellow curry paste to the pan and fry briefly to start releasing the spices – a couple of minutes should do the trick.
Add the coconut milk, stock cube, and around a mug full of water. Stir and then simmer for around 5 minutes.
Now we're going to blend this to make your curry sauce. Either add it to a blender or use a stick blender right in the pan. It doesn't have to be super smooth, but try and get rid of most of the chunks!
Return the blended sauce to the pan. Add the sweet potato and carrot, then simmer for around 15 minutes, or until the veg is softening. If you have a dried chilli and a kaffir lime leaf you can stick them in the pan to simmer alongside the veg as well.
Add the tofu and broccoli to the pan and simmer for another 5-10 minutes, or until the broccoli is done to your liking.
Don't forget to fish out the dried chilli and the lime leaf if you added them earlier – you don't want to chew on those!
Serve with brown rice, and sprinkle some lime juice and chopped up spring onions over the top, if you like.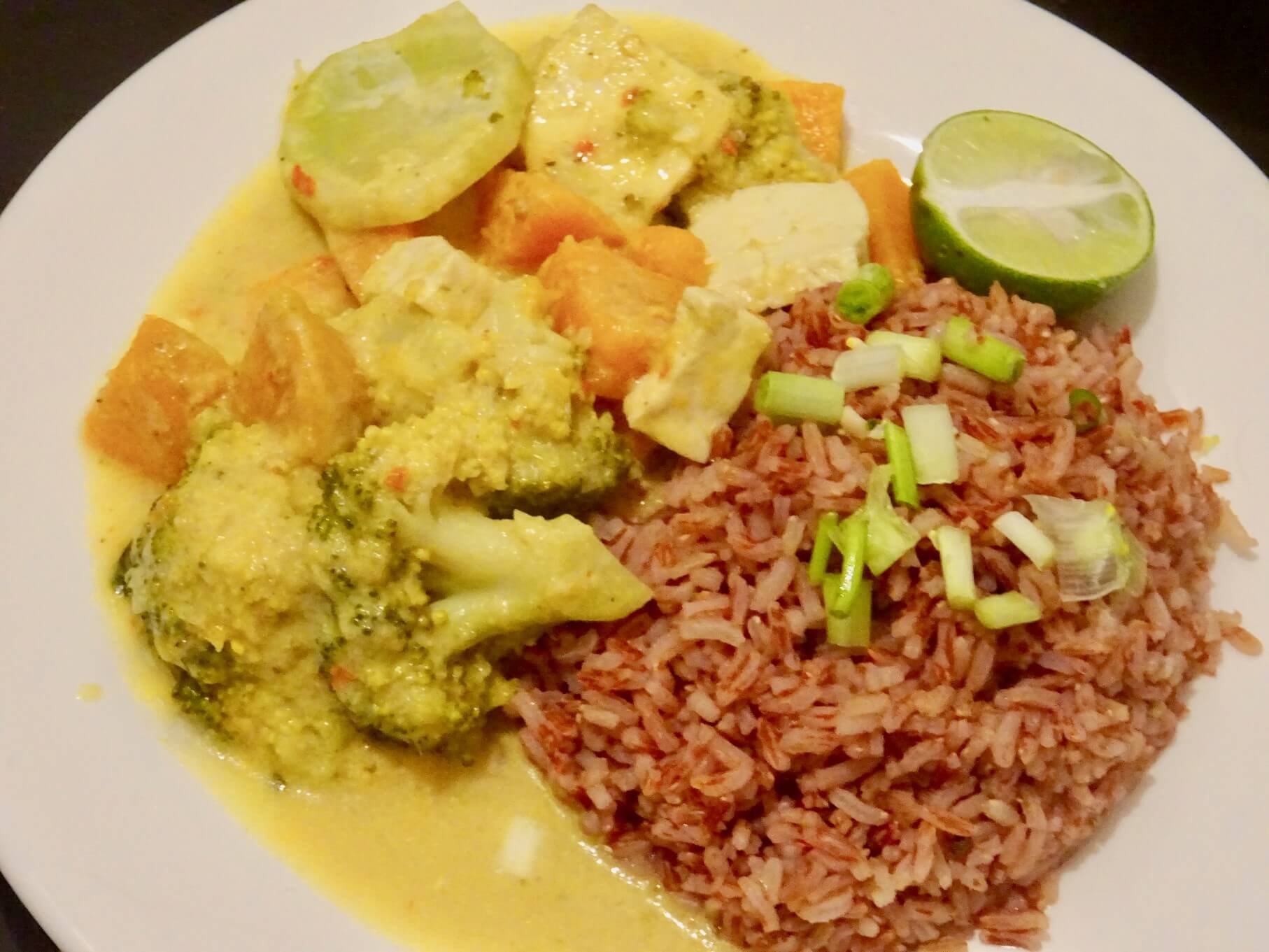 We hope you like it as much as we do!
This makes enough for four small portions or two greedy portions – it's up to you! Leftovers will be good in the fridge for a couple of days, just make sure you reheat until piping hot.
We'd love to hear from you if you have made this recipe, so let us know in the comments!
C & D xx