Why Taking a Travel Pause Can Be A Good Thing: A Temporary Home for No Fixed Home
This is coming to you from our temporary home of Siem Reap in Cambodia. Here's why we made the decision to take a travel pause and how it's turned out to be a great plan!
We crossed over the Cambodian border on the 1st May this year, after being on the road for exactly 6 months. Don't get us wrong, we are loving the travel life. But something about the constant movement was starting to take its toll. Which is why it seemed like a good time to slow things down a little, and take a travel pause. We fell for the small friendly city of Siem Reap straight away, so it was a pretty easy decision to make.
So what is a travel pause?
Many people, us included, are only able to travel for a finite amount of time. Although the dream may be to quit your job and never look back, the majority of travellers we have met are on a trip of say, 6 months or a year. This can lead to a feeling of having to cram as much into that time frame as possible. Call it FOMO (Fear Of Missing Out), or just wanting to make the most of a once in a lifetime opportunity. But sometimes means that travellers burn out. They end up hating the very act of travelling, of constantly heading from A to B to C. We're here to say it's OK to take things slow! We decided to find an apartment and stay put in one place for a few months.
Ok, but what is so great about it?
We are fans of slow travel, but this takes things a step further. The longer you spend in one place, the more you learn about it. We've been here for exactly one month now and we have learned so much more about this amazing country and its people than we would have on a passing visit. From the ladies selling fresh veg at the market who now smile at us and throw a few extras in our basket. To the kids on our street who shout hello when we pass. It's starting to feel like a home away from home! We've been here for public holidays, and observed funeral processions and family celebrations. We have tasted the food, wandered the streets and interacted with the locals. We've laughed with the local kids splashing in the river, and salivated when the cart comes by selling freshly cooked piping hot sweet potatoes.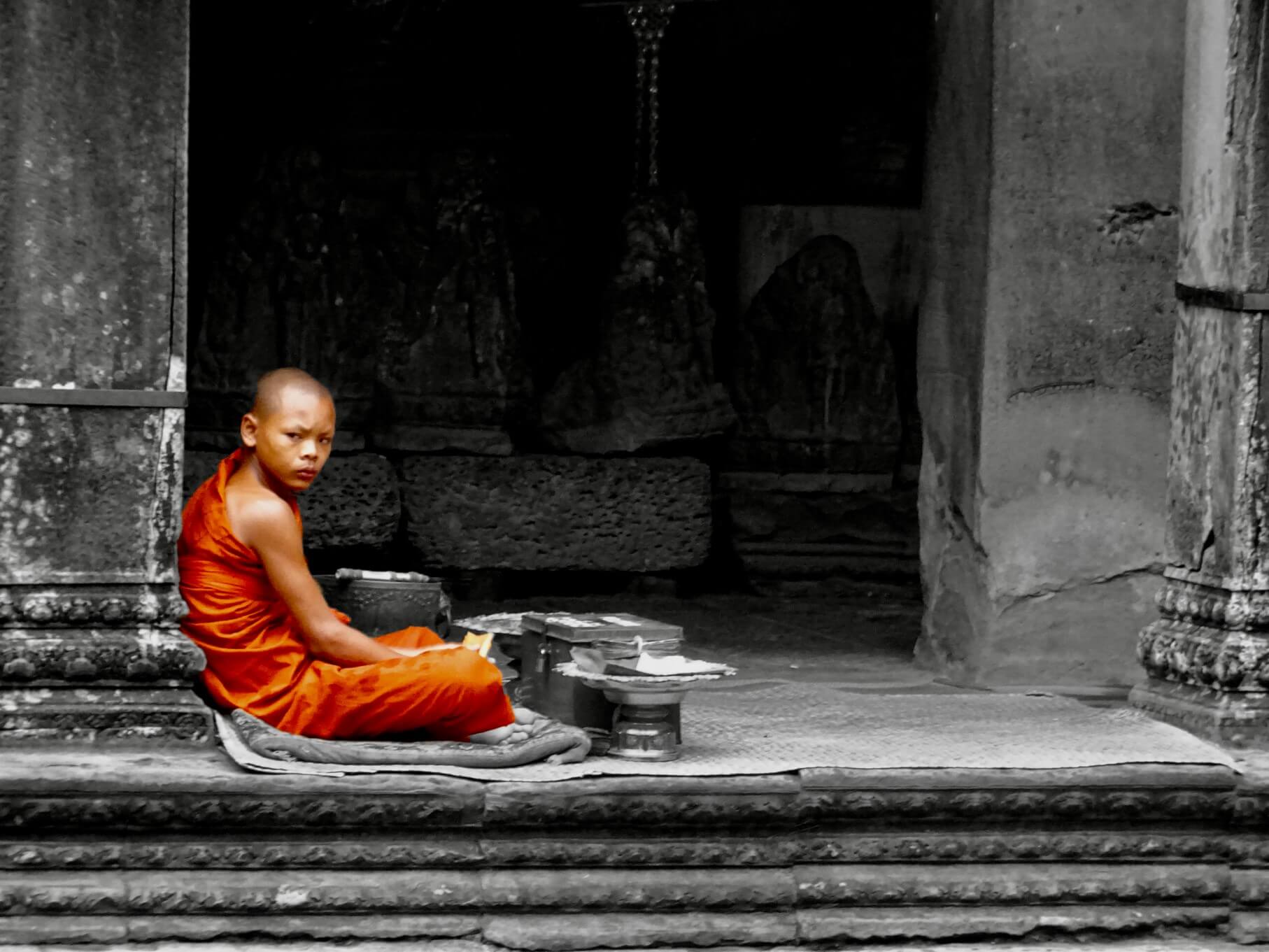 How did we go about finding somewhere to live?
It was really easy, actually. We joined a few Facebook groups for expats living in Siem Reap. These had lots of posts about apartments for rent. We met up with a lovely Cambodian lady after seeing her advert. A short ride on the back of her scooter later (sorry Mum!) we were outside our future home. For the grand price of $200 a month we have a one bedroom apartment with a tiny kitchen and a sunny balcony. Our new landlady even threw in a bicycle each!
Our favourite part about living here is being able to cook again…
Even if we only have one tiny gas stove, one saucepan, two bowls, two plates and a set of cutlery each! We've made big batches of vegan chilli, lots of tasty soups with fresh local veg, and some amazing curries. We're both big foodies and David is a chef by trade, so not having control over what we ate was something that got to us while on the move. Now we can experiment with cooking exciting food made from local ingredients. It's a lot of fun trying to cook our own version of local dishes! We also eat out plenty of times too. Siem Reap is a vegan food heaven with so many incredible cafes and restaurants to choose from.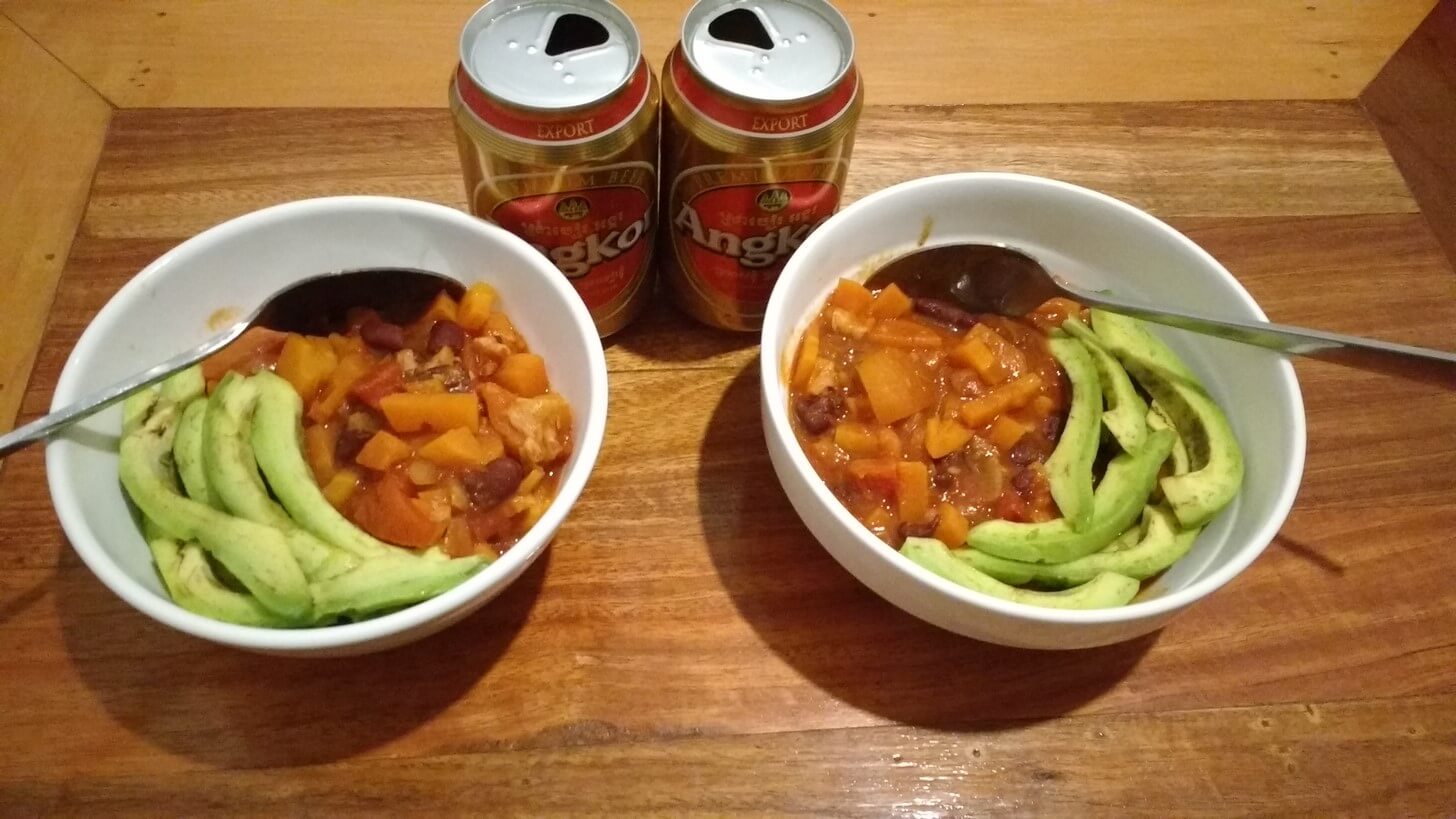 What do you do all day on your travel pause? You must have so much time!
Yes we do, and its fabulous! Going from working full time, to travelling full time, to suddenly having all the free time in the world was a really odd experience. We are determined to make the most of it though. We've settled into a routine now after the first month. After breakfast we cycle to the gym. Angkor Muscle Gym is a proper old school gym – lots of topless local guys flexing in the mirrors and heaps of antique equipment. But its a friendly place too, and only costs $1 to use! After we pedal back home again and make ourselves a healthy lunch, we spend the afternoon working. I've had lots of time to write, and work on the blog, while David is getting to grips with editing some of our backlog of photos. We are also looking into doing some online English teaching to earn few pennies.
Our top tips for settling into a new place
Facebook has actually been great. We've joined some expat groups on there which have everything from shopping tips, second hand sales and job offers! David has found a group of people through Facebook who meet up and play 5 a side football every weekend. I've found a few yoga classes to try. Don't be afraid to talk to people and ask questions. We've quizzed the market traders on what they are selling (turns out 'that yellow stuff' is an amazing Cambodian curry paste!) and asked locals how to say particular phrases. We've found there is loads more to Siem Reap than just Angkor Wat.
What are the drawbacks?
Like I said, we only have a certain amount of time for our travels before we go back home to the UK. Now that we are spending a few months in Siem Reap, we are going to have to make some tough decisions. We won't have time to visit ALL the countries that we want to see in SE Asia. Do we head to Laos and Vietnam? Or Malaysia, Singapore and Indonesia? For someone who spent about a year planning, stalking travel accounts on Instagram and fantasising about which countries we were going to visit, having to cut some from the list is really tough. But we honestly feel like it is worth it for the immersive experience we are having in Cambodia.
Have you ever taken a travel pause, or lived in another country for a while? Let us know about your experience in the comments!