Visit Sepilok: A Day of Sun Bears and Orangutans
We're not going to lie. Today has been one of the most incredible days of our entire trip so far. In a little corner of protected rainforest on the island of Borneo, we saw some incredible animals in their natural habitat, and learnt about the work of two amazing organisations. Most people visit Sepilok for the chance to see our orange fuzzy cousins, the magnificent orangutans, as well as the very rare sun bear.  We were lucky enough to see plenty of both!
Visit Sepilok and Learn About Sun Bears
A lot of people won't have heard of a creature called a sun bear. We certainly didn't know much about this beautiful little bear before today. Our first stop in Sepilok was the Bornean Sun Bear Conservation Centre. This furry rehab centre was set up in 2008 by Dr Wong. Their mission is to rescue sun bears who are held in captivity, and prepare them for a life in the wild. Sadly, sun bears are critically endangered. The smallest species of bear in the world, they are often captured and kept as pets, or worse killed for their organs. The exotic meat and pet trade, as well as traditional Asian medicine, means that sun bears are at risk of poaching and trafficking – even though killing a sun bear carries a harsh penalty. They are also at risk because their natural habitat, the lush rainforest here, is dwindling fast.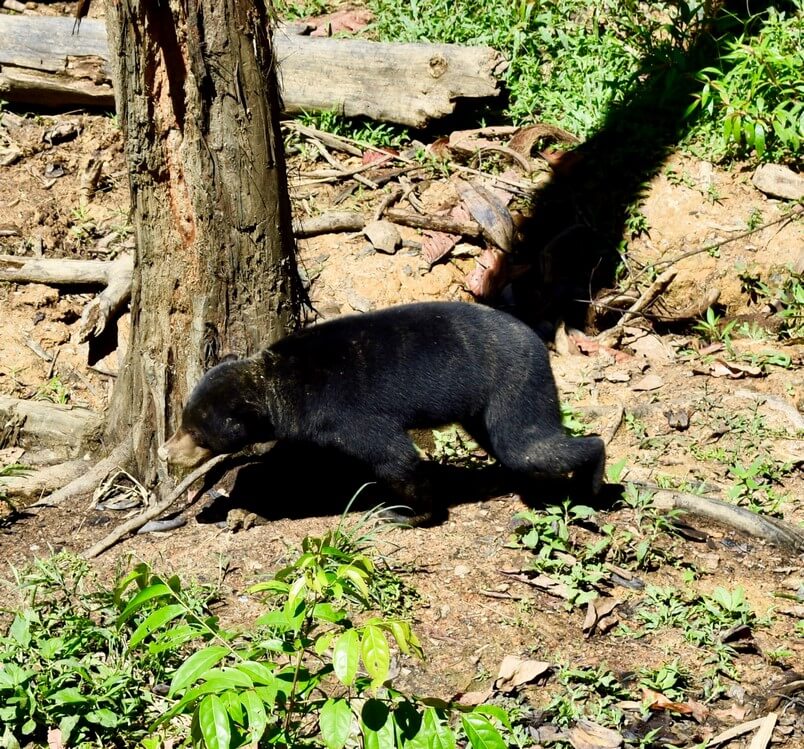 Saving the Sun Bears
All this means that sun bears are now the second rarest bear species, after the giant panda. However, it is not all bad news. The BSBCC rescue sun bears who have been found orphaned, or who have been confiscated from the pet trade. Many of these bears are very young, and would not survive in the wild. At the rehab centre, they gradually learn the skills they would need in order to live in the rainforest. It is a long process, but since 2008 they have successfully rehabilitated five bears into areas of safe and untouched forest in Borneo.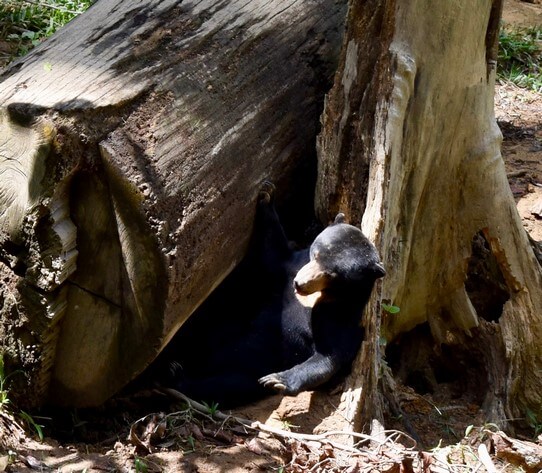 Sunbathing Bears, More Like
We paid our entry and excitedly climbed up to the walkway and viewing area. We were prepared to come away having seen nothing. After all, they are wild animals, not perfomers. However, we soon saw three young bears in one of the outdoor enclosures. The bears are often traumatised on arrival here and can't be released straight away. Instead they are introduced to small areas of forest gradually, where they can find their feet. They are encouraged to act on their natural instincts such as digging and foraging.
Later, we spotted an adult bear hidden away in the forest, having a peaceful nap in a sunny tree. Not all bears will be able to make the long transition back into the wild. These animals are given a safe and engaging home here in the forest reserve where they can live out their lives in peace. He certainly looked like he was enjoying it!
Visit Sepilok and See Orangutans
So, we had already been lucky enough to see orangutans on this trip, when we visited Semenggoh. But hey, we're greedy! We wanted to see more! So we decided to visit Sepilok Orangutan Rehabilitation Centre as well. This organisation has been running since 1964 and occupies 43 square kilometres of protected forest. Like the folks at the sun bear centre, they take in orphaned orangutans and prepare them for a life in the wild.
Orangutans face similar challenges to the sun bears and are often kept as pets or attractions. The rainforest which they call home is being cut down at an alarming rate. Many of the orphaned charges here have lost their homes and mothers to the relentless buzz of the chainsaw as swathes of forest are cleared. Much of the land is burned to clear the way for palm oil plantations. Palm oil is then pumped into our mass-produced biscuits, breads and ready meals. Have a look at some ingredient labels on your next supermarket visit – you can see why it's big business.
Orangutan School!
Once the newly rescued young orangutans have passed their medical checks and quarantines, they are enrolled in ape school! Here they will learn the skills needed in order to survive in the wild such as foraging, climbing and building nests. Orangutans usually spend the first six years of their lives with their mothers, learning these vital lessons, so you can see how it is a long process. At the centre they are paired with an older 'buddy' and given the freedom to explore their surroundings, swinging, climbing and generally monkeying around! When you visit Sepilok you can sit in the viewing area next to the outdoor nursery and enjoy watching their antics.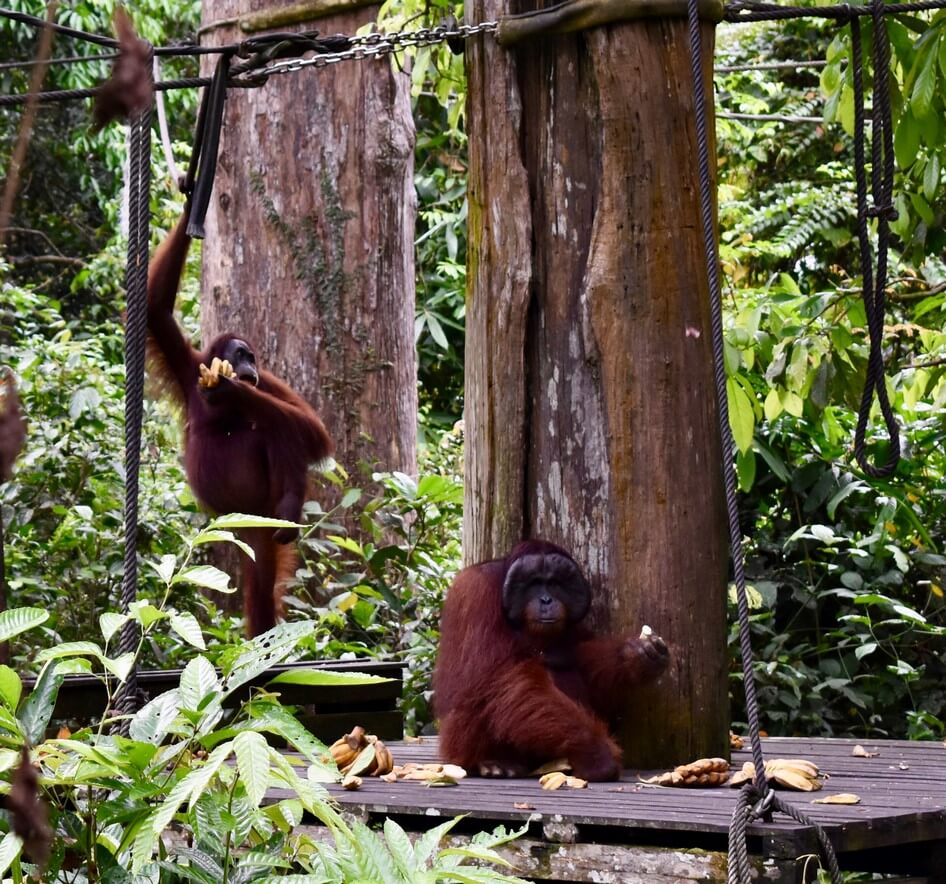 Big Boss
At feeding time, we were in luck since the dominant male rocked up in time to get his share of bananas. He truly was an impressive sight, and we just watched on in awe. Although he was the big cheese, one brave young orangutan entertained us by sneaking down from the trees and snatching bunches of bananas from right beside the alpha male, before beating a hasty retreat!
The ultimate goal for these orangutans is for them to be released into the wild. The centre has a few who have 'graduated' and are semi-wild living in the surrounding reserve. The food laid out at the feeding times is for them to fall back on, but it is purposefully made quite boring, to encourage them to find their own food. Once they have proven that they can be completely self-reliant, they become a candidate for release elsewhere. Some previously released orangutans from Sepilok have now raised their own babies in the wild, which is an amazing success.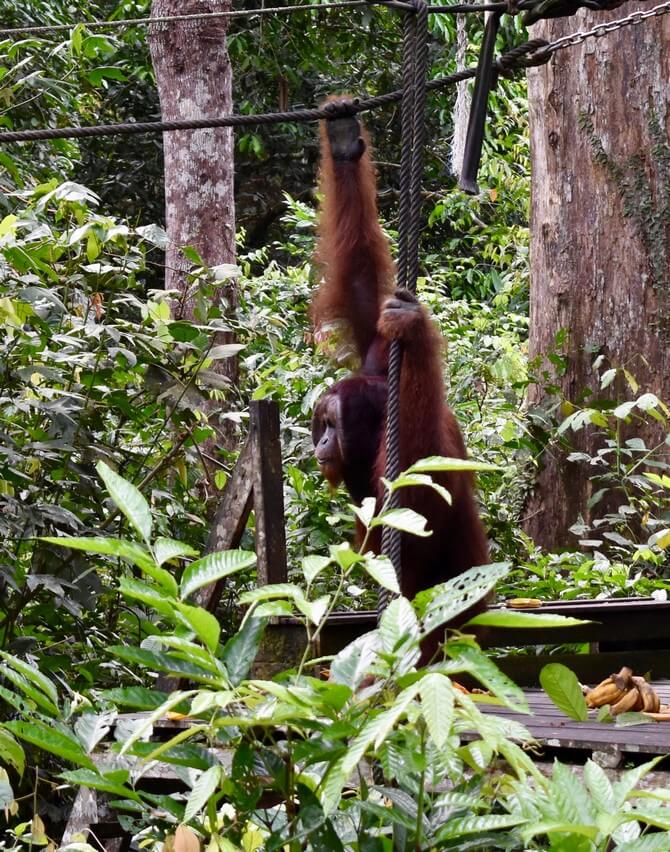 Overwhelming
We would not be exaggerating to say that we were a little overwhelmed by these two centres. To see such beautiful creatures in a safe space, with people who genuinely care about their rehabilitation, was nothing short of amazing. To be so close to them, without bars or the feeling that they are there to entertain. And it wasn't over. As we were walking away from the feeding area at the end of the day, a ranger signalled us to stop and be quiet. Walking along the handrail towards us was a young orangutan! We were told to keep walking slowly, and we actually walked right past it! We could have reached out and touched it, it was so close. Looking into its beautiful eyes as we passed by was incredible.
Visit Sepilok – Our Top Tips
There are a handful of places to stay in Sepilok itself, although it can be pricy. We opted to stay in the cheaper nearby town of Sandakan, 23 km away.
The bus from Kota Kinabalu to Sandakan will drop you at the Sepilok turning if you ask. You will still have to pay the full fare of 43 MYR to Sandakan.
Bus 14 leaves Sandakan for Sepilok at 9am and returns at 12.30pm or 4pm. It costs 6 MYR per person – turn up early as it is a tiny minibus and gets full.
Most people who visit Sepilok see the orangutans first. We decided to see the sun bears first, and spent a few hours there. After lunch we went to the orangutan centre for the afternoon feeding time. This way we missed the worst of the crowds.
There is a cafe outside the centre serving cheap basic food, including a vegan-friendly veggie noodle soup and veggie fried noodles.
We also popped up to Banana Cafe for a fresh fruit juice overlooking the lake, while we waited for the centre to re-open after lunch.
Entry to BSBCC is 30 MYR per person.
Entry to the Orangutan Centre is 30 MYR per person plus a 10 MYR fee per camera.