Visit Kuching – Malaysia's Cat City!
After a short flight over from Peninsula Malaysia, we found ourselves on the island of Borneo. We started our island journey in the city of Kuching, in the state of Sarawak. This place is the jumping off point for many a rainforest adventure and animal encounter! If you visit Kuching, one of the things that may strike you straight away is that this is a city where the cat is king. But there are lots of other reasons to come here too – here's just a few: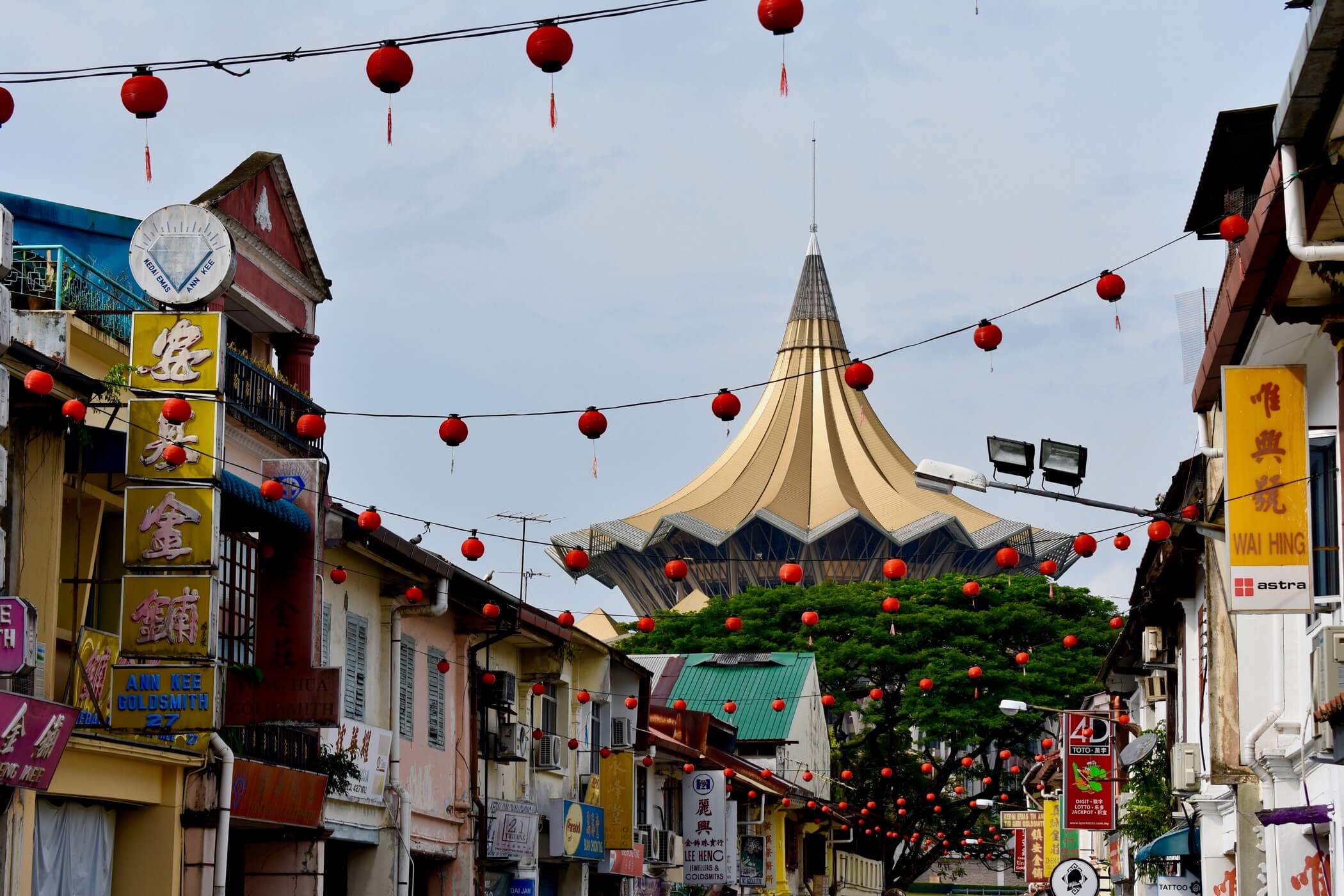 Visit Kuching and see Amazing Orang-utans
Cats aside, the one thing we were really excited to do in Kuching was to see our furry orange cousins in the forest. On day one, we were up at the crack of dawn, bright-eyed and bushy-tailed (oh, ok then, bleary-eyed and grumbling). After nearly an hour on the bus, we pulled up at Semenggoh Nature Reserve. This organisation takes in rescued orang-utans, often confiscated from humans who have been trading them or keeping them as pets. They work towards getting them rehabilitated and back into the wild rain-forest. They have a great success rate. Many of the orang-utans there are now semi-wild or totally wild.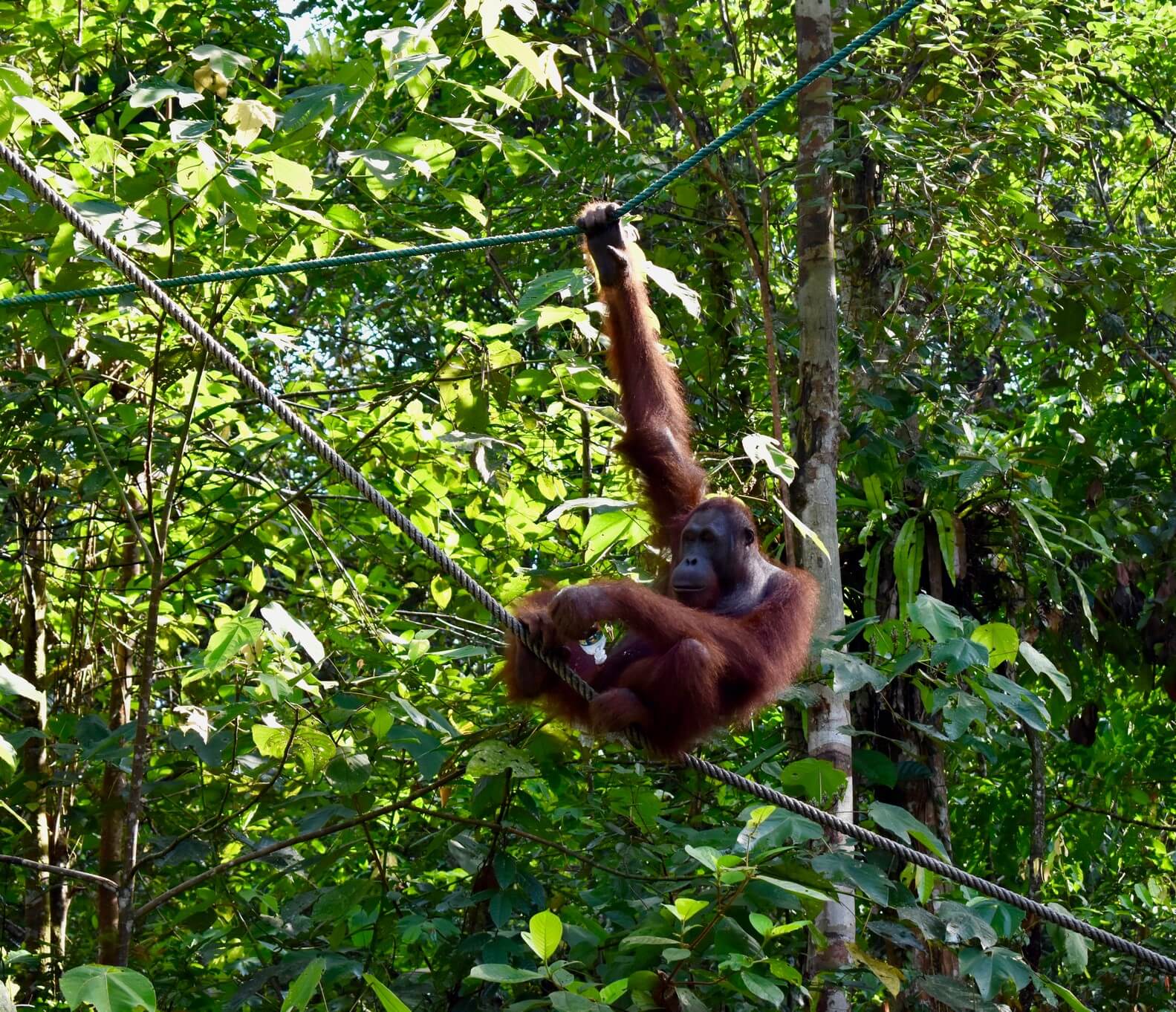 After a slightly sweaty walk through the impressive trees, we arrived at the feeding centre. As the park is mainly geared towards research and caring for the animals, rather than for the whims of tourists, there are only two times per day when you can visit. At 9am, the feeding trail opened and we all filed down the path to the viewing area. This is where the handlers dole out the food. Straight away we saw a mother orang-utan with two children. She had one baby clutched tight to her chest, and one older child who scampered about, seeing how brave he could be! But he always came back for a cuddle from mum. To actually see these beautiful animals in real life, not behind bars in a zoo, sent shivers down our spines.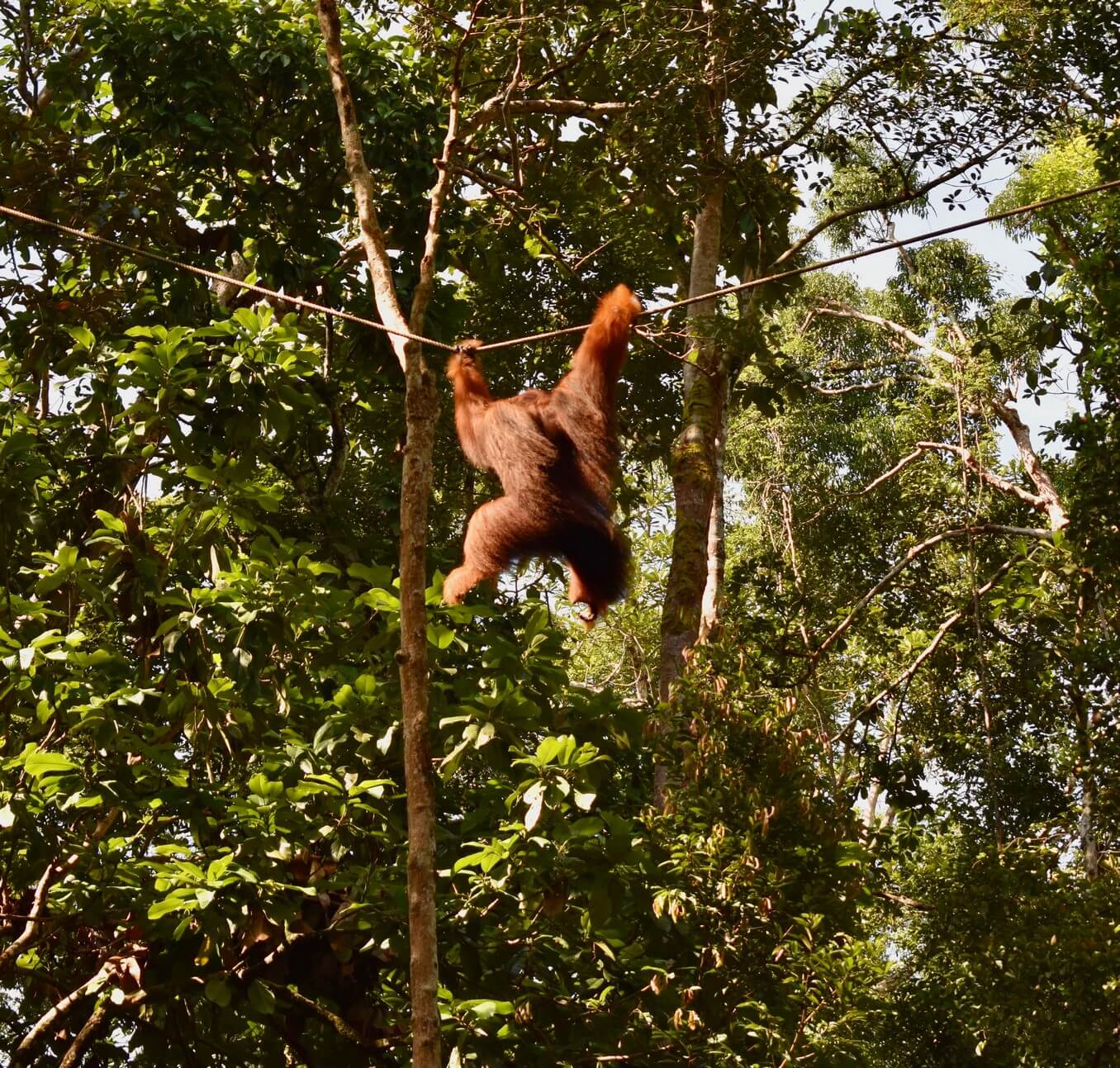 As we watched, the keepers warned that the alpha male, Richie, was nearby, and we should be ready to evacuate the area if asked. Suddenly, another big male swung down and helped himself to the food. From the sounds coming out of the trees, big Ritchie was not at all pleased about this! As the two orang-utans faced off, unseen in the forest, we were all asked to leave for our safety!
Visit Kuching and go to the Cat Museum (aka the weirdest museum we've ever seen!)
By complete co-incidence, the name Kuching means 'cat' in Malay. The people of Kuching have taken this and run with it, and the results are cute, funny and sometimes downright odd! There are cat statues all around town of varying…um, quality. At one of the larger ones, boss-eyed cats play around a fountain, while another shows one cat sitting on top of a scratching post lording it over his friends.
But the main attraction is Kuching's Cat Museum. A short taxi ride from the city centre, you wind up a hill and are confronted with an impressively grand, shiny building with amazing views over the city. Relax, the whole building isn't dedicated to our feline friends – this city isn't that cat mad. The museum entrance is a huge cat-face shaped archway (yes, really!). Inside you'll see a whole series of exhibits. From displays on cats in film, advertising and the arts, to information about cats through history, alongside some frankly quite dodgy taxidermy, anything you every wanted to know about cats is here!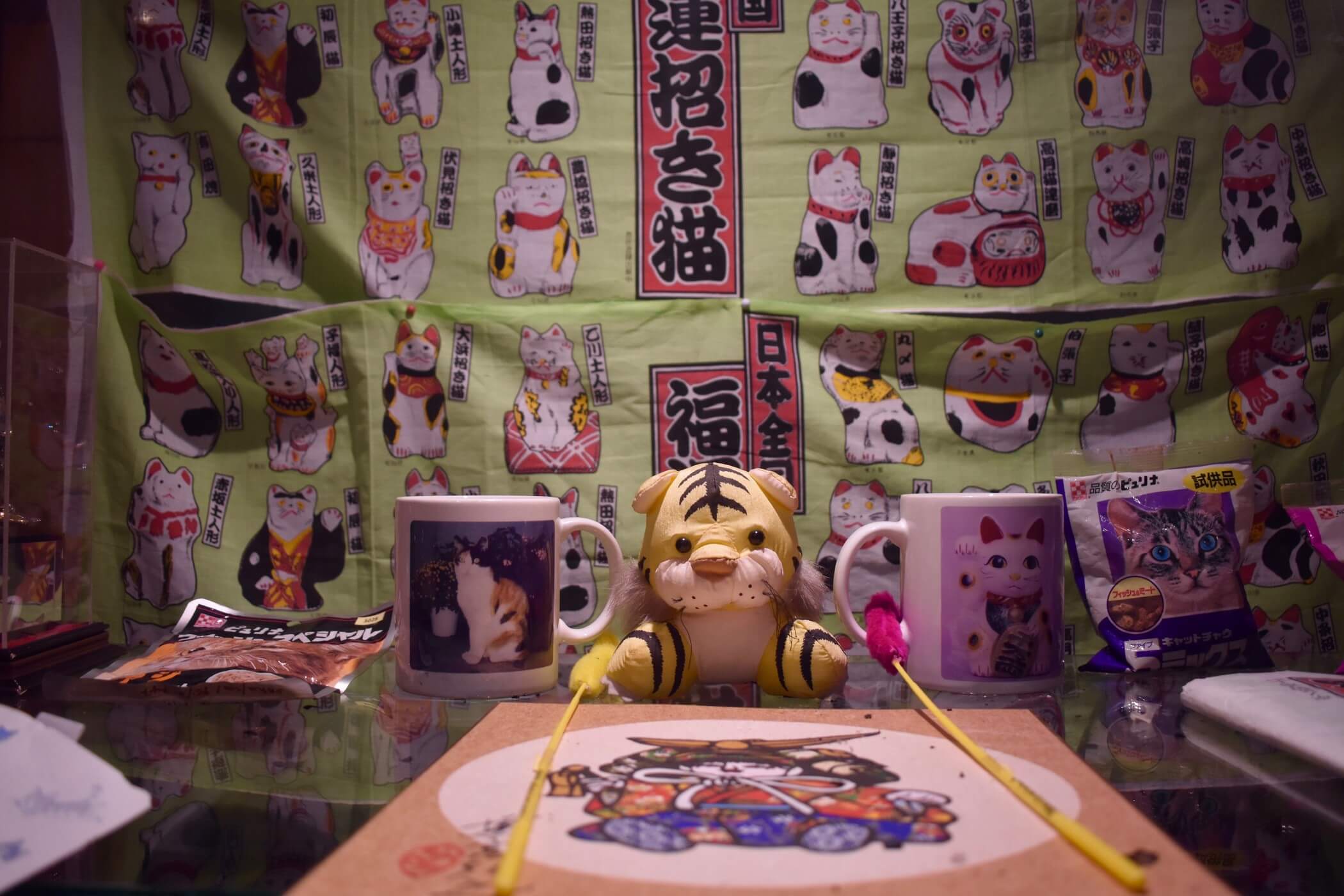 Visit Kuching and Learn Some History
Kuching, like the rest of Malaysia, has a really multicultural population. At the Chinese History Museum you can find out all about the different Chinese families and clans who travelled here and made Sarawak their home. There are interesting displays about Chinese customs and traditions, as well as information on famous Chinese people who settled here. It was a small but fascinating (and air-conditioned!) insight into a culture that we knew relatively little about.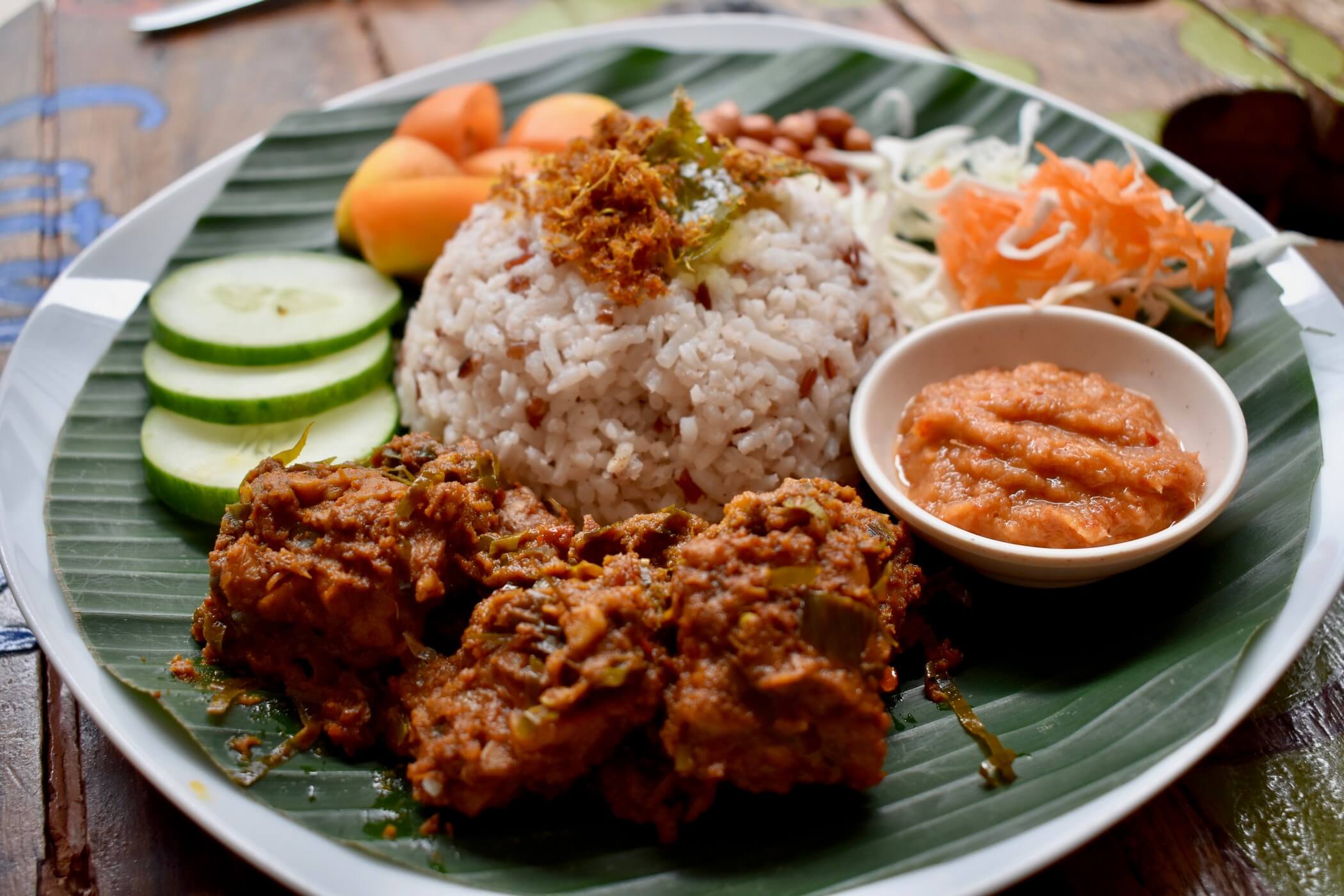 Visit Kuching and Eat Amazing Food
Malaysians love food, and the people of Kuching are no different. To be honest, after being spoilt for choice with all the delicious vegan options on offer in George Town, Kuching is a little more limited. But never fear, we haven't been going hungry! We've found two Chinese veggie places where they serve a cheap and tasty buffet. We've been filling our plates with veggies and spicy mock-meat dishes. We also found a cute bar which serves vegan junk food in the evenings. Here we had mac & cheese, cajun fries and cheesy black bean hash browns, yum! We even found a cute little art cafe with a separate vegan menu. They serve local classics and western food too.
Our Top Tips if you Visit Kuching:
We stayed in two places and would recommend them both. Hero Hostel was cheap, comfy and central – they were really friendly and full of advice. Also, Marco Polo Guesthouse has one of the best free breakfasts that we've come across so far, as well as a peaceful plant-lined balcony and (while we were there) some adorable kittens.
If you're after a veggie buffet or some local food, you can't go wrong with Zhun San Yen or Wonderful Veggie.
Like many Malaysian cities, Kuching has loads of shopping malls. Great if you need some air-conditioning, a sit down and a free bathroom!
To visit Semenggoh Nature Reserve, get bus number 6 at 7.20am, this will get you there for the 9am feeding session (you're more likely to see some action at the morning one!) It costs 4 MYR per person for the bus, and 10 MYR per person to enter the park.
The Cat Museum costs 3 MYR each, and you'd be best off getting a Grab since the buses are unpredictable. We paid 9 MYR each way.
The Chinese History Museum is free (and also air-conditioned!)
For vegan junk food and cocktails with a conscience, check out The Bear Garden who donate 50% of their profits to conservation work.
For vegan food and healthy smoothie bowls, visit Indah Cafe.
Finally, we hope you enjoyed our post on Malaysia's cat city! If we've missed anything or you have a tip to add, please let us know in the comments! C & D xx