Well, going from tranquil Sri Lanka to chaotic Mumbai was definitely a shock to the system! Our journey was fairly straightforward, apart from having to self-transfer at Bangalore airport – we had two hours to clear immigration, pick up our bags, check in for our next flight and pass back through security, so we were a little worried, but we made it just fine. Arriving into Mumbai, we could see the huge city twinkling below us, seeming to go on for miles. Mumbai is the biggest city in India and the 4th most populous city in the world, with a population of 20.7 million – that's a lot of people! We were looking forward to getting out and exploring but since we arrived at nighttime our priority was getting to our hostel and getting some sleep. We had a small accommodation hiccup as when we tried to check in we were told that they were full, despite the fact that we had booked. Irritated and tired, we were hustled into a tuk-tuk and taken to their sister hostel about 5 minutes ride away. In actual fact, the place was fine and we soon settled down for the night.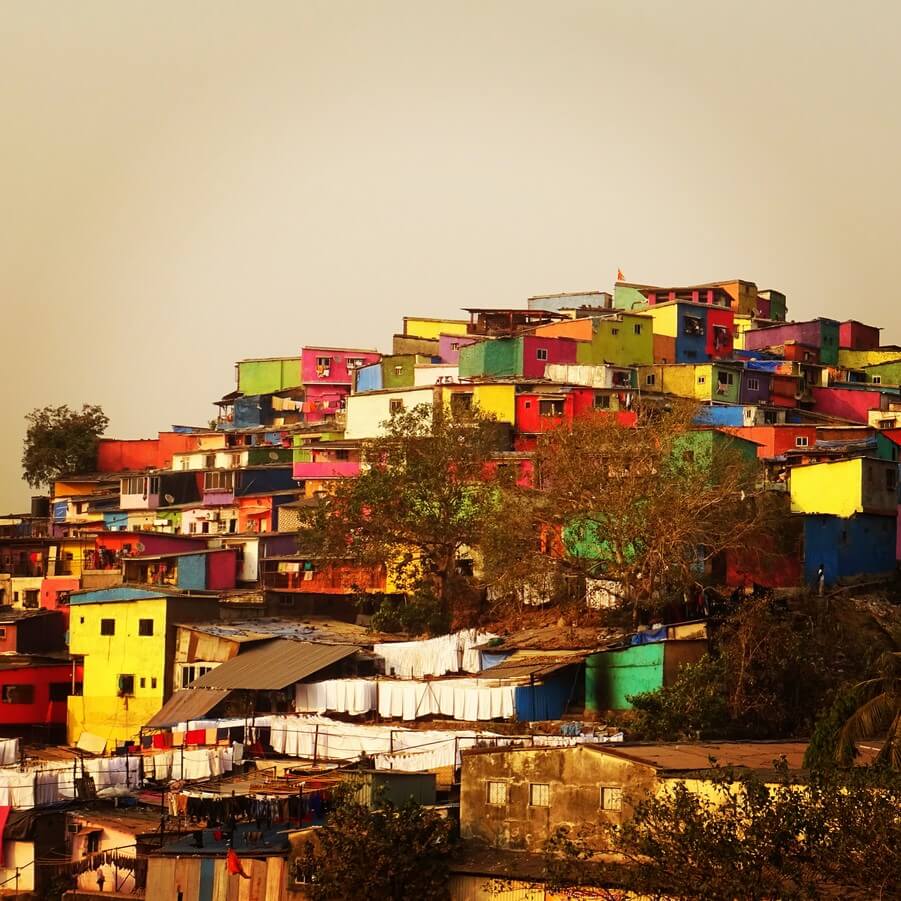 We were staying quite far out in the suburbs, so we had no choice but to battle with Mumbai's infamous local trains in order to reach the centre. We followed advice and waited until around 11am to leave. You may have seen images from Mumbai's commuter trains featuring hundreds of people hanging out of train doors and even holding onto the roof – there was no way we were going to travel at peak time! A mind-boggling 7.5 million people per day  use Mumbai's local rail network. The first part of our journey was on the shiny new metro, which was clean, fast and wonderfully cool with its air conditioning on full blast. It was fairly crowded but nothing we haven't handled on commutes back home. Then we hopped on a Western line train into the centre of the city – while waiting in the long queue for a ticket a friendly local advised us that we should aim to get the slow, stopping service rather than the fast train, as it would be much less crowded. Grateful for the tip and apprehensive about the experience, we headed to the platform where, to our surprise, the train was ready and waiting and even had spare seats!
A little while later we emerged from Churchgate, sweaty and blinking in the bright sunshine. The walk from here to Colaba is lined with impressively grand colonial buildings and shady trees, along with all the chaos of a big Indian city – honking horns, zooming tuk-tuks and the usual host of hawkers. We dodged and weaved our way around the street stalls of Colaba market, where vendors called out to us to from behind a huge array of objects, from clothes and jewellery to books and toys. Here you could get your shoes shined while browsing for a new phone cover, or drink a freshly squeezed juice while looking at vibrant coloured shawls. After a while our tired senses needed a break so we ducked into a small Goan restaurant for a delicious thali and some iced coffee, before heading towards the seafront.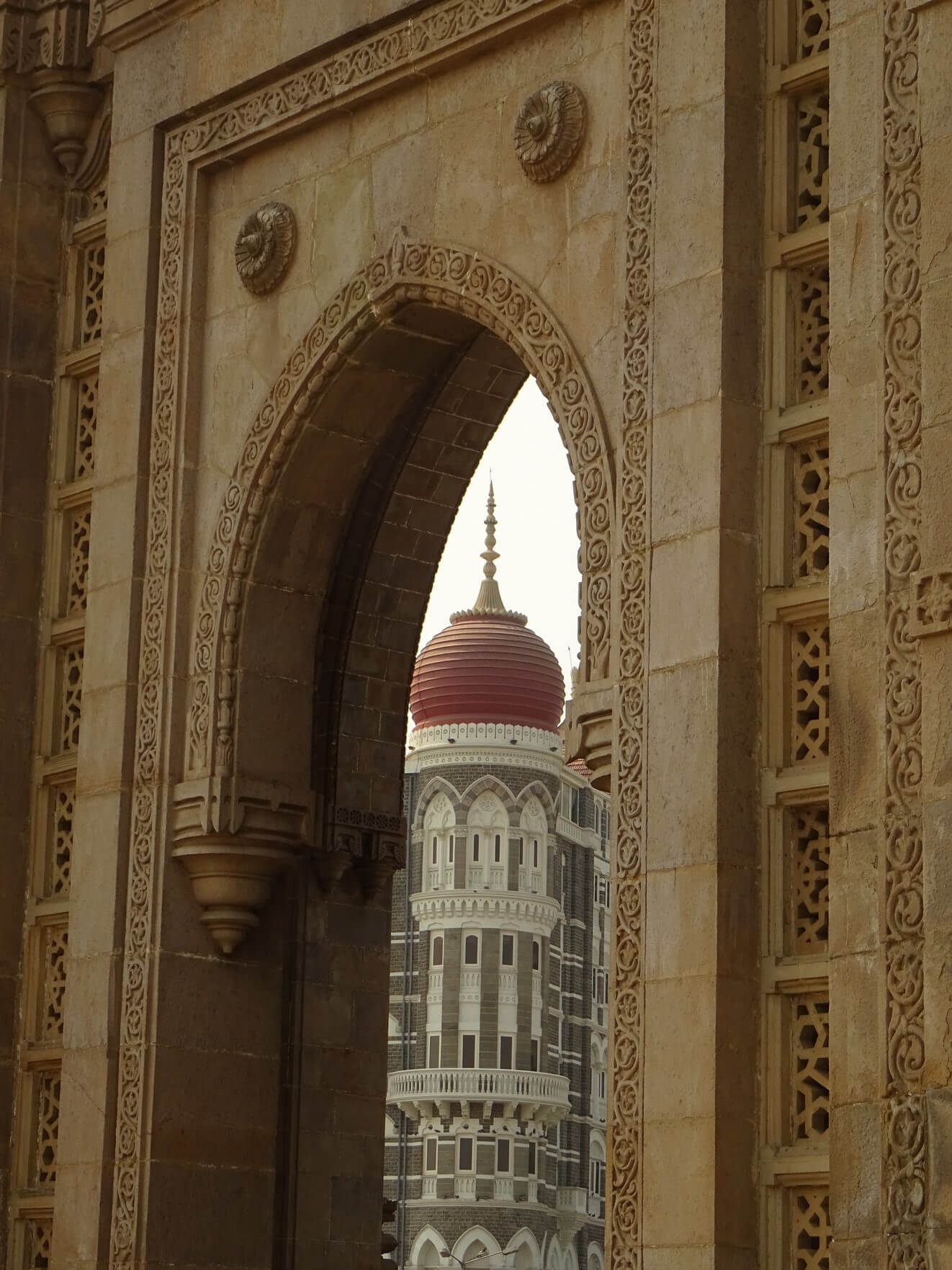 The Gateway of India is unmissable as you round the corner and walk along the coast – it towers over the bay and the crowds of visitors, standing proud. Although it was built as a symbol of the strength of the British empire, commemorating the visit of King George V, it was later used as the ceremonial leaving point for the British army when India achieved its independence. Today it is a popular spot with domestic and international tourists, with crowds of people taking selfies and enterprising locals selling souvenir photos. It's also home to a huge pigeon population – so you might want to take a hat as a precaution from overhead missiles! Right next to the Gateway is another of Mumbai's landmarks – the Taj hotel.
On the road between Colaba and Churchgate station, next to the impressive Chhatrapati Shivaji Maharaj Vastu Sangrahalaya Museum, is a small and delightful art gallery. Jehangir Art Gallery is free to enter and displays a range of contemporary art and changing exhibitions. It's a lovely place to spend some time away from the chaos of the city and we enjoyed wandering around in the peaceful surroundings (not to mention the air conditioning!)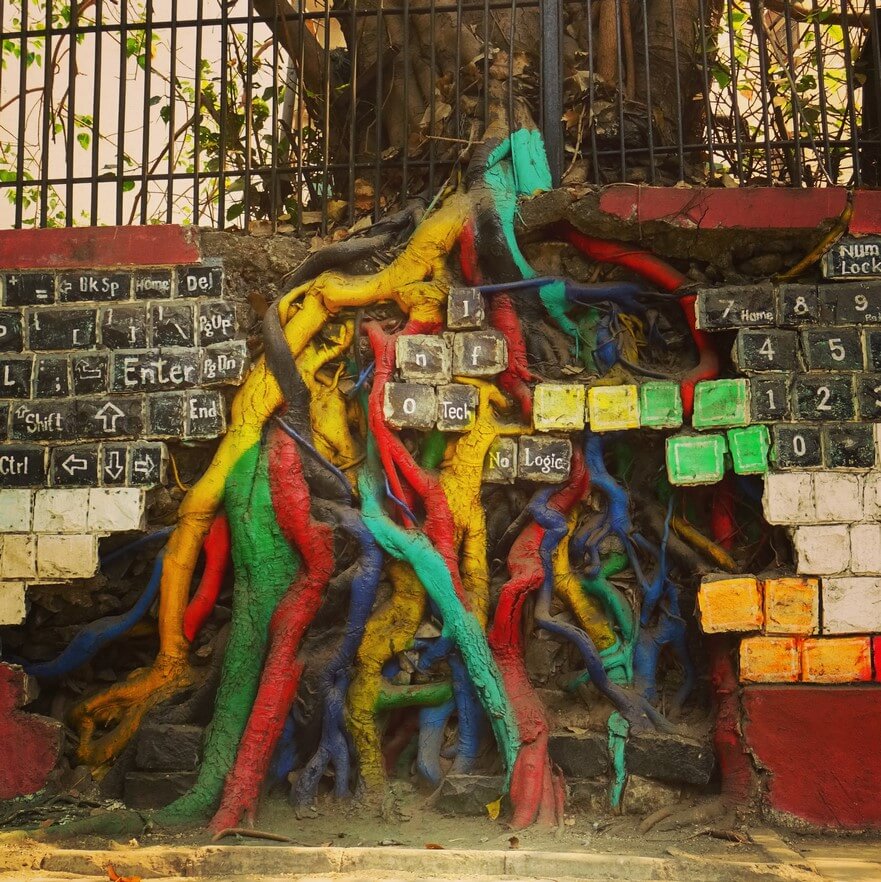 The following day, we faced the trains again and this time ended up at Chhatrapati Shivaji Maharaj Terminus – formerly known at Victoria Terminus and still affectionately referred to as VT by some locals. This might be one of the most beautiful train stations we've ever seen, and we've certainly not been to one which is listed as a UNESCO World Hertitage site before! While we were on the way there I was wondering why a train station was on our list of places to visit – surely it couldn't be that special? Then when we rounded the corner my mouth dropped open, literally. It looks like it wouldn't be out of place in Oxford or Cambridge, like a fancy old college building. It even has gargoyles! Who builds a train station with gargoyles? Needless to say, it definitely proved that it belonged on the list of must-sees for the city.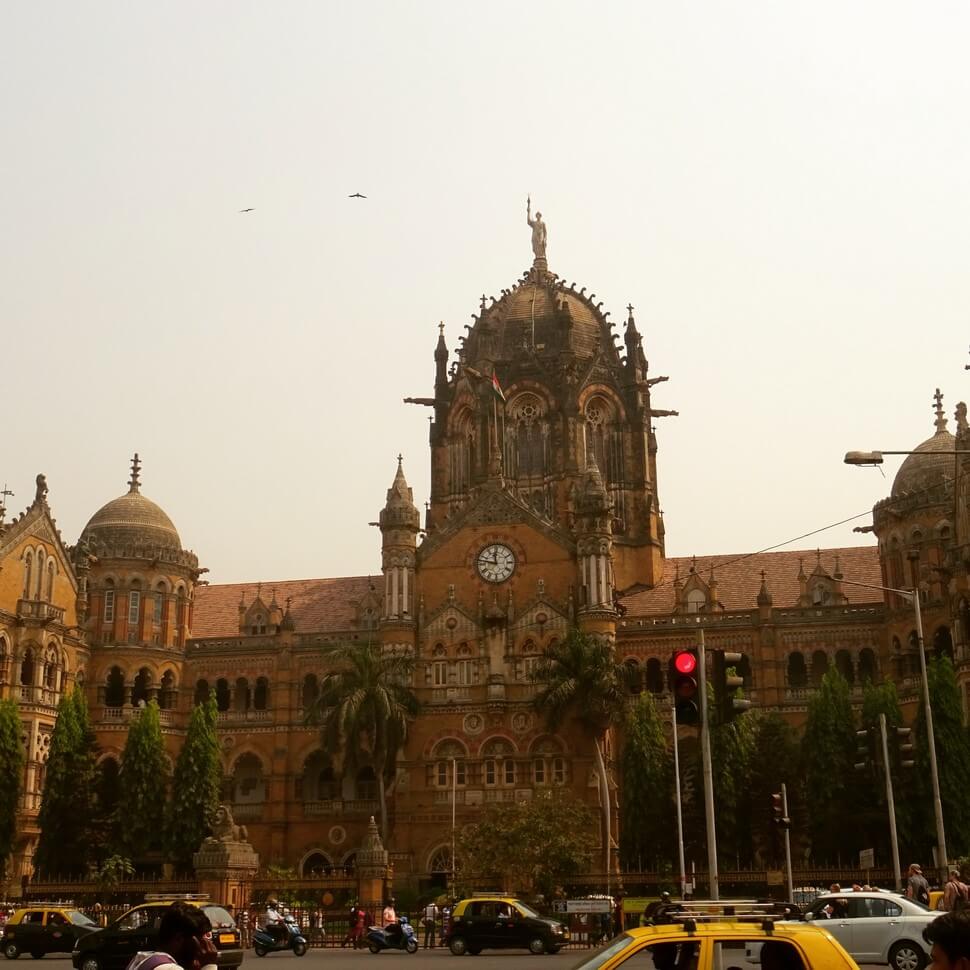 We also checked out Sassoon Docks (holding our noses in the process!) which is one of the cities oldest docks and the largest fish market in the city. The attraction was the Sassoon Dock street art project but unfortunately the indoor part of the exhibition was closed. We were still able to see some of the awesome murals and pieces of artwork that have been painted on buildings around the docks though, including the series of 300 photos of Koli fishermen and women.
Two days is barely enough to scratch the surface of this huge and varied city, but for us it was enough. Although it's a really interesting place to visit, the pace here is relentless and we were in need of some fresh air and some space. Stay tuned for our eventful journey to Udaipur on the night train!
Our Top Tips for Mumbai
Gables Goan Restuarant in Colaba is a good spot for a cheap lunch – we had a yummy thali for 120 rupees and their cold coffee is lifesaver on a hot day.
Aram Vada Pav is a little hole in wall counter and tiny resturant opposite Victoria Terminus. We had a fantastic budget lunch of Gavran Zunka Bhakri –  a thick veggie curry served with a light flatbread. We also had probably the best sweet lassi of our entire trip here!
Jehangir Art Gallery is free to enter, and is a great place to chill in the air conditioning and grab some peace and quiet among some awesome artwork.
Mumbai Metro is new and currently there is only one line, but it's cheap and easy to use. Once the network is finished it should make travelling around the city so much easier!
If you are travelling on the local city trains, avoid the peak times of 7 – 11am and 6 – 10pm. Try and aim for a slow stopping service if you can – it will be less busy than the fast trains. Tickets are ridiculously cheap so if you avoid the rush hour its a great way to get around – it cost us 20 rupees for the 45 minute journey into the city.
Leopold's is a famous cafe in Colaba which featured in the book Shantaram and was also hit by the terrorist attacks in 2008. It's pretty cool to see the setting of some of the action in the book, but its super touristy and the prices reflect this – best to just pop in for a quick drink rather than a meal if you do want to see the place.
Keep your eyes peeled while you wander the streets – Mumbai is home to some awesome street art and graffiti projects!
Keep an eye on your personal belongings at all times!