After our hectic time in Udaipur celebrating Holi, we decided to find somewhere a little quieter to explore next. We settled on the small town of Bundi, a 4 and a half hour train journey away. We thought this would be a nice break from some of the drama – but oh how wrong we were! Read on for stories of monkey attacks and yet more accommodation mishaps.
Our train was slightly delayed and we pulled into Bundi at 11.30pm, so we hopped into a tuk-tuk straight away and endured the bumpiest ride of our lives to our hotel, around 15 minutes away. We had already warned them that we would be checking in late so we weren't too worried, but unfortunately yet again we were told on arrival that the place was full. "But we booked!" we protested weakly, only to be told one of the guests had been taken ill and was unable to check out. Doubtful of the story but too tired to argue, we agreed to sleep up on the rooftop for the first night, free of charge. Despite our worries that it would be noisy and that we'd get eaten alive by mosquitoes, it turned out to be not so bad and it certainly wasn't the worst night's sleep we've had (that honour still belongs to the awful Central City Hostel in Kandy!) We also got a free breakfast out of the deal, so as soon as we'd checked into our room the following morning at around 10.30 and had a much-needed hot shower, we were feeling pretty chipper about the whole thing.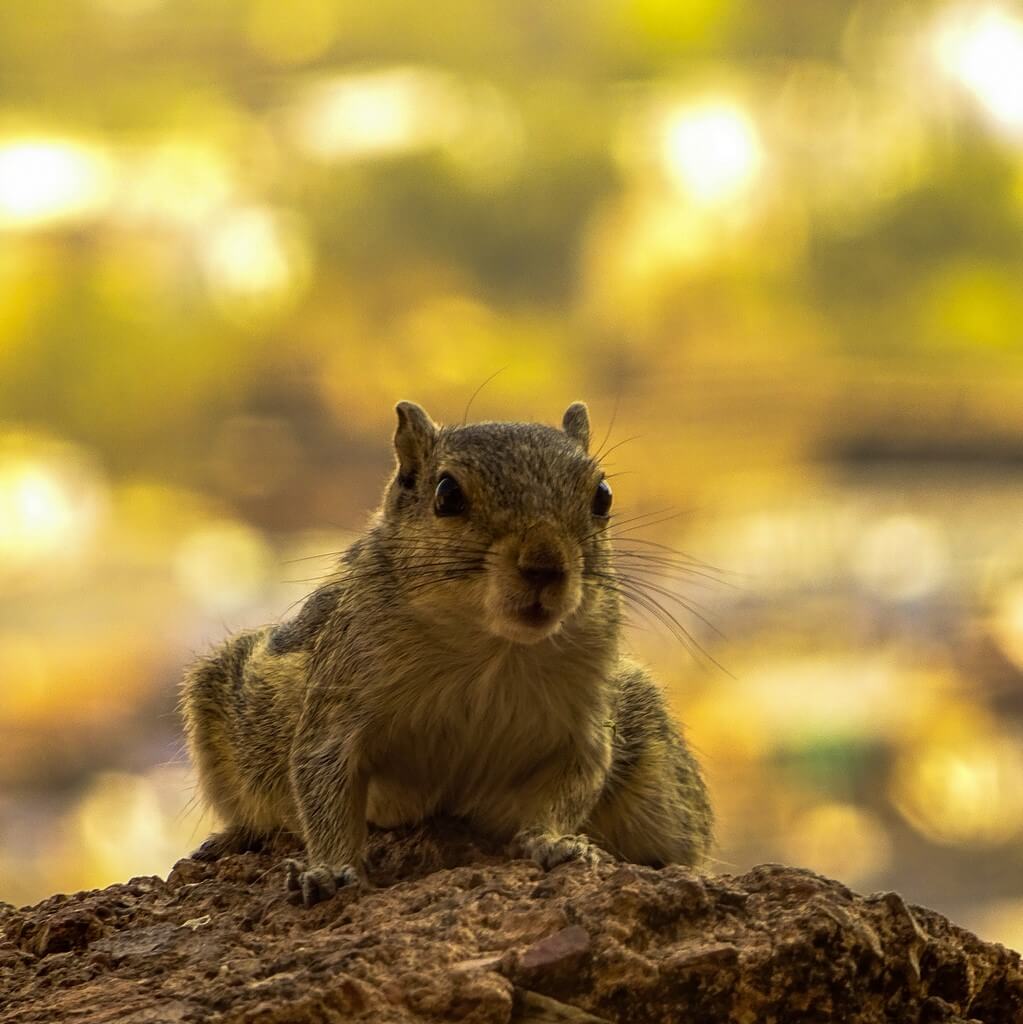 Although not completely off the beaten track, Bundi is definitely less busy than most of the places we have been in Rajasthan – there are still touristy restaurants on the main street but hardly any souvenir shops, or clothing stalls selling the ubiquitous elephant print baggy trousers and sequined skirts. Outside of this one stretch of road, locals pretty much go about their daily life as normal. Bundi is dusty, the roads are terrible and there is rubbish piled on most corners. And yet, this little town has a certain charm. It's dominated by the large palace and fort on the hill – it's quite an impressive sight and we decided to pay it a visit on our second day.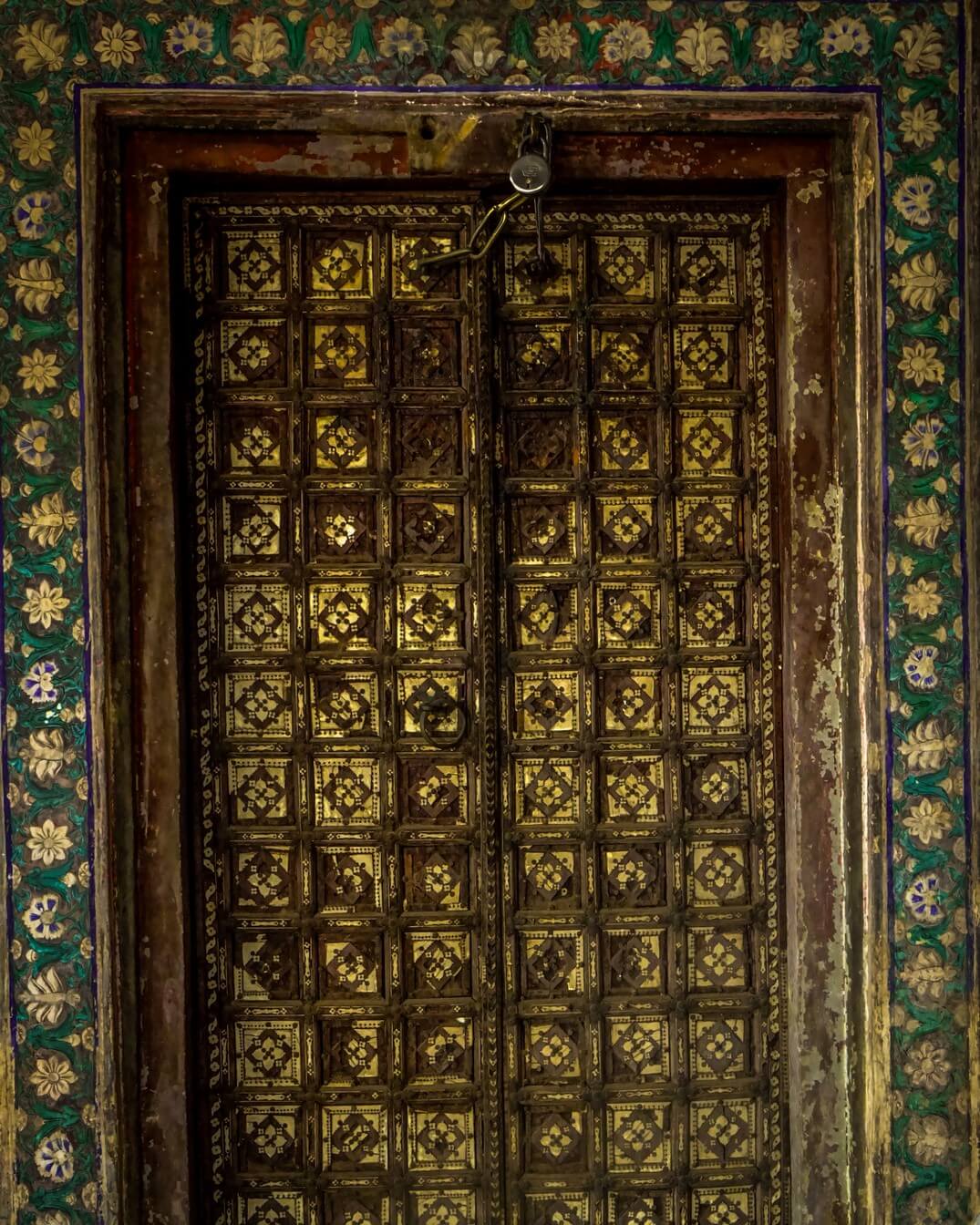 The palace is unlike any of the others we have been to in India – it's in fairly good structural condition, but not a lot of work has been done to preserve the decorative features. It's a sort of crumbling fixture with the occasional hidden bit of beauty. For example we walked up a dank and dark staircase, with a whole troupe of bats hanging over our heads, only to walk out onto a grand hall with carved columns and an intricate throne. Amongst rubbish filled rooms, we found some incredible mirror-work walls and impressive murals. The place is not really geared for tourists (despite the high-ish entrance fee of 500 rupees) and there is a distinct lack of information or signposts. However, it was really fun to wander around without being badgered by tour guides or people wanting selfies, feeling like we were discovering the place for ourselves.
Just above the palace is Chitrashala, the picture gallery, where a friendly guard let us in to view the paintings. These are really impressive, the whole hall is filled with colourful scenes and gilded mirrors. It's a shame there wasn't any information available but it was still wonderful to take it all in. There is also a pretty little secret garden up here, where you can recover from the steep walk in the shade.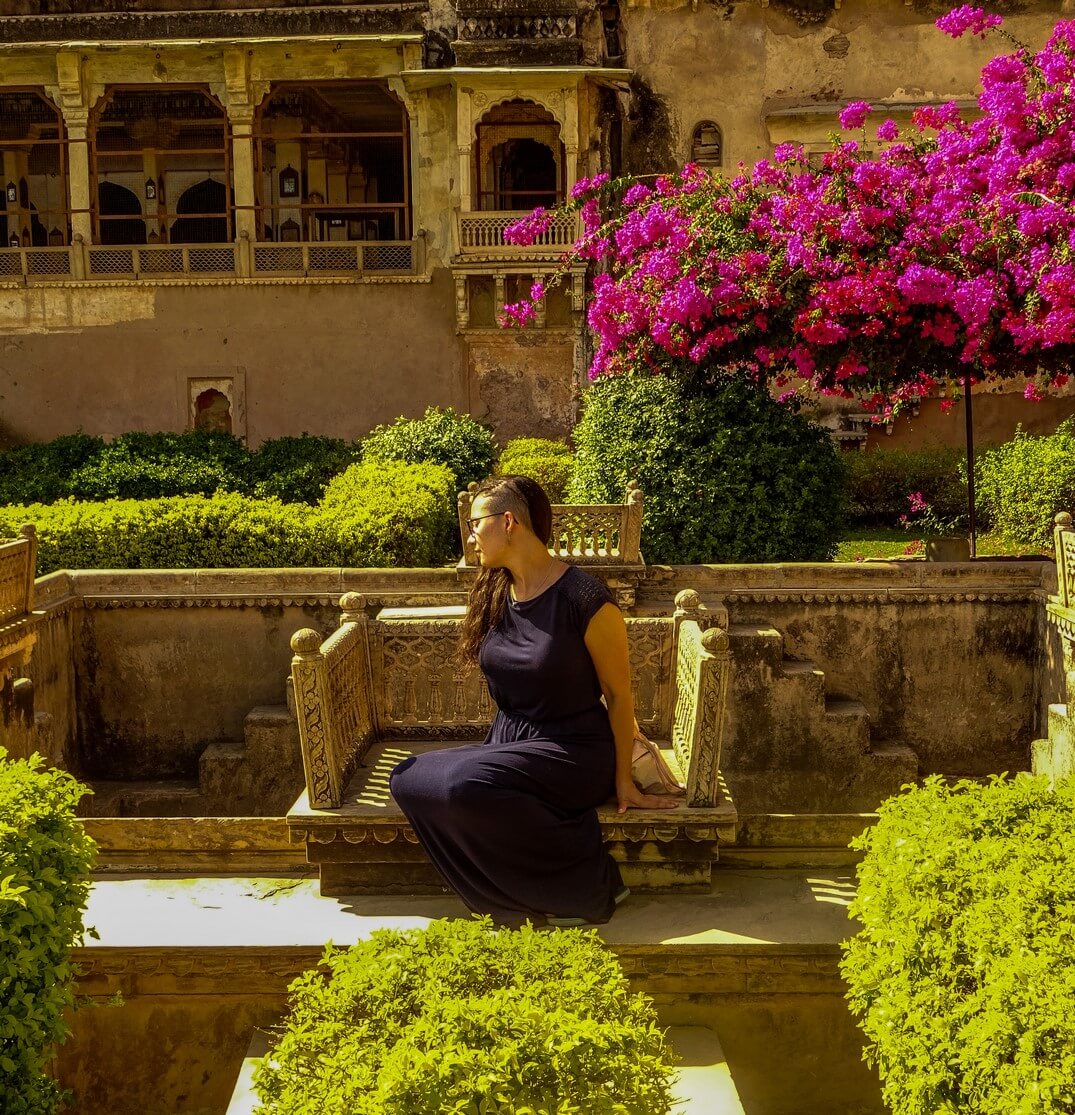 Since it was included in the ticket price, we thought we would walk up to the fort on the top of the hill, Taragarh. This is where things started to go a little wrong! We weren't prepared for the walk up the hill really, having only decided on the spur of the moment to go up. Wearing flip-flops on the overgrown stony path, and having only half a bottle of water between us in the hot afternoon sun, the ascent was fairly challenging. However the fort is really worth the effort. It's not in great condition, a lot of the walls and steps are slowly crumbling away, but you can still see the might of the original building. We were the only people up there when we arrived, apart from a napping security guard. It was the first time we've experienced complete silence in a while! There were lots of monkeys hanging out in the fort, but we kept our distance and weren't too worried. The trouble came when we were on our way back down the hill – there was a large male monkey sitting in the middle of the path. We stopped, but it started to walk towards us. Then it bared its huge yellow teeth and started to run towards us! Panicked we ran back up the path and decided to stop and wait for it to leave…we weren't sure if we had done the wrong thing by running, maybe we should have waved a stick or thrown a rock to assert ourselves. It was a little distance away as we sat discussing our options, and then suddenly it began running straight at us. We legged it back up the path, adrenaline pumping, and I felt it catch up with me and brush the back of my dress. Certain that I was about to be bitten by the aforementioned scary looking teeth, contract rabies and die, I screamed. David had my hand and kept running, dragging us back into the fort gateway. We looked around and the monkey was now up on the wall above us. We seized our chance and ran full pelt back down the way we had come. We didn't want to end up trapped in the fort with no way out. After a little while we slowed, but then realised there was another monkey in the middle of the path in front of us. This time, David grabbed a rock and threw it (not at the monkey of course, but close enough to scare it off) and the monkey moved away a little. He threw another and the monkey retreated enough for us to make a run for it. A rock in each hand, we made a break for freedom and didn't look back until we had reached the bottom of the path!
Shaky from the heat, lack of water and our scary encounter, we found a cafe and ordered two soft drinks each! Once the sugar hit our systems and we started to feel better, we shared our story with the cafe owner. He was puzzled – we told him it was one of the black-face monkeys and he said that they are usually friendly. We think maybe the second monkey may have been pregnant which is why the first monkey acted so aggressively when we got close. In any case, we've definitely had our fill of monkeys for a long while!
We're relaxing on the rooftop today, in preparation for our longest train journey yet this evening – 20 hours from here to Rishikesh, wish us luck! C & D xx
Our Top Tips for Bundi
Bundi station is small and not served by many trains, but from nearby Kota you can catch trains to Mumbai, Delhi and other destinations in Rajasthan. Kota is an hour away by bus or train.
Bundi House Hotel is a good budget option – we paid 720 rupees per night for a double room with bathroom. The rooms are clean and comfy, the showers are hot and powerful and the location is fab. The rooftop is a good place to chill, though the food and wi-fi are both a little hit and miss. Oh, and they have an adorable chubby labrador!
Morgan's Place restaurant serves Italian food which actually tastes like it should – a rarity in India! The veggie canneloni is delicious. It's a little pricy but good if you need a break from Indian food.
Lake View Garden Restaurant serves tasty homemade Indian food in a pretty garden setting – it's family run and not expensive.
Sawan restaurant is a tiny rooftop restaurant, where we had a really tasty giant thali, with seconds, for 180 rupees each. Also their cold coffee is amazing, and the lady who runs the kitchen is wonderful.
It costs 500 rupees to enter the palace and the fort – you can't buy a ticket just for the palace. Both are worth a visit – be prepared for the steep walk to the fort, you'll need water and sensible shoes. And maybe a stick to keep the monkeys away!