Brilliant Buzzing Bangkok
After nearly three months in India, we have finally moved onto our next destination. As our taxi glided through the quiet Bangkok streets at 3am, once we'd emerged from the hassle free immigration process at the airport, we couldn't help but notice two things straight away – the streets were clean and litter-free, and there was no cacophony of honking horns. Toto, I've a feeling we're not in Kansas anymore!
They say that Bangkok is a city that you either love or hate…luckily it turned out to be the former. I think it helped that our most recent big-city experiences were Mumbai and Delhi – after that any city was bound to seem easy. Although I've never been to Thailand, David has been several times and was keen to show me around one of his favourite cities. We had two full days to explore the city, which was barely enough to scratch the surface, but I'm sure we'll be back. On our first day we were taken in by the tourist hop-on hop-off boat and paid 180 baht for a one day ticket, not realising the normal everyday ferry was on 15 baht per journey! Nevermind, we made the most of it that day, and visited several spots along the river. First we hopped off and ambled around Bangkok's flower markets, which were bustling with colours and smells, and where we found a small cafe busy with locals for our first taste of Thai food.  A little while later, tongues still tingling from the fiery glass noodle salad, we jumped back onto the boat and enjoyed the cooling breeze and river spray. Bangkok is certainly hot!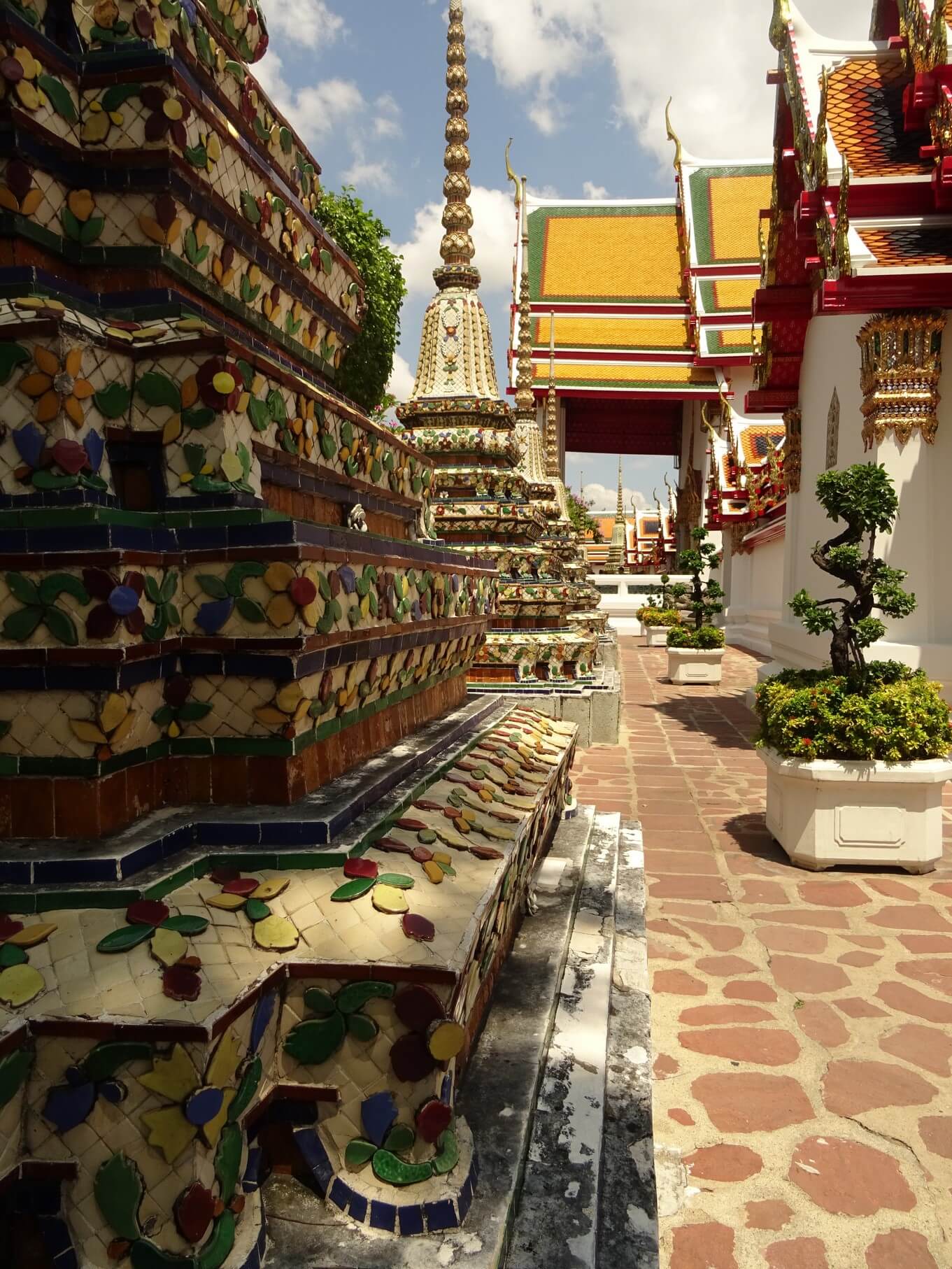 Our next port of call was a trip on the wonderful, efficient, air-conditioned sky train and then a visit to the Siam Paragon Mall. Oh, how the other half lives! I had fancied a spot of shopping but it was clear as soon as we walked through the door that this place was out of our price range! Shiny designer shops lined each side of the mall, and further up on the other floors glinted expensive electronics and fast cars. We felt far too scruffy to even be allowed through the doors, but nonetheless enjoyed having a wander and gasping at price tags. Later we found another mall called Platinum which was lined with rag-tag stalls overflowing with label-free clothes, with sparkles, lace and sequins crammed into every space. Much more our budget! I bought a new dress and then we realised we'd have to hurry if we wanted to get back for the last ferry. Sprinting off the sky train and back down to the dock, we managed to be the last ones on the boat and threw ourselves into two seats, panting from the run and the heat.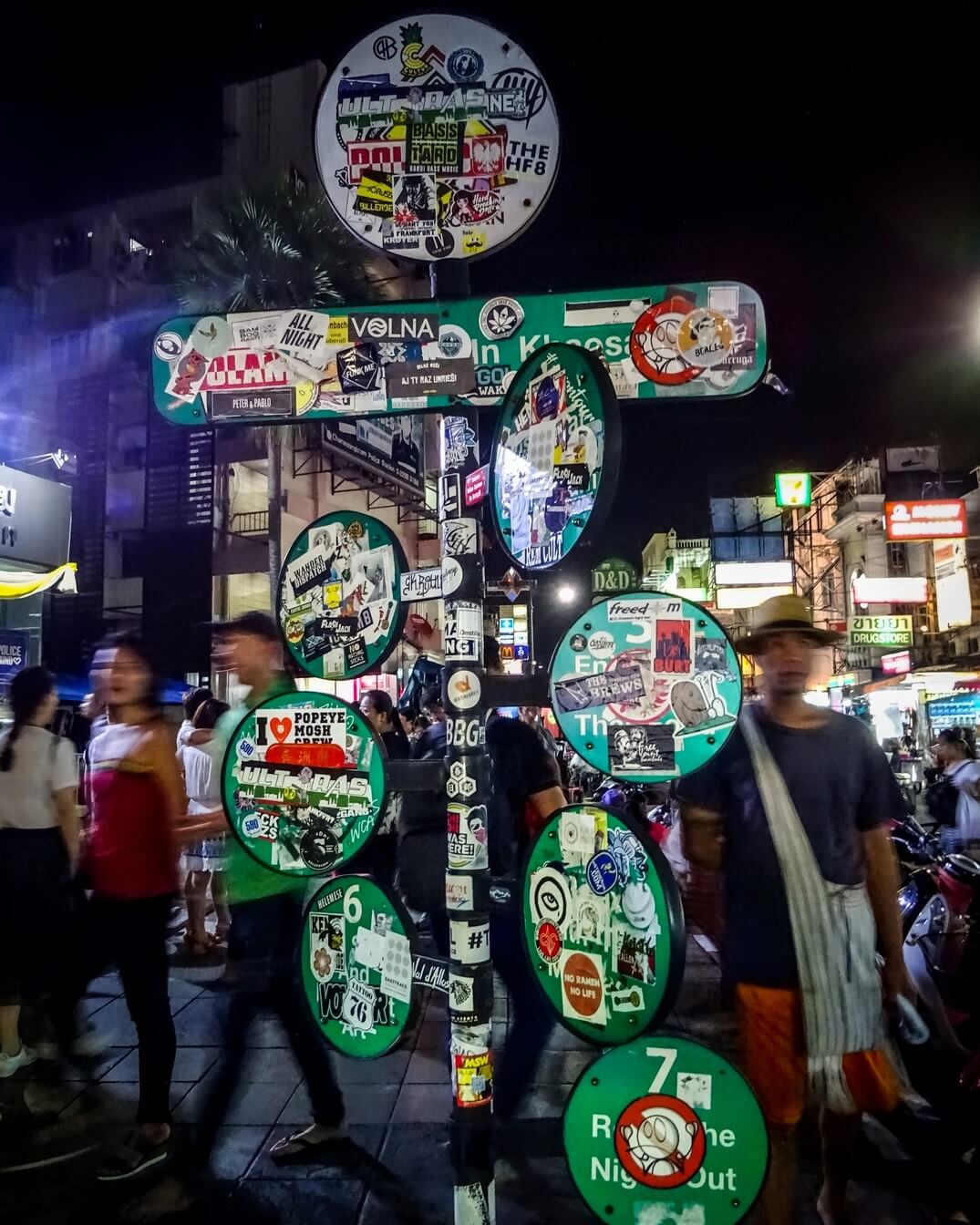 My two demands for our first night in Bangkok were my first taste of proper Pad Thai and a cold bottle of Chang on the infamous Khao San Road. Full of tasty peanutty noodles that we'd wolfed down at a street stall, we wandered into the chaos of Khao San Road and were bombarded on all sides by flashing lights, bar promoters pushing their drinks deals, hawkers selling beads, wooden croaking frogs and fried insects on skewers. We picked a bar and toasted the next leg of our travels. David then led us to a cosy little blues bar that he'd been to on previous visits, where the small stage area was right next to the tables, very intimate. The place was buzzing and served a killer mojito!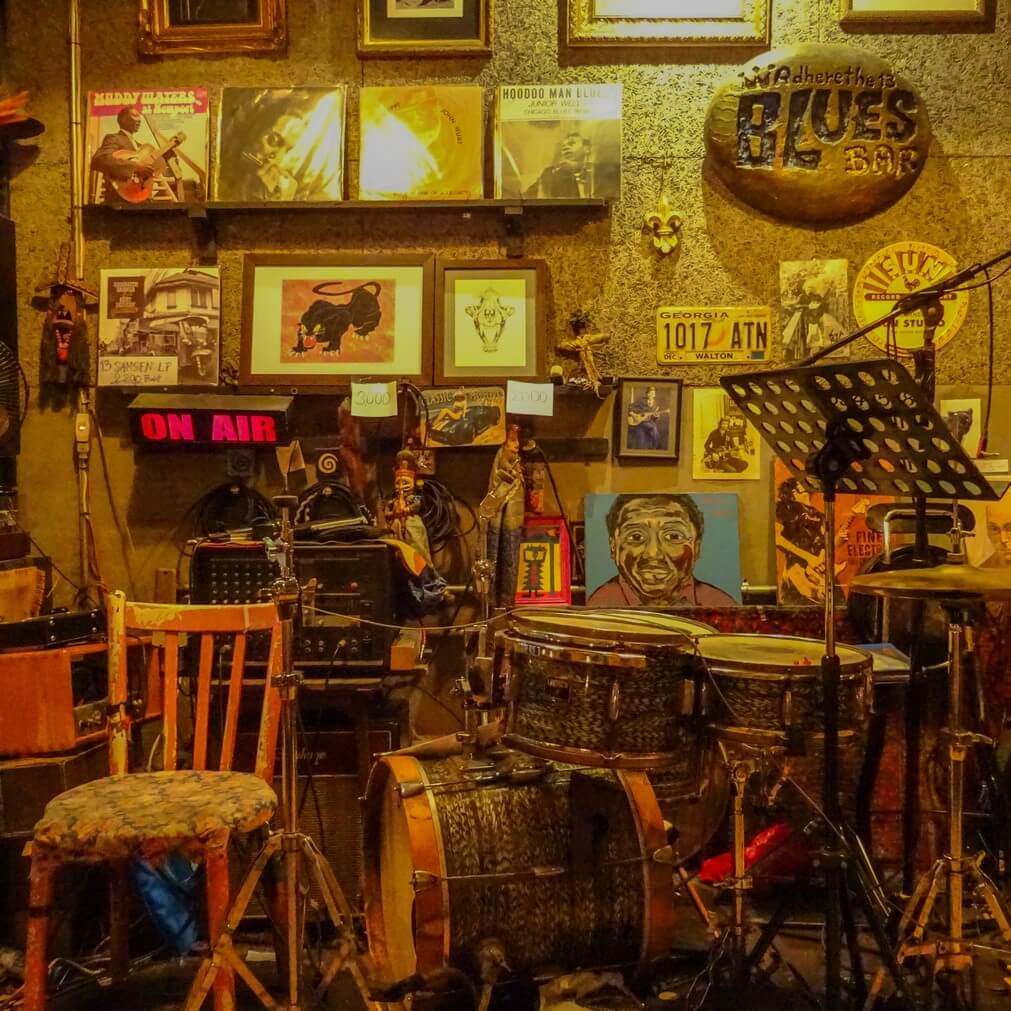 The following day, we decided to get some culture. Our first stop was Wat Arun, a beautiful Buddhist temple by the river. The temple was built in the 17th Century, but the distinctive spires were added in the 19th Century by King Rama II. Every inch of this incredible structure is encrusted with porcelain and the detail is mindblowing. Wat Arun is also referred to as the Temple of Dawn – it takes its name from the Hindu God Aruna, often personified as the rising sun, and looks its best when the early morning sun hits the spires.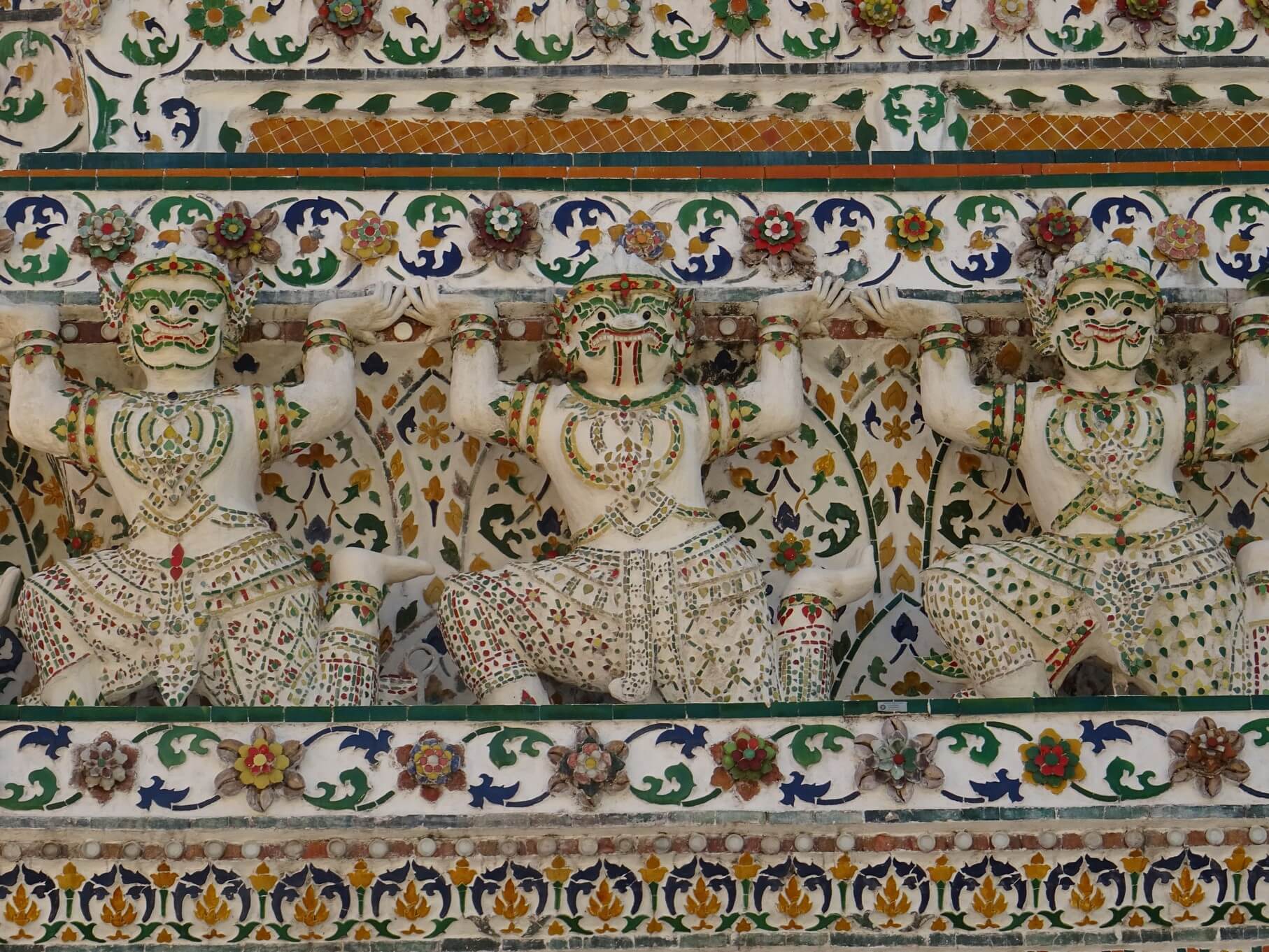 We also visited the amazing Wat Pho. This UNESCO recognised temple holds the biggest collection of Buddha images in Thailand. It's also thought to be the birthplace of traditional Thai massage. If we had thought Wat Arun was beautiful, well this place left us speechless. The temple complex is made up of several gilded buildings and porcelain encrusted stupas, all shining blindingly in the blazing Bangkok sun. As if that wasn't enough, it also holds a giant statue of the reclining Buddha. At 46m long, this statue is truly impressive!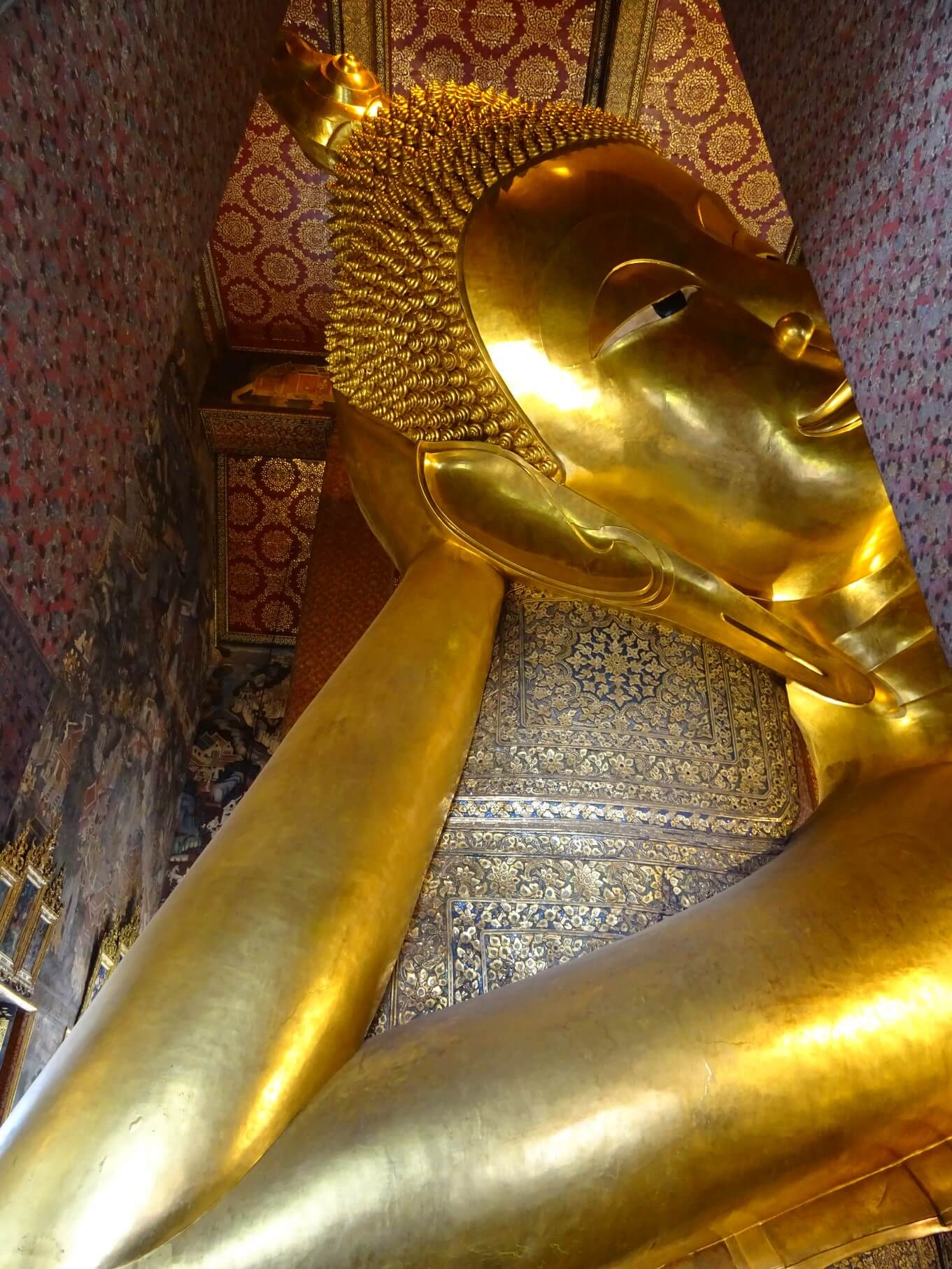 After soaking up all the comforts of big city living for a few days (oh, wonderful air-con! 24 hour shops! Cheap beer!) we're on the road again. We've just survived our first sleeper bus, which inexplicably arrived at the ferry port at 2.30 am, four whole hours before the ferry was due. After a mozzie-nibbled night napping on the pier, and a jaw dropping sunrise, the ferry finally dropped us at Koh Tao, a tiny slice of paradise in the Gulf of Thailand. Unfortunately it seems that the accommodation issues that have plagued us occasionally are not exclusive to India – we turned up at our hostel only to be told that they had given our room away by mistake! A quick Google told us there was a cheap option around 10 minutes walk away and in the end we found ourselves a room in a hotel right on the beach – result!
The sun is shining, we are surrounded by crystal clear waters, friendly people and delicious food…I think we are going to like Thailand! C&D xx
Our Top Tips for Bangkok
We stayed at Krit Hostel. It cost 200 baht each for a dorm bed, and although the dorms were very big, it was a pretty good place. They had a good cafe, good wifi and free breakfast. It is only a 10 minute walk from Kao San Road.
Don't bother with the tourist boat, instead go for the Chao Phraya Express Ferry (the orange flag boat) which costs only 15 baht per journey and stops in more places.
Don't believe anyone who tells you that a temple is closed for a holiday. We were stopped on our way to Wat Pho and told that it was only open for Thai people on Sunday mornings – this was not true and was a set up to scam us into paying for an expensive boat tour instead.
Adhere the 13th Blues Bar is a great little place to spend an evening – there is live music from 8.30 every evening and they make a killer Mojito!
There are so many brilliant cheap eats and street food places to choose from. Go for places that are popular with locals. We liked Karim Roti Mataba for a cheap snack!