Secret Sai Nuan – Best Beach on Koh Tao
Paradise tropical island
After boiling in Bangkok, we absolutely loved our visit to Koh Tao, otherwise known as Turtle Island. Picture a perfect tropical island, fringed with palm trees, golden sand and crystal clear water and you'll have a pretty good idea of what to expect from this little slice of paradise on the Gulf of Thailand. There are loads of activities to do here – diving, snorkelling, hiking, boat trips, or just simply soaking up the sun on one of the many beautiful beaches. But if you only have a couple of days on the island, like we did, you might want to know about a little secret to save you going to several different beaches. We've found the best beach on Koh Tao, and best of all we can tell you exactly how to get there!
Best beach on Koh Tao?
Don't get us wrong, there are lots of truly lovely beaches on Koh Tao. But Sai Nuan was our favourite by far. So why is it so great? Firstly, it's absolutely stunning, one of the prettiest beaches we've seen. It's small and quiet, but there is still a restaurant and a handful of beach bungalows so you're able to get food and drink if you haven't planned ahead and brought supplies with you. There is plenty of sand to stretch out your towel, with shady or sunny patches depending on your preference. But the two main selling points of this wonderful beach are these; it can only be reached by foot or by boat, and the snorkelling is amazing.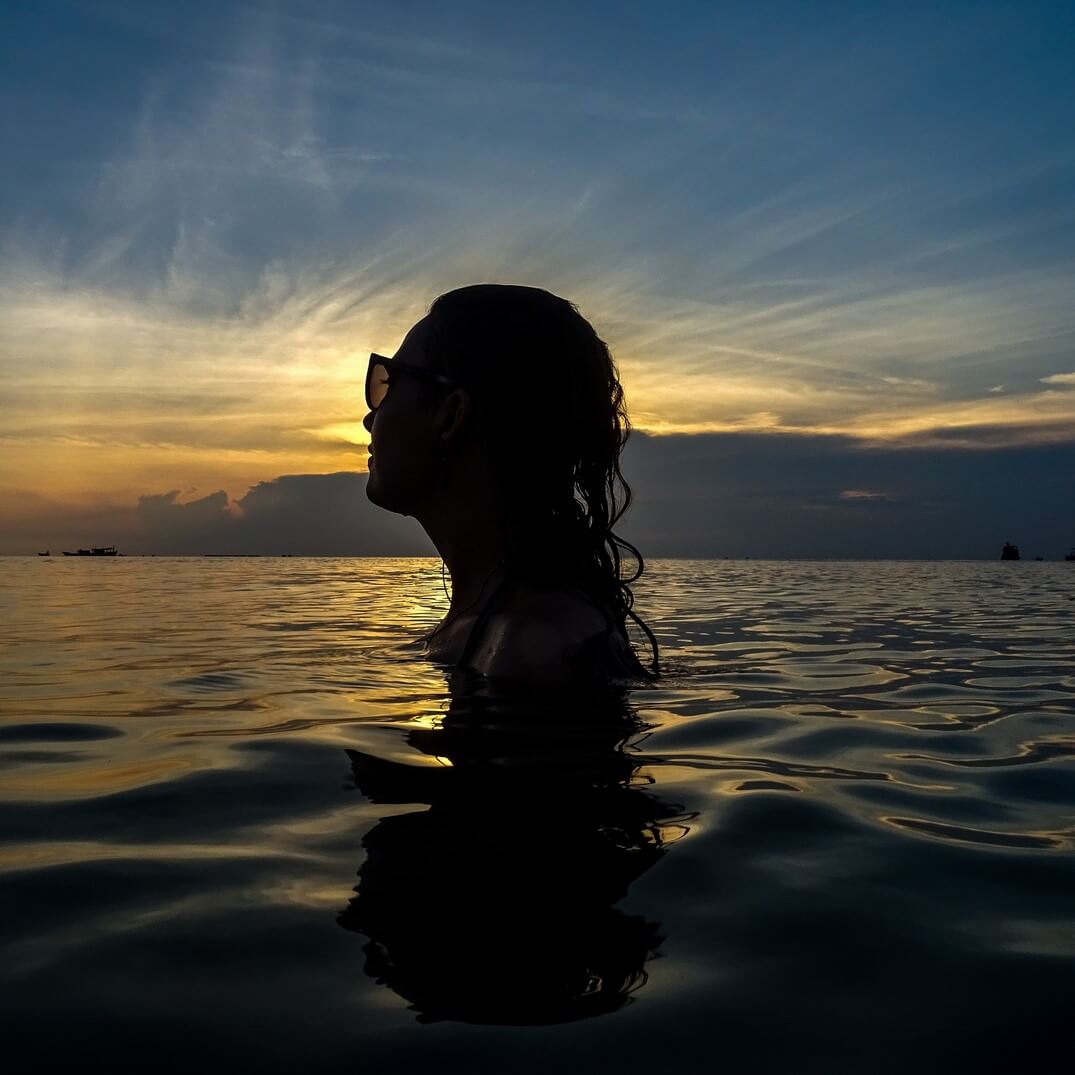 Most visitors to Koh Tao tend to rent scooters or motorbikes, and travel around the island visiting different beaches. However, because Sai Nuan isn't reachable by road it tends to get overlooked – bonus for you if you've walked there since it'll be way less busy than the other beaches! It's not a difficult walk either, and believe us when we say it's worth every step. We walked from the main town, Mae Haad, and it took us half an hour (actually probably longer than that since we kept stopping to take photos of the view and the unbelievable colour of the water!)
So how can you get to the best beach on Koh Tao?
Starting in Mae Haad, walk along the road next to the ferry piers. You'll see a restaurant called Whitening. With this and the sea on your right hand side, keep walking along the road and take the next left turn.  This leads up hill and past and sandwich bar and a business called RPM motors. Keep walking uphill and take the first right turn – there is a restaurant on the corner called Bam Bam. Now all you need to do is stay on this road. It will lead through a couple of resorts and eventually you will reach Charm Churee Resort.
Follow the signs to 'reception' and 'Jansom beach'. The path passes Starlight Restaurant and Elvis Bar – keep following signs for Jansom beach. As soon as you wind down the path to this private beach and resort, you will see a sign pointing to the path back up the hill on the other side marked Sai Nuan. The trail is clearly marked from here onwards. Make sure you wear sensible shoes and take plenty of water. It is a short walk but quite up and down so it can get a bit tiring! Well done – you've reached the best beach on Koh Tao!
Underwater paradise
Once we reached the beach, we spread our towels out in a patch of shade (making sure to avoid being underneath any coconuts!) and went straight into the sea to explore this amazing underwater world. The water is shallow and when we visited it was lovely and calm. You can paddle out to some rocks and coral a little way out. We saw several types of colourful and interesting fish – angelfish, butterfly fish, parrotfish, needlefish and more. We weren't lucky enough to see them ourselves but spoke to others who saw turtles and reef sharks while snorkelling here. Apparently early morning or late afternoon are the best times for these.
Overall we had a great visit to Koh Tao and we'll definitely be back one day. Maybe we'll even try diving next time! C & D xx
Our Top Tips for Koh Tao
Make sure you catch the sunset from Sairee Beach – preferably with a beer in hand! Sairee is also a nice chilled out place to swim from. There's not much in the way of snorkelling, but there is plenty of shade and the sea is shallow and calm.
We stayed at Tommy Resort – cheap and cheerful at 500 baht for a double room with a balcony. You get what you pay for here though – it was clean and comfy but no hot water or air con. There are loads of decent accommodation options to choose from on the island though.
Coffee Boat is a friendly cheap restaurant behind Sairee Beach. David had a jungle curry so spicy that he was almost in tears (but he likes it that way!) and I had a delicious green curry. Lots of veggie options and big portions.
Please note this page contains affiliate links. You can read our affiliate disclaimer here.