It's My Birthday and I'll go to Koh Phangan If I Want To
We've just spent a fairly idyllic week on the Thai island of Koh Phangan. A few months ago, David asked me where I wanted to be for my birthday, and my response was the beach. (I think my exact words were "I want a beach, a hammock and a cocktail in my hand!") Fast forward to March and as our ferry drew into the harbour at Thong Sala and we saw the clear blue sea and tropical palm trees, we knew we'd made the right decision.
For the first few days we stayed on the South coast of the island, next to Ban Khai beach. Although beautiful, the beach wasn't ideal for swimming – it was very shallow so all the sand was stirred up and made the water a little muddy and unclear. We were also quite a walk away from most shops and restaurants. It was a pretty enough place to spend a couple of days relaxing, and we went into the party-central town of Hat Rin for one evening to have a few drinks and see the famous party beach with its hawkers selling buckets of booze.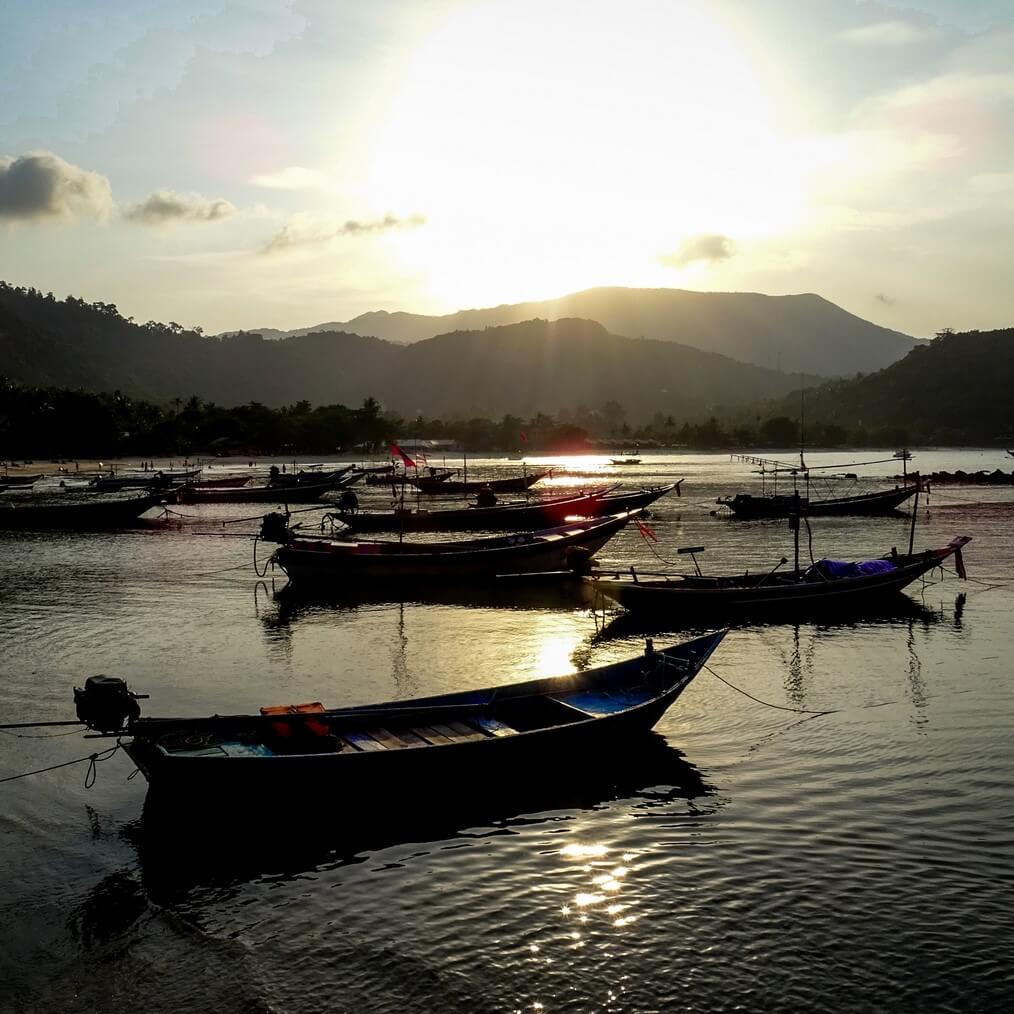 But really, I was champing at the bit to get to our next stop – after a quick Google search for 'the best beach on Koh Phangan' I had found the perfect sounding Thong Nai Pan Yai beach a couple of months before and booked us into a resort for my birthday. Longtail Beach Resort was twice our normal budget, but if you can't splurge a little on your birthday, then when can you? After a really short ride across the island in a pickup truck, we caught our first glimpse of the curve of white sand that was to be our home for the next few days and couldn't help but smile. And when we saw the inside of our beach bungalow we laughed with delight. For a couple of scruffy backpackers, for a few days we felt like we'd  made it!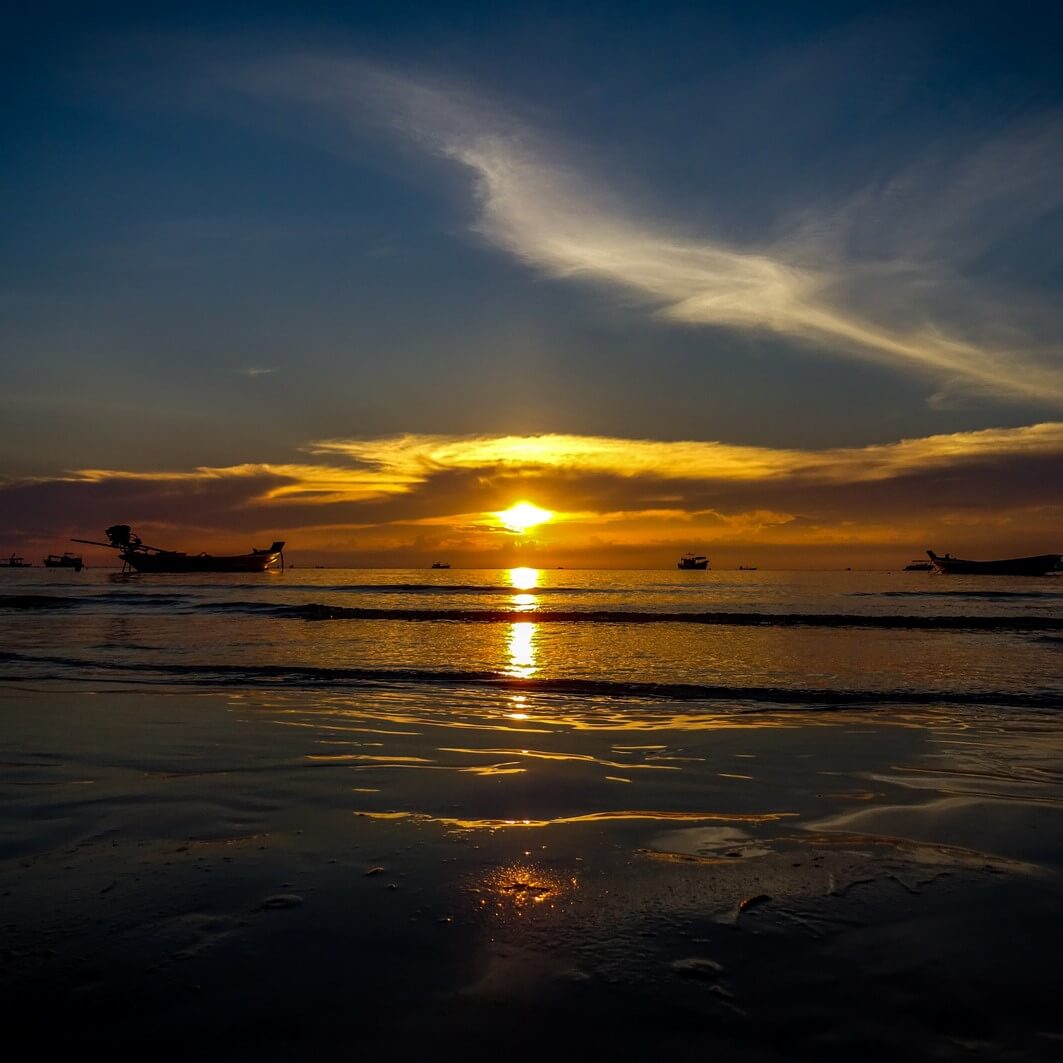 We usually steer clear of organised trips, but sometimes it can be nice to have someone else arrange your day for you (and also there are times when the only way you can get to a particular place is by joining a day trip.) On my birthday we joined a boat tour, because we wanted to do some snorkelling away from the shallow rock pools that were reachable by swimming. The boat took us around to Koh Ma, a tiny island connected to the mainland by a narrow spit of sand. Here we jumped off the boat and straight into an underwater wonderland! In the deep water, we could see whole peaks and valleys of coral, with more fish than you could possibly count. The time passed too quickly as we floated face-down, transfixed by the colourful scenes. The boat visited another snorkelling site where we repeated the process – again we wished we could have stayed and watched the fish for ever! Then our little boat pootled around to the beautiful Bottle Beach, where we escaped from the tour group to scoff some yummy green curry and raise a cold bottle of Chang for my birthday, before enjoying a splash around in the sea and sunbathing session on the golden sand. As the boat pulled back into Thong Nai Pan Yai a little while later, I felt like I'd had the perfect birthday.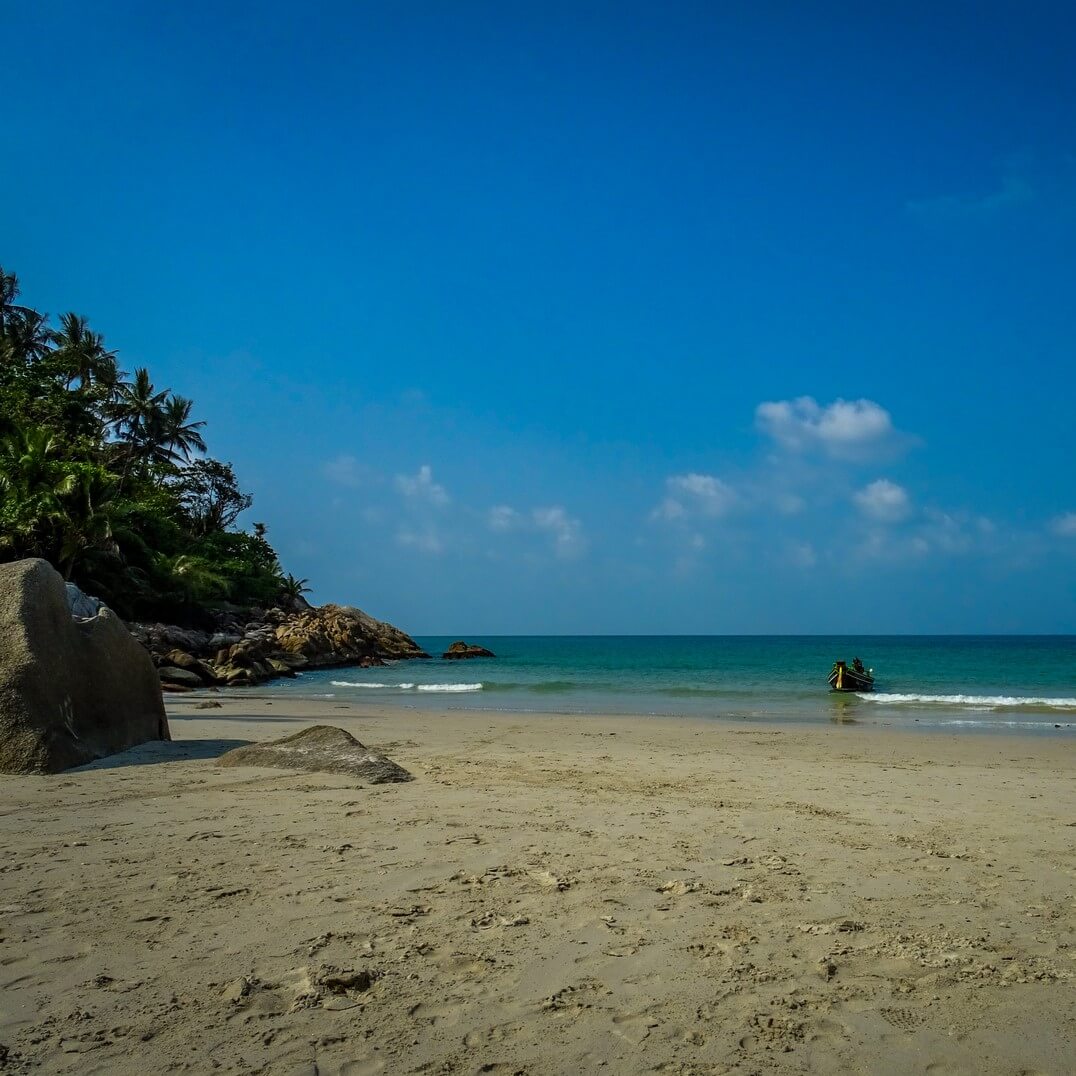 But that wasn't the end – as I sat back at our resort and made a quick Skype call to my Mum, David vanished on a mysterious errand – only to return with a small chocolate cake complete with candles, and proceeded to serenade me (in front of a bemused family of tourists!) Scruffy backpackers that we are at heart, we ate the cake right there with our fingers, posh resort be damned. The perfect day was topped off by one of the best pizzas we've ever had, along with some delicious cocktails at the oddly named Flip Flop Pharmacy bar on the beach.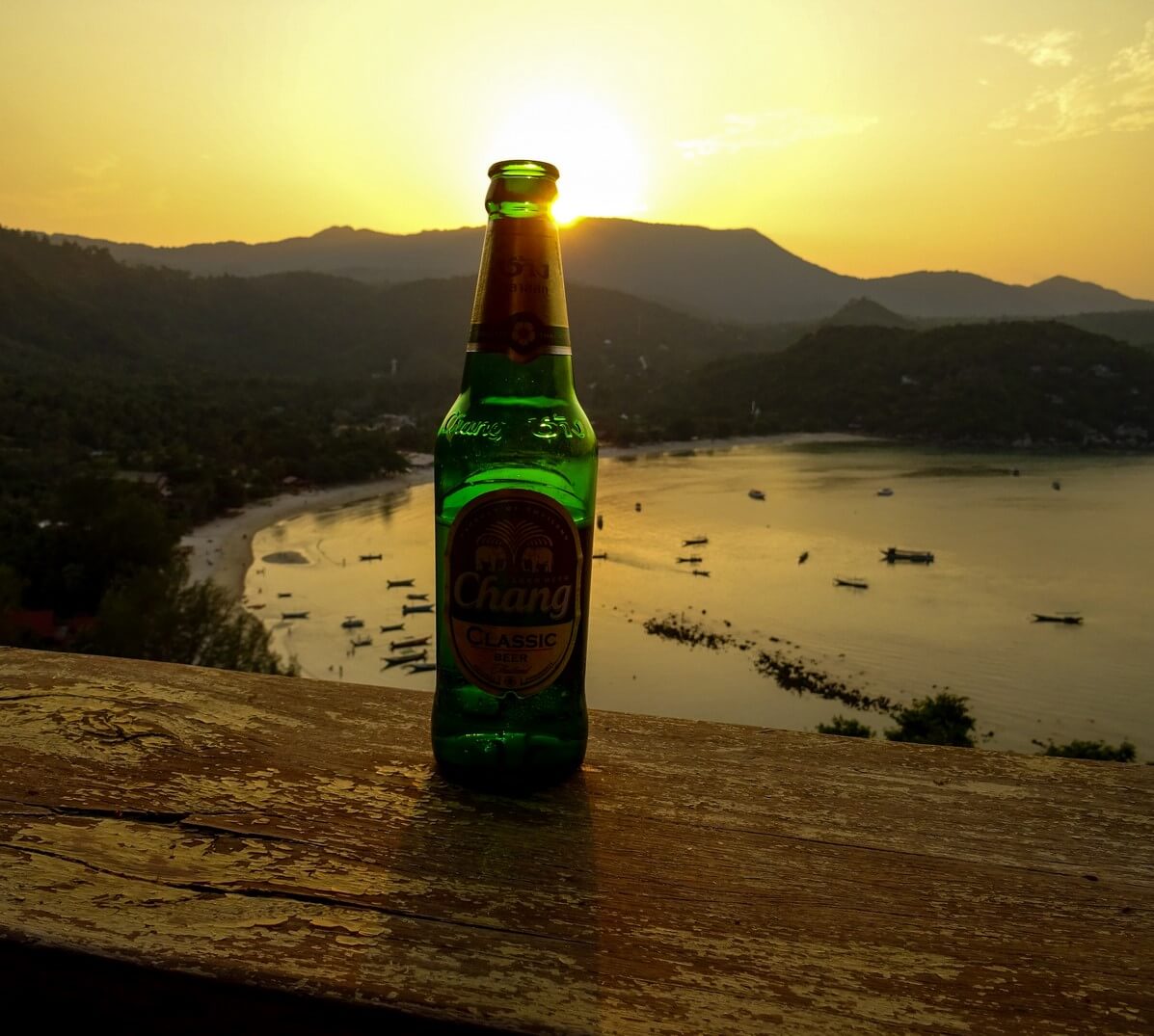 The following day I had my first experience of a traditional Thai massage – my birthday present from David. I really enjoyed it, but I have to say it was not what I was expecting from the term 'massage'! Unlike what we think of as a relaxing massage, in Thai massage you are fully clothed and the muscles are more pummelled than stroked. After an hour of being prodded, stretched and even knelt on, I felt amazing!
The beach at Thong Nai Pan Yai is so beautiful that it would be easy to spend the whole time there, but that would be a shame as the area also has some incredible countryside – rolling green hills and valleys. We didn't want beach life to lure us into getting lazy, so we decided to go on a hike to a nearby waterfall. Admittedly, doing this at the hottest part of the day was not the most sensible idea that we've ever had, especially considering that it was almost entirely uphill. However, around an hour and half later it proved to be worth all the sweat and toil as we emerged on the banks of the Than Sadet waterfall. Completely overheating, we didn't waste much time before stripping down to our swimwear and plunging into the icy water – it was bliss! After floating around for a while, we dressed and pulled our hiking boots back on, and wandered down to the nearby beach where we had another swim in the sea, and then hung around in the shade for a little while before attempting the hot walk back home. After the day of exercise, we had a final beer on the beach that evening, and toasted a perfect few days on the beach.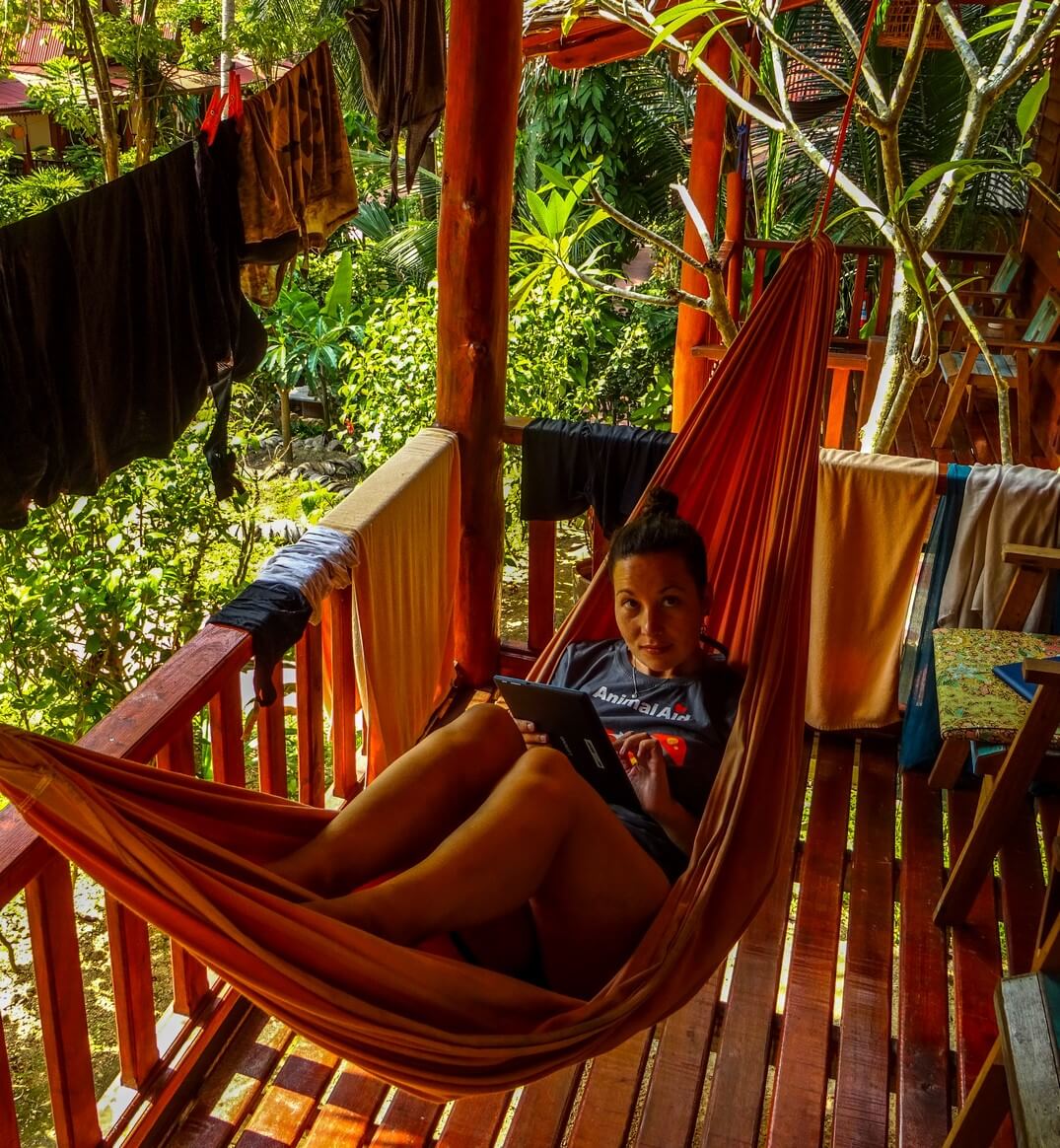 Our next stop couldn't be more different from the picture perfect laid-back islands – we're off to Chiang Mai in the North of the country, home to temples, hill-tribes and trekking. See you there! C & D xx
Our Top Tips for Koh Phangan (these are all located at Thong Nai Pan Yai)
Thong Nai Pan Yai is one of the most beautiful beaches we've seen – a long wide strip of sand with calm shallow water. It's popular with families and there are some pretty fancy resorts, but there are a few budget options dotted around too.
We stayed at Longtail Beach Resort which was 1000 baht per night for a bungalow – twice our normal budget but it was a fabulous place, with its own pool and spa.
Flip Flop Pharmacy is a buzzy little bar on the beach with a cool soundtrack of eighties/modern mash-ups, incredible woodfired thin and crispy pizzas and very strong cocktails.
Siam Beach is a quiet little bar/restaurant on the beach where we had probably the best Thai green curry of our trip so far – David asked to it to be 'Thai spicy' and it did not disappoint!
Perched on the hill above the beach is 2C bar – worth the walk to sip a cold Chang and watch the sun go down, but the food is expensive so just go for a drink!
The walk to Than Sadet waterfall is a tough uphill one mostly, around 4k. It's worth it for the scenery though. There is little shade during the height of the day so take plenty of water and suncream.