On our first date, all those months ago, I remember asking David where his favourite place was in the whole world (yeah I know, standard first date small talk) and his response was a city in Northern Thailand called Chiang Mai. So we were both really excited to be arriving at our latest destination – him to show me around his favourite city and me to see what all the fuss was about. I'm happy to report that Chiang Mai is a city which does not disappoint!
Chiang Mai is most famous for its temples, but it also has a pretty awesome street food scene (now I understand why David likes it so much!) We made it our quest to trawl the street markets in search of the best street food in Chiang Mai, all for you of course our lovely followers – it was a hardship but that's what we do for you! On our first night we made a beeline for the night bazaar…we had been warned that it was the most touristy of all the markets but it seemed a good a place to start as any. True, we had to search a little harder to find the proper street food stalls, and a few wrong turns to start with took us into a large market hall that seemed to just have touristy restaurants and a massive Irish pub. But eventually we turned down an alleyway and were hit with a wall of delicious smells, and the somewhat bizarre sight of a whole crocodile waiting to be cooked. Where to start among all this goodness? The first thing that caught our eye was fresh gyoza (Japanese dumplings). We scoffed three apiece, freshly fried and bulging with veggies, with tangy soy sauce drizzled over and hot crispy edges that burned our tongues. Next we spied golden fried sweet potato wedges, and then followed this up with some creamy chocolate gelato which we couldn't resist the sight of.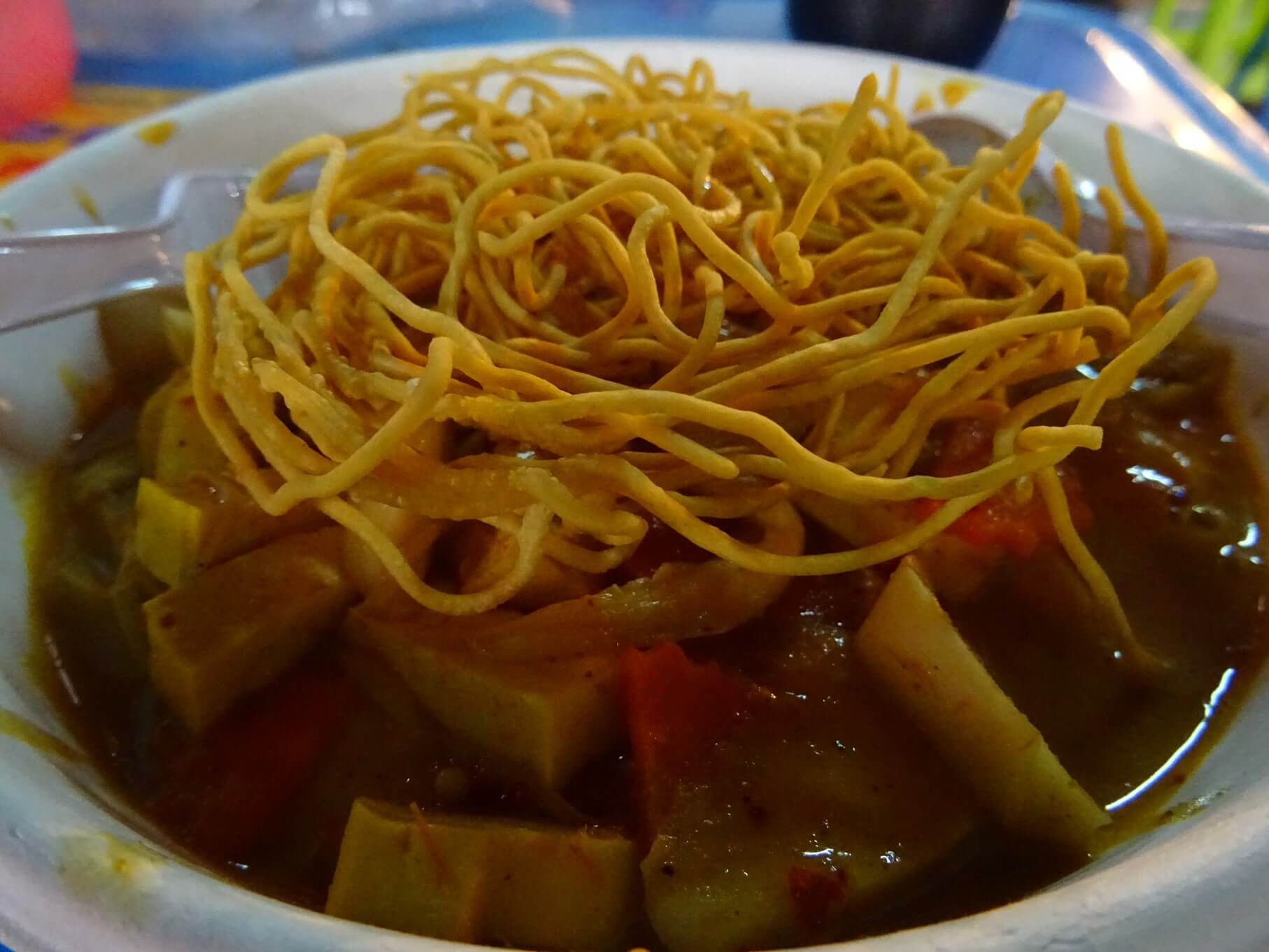 The following evening we found a much more authentic collection of street food stalls near the south gate of the old walled city. Here we tucked into steaming bowls of Khao Soi, a traditional dish of Northern Thailand consisting of curried noddle soup and fresh vegetables, topped with crispy fried noodles. It was heaven, and I think I've found my new favourite dish for this country! We also had some freshly grilled, sweet and juicy corn on the cob and fresh fruit shakes. The evening was rounded off nicely with a couple of bottles of cold Chang beer in a cosy bar, with football on multiple TVs. On our final night we braved the chaos of the Sunday walking market in the centre of the old city, where locals and tourists alike throng the streets and clothes, souvenirs and food stalls all jostle for space. Buskers and bands sit in the middle of all the hustle playing live music and the smell of fried food wafts over everything. We tried some little coconut milk pancakes, crispy on one side and gooey on the other, sprinkled with crunchy brown sugar. David led me through the maze of stalls to one of his favourite restaurants, where I devoured another bowl of Khao Soi and he had a spicy Penang curry. I feel like we barely grazed the surface of the incredible range of street food that is available in Chiang Mai – and there were loads of options for us veggies too – I'm sure if we spent much longer here we'd be the size of houses!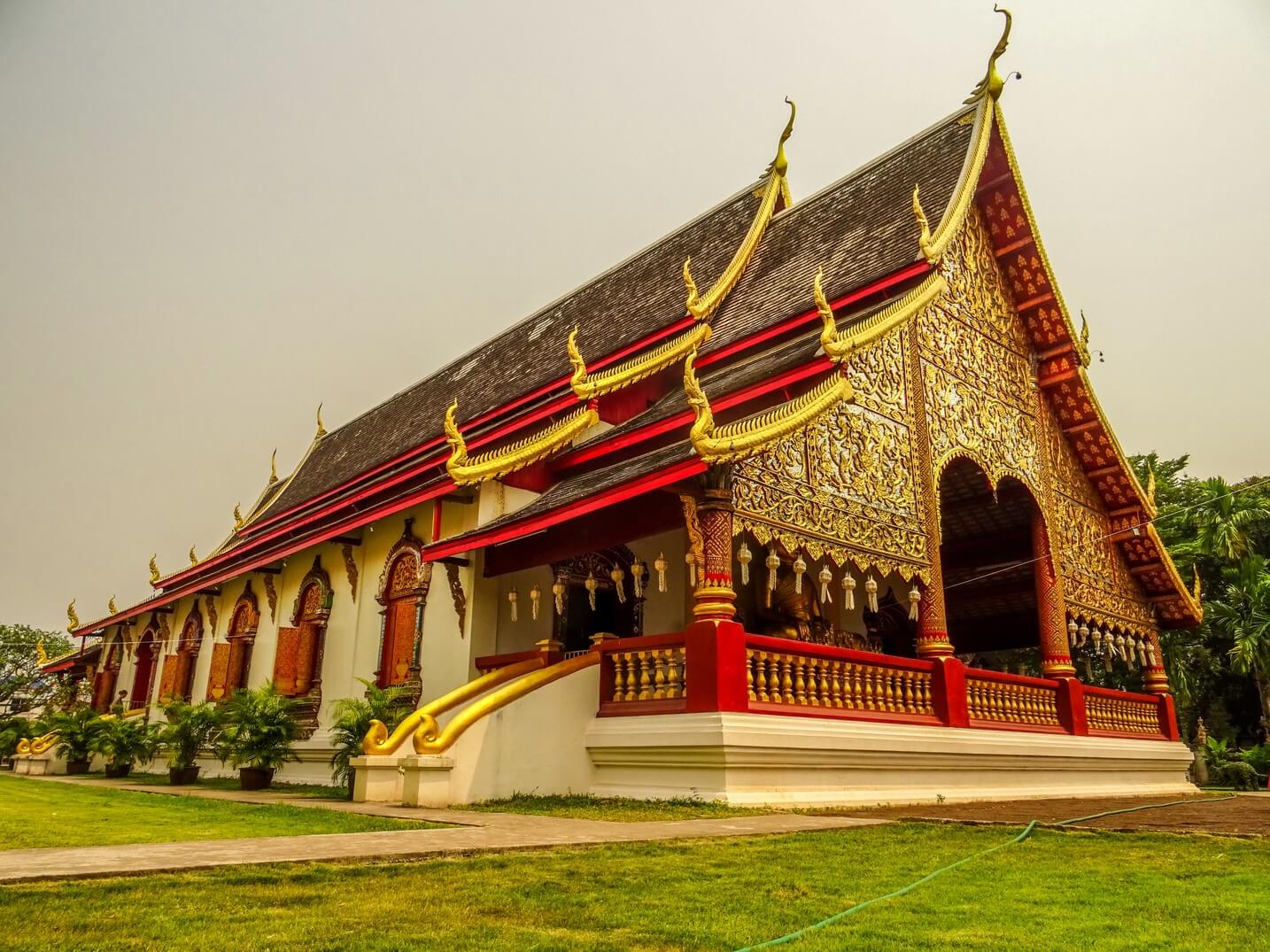 However, we did more than just satisfy our bellies (honest!) Chiang Mai has plenty to offer the temple enthusiast with no less than 300 Buddhist temples in the city! Enough to cause temple fatigue in even the keenest tourist. We focused on just a few – firstly we visited Wat Chiang Man, Chiang Mai's oldest temple, with its picturesque buildings and golden, elephant-ringed stupa. Buddhist temples are often intricately gilded and covered in jewelled mosaics which look incredible when glinting in the bright Thai sunshine. Next we ambled along to the nearby Wat Chedi Luang – famous for its ruined pagoda. It's impressive enough in its ruined state, so I can't image what it would have looked like it its heyday when it was 80 metres tall and housed the Emerald Buddha. The base is still mainly complete, with the help of some restoration work, and there are stone elephants and water serpents surrounding the staircases.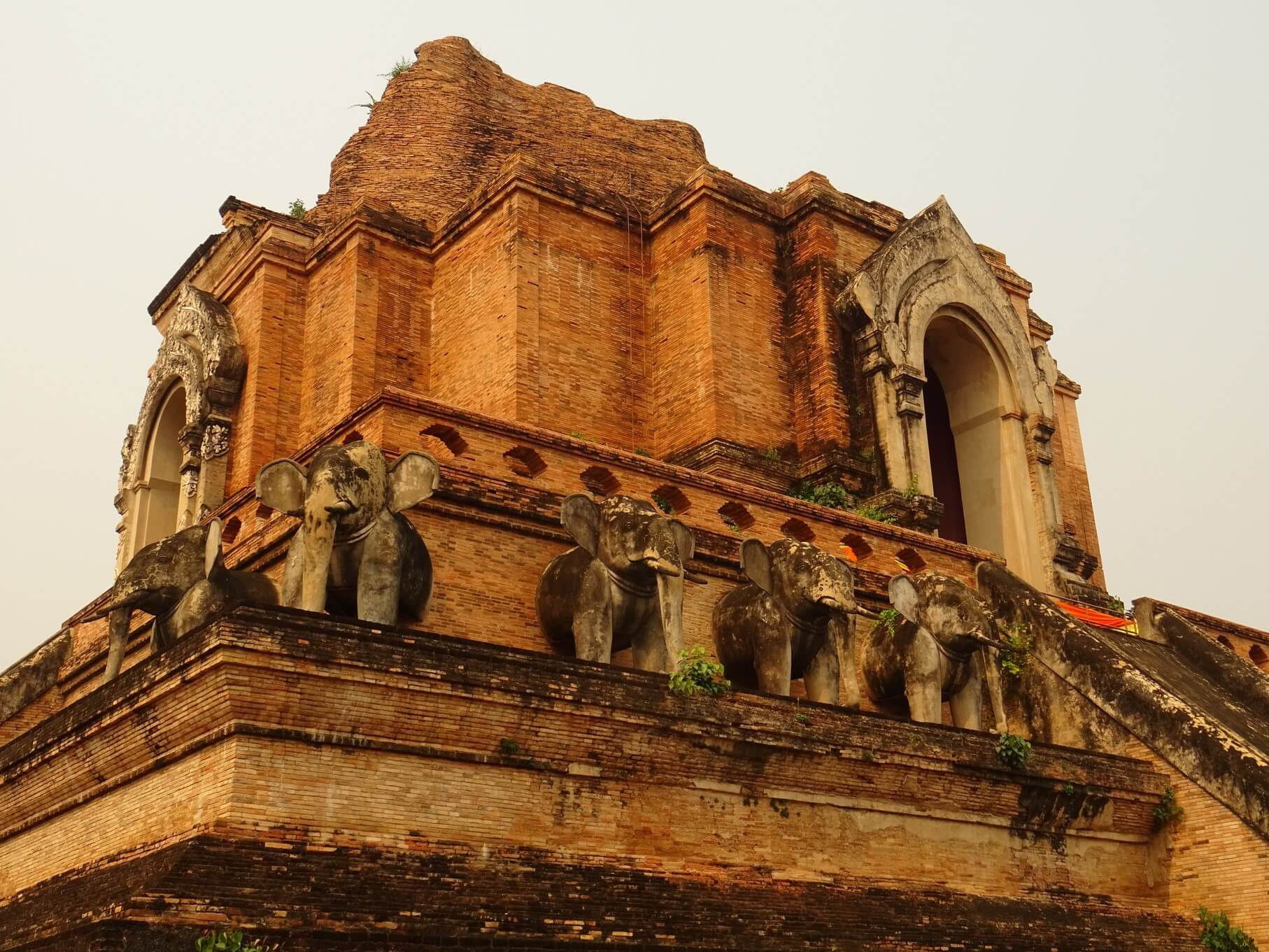 Wat Phra That Doi Suthep is one of Thailand's most important temples and it is worth the 15km trip out of the city both for the temple itself and the amazing view that you can see from its hilltop perch. After a cramped and twisty journey in the back of a songthaew (shared pickup truck) we then had 309 steps to climb before reaching the temple. Typically, it had been overcast for a few days, but as soon as we had some physical exertion to do the sun started blazing away, meaning we were pretty darn sweaty by the time we reached the top. Even the stairs themselves were beautiful, with jewelled dragons on either side, their green scales glinting in the light. Once we reached the summit, between the crowds of Buddhist pilgrims, monks and selfie-stick-wielding tourists, the gold pagoda rose up blinding and golden into the sky, making every step of the climb worthwhile.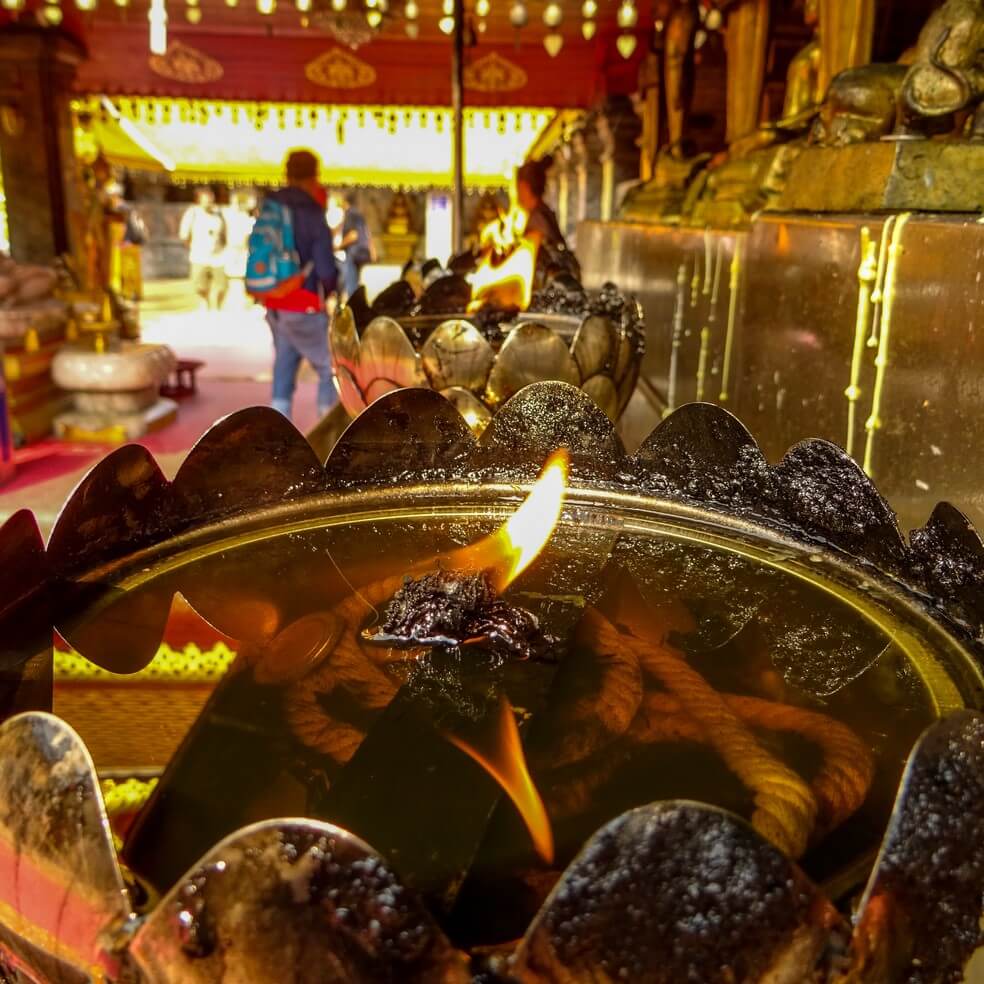 We're off to the backpacker mecca of Pai for a few days now, but something tells me we'll be back to Chiang Mai another time…
C & D xx
Our Top Tips for Chiang Mai
We stayed at Sister House guesthouse and honestly it was fabulous. For 550 baht per night we got a comfy double room, private bathroom with free toiletries and hot water, and one of the best free breakfasts that we've had on our whole trip (for real – try the waffles with fresh fruit!) Also the owner was so lovely and helpful.
AUM vegetarian restaurant is an institution – recommended by Lonely Planet and with good reason! Cheap, tasty Thai food and healthy salads, fresh fruit smoothies and a cosy upstairs with floor cushions and a balcony. What's not to love?
Try the street food market Bumrung Buri, just outside of Pratu Gate, for authentic Thai food stalls and yummy fruit shakes.
We found a restaurant which calls itself The Best Local Thai and they may well be onto something…the food is fresh, cheap and tasty. Try the tofu Khao Soi!
To visit the temple at Doi Suthep, don't try to charter a songthaew or tuk-tuk straight there as they will quote around 400 baht. Instead, take one to Chiang Mai zoo which should be around 40 baht per person. Outside the zoo there is a row of songthaew charging a flat rate of 40 baht per person each way to get to the top of the hill. You have to wait for enough people to fill the car, but we only waited around 5 minutes.