Top 10 Places to Visit in India
Interested in visiting India? Heard all about the magic and wonder that a trip to this country can bring, but not sure where to start? We've put together a list of our top 10 places to visit in India to give you an idea of some awesome destinations for your travel itinerary!
Our Top 10 Places to Visit in India
Palolem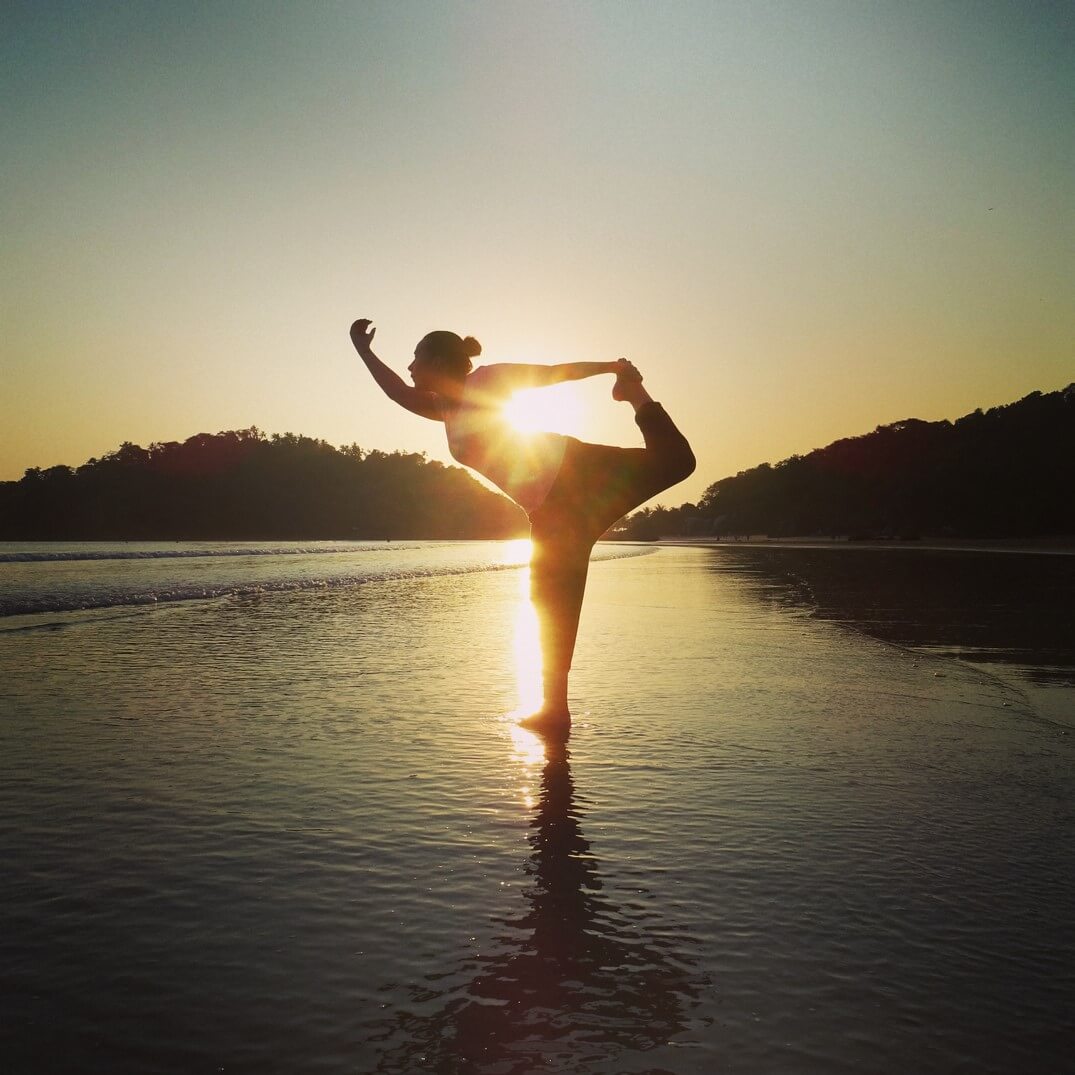 Dreaming of white sand beaches, gentle waves and lush green jungle? Palolem is the place for you! This beautiful stretch of sand seems to go on for ever (in fact it is approximately one mile long!) It curves round in a gentle crescent, meaning that you can see the whole beach from either end. Goa is a perfect introduction to a first timer in India. The pace of life is a little more laid back than other parts of the country, but you still get to experience a glimpse of what India can offer. There is something for everyone here too – from beach bums to adrenaline junkies, from yoga bunnies to fitness freaks!
You can put your feet up on a sun lounger and sip a cool cocktail as the sun goes down, or treat yourself to a massage. If you want a little more excitement you can challenge yourself to a jungle trek.  There is an excellent outfit called Goa Jungle Adventure who run canyoning trips. They'll have you hiking, jumping and abseiling downs cliffs and waterfalls surrounded by green trees and wildlife. It's certainly a day you won't forget!
Oh and finally, your Instagram will be chock full of amazing sunsets! Its little wonder that Goa is one of the most popular places to visit in India.
Too busy for you? Try the quieter stretch of beach called Patnem, just a little to the south.
Want more culture? A trip to the state capital Panjim (Panaji) is also well worthwhile. It has a gorgeous old Portuguese quarter and wedding-cake white church
Want to party? Then North Goa is for you, try Anjuna for its famous trance parties.
Where to stay? We stayed at Dreamcatcher Resort which was good value and peaceful. In Panjim, Old Quarter hostel is one of the best we've found.
Alappuzha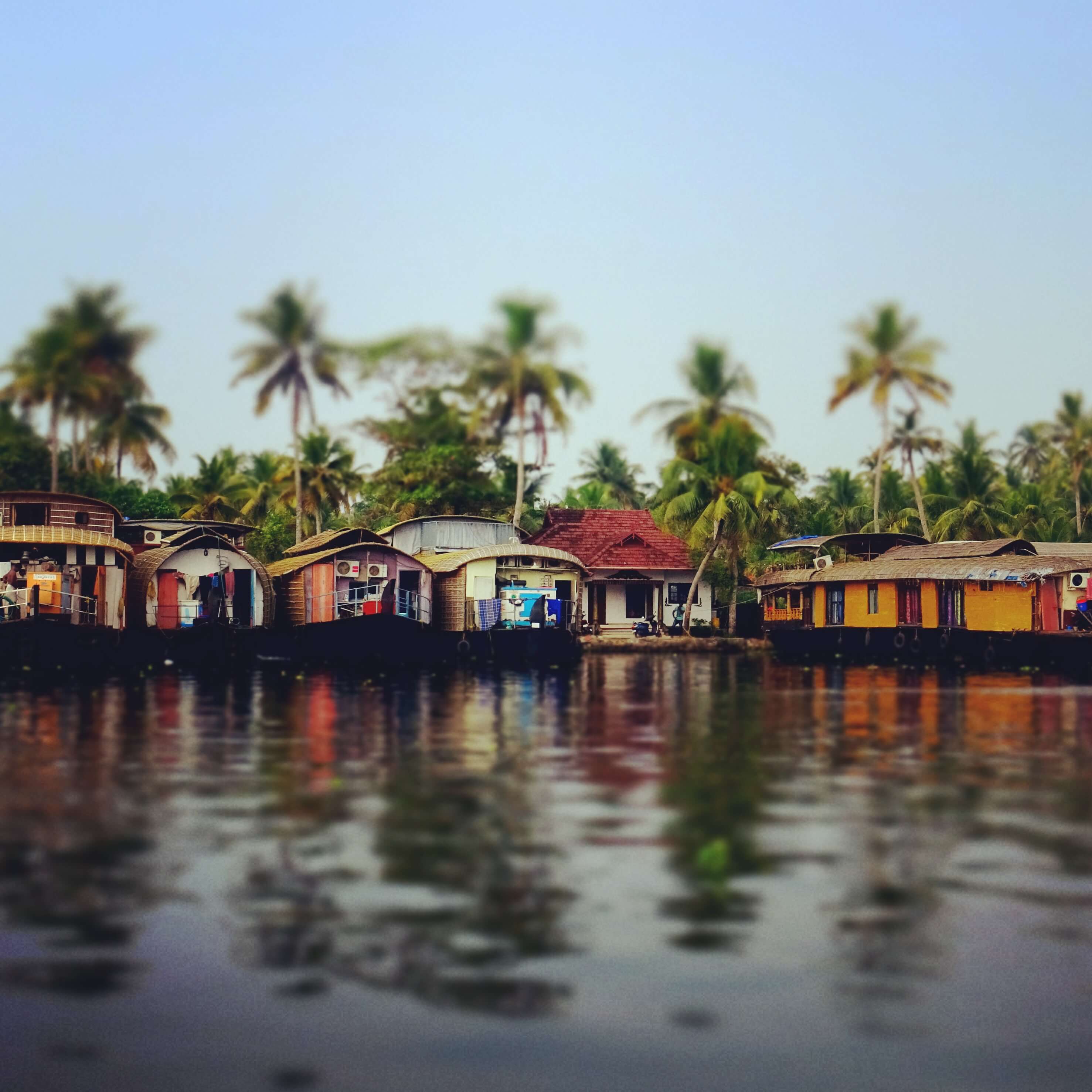 A very popular place to visit in India, Kerala is famous for its incredible backwaters. Alappuzha (Alleppey) is where most visitors base themselves. There's nothing quite like drifting through the quiet water, surrounded by lush green fields and everyday Keralans going about their daily life by the river. There are lots of options available to you. There are tiny canoes or huge luxury barges, one day trips or week-long houseboat stays. Do your research and find one which suits your trip and your budget.
Personally we'd recommend choosing a smaller boat or a canoe and doing a day trip. The smaller boats cause less disruption. They have smaller engines and are quieter, but also they can fit down much smaller rivers than the houseboats, so you can get a little more off the beaten path. If you're on a backpacker budget, don't despair. You can get a taste of the backwater experience by taking the public ferry from Alappuzha to Kottayam.  It costs as little as 20 rupees for a 2-3 hour trip.
Want more history? Visit Kochi with its historical fort area and 14th Century Chinese fishing nets.
Want to hit the beach? Varkala is a busy tourist beach, but still fairly pretty with lots of opportunities for yoga and relaxation.
Where to stay? In Alappuzha we stayed at a cosy homestay with amazing homemade breakfasts: Mom&Pop Thyparambil Heritage
Udaipur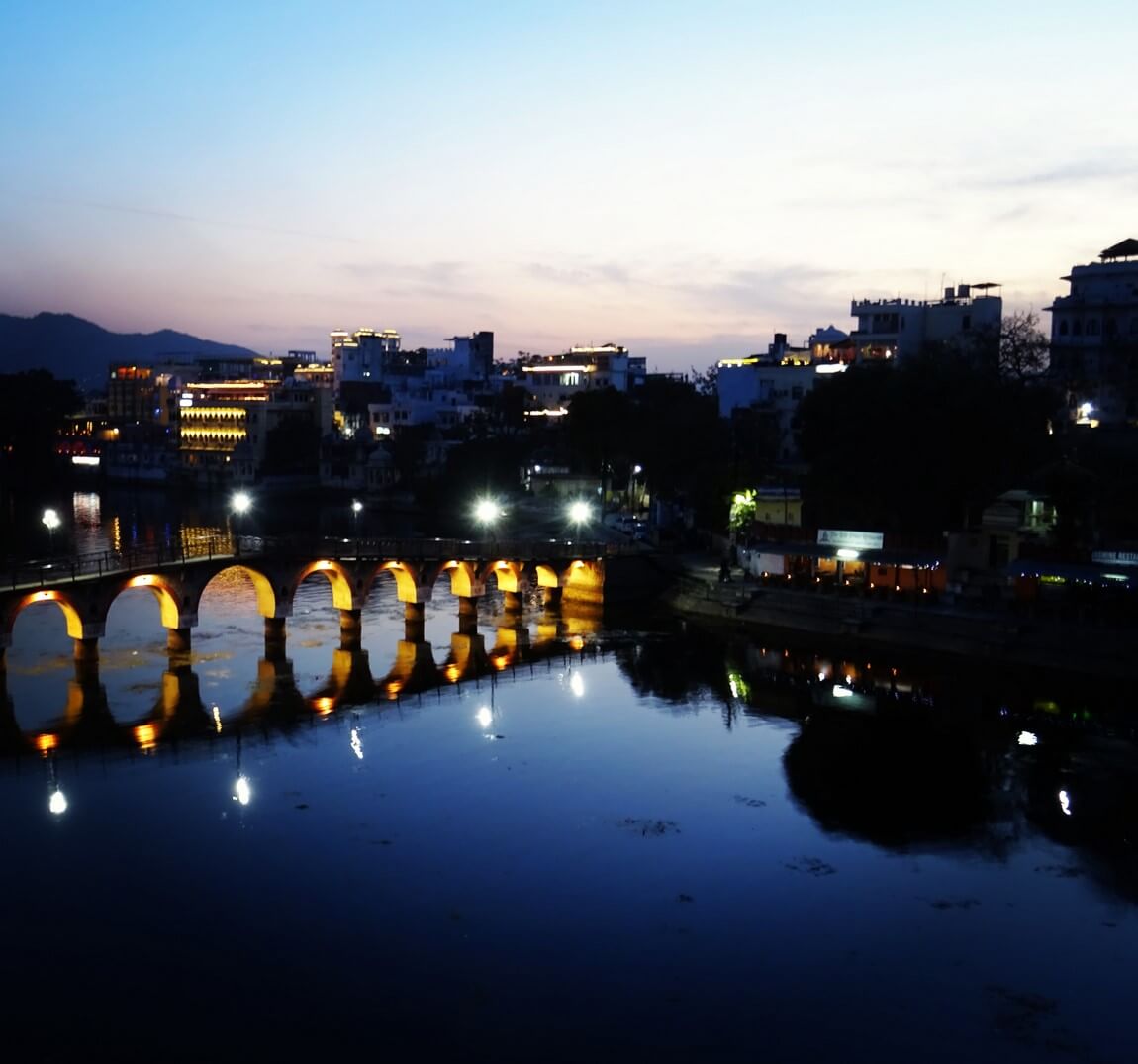 Otherwise known as "City of Lakes", Udaipur was definitely one of our favourite places to visit in India. Not least because the setting is incredibly beautiful. A 16th Century palace nestles by the shore casting dreamy reflections. Bright flowers spill over into the water and cosy winding streets meander around. There is also plenty to do here. Yes it has become a bit of a traveller hotspot, meaning you're never too far from a turmeric latte or a falafel wrap, but it has a heart of gold.
The palace is well-preserved and worth the entrance fee. There is lots to see and a very informative audio guide for culture vultures. You can also take a boat trip out onto the lake and view the Lake Garden Palace, now a luxury hotel and famous for a cameo in the Bond film Octopussy. You can ride the ropeway (if you dare) to the Karni Mata temple up on the hill,or just wander round the streets browsing jewellery and handicrafts. There are plenty of good restaurants and authentic local food joints where you can get your fill of rich and spicy Rajasthani cuisine.
Want to give something back? Animal Aid Unlimited as a fantastic organisation located 6km out of the city. They rescue sick and injured animals and provide a safe home for those too injured to be released. They welcome volunteers for as little as half a day. You can spend your time bottle feeding calves and giving some love and care to disabled dogs.
Want to see more Rajasthani palaces? Consider a trip to hectic Jaipur and its awesome pink palace.
Where to stay? We stayed at the cheap and cheerful Advent guesthouse which has a nice rooftop terrace.
Pushkar
Yet another backpacker hotspot, Pushkar huddles on the banks of a holy lake. It's also a popular place for travellers to stop and recharge their batteries. This means you'll find plenty of yoga, mindfulness retreats and health food cafes. The lake is considered holy, so you are required to remove your shoes when walking around it or over the bridge next to it. It is a really peaceful spot to sit and observe all the colourful goings on!
There are also loads of clothes/crafts/jewellery stalls in town. It's a shoppers paradise, ideal if you want some Rajasthani souvenirs. There are two temples perched on hills overlooking the city if you fancy a short hike. The Savitri temple has a cable car for those who don't fancy the sweaty climb up the steps. However we'd recommend Pap Mochani temple for an incredible sunset view. A word of warning about the Pushkar passport scam – don't be pressured into donating money for any blessings or flower offerings to the lake. You can read more here.
Too busy for you? We also loved Bundi, a much less touristy option in Rajasthan. It has lots of pretty stepwells and an awesome fort overlooking the town.
Like camels? Why not time your visit to coincide with the Pushkar Camel Fair. This huge livestock festival and cultural fete occurs every year.
Where to stay? We stayed at Hotel Poonam. This friendly place is good value and has a great rooftop.
Jodhpur
Jodhpur feels like a proper taste of Rajasthan. It has plenty of sights but is not as traffic and tourist filled as Jaipur. The blue city is striking, particularly in the evenings and mornings when the golden light hits the painted buildings. We can almost guarantee that you'll get lost in the maze of streets, but somehow that is part of the fun! From the bustling market stalls which surround the clock tower, you can wander through colourful, crooked streets – winding your way further up the hill until you face the steep climb to the magnificent fort which looks over the city.
Mehrangarh Fort is one of the largest in India. The entrance fee includes a fascinating and colourful audio guide. The fort is well-preserved with many opulent golden rooms, stained glass windows and royal apartments open to view. You can also visit the pristine white marble mausoleum called Jaswant Thada. Like the fort, this is also perched high on a hill and gives some amazing panoramic views of the city. One of the other reasons to make it onto our list of top places to visit in India – Jodhpur is a street food paradise, so fill your boots!
Want a little more adventure? There is a high ropes/zipline course up by the fort run by Flying Fox.
Want some luxury? Johdpur is perfect for a splurge as it hosts many heritage hotels (often called Haveli which is a traditional Indian townhouse or mansion). If your budget doesn't stretch to a stay, many also have excellent rooftop restaurants.
Where to stay? We stayed at Dylan Guesthouse. It fast became one of our favourites, thanks to the friendly owner and rooftop chill-out space.
Amritsar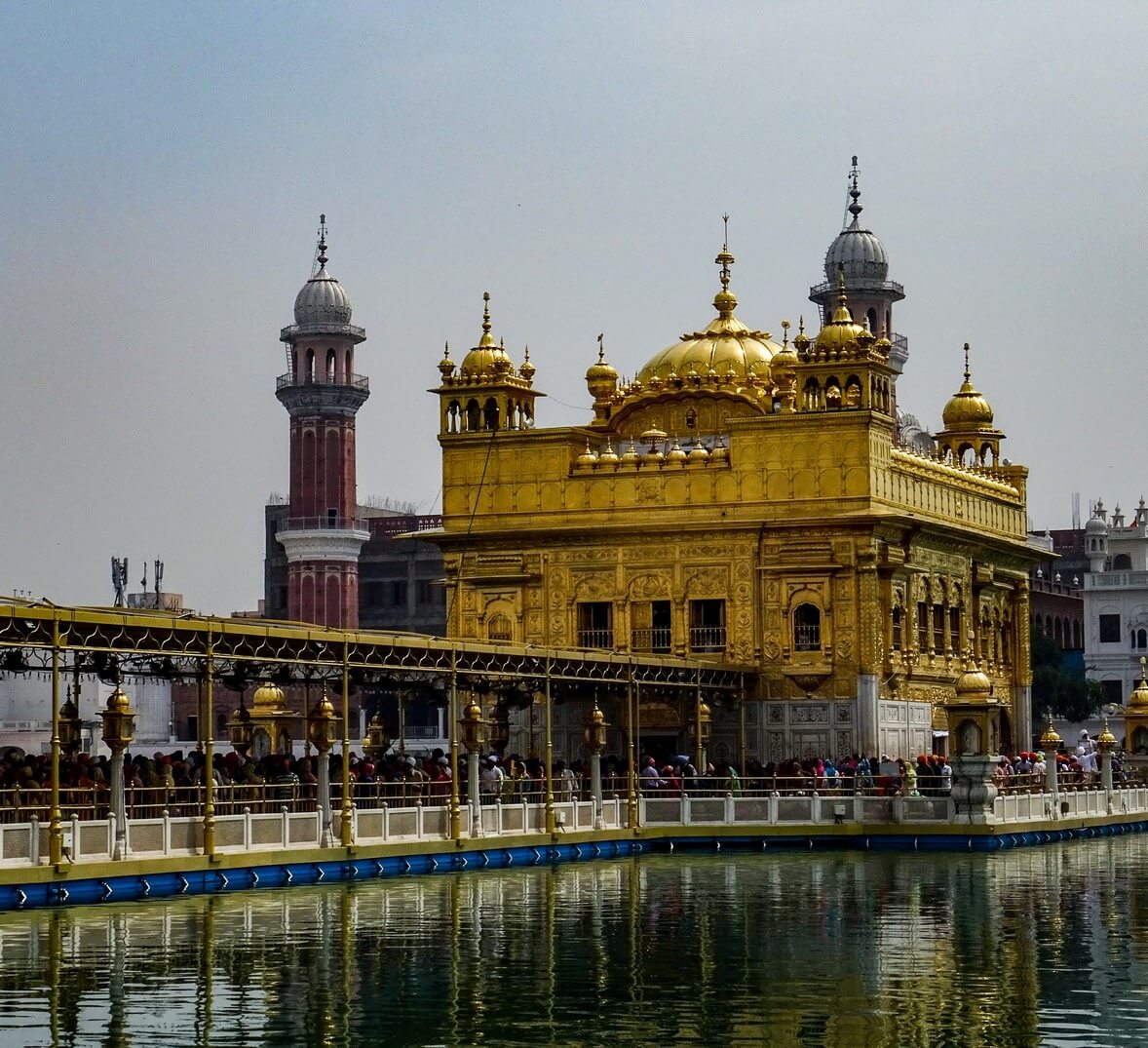 Amritsar truly was one of our favourite places to visit in India. It has two main selling points. Firstly the incredible Golden Temple and secondly a fabulous food scene. It is a holy city for Sikhs. It feels like life here revolves around the shining Golden Temple. Visitors are welcome, once they have checked in their bags, covered their head and washed their feet. When inside we were struck by how peaceful it was, and we were not hassled at all during the whole time.
The central golden building, which reflects prettily in the sacred lake, is the temple's inner sanctum and is out-of-bounds to non-Sikhs. Otherwise you are free to walk around the water and also to have a meal in the langar, or free kitchen. This incredible venture is run entirely by volunteers and feeds up to 100,000 people every day. Amritsar, like many other places in India, has had a painful past and you can find out all about the city's recent history. The Partition Museum and Jallianwala Bagh are well worth the entry fees and very thoughtfully put together.
Feeling hungry? You're in the right place! Try a stuffed Kulcha (naan bread stuffed with potatoes, spices, veggies or meat). Or how about a sweet Kulfa (sort of ice cream topped with noodles – sounds odd, tastes amazing)
Want to get out of town? Don't miss the nightly Wagah border ceremony where the Pakistani and Indian sides lower their flags each night. There is much fanfare, marching and patriotic fervour.
Where to stay? We stayed at Jugaadus Hostel who run lots of day trips.
Puducherry
Also referred to as Pondicherry, this former French colony retains a good deal of colonial charm, with its quiet flower-lined streets and pavement cafes. Caffeine fans rejoice, here you can find a cup of proper coffee. You can also find French delights like cheese and brioche. The seafront is a car-free zone in the evenings, and half the town seems to turn out for a sunset stroll. There are several lovely churches to visit, as well as some vibrant Hindu temples. You can also see the Sri Aurobindo ashram which was founded in 1926 and attracts many visitors. The old town is easy to explore on foot or by bicycle and there are loads of great cafes and restaurants.
Want to get in touch with your spiritual side? Visit Auroville, the utopian community set up in 1968.
Want some history? Nearby Mamallapuram has an array of UNESCO World Heritage monuments including Krishna's Butterball and the Five Rathas.
Where to stay? We loved our stay at Les Comptoirs Residency.
Delhi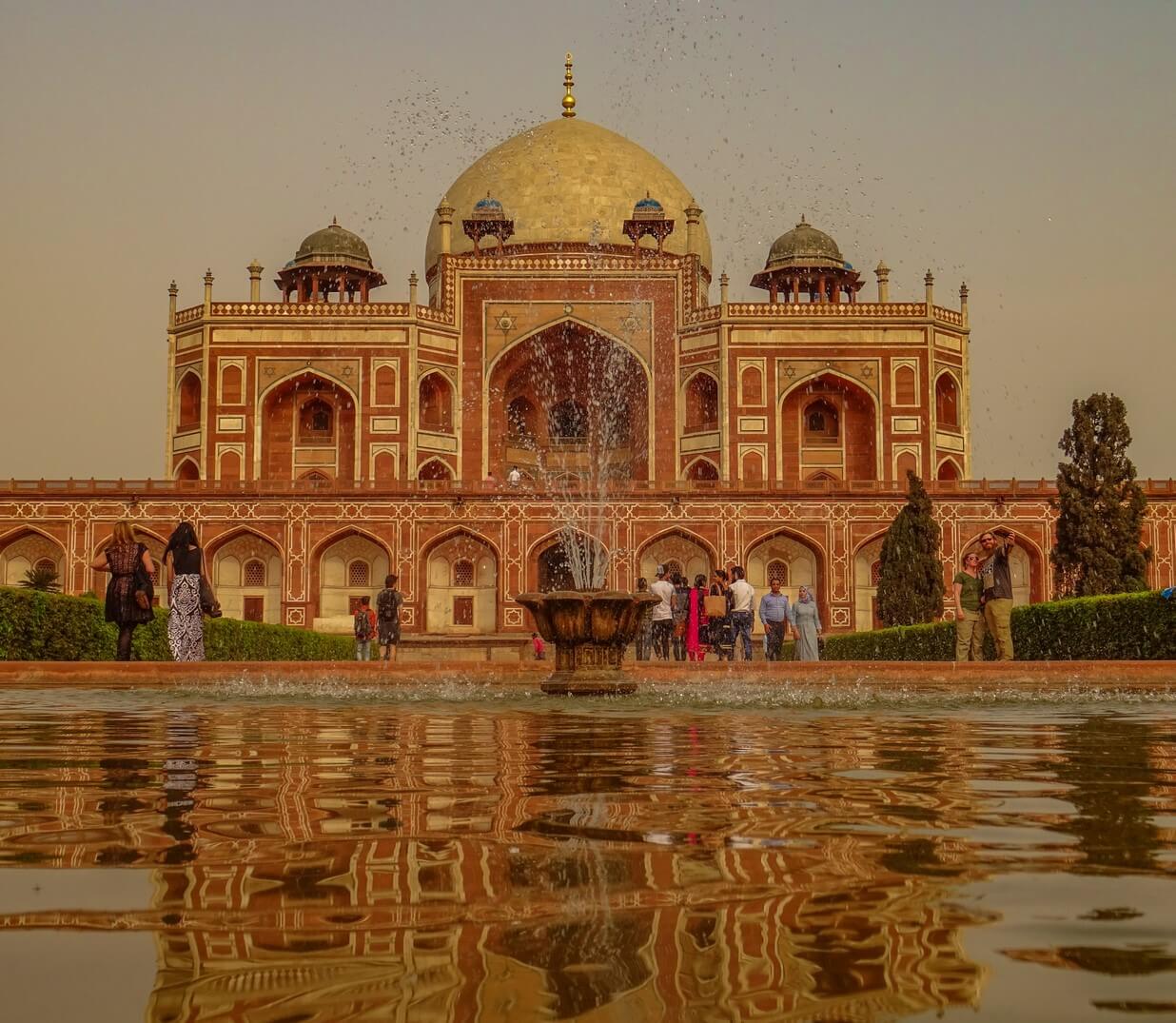 One of the key places to visit in India is its capital! It must be said that Delhi is an acquired taste. Yes its busy, dirty and polluted, there is traffic everywhere and sometimes it feels like everyone is trying to rip you off. But scratch the surface a little and Delhi has a lot to offer.
The city is full of history, having been a settlement of one type or another since 1192. There are Hindu and Sikh temples galore, a huge 17th century mosque, and more ruins and tombs than you can shake a stick at! If you're only in Delhi for a whistle-stop tour, we'd recommend the amazing Humayun's Tomb, a precursor to the Taj Mahal, and the full-of-life Lodhi Gardens. There is also a great food scene, so you can sample the delights of Indian cuisine.
Want to get right in the hustle and bustle? Check out Chandi Chowk, a maze of narrow streets with shops and stalls selling everything you could possibly imagine!
Varanasi
Varanasi is one of the holiest cities in India and it is a riot of sights, smells and sounds. As a result, it can seem overwhelming but it is truly worth the effort. Hindus worship the River Ganges as a goddess, and as it flows through Varanasi the devout are cremated here and their ashes given to the river, so they can achieve 'moksha' –  breaking the cycle of death and rebirth to ascend to the afterlife. Thousands of bodies are cremated here, and there are even hundreds of people who have travelled to Varanasi to wait for their own death. Holy men, or saddhus, flock to the city. Cows, which are considered holy, wander the streets freely.
Want a closer look? You can't photograph the cremation sites, but for a donation you can be shown around. Careful, as some of these 'tours' are scams.
Want to see more of the Ganges? Rishikesh is another holy city on the banks of the river, but much further up near the source. Unlike in Varanasi, here it is clean and clear – you can even go white water rafting in it! Rishikesh is also a mecca for yoga fans.
Where to stay? We found a good social hostel with a nice rooftop – Bunked Up Hostel
Taj Mahal
Finally, a list of the places to visit in India would not be complete without including this incredible UNESCO World Heritage Site. The mausoleum is jaw dropping – imposing and serene from a distance and intricately beautiful close up. Work started on the building in 1632 and it was completed in 1653. The Taj Mahal was commissioned by Shah Jahan to house the tomb of his favourite wife Mumtaz Mahal.
We highly recommend getting there as soon as the gates open in the morning because the crowds get huge – we were first in and by the time we left an hour later the queue was snaking up the street.
Hopefully this list will have given you some inspiration. However, we've barely scratched the surface of all the wonderful places to visit in India. Let us know in the comments if you also have favourite places to visit in India which we have missed off our list!
This post contains affiliate links. You can read our affiliate disclaimer here.