Om Nom Phnom Penh: A Foodie Trip to Cambodia's Capital
Three days in Phnom Penh as a Vegan might sound like a challenge…
But actually, we ate so much amazing food in Phnom Penh! From Japanese to Indian, Khmer to Western, we were spoiled for choice.
Evergreen Vegetarian Restaurant
First of all we needed something comforting, after spending the day on a hot and stuffy bus from Siem Reap, then walking pretty damn far to find our hostel! A quick Google search for vegetarian places showed that Evergreen was only a few streets away – a winner in our book! Once inside, the staff welcomed us warmly and gave us a free pot of Jasmine tea while we checked the menu. Evergreen is proudly 100% vegetarian, but its also really vegan friendly. I had the Spicy Asian Noodle Soup which considering I had a bit of a cold really sorted me out! David had stir fried spicy vegetables with tempeh, and we shared a plate of fried mushroom dumplings. Those little golden crispy parcels with a rich mushroom filling were probably our favourite part of the meal!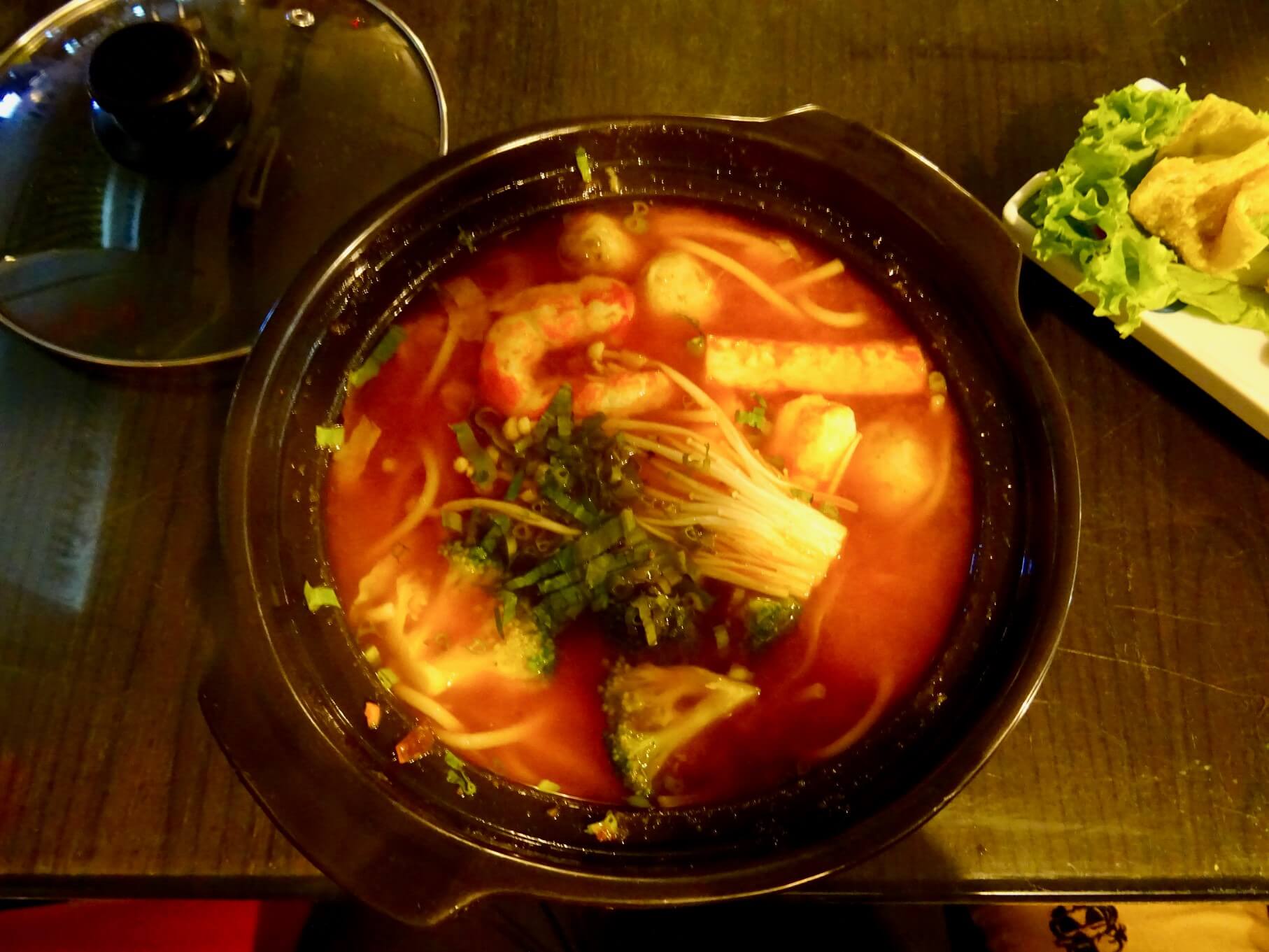 Backyard Cafe
We stopped for lunch at this place and it seemed sort of familiar. When we looked at the menu we realised why. It is the sister cafe to Vibe, probably one of our favourite places in Siem Reap. This place is focussed on healthy food, including  salad bowls and cold pressed juices. I had the amazing 'badass burger' which is made of beetroot, carrot and spinach. Also, the cashew chilli mayo that it came with is out of this world. David had a very healthy looking falafel bowl with red pepper houmous, olives, salad and a tahini dressing. Yum!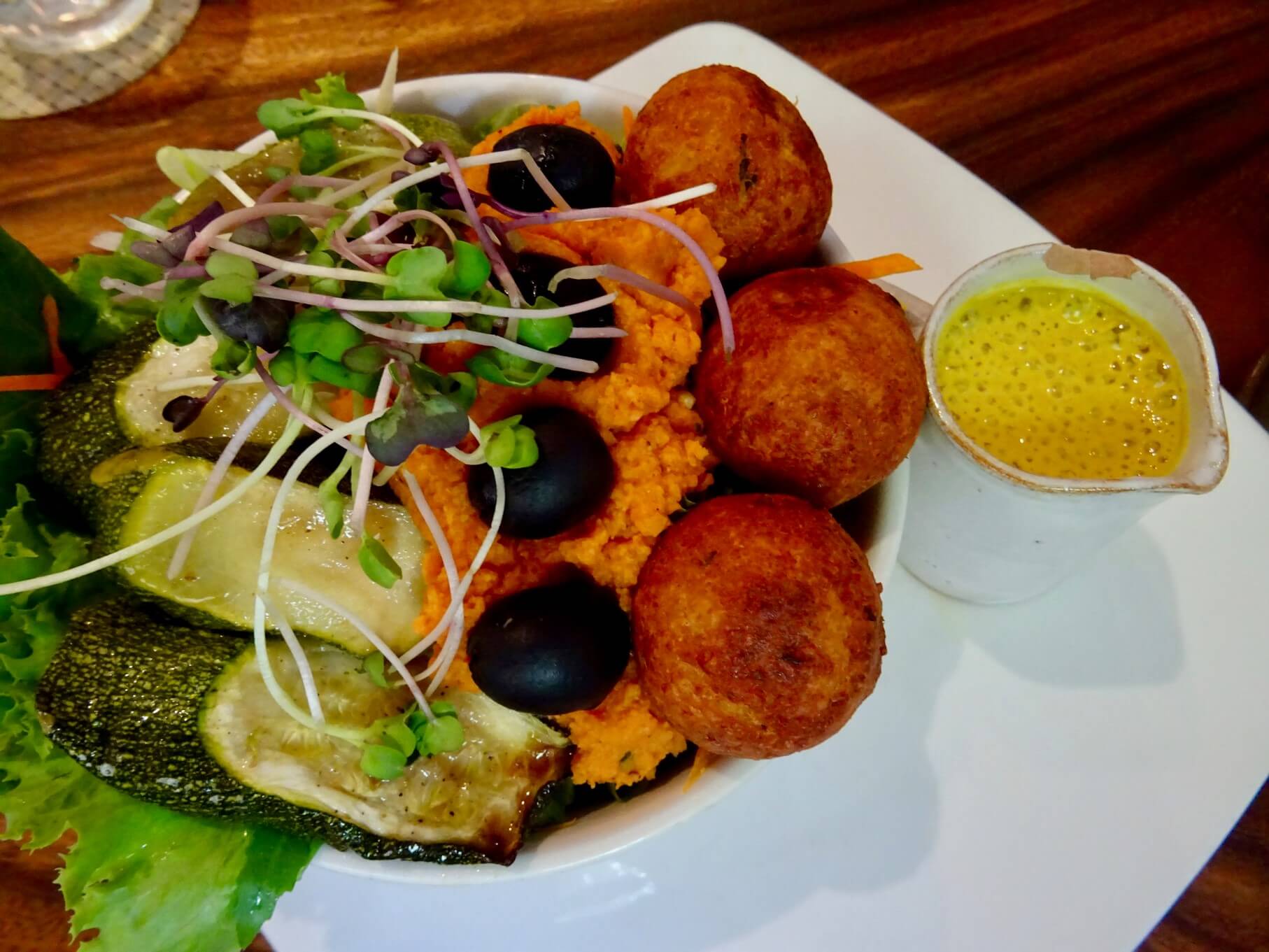 Cafe Soleil
On our second evening the skies opened, so we ducked into this cosy little cafe. It is 100% vegetarian, but there isn't a lot on the menu that is vegan friendly. I had a vegetable amok since it had been a few days since we'd eaten any local food. Amok is one of Cambodia's signature dishes, made by steam cooking curry in a banana leaf. And this tofu version was the best one I've tried yet! David had a pumpkin curry which was deliciously rich and spicy. We really like this little place. The staff are friendly and we sat peacefully, watching people scurrying around in the rain outside.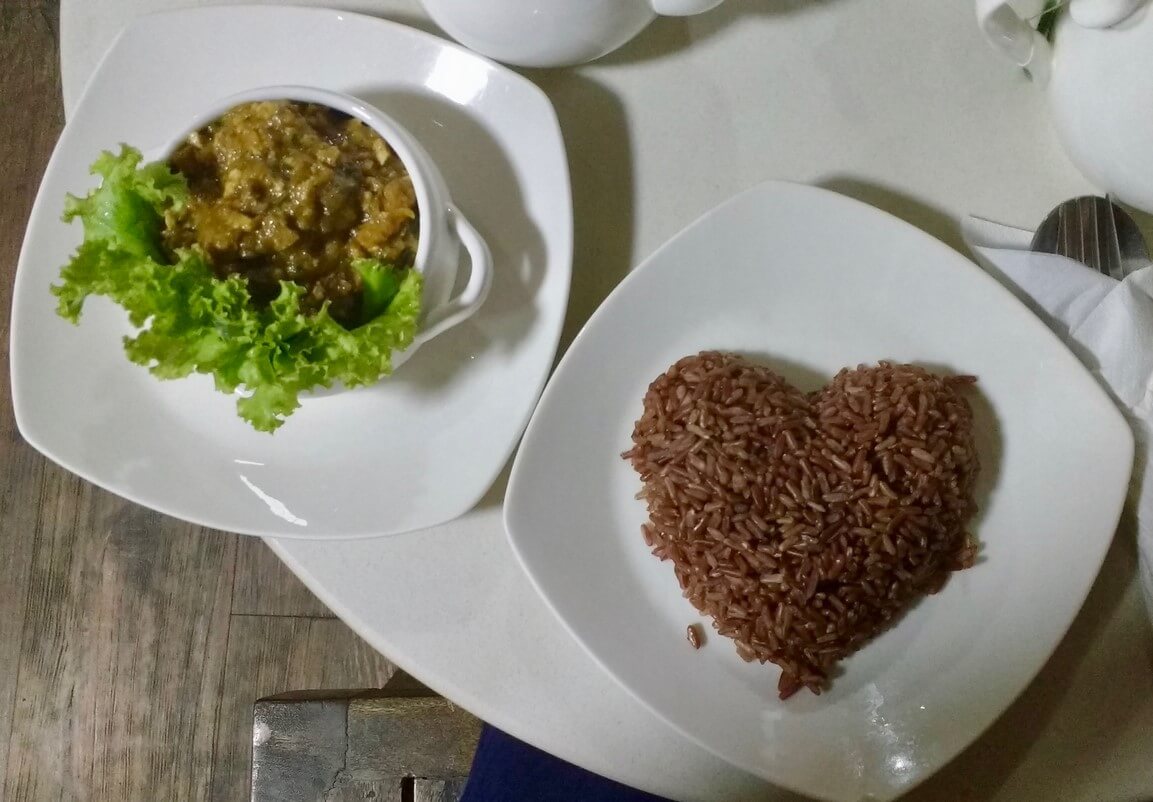 Sumatra
The following day we had lunch in an Indonesian restaurant. Although it isn't fully vegetarian, there are plenty of pages of veggie and vegan options to choose from. David won at choosing this time, his jackfruit curry was amazing, fruity and spicy. Meanwhile I had some very healthy stir fried veggies with rice and tempeh. We washed it all down with fresh fruit juice. Happy Cow recommends Sumatra and we can see why, it's a great spot for a filling and tasty meal. I mean, obviously not filling enough because then we made a beeline for…
The Snacker
Phnom Penh's Russian market is full of hustle and bustle, and it is super hot inside the maze of stalls and hawkers. What better way to cool down than an ice-cream, right? The Snacker sits outside on one corner of the market and it is an ice-cream stand with a difference. This sooth creamy ice-cream is made from fresh local coconut. There is no dairy and no artificial ingredients. Also the flavours are awesome – you can choose traditional…chocolate, strawberry or coconut. Or if you are feeling adventurous you can try durian or soursop! Either way it is a really tasty way to cool down in the middle of the city!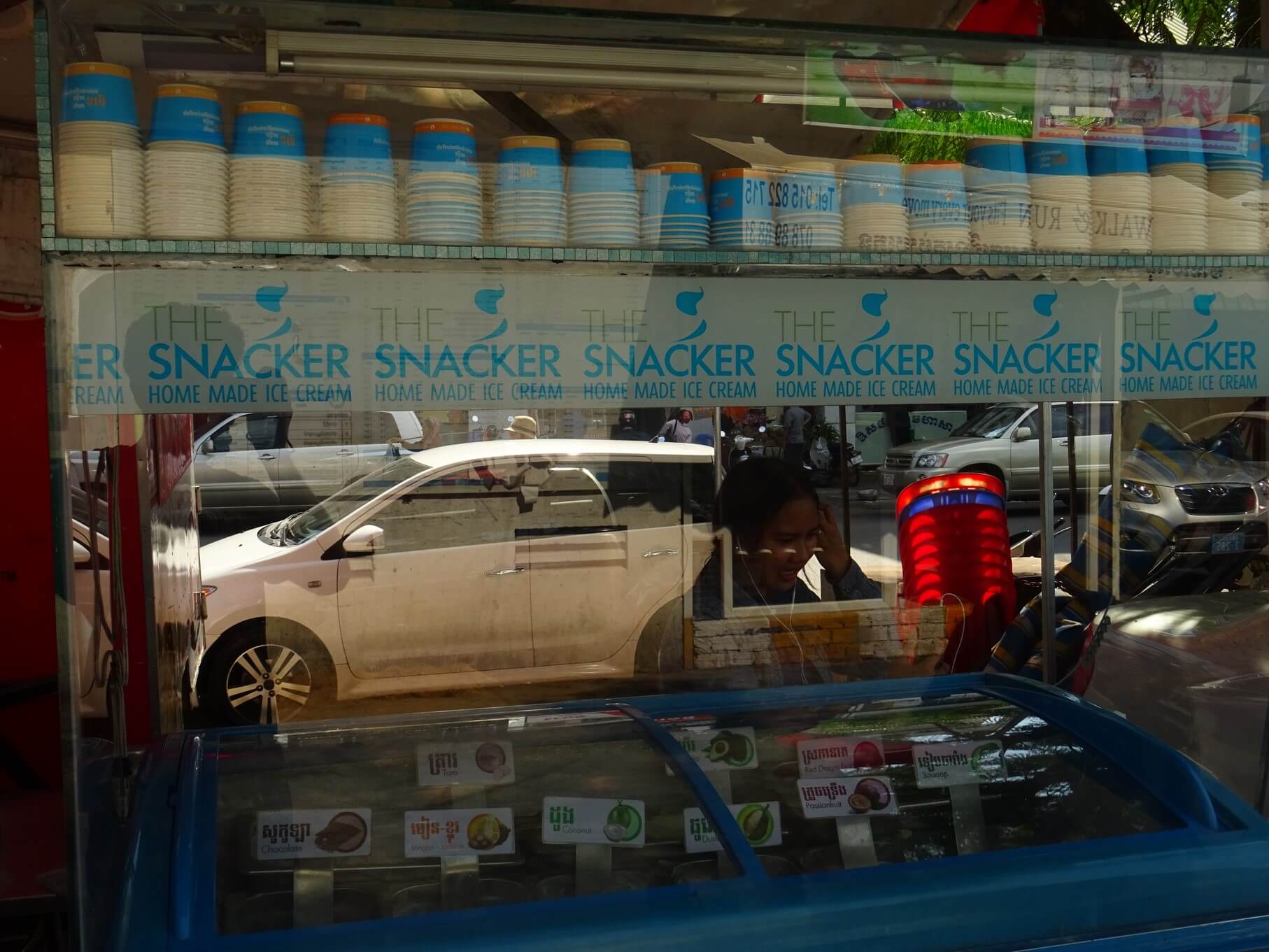 Phnom Penh Indian
Finally, at the end of a long day, we craved Indian food. And this little restaurant on the Riverside did not disappoint! Eating vegan here is fairly easy, with a few checks from the waiter. There are pages and pages of veggie options, and all you need to do is clarify that your chosen dish does not contain any butter, ghee, cream or yoghurt. It is good to mention it, even if you are sure your choice is vegan – sometimes they'll drizzle a little yoghurt or butter over the top! We had warming, spicy comforting daal. Also, we ordered a plain naan each – which is way too much! The naans here are gigantic. Somehow, we managed to finish the entire meal. We waddled home, full of tasty Indian food washed down with Cambodian draught beer, ready to hop back on the bus and leave the capital behind the next day.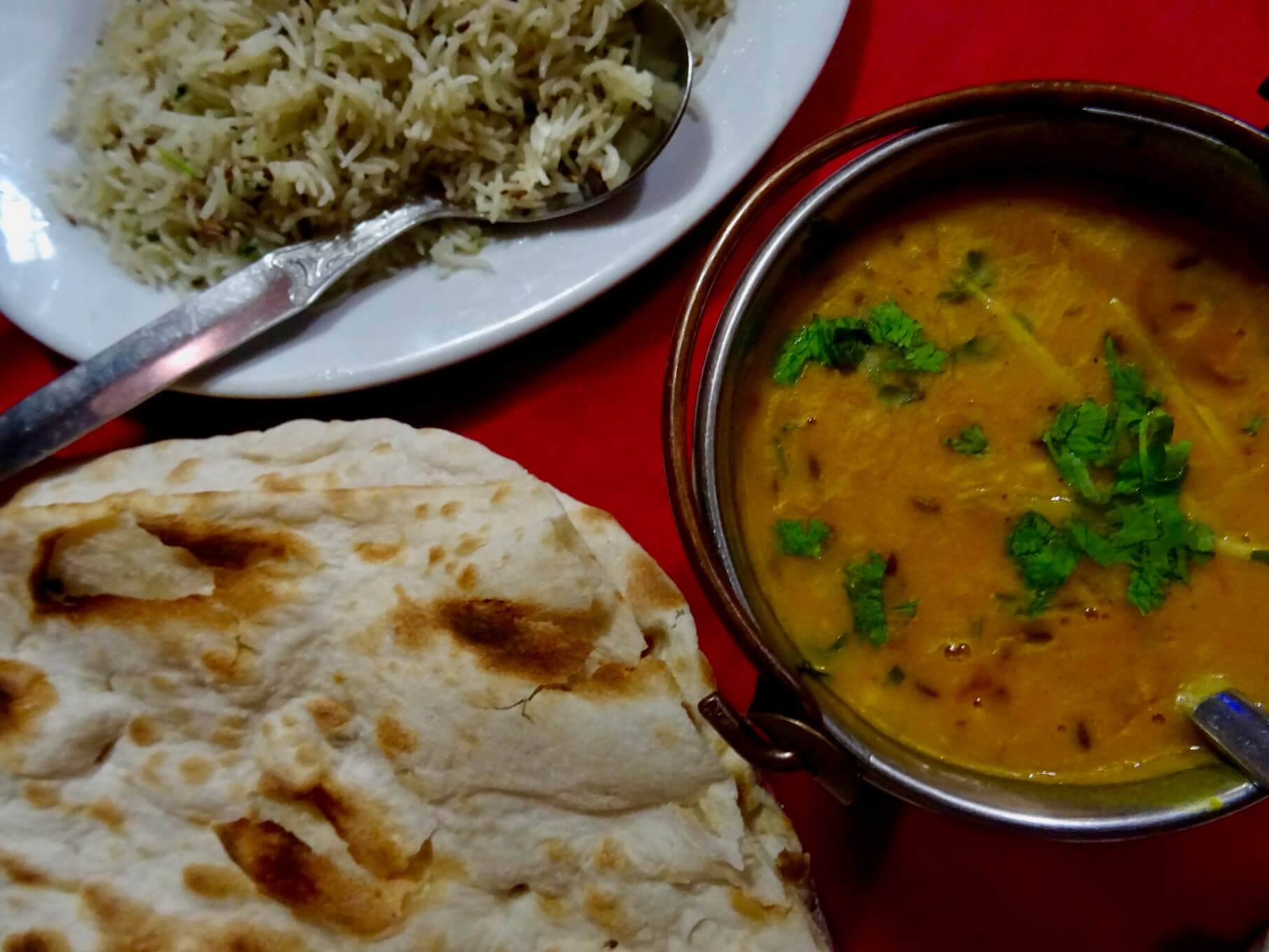 Vegan thumbs up for Phnom Penh.
To sum up, I think we barely sctratched the surface of what is available for vegans and veggies in Cambodia's capital. Have you been there and have you got any recommendations that we have missed? Please do let us know in the comments!