Social Enterprise Cafes in Siem Reap: Our Favourite Places to Eat for a Good Cause!
We've had an amazing three months in Siem Reap. Now it's time for us to move on, but we thought we'd share one last thing about this awesome city. There are many social enterprise cafes in Siem Reap, where you can eat amazing food, and feel great because your money is going to a good cause. Here are a few of our favourites:
Social Enterprise Cafes in Siem Reap
What is a social enterprise?
A social enterprise is a business which aims to serve a cause. Although they are run as commercial outfits, they usually place this cause over profit. For example, they could be aiming to raise funds for a local school, raising awareness of a local issue, or helping a particular community. Many of the social enterprise cafes in Siem Reap aim to provide education and training for local people.
New Leaf Eatery
We're really sad that we only discovered this place in the last week of our stay! It's a really cosy, welcoming cafe in the centre of town. It also just happens to do an all day breakfast menu with a big vegan fry-up! It's probably tied with Vibe for the honour of 'best breakfast in town'. The fry-up consists of tofu scramble, spinach, mushrooms, cherry tomatoes, beans, hash browns, sweetcorn pancakes and fried vegetable curry balls. We both had a coconut milk latte as well – they do a special offer until 11am where you can get breakfast and a coffee for $5. Win! There are loads of veggie and vegan options on their menu, both Khmer and Western favourites. Open since 2013, New Leaf donates 30% of their profits to local schools and education projects, funding books, materials and training. They also share 20% of the profits with their employees, who receive training and a fair living wage. You can read more about projects they support here.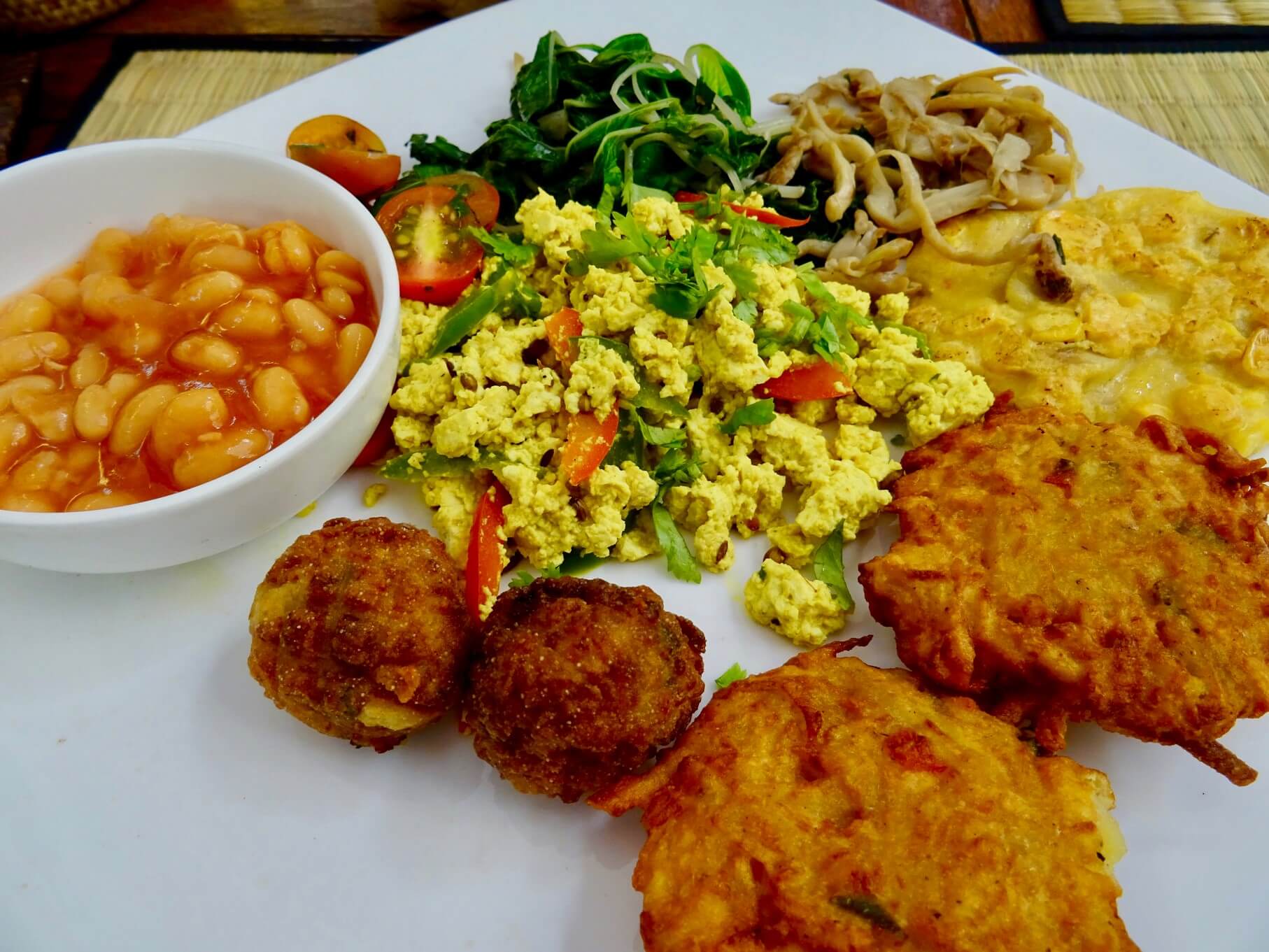 Sister Srey
Founded by two sisters in 2012, the vision of this social enterprise is to support young Khmer people who may be struggling to balance studying and providing for their families. They start with the belief that education is the stepping stone to a brighter future. Employees are given hospitality training and English language skills, as well as help with personal development, health, hygiene and banking. You can find out more about what they do here – they encourage all of their team to get involved in activities to support the community. The menu here is great, really healthy with lots of veggie and vegan choices. We loved the coffee, as well as the smoothie bowls. We also tried the veggie burger and falafel, and we'd highly recommend them. No pictures though – I guess we were too hungry to take photos that day!
Footprint Cafe
Footprint is a lovely little place to hang out, with great coffee, good wifi, lots of books and friendly staff. We can highly recommend their cake – we had a vegan peanut butter & banoffee pie which was on special. It was out of this world. Their main meals are great too – we had a Khmer curry and a vegan pesto pasta dish. They are huge supporters of the Plastic Free Cambodia campaign. They pay their staff a good living wage, with benefits such as equal maternity and paternity leave. Not only that, but 100% of the profits go to local educational or entrepreneurial projects.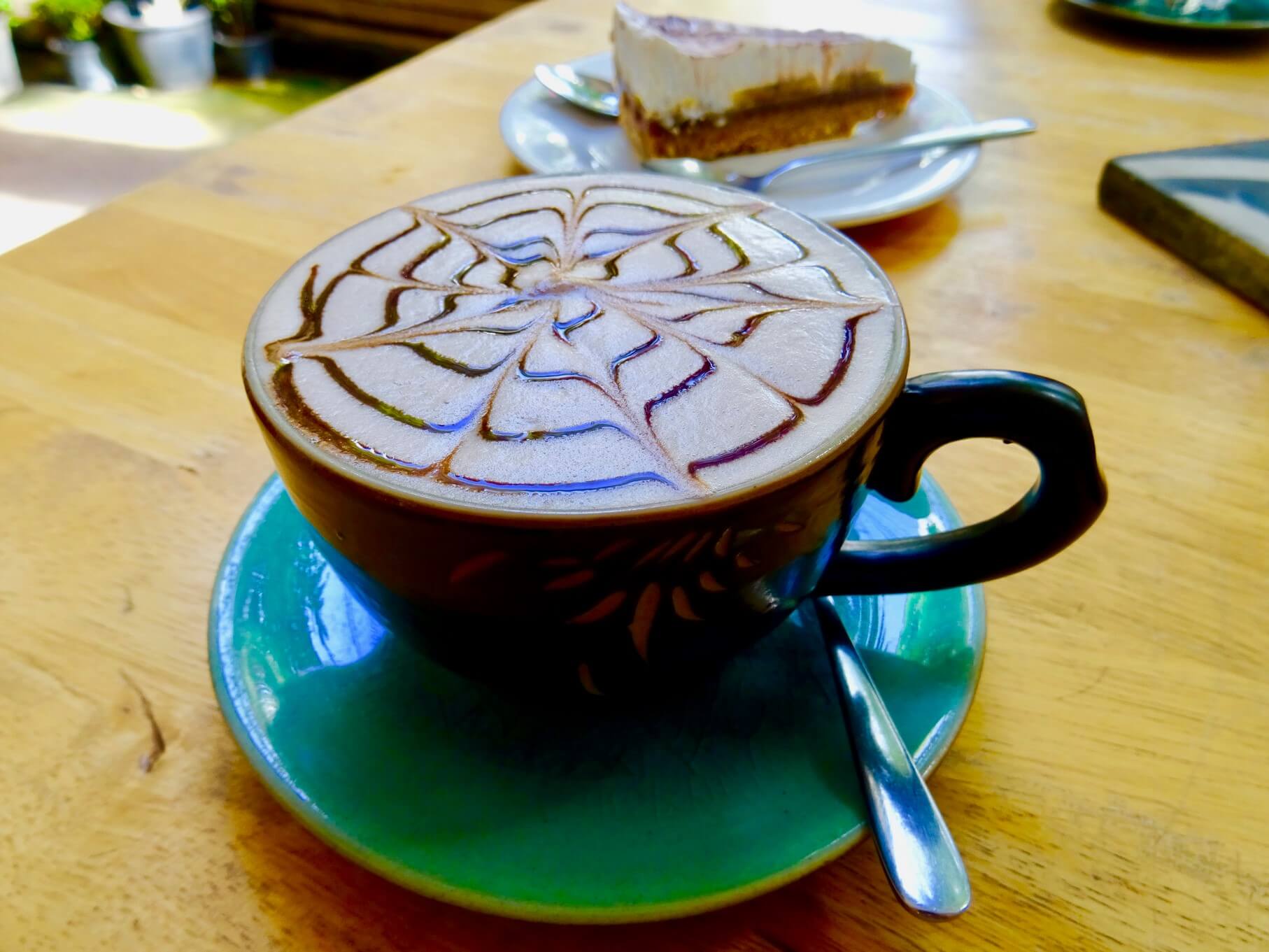 Peace Cafe
Of all the social enterprise cafes in Siem Reap, this is probably our favourite. We've lost count of the amount of times we've been here. We even tried their cooking class! Everything is veggie, with loads of vegan options. They do awesome local food, but also branch out into western dishes, salads and even veggie sushi! They also have a huge menu of fresh juices and smoothies, and excellent cakes. You can sit in their peaceful garden and relax, or browse their fair trade shop. They support many local NGOs and community projects, as well as employing local disadvantaged people. Check out their website here.

Haven
Haven is a training restaurant. They train vulnerable young adults who may have come from orphanages, shelters or very poor rural areas. Providing these people with training, as well as valuable life skills, will give them a chance to break free of the poverty cycle. Full disclosure – we never made it over to their restaurant. But we did try some of their cooking at a Veggie Food Festival one day, and by that one dish alone they've made it onto our list! We had an amazing vegan meal consisting of a rosti topped with creamy mushrooms. You can read more about the work Haven does here.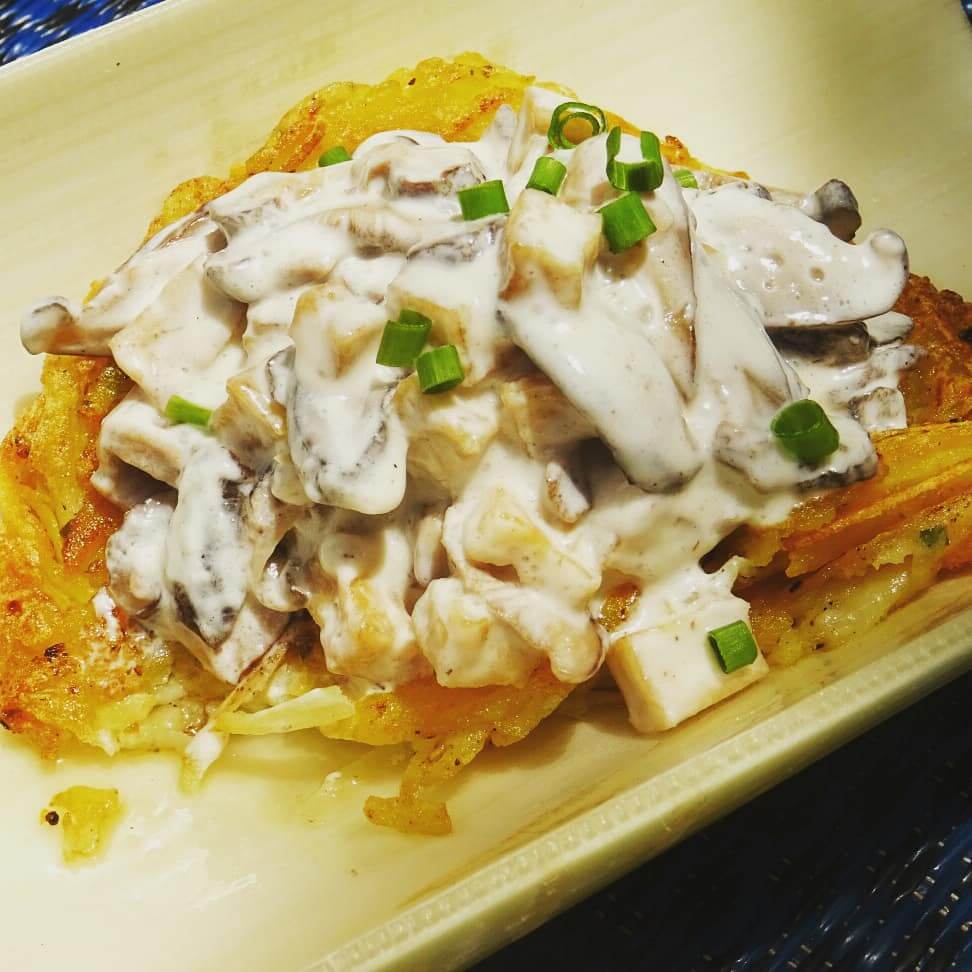 Bayon Pastry School Coffee Shop
This is a great social enterprise cafe in Siem Reap. Bayon Pastry School provides vocational training in pastry to underprivileged women. And you can taste the fruits of their labour in the coffee shop! We tried two amazing cakes – a banana and caramel muffin and a chocolate cake – yum! It's also a really great location, in a quiet green garden with books to borrow and good wifi. Apparently they also do a brunch deal which sounds like excellent value. It includes a vegan quiche, which we tried during the Veggie Food Fest as well.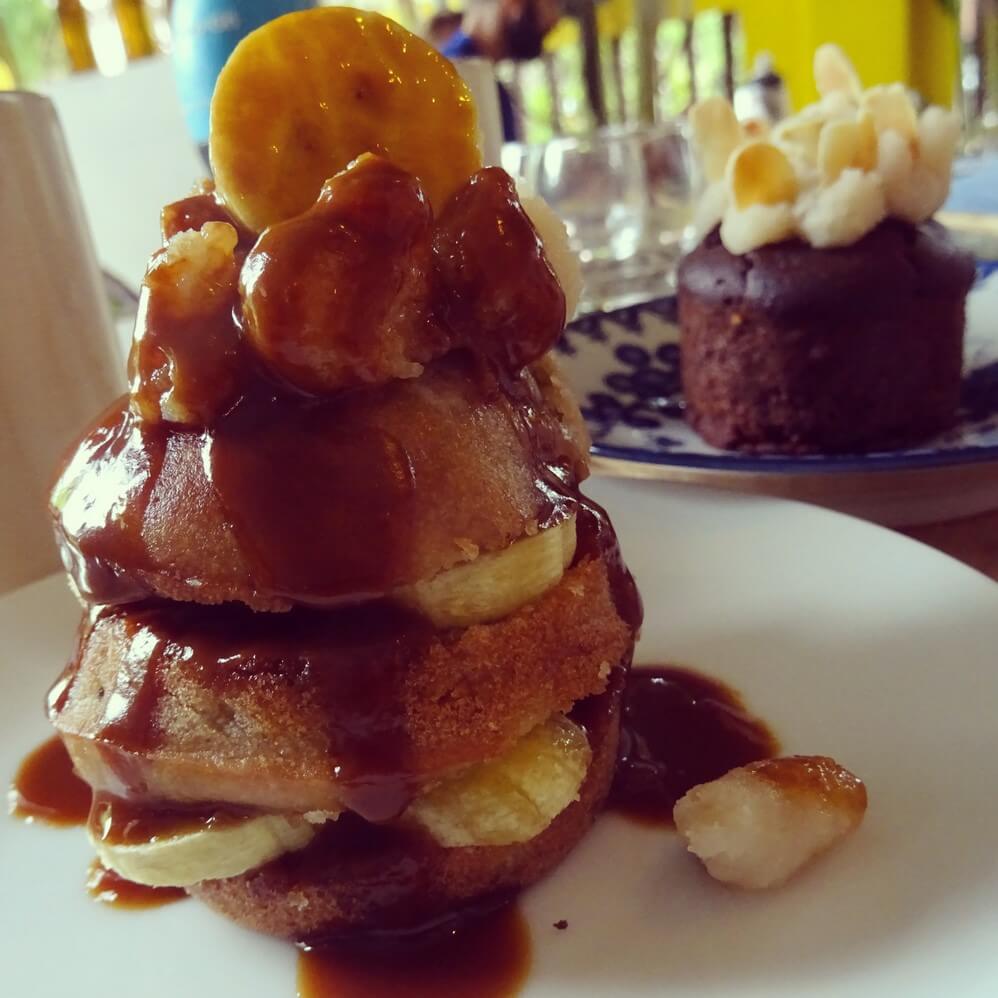 Bonus Cafes! Vibe and Moringa
Ok, so these aren't technically social enterprises, but they deserve a mention. They both support local charities. Also they're firmly on our list of favourite places in Siem Reap because of their amazing vegan options and awesome atmosphere. Vibe is 100% vegan and Moringa is 100% veggie with plenty of vegan options (try the buffalo cauliflower bites, omg). Each menu features a dish where the profits go to a charity. Moringa supports Mealshare, so if you buy one of these dishes they will provide a meal for a Cambodian child in need. Vibe's charity is the Good Vibe Foundation, which aims to provide nutritious vegan meals to Cambodian schoolchildren.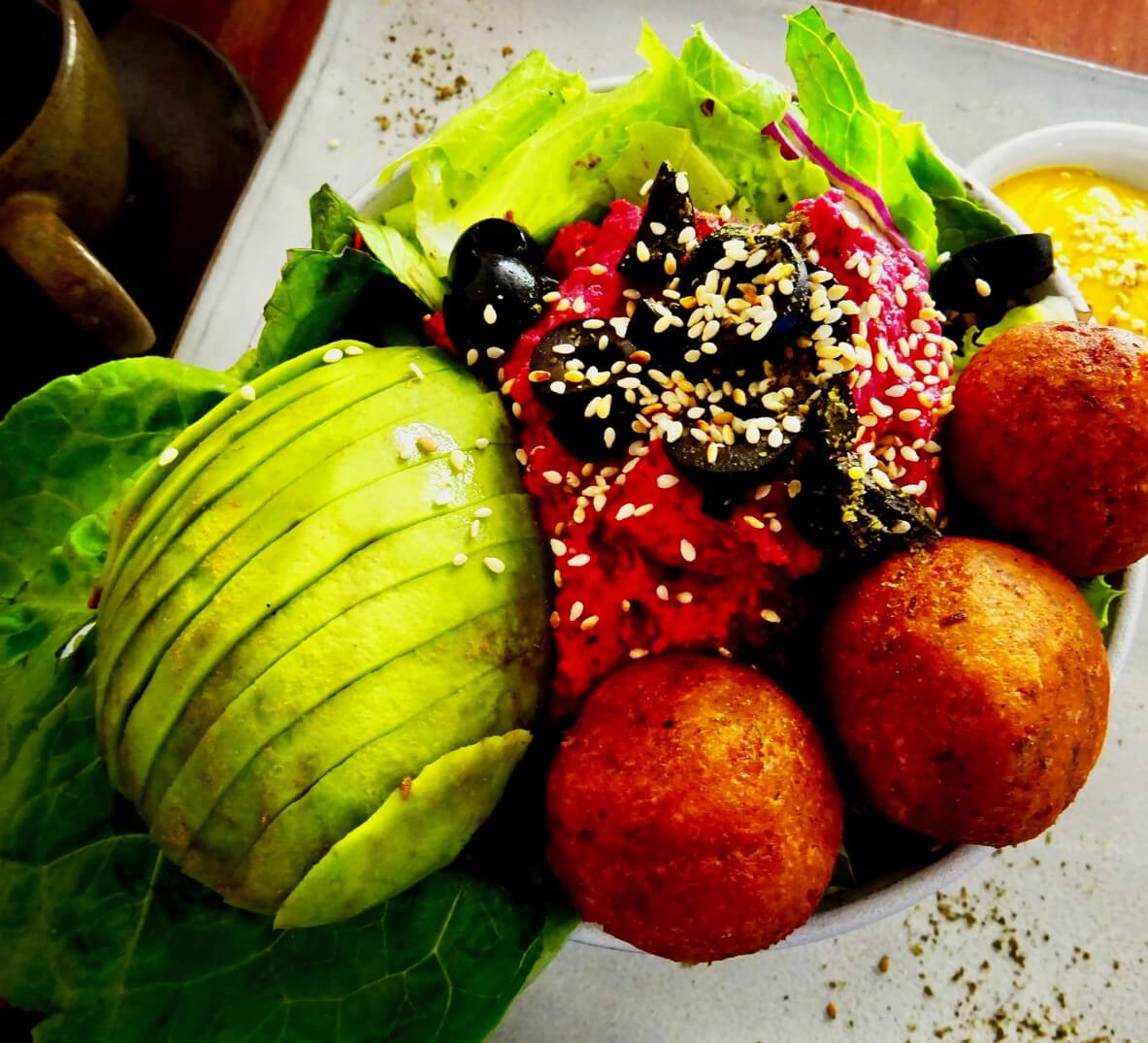 We hope this list might inspire you to eat at one of the social enterprise cafes in Siem Reap if you are in the area. Great food that also gives back to a community in need? We're in. C & D xx