Cooking Class At The Peace Cafe: Cooking Up (and in!) A Storm
The Peace Cafe has been one of our favourite spots in Siem Reap since our first day here. This awesome social enterprise serves delicious veggie food (including an amazing vegan brownie!) but they also run yoga classes, Khmer lessons, monk chats and more. Yesterday we finally took the cooking class at the Peace Cafe – read on to find out if we cooked up a storm or if we burned down the house!
A Rainy Day Activity
We're firmly in the wet season in Cambodia now. Rarely a day goes by where the heavens don't open all of a sudden. What were blue skies when we left our house had turned distinctly threatening by the time we reached the Peace Cafe, just 10 minutes walk away. We sat and waited for the class to start while watching the rain fall in their jungle-like garden. The class took place on the top floor of the traditional wooden building, and we could hear the water hammering down on the roof for most of the session!
The Cooking Class at the Peace Cafe
The class lasts one hour, and costs $20 each. This may seem a little pricey, and is certainly more than our usual daily budget. However, you learn to cook three traditional recipes and you get to sit and eat the huge feast that you have created afterwards. The price includes all the ingredients, plus printed copies of the recipes to take away. The cooking class at the Peace Cafe is one of the only ones we've seen which advertises itself as vegetarian. We were really pleased to discover that actually it is completely vegan friendly too! We were joined by two backpackers from Austria, so the class was for four people.
Course One – Fresh Spring Rolls and Dipping Sauce
We can't believe how easy these tasty little parcels are to make. We filled ours with finely shredded carrot and cucumber, along with lettuce and Thai basil leaves. The rice paper wrappers are available back home in the UK too, and they're really easy to handle. A quick 10 second soak in some water and they're ready to go. The trick with these fresh spring rolls is not to overfill them, otherwise they become quite difficult to wrap!
Then the dipping sauce – oh my god the dipping sauce! I could go on about it for days. It starts with palm sugar, which we heated and then mixed with water, veg stock, salt, lime juice, chillies and chopped roasted peanuts. The perfect balance of spicy, sour, sweet and salty – mmm! We cut the rolls in half to show off the neat and colourful filling. We had a little taste of our handiwork before it was put aside for later.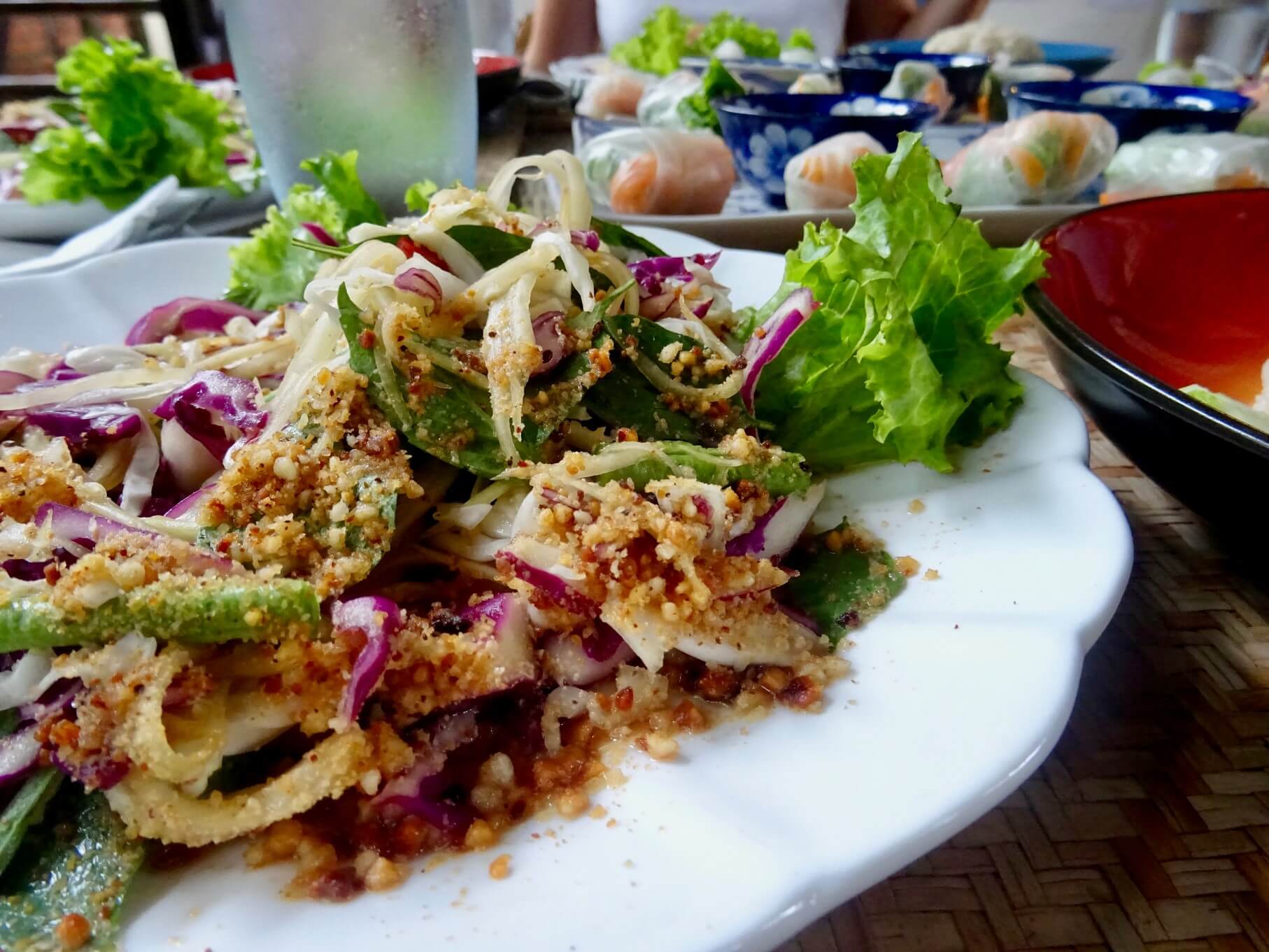 Course Two – Tangy Green Papaya Salad
Forget the bright orange, juicy papayas that you know. This traditional salad is made with green unripe papaya. We used a julienne peeler to reduce the fruit to a pile of thin shreds (a bit like courgetti!). To this we added shredded raw red and white cabbage, Thai basil and sliced green beans. The salad dressing is another tasty sweet-sour-spicy mix, made from palm sugar, vegetable stock, soy sauce, salt, lime juice and chillies. The whole lot is tossed together and then topped with chopped roasted peanuts – yum! Again, we had a small taster and then the rest was put aside for our lunch afterwards. The cooking class at the Peace Cafe starts at 1pm, which means it was past our lunch time by this point and we were pretty hungry!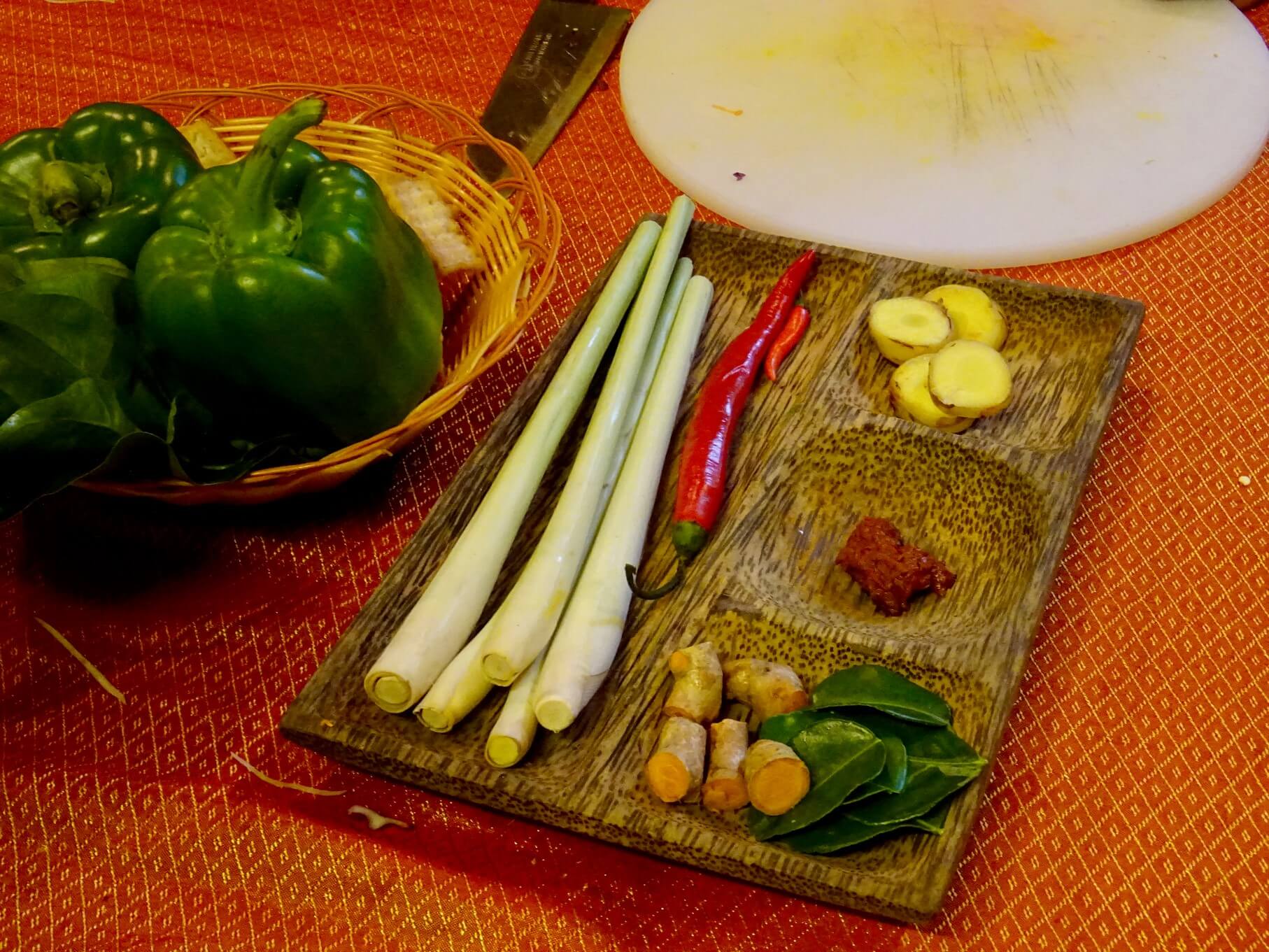 Course Three – Vegetarian Tofu Amok
Before we could eat, we needed to make the main course. Amok is a typical Cambodian curry, based on the Kroeung paste that we mentioned in our yellow curry recipe. This time we got to learn how to make this beautiful golden paste from scratch! We finely chopped lemongrass, galangal, turmeric and kaffir lime leaves before taking turns to pound them in the biggest pestle and mortar we'd ever seen! Once the Kroeung is made, chilli paste and chopped roasted peanuts are added and pounded in as well.
The paste is then heated through with soy sauce, veg stock, salt, palm sugar and coconut milk to make the fragrant curry sauce. To this we added shredded noni leaves (a bit like bok choy), sliced green peppers, red chilli and fried tofu.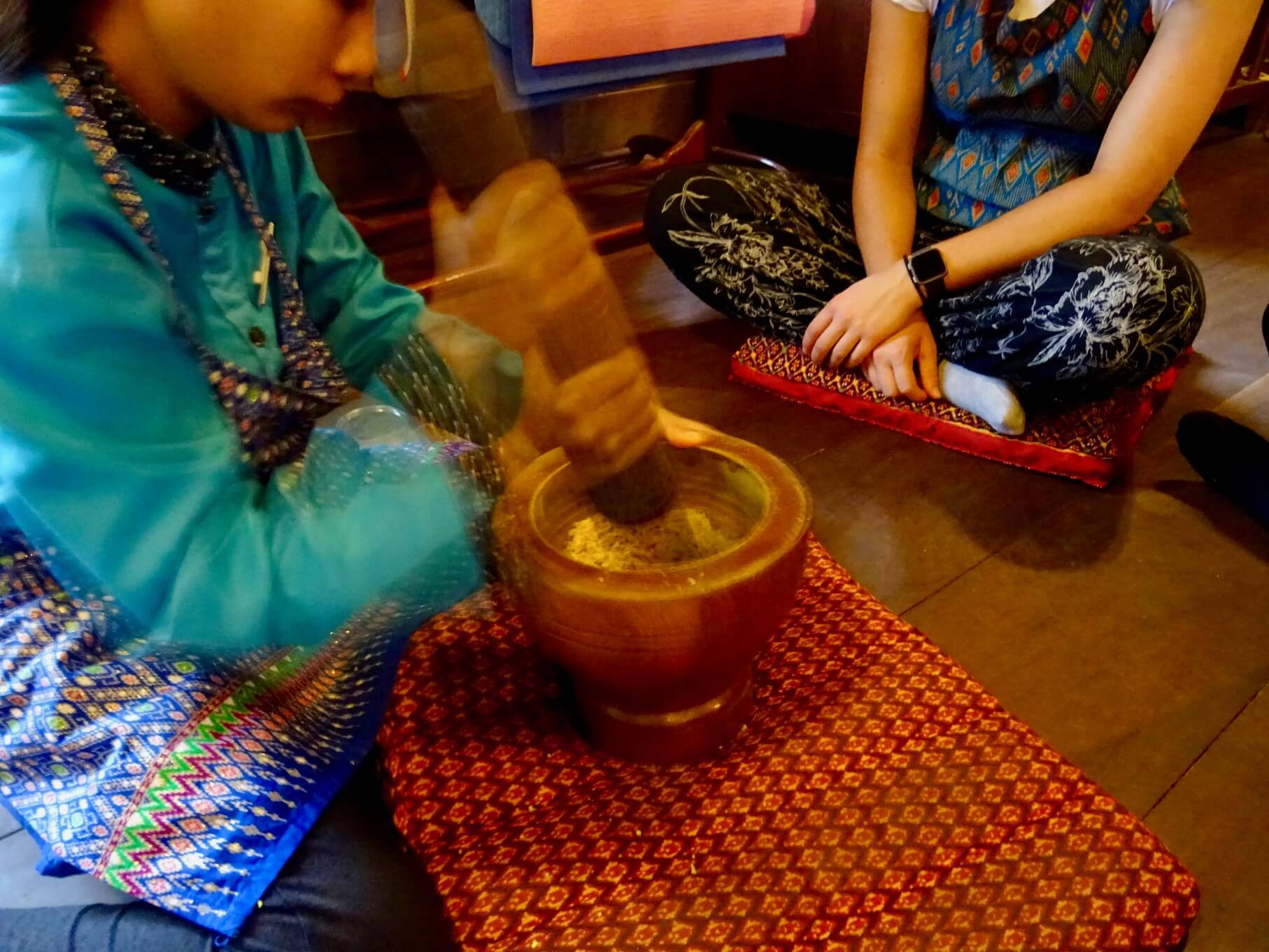 Feast Time!
Once we'd taken off our fashionable aprons and headed back downstairs, the food that we'd made was spread out on one of the tables in the cafe waiting for us. We were amazed that we'd made so much colourful and tasty looking food in just one hour! We were absolutely starving by this point so we didn't waste too much time tucking in.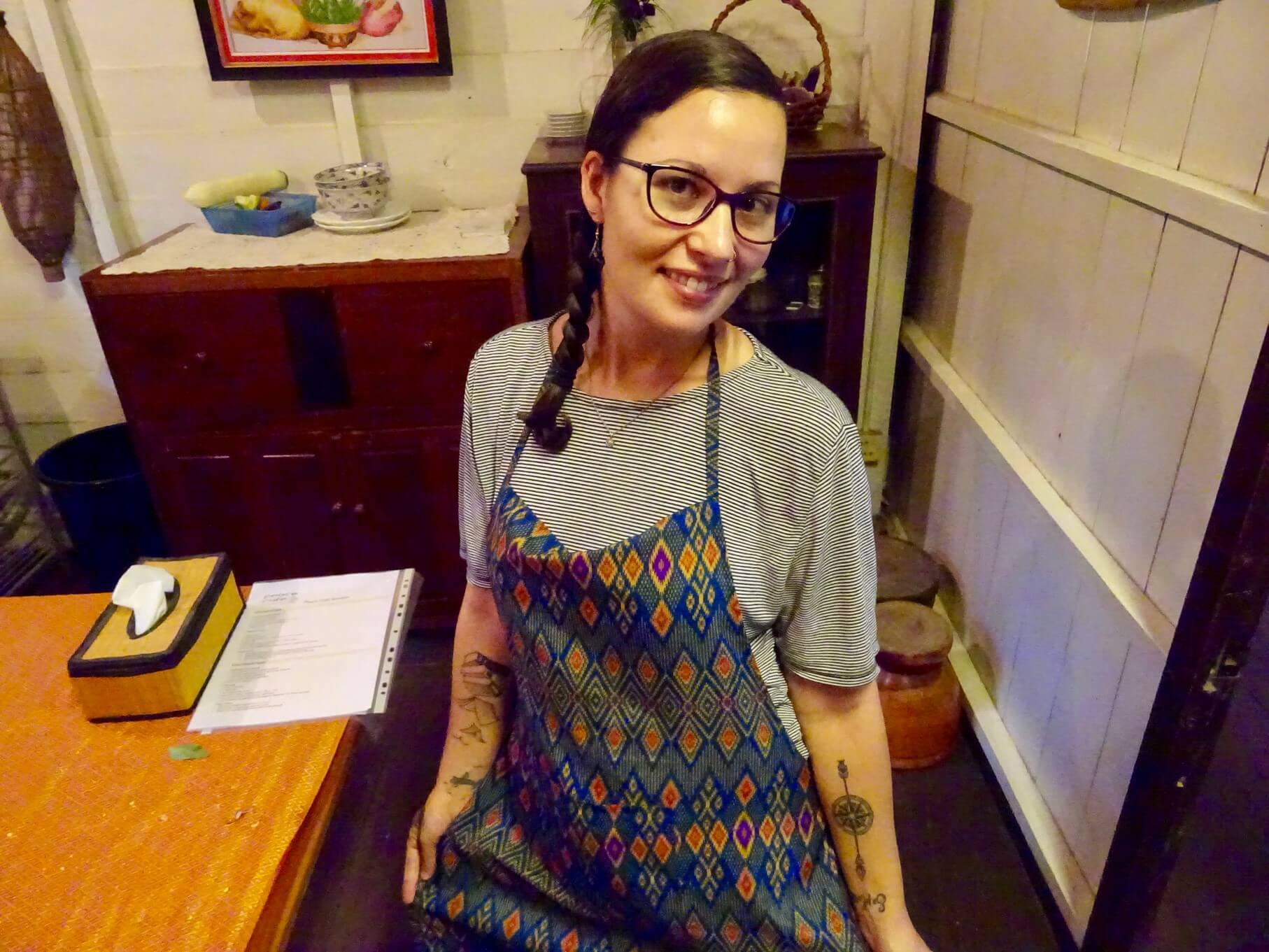 Over crunchy spring rolls, tangy sauce, fresh salad and creamy spicy curry, we chatted to our fellow travellers and swapped some tips on what to do in Siem Reap. By this point the rain had finally stopped. After lunch we waddled home, clutching our very full stomachs!
If you're looking for something different to do in Siem Reap, we would highly recommend the cooking class at the Peace Cafe. Our tutors were kind and patient, and we learned some really inspiring tips. Now we can't wait to get back into our kitchen. We're going to try putting our own spin on these tasty Cambodian classics! C & D xx