Three Days in Kuala Lumpur: Malaysia Will Amaze-ya!
Ok, sorry for the awful pun. We couldn't resist! But seriously, we've been in Malaysia for four days now and it's already really impressed us. Here's what we got up to on our first stop and how we spent three days in Kuala Lumpur. You can scroll to the bottom for our top tips!
Three Days in Kuala Lumpur
Arriving at Kuala Lumpur International Airport
This was probably the easiest immigration checkpoint that we've been to on the whole trip. We're lucky because our British passports entitle us to a 60 day visa-free stay, so we didn't have to hand over any cash. A cursory glance at our passports and quick stamp, and we were in!
Most of the signs at the airport direct you to take the KLIA express train into town – but underneath these huge signs we spotted directions to the bus stop. The train takes 30 minutes and costs 55 MYR (just over £10) whereas the bus takes an hour and costs only 12 MYR (just over £2). For us budget travellers this was a no brainer. The bus had proper luggage storage, air conditioning and even wi-fi, so it's not as if we were slumming it. Both the bus and the train terminate at KL Sentral.
From here we hopped on the monorail (humming the monorail song from that old Simpsons episode quietly to ourselves). From the monorail station it was a short (but very hot and sweaty with our heavy rucksacks!) walk to our hostel. We only took a wrong turn and got lost once – not too bad for us!
First Taste of Malaysia
Once we checked in, we were super excited for our three days in Kuala Lumpur. One of the first things we discovered was a 100% vegetarian restaurant about 2 minutes walk from our hostel, so of course we didn't waste much time in heading over to check it out. Over 80% of Chinese Malaysians identify as Buddhist, which means that many follow a vegetarian diet. This is great news for veggie and vegan travellers, since it means you'll often find Chinese buffet-style restaurants serving an all veggie menu, often with lots of varieties of mock meat.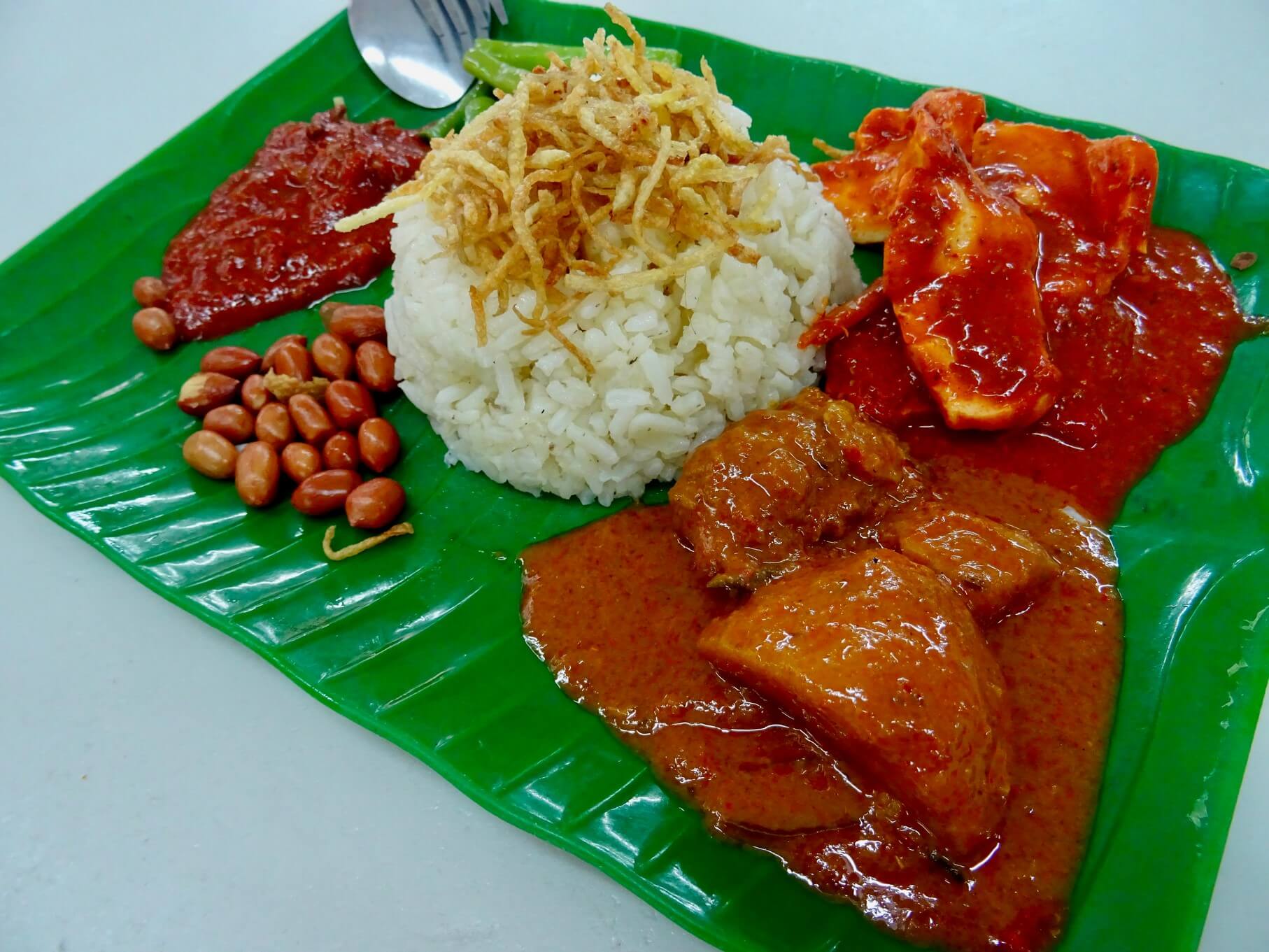 Blue Boy Vegetarian Restaurant served up a delicious nasi lemak – out first taste of Malaysian food. This literally translates to 'fatty rice' which, ok we'll admit, sounds pretty gross. But it refers to the fact that the rice is cooked in coconut milk, making it really soft and fragrant. It is usually served with a spicy sauce (sambal) and a curry or two, with peanuts and salad. Ours had two 'mock meat' curries, one of which was very spicy! The sambal on the side was rich and fragrant.
Three Days in Kuala Lumpur – Day One
The first task on our first full day in KL was to find a SIM card for my phone so we could use some data – essential for navigating around the city using Google Maps! It cost 38 MYR (just over £7) for a prepaid SIM with one month of unlimited data which is an amazing deal. Our second task was (surprise, surprise) to find some tasty vegan-friendly lunch. With our newly topped-up phone we found our way to Sweet Veggie. This was an all vegetarian buffet where we filled our plates with rice, several types of mock meat curry and loads of green veggies for the equivalent of less than £2!
It being our first time in a big city for a while, we needed to buy a few bits and bobs, so we headed to Berjaya Times Square mall. This is one of the biggest shopping malls in the world, and to be honest it blew our minds a little! It has over 7.5 MILLION square feet of floor space – and it even has an indoor theme park complete with a decent-sized rollercoaster! Imagine our surprise when we turned a corner in the mall and suddenly heard a rumbling and screaming coming from above our heads, as the coaster zoomed past! After walking around this behemoth of a mall for an hour or so, we felt like we'd walked miles.
Three Days in Kuala Lumpur – Day Two
One of the things I was most excited about seeing on our visit to KL was the Kuala Lumpur Forest Eco Park. This is one of the oldest protected jungles in Malaysia, consisting of 9.37 hectares, slap bang in the middle of a bustling city. It's completely free, and has a newly built canopy walk so you can get high up in the trees and really feel like you're in the middle of nature. We thought it was awesome – although you're in a capital city you really feel like you're in another world.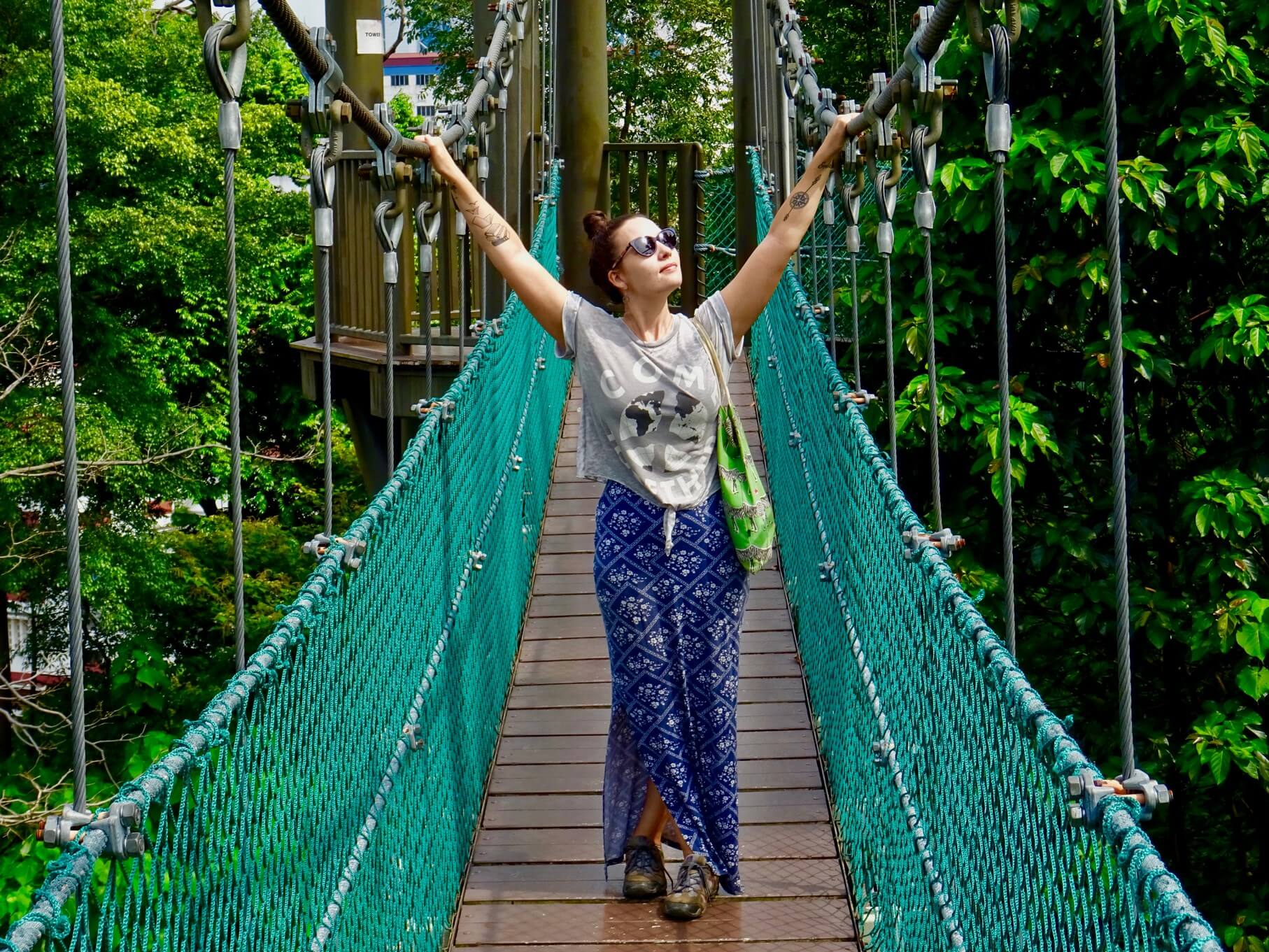 From towering trees to tall towers – we headed over to check out the Menara Tower, a 420m high communications tower, and then walked over to the famous Petronas Towers. We were more impressed by these twin skyscrapers than we were expecting.  At 451.9m high, they were the tallest buildings in the world from 1998 to 2004. They are still the tallest twin buildings in the world. At the base is (another) big shiny shopping mall, and a lovely green park with lots of water features. We returned here on day three in the evening for a different view!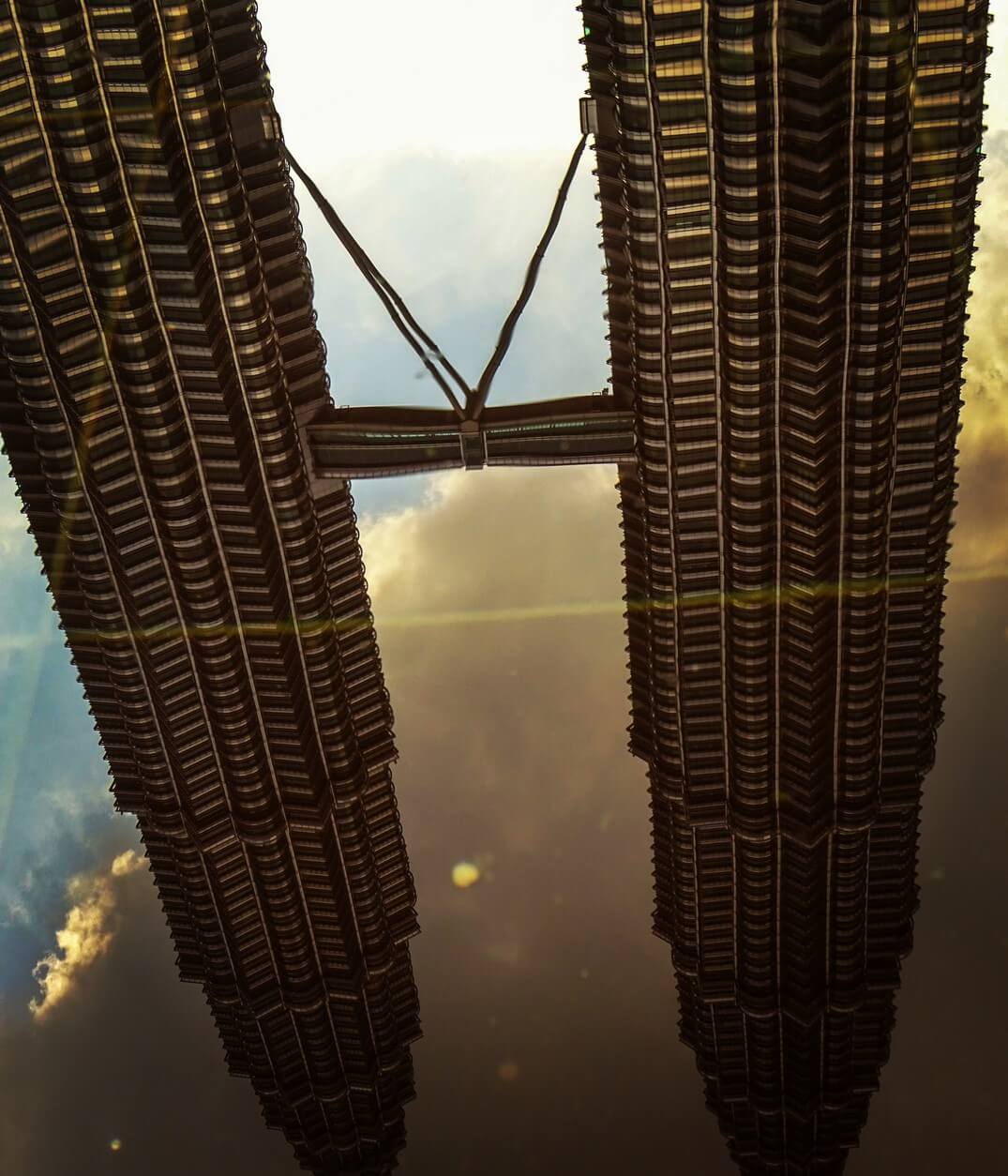 Day two also held lots of delicious food adventures. We had another buffet lunch, this one at the Dharma Realm Guan Yin Sagely Monastery Canteen. This was probably the biggest buffet we've seen and it was all veggie – we were in heaven! It's super busy with nearby office workers on their lunch break, and is only open for a few hours each day. Afterwards, we were really excited to find a small stall selling vegan ice-cream in (yet another!) mall. Of course we had to try some! A small pot of almond fudge brittle flavour later and I wanted to buy up the entire stock of the cart. It was incredible!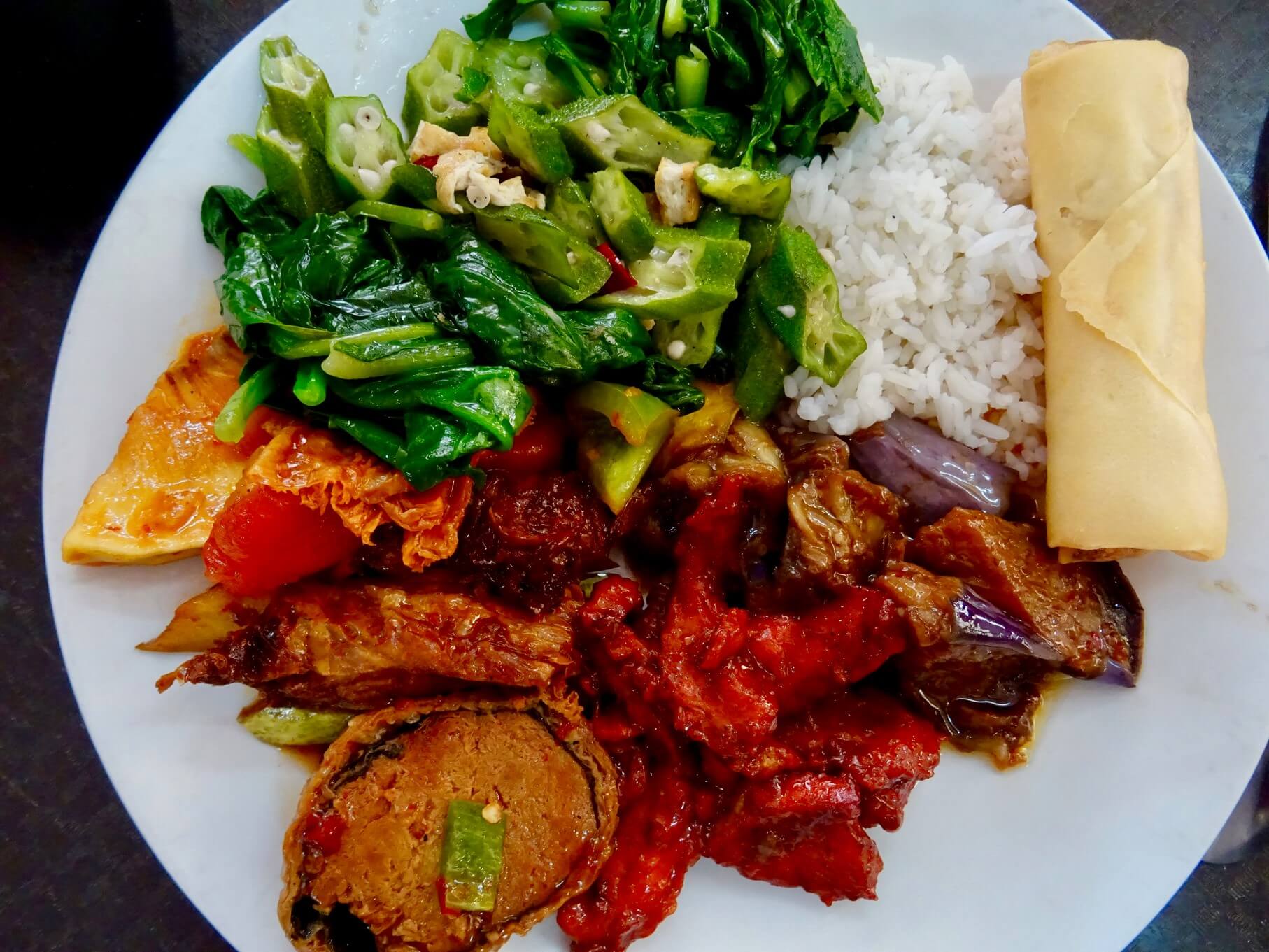 After a few big heavy meals (not to mention the ice-cream), we wanted something a bit fresher and lighter for dinner. We found a small vegetarian chain in one of the malls called Simple Life. We each had a different type of Laksa – David's was so spicy that it had him sweating!
Three Days in Kuala Lumpur – Day Three
One of the biggest tourist attractions in KL is Batu Caves – a short train ride to the North of the city.  This is a natural cave formation which also contains some Hindu shrines and temples. A huge gold statue of Lord Murugan stands at the base of a long flight of stairs. You can walk up and into the mouth of the cave for free, where there is a Hindu temple. There is also a second cave where you can pay to take a 'dark' tour and learn about some of the critters which call the cave system home. We decided against the tour as it looked a little scary – neither of us is keen on dark enclosed spaces! There are loads of mischievous monkeys around the cave entrance and on the steps. After our experience in Bundi we gave them a wide berth!
There is another cave there too, which is gloriously kitch. The Ramayana Cave depicts the story of the Hindu God Rama in multicoloured statues and dioramas around the edges of the cave.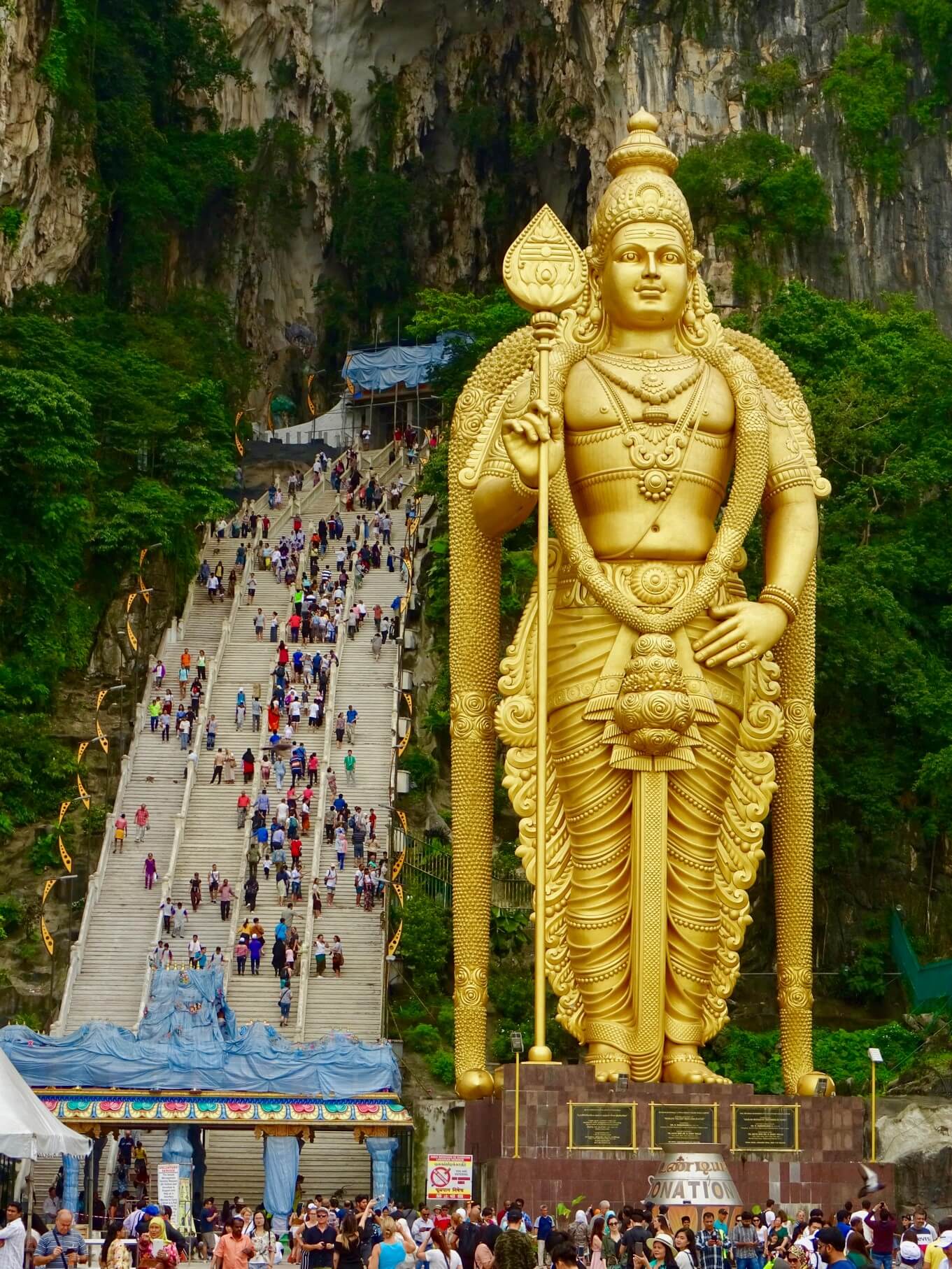 The train back to KL dropped us back to Sentral station, ideal for a lunchtime visit to our favourite vegetarian Indian restaurant chain. Saravana Bhavan serves mainly South Indian cuisine and has branches all over the world. We had huge crispy masala dosas with fragrant and tangy sauces, surrounded by locals grabbing a quick lunch.
We then headed over the road to the Muzium Negara – Kuala Lumpur's National Museum. This new building has been really well put together and covers all aspects of the country's history – from the Prehistoric era, through the Malay empire and colonialism, to the present day formation of Malaysia. We found it fascinating, since we knew lamentably little about this country.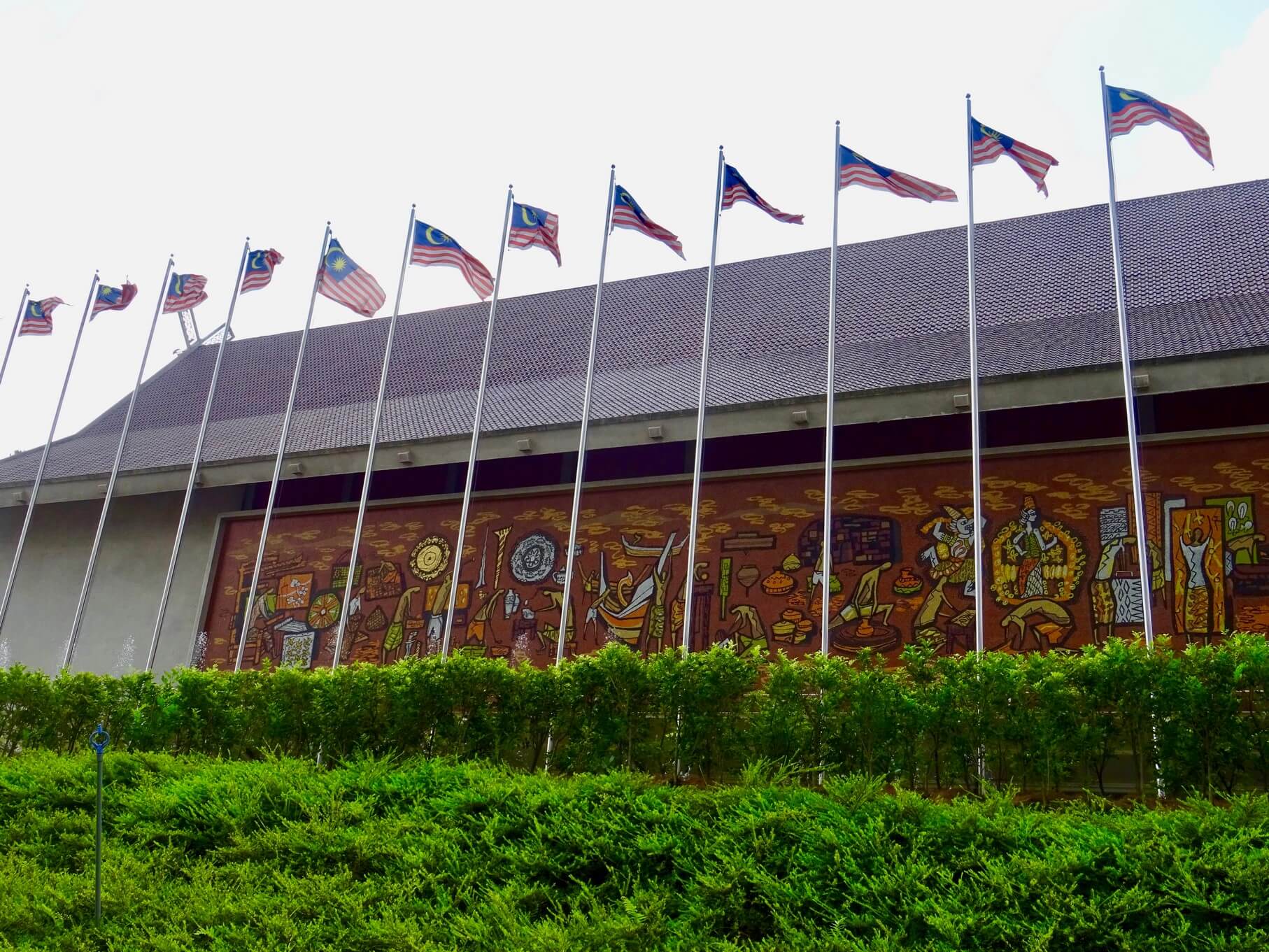 In the evening, we went back to the KLCC park, at the base of the Petronas Towers. We sat and watched the water and light show, while the hypnotic sounds of the call to prayer washed over us. It was really soothing and we could have sat there transfixed for ages!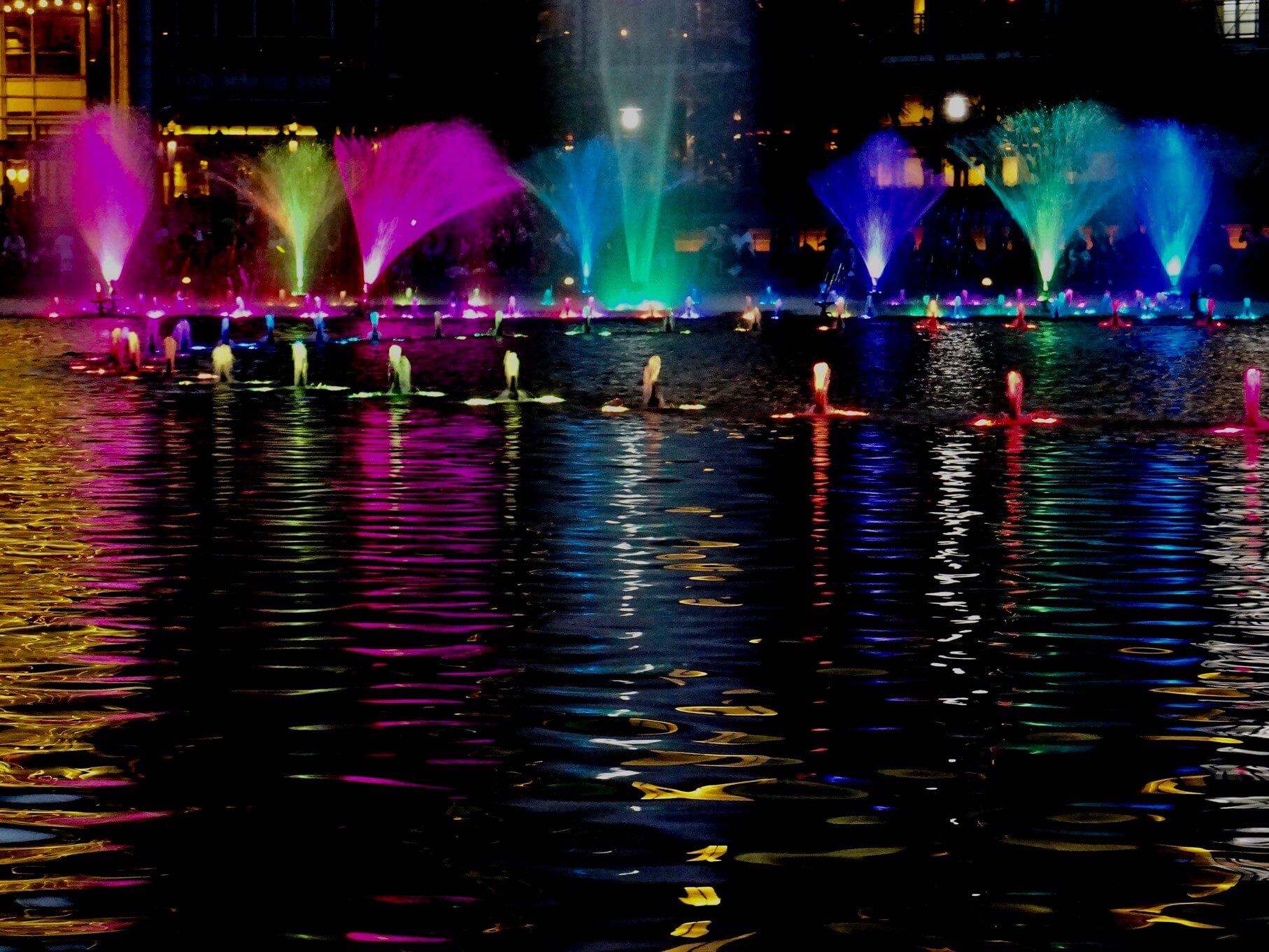 Moving On
We really enjoyed our three days in Kuala Lumpur. It feels like a really easy city – the public transport is cheap and efficient, and it's very pedestrian friendly. It's also clean and full of parks and green spaces. We loved the food options and found it really easy as vegans. Now we are exploring the city of Melaka, two hours south of the capital, on the coast.
Our Top Tips for Three Days in Kuala Lumpur
Save money by getting the bus into the city, instead of the express train. Follow signs to the bus stop once you get through arrivals, and buy a ticket at the bus counter. It costs 12 MYR for the hour long journey – the bus has wi-fi and a/c.
We stayed at Dorms KL. Despite the terrible pillows and party vibe, it was great value with free breakfasts and the best showers we've had in a long time. We're talking the holy trinity of hot, powerful and clean – a rarity while travelling Asia on budget! A private room with a/c and shared bathroom cost 59 MYR per night, inclusive of the tourist tax.
Dharma Realm Guan Yin Sagely Monastery Canteen is amazing! The buffet is 100% veggie and it is seriously huge, with loads of veggies, curries, rice dishes, noodle dishes and mock meats to choose from. You pay according to how much food you pile on your plate. Ours were 9 MYR and that's because we're greedy! It's open from 11am – 2pm and you should try to get there early as it get very busy around 12.
It's really easy to get to Batu Caves by public transport, and super cheap. Don't let anyone persuade you that you need to pay for a taxi or a tour. Get to KL Sentral, and then head north on the KTM commuter line. The final stop on the line is Batu Caves.
The National Museum only costs 5 MYR to get in – that's just under £1! It contains a wealth of information (not to mention free air conditioning if the outside is getting too much!)
The light/water show at KLCC park starts around sunset. It's free and we'd highly recommend checking it out.
KL Forest Eco Park is completely free and it's amazing. Seriously, just go.
We hope you enjoyed our post on how to spend three days in Kuala Lumpur. Let us know in the comments if you have any tips to add!