Vegan Food in George Town: The Ultimate Guide for Hungry Herbivores
You might think that in a land where restaurant signs advertise odd sounding things like Fish Head Curry and Chicken Porridge, we'd struggle to find things to eat on a plant-based diet. But Malaysia is an unlikely vegan food paradise, and George Town wears the country's food crown. We were super excited to find out for ourselves. In the end, we stayed for 11 days, so we visited a lot of cafes, restaurants and street food stalls. We ate like Kings/Queens on the best vegan food in George Town, and we've put together a list of our favourites just for you!
Vegan Food in George Town
The Leaf Healthy House ($$)
This place was one of our favourites – we actually ate here three times! If you're craving some fresh green vegetables, this might be the place for you. We tried quite a few dishes. I loved the ramen noodle soup, and also the Bak Kut Teh herbal soup with vermicelli noodles. It had a really interesting flavour and lots of crunchy veg perched on top. David's favourite was the mushrooms braised in black vinegar and ginger, which was really intense. The atmosphere is really calm and peaceful with leaf paintings on the walls. 100% vegetarian menu, with dairy products clearly marked.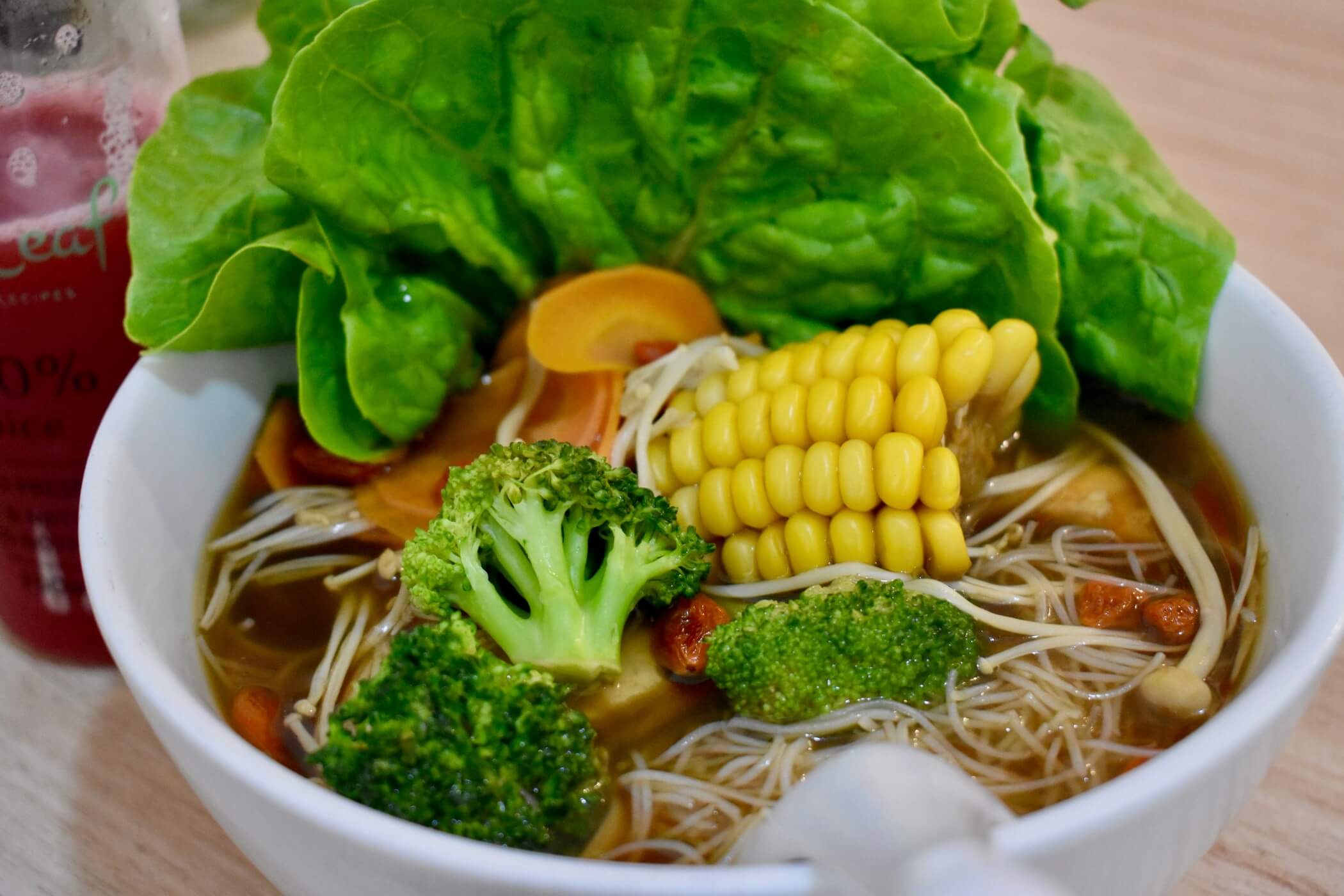 Sushi Kitchen ($$)
If you're in the mood for fresh, healthy Japanese food, Sushi Kitchen will be right up your street. David's dish was called Happy Spicy Noodle (which is just adorable) and I ate a huge bowl of udon noodles in a savoury broth, with deep fried enoki mushrooms. We also shared a dish of fresh, salty edamame beans. (If you know me, you'll know I'm obsessed with these!) We also came back one afternoon to sample their vegan cake. The 'cake' is more like a chocolate brownie, smothered in strawberry puree with pretty chocolate decoration and little icing hearts. It was so good! Sushi Kitchen is 100% vegan.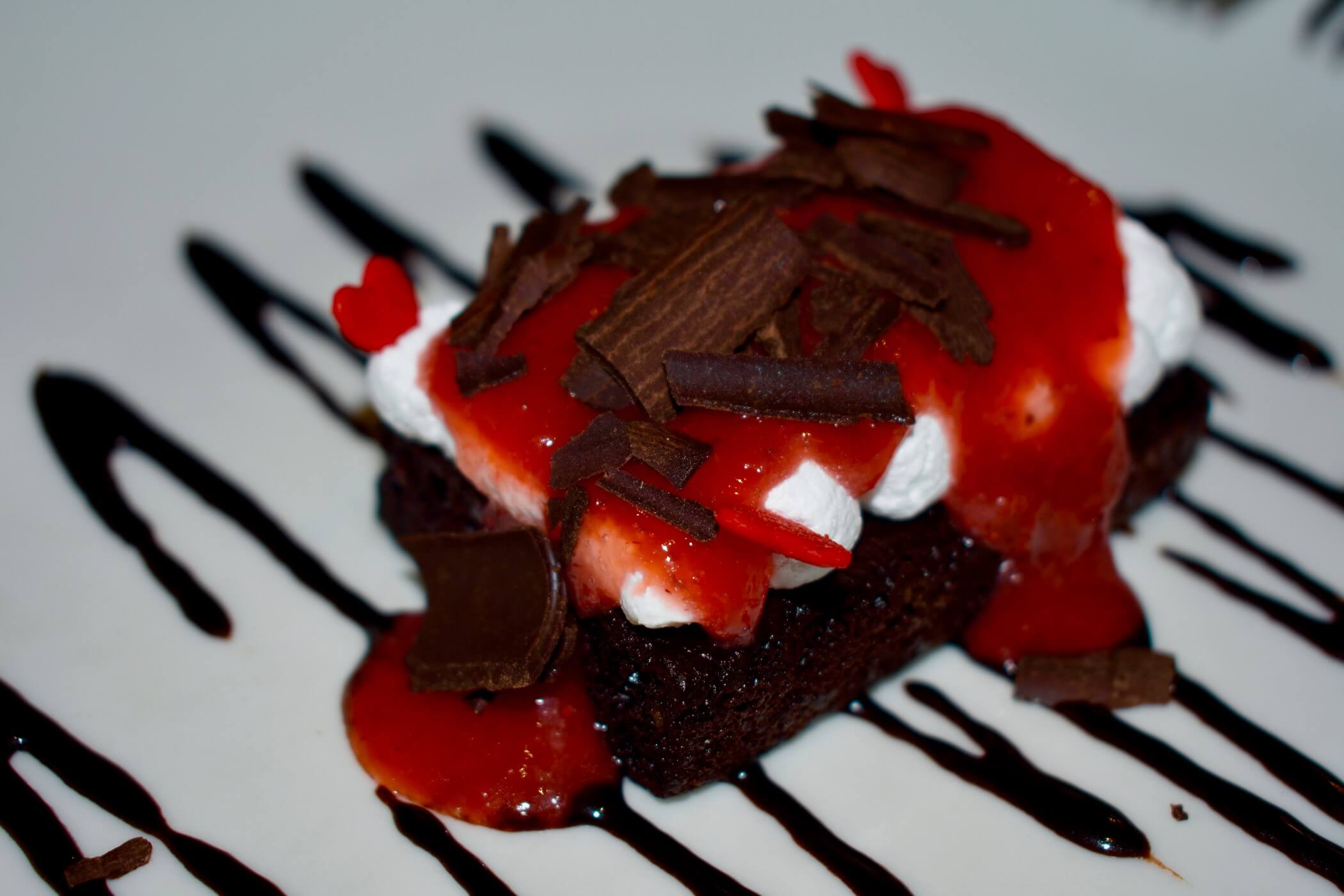 Pinxin ($$$)
This place is off the charts – definitely a contender for the best vegan food in George Town. David swears his Nasi Lemak was the best he's had so far, and I said the same about my Laksa. The Nasi Lemak came with yummy tempeh, spicy sauce, cashews, poppadom and more. The Laksa was the perfect blend of sour, sweet and spicy. We also shared a plate of mushroom satay skewers (you know how we feel about satay…yum!) The place is really nicely decorated, with lots of pretty, inspirational vegan quotes painted on the walls. It is 100% vegan.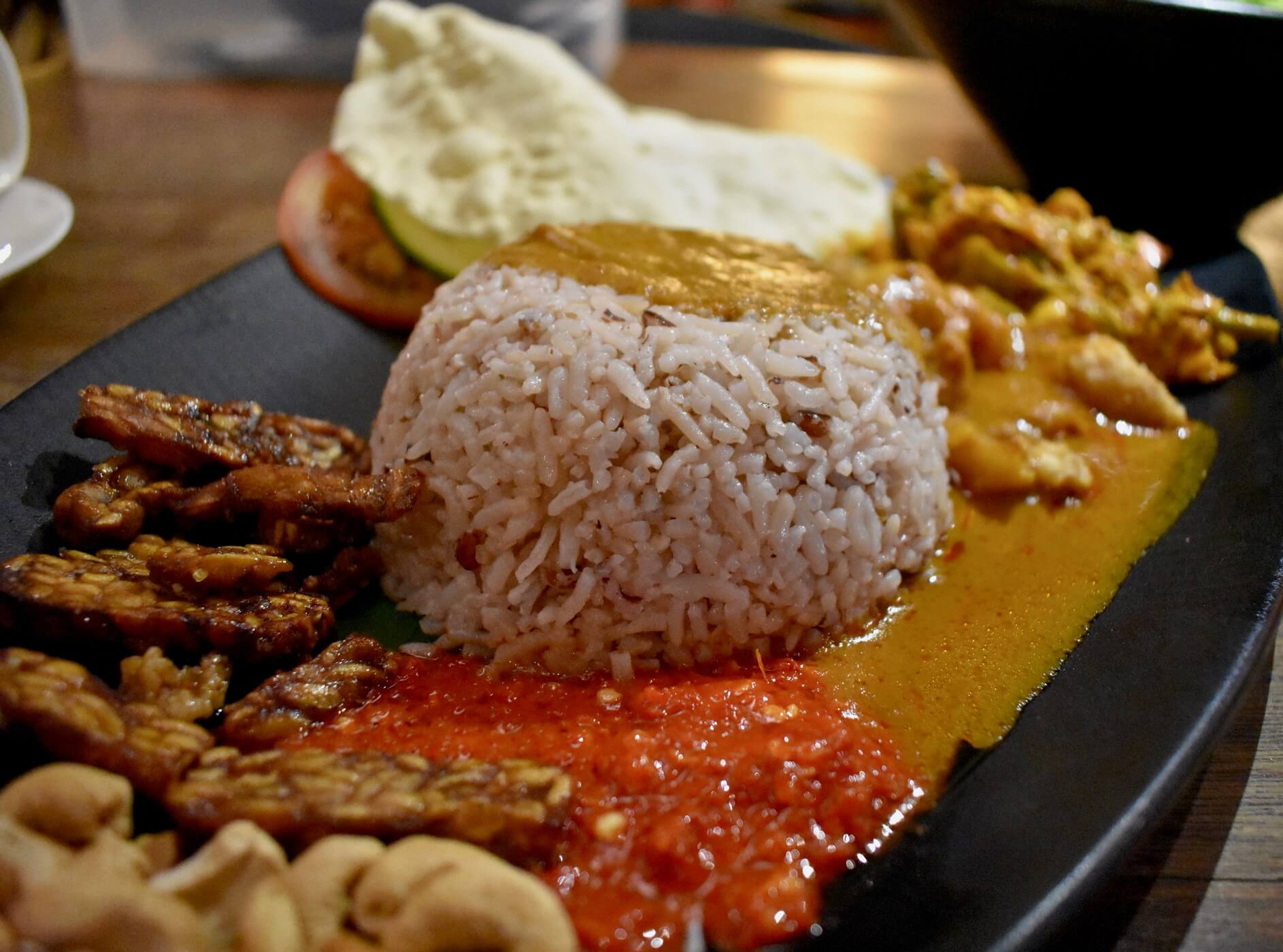 The Quay Cafe ($)
A solid budget choice for vegan food in George Town, although the opening hours are fairly brief! This cafe seems to open only from 12pm – 2pm, and is very popular with local workers. There is no menu, and the place is very simple, run by volunteers. You go up to the counter and are served a plate of rice, and then help yourself from the four other dishes that are there. We went a couple of times, and there were usually two vegetable dishes and two mock meat dishes. Our favourite was a sort of Mushroom Rendang which had loads of flavour, and some mock meat chicken drumsticks which were really convincing! Quay Cafe is 100% vegan.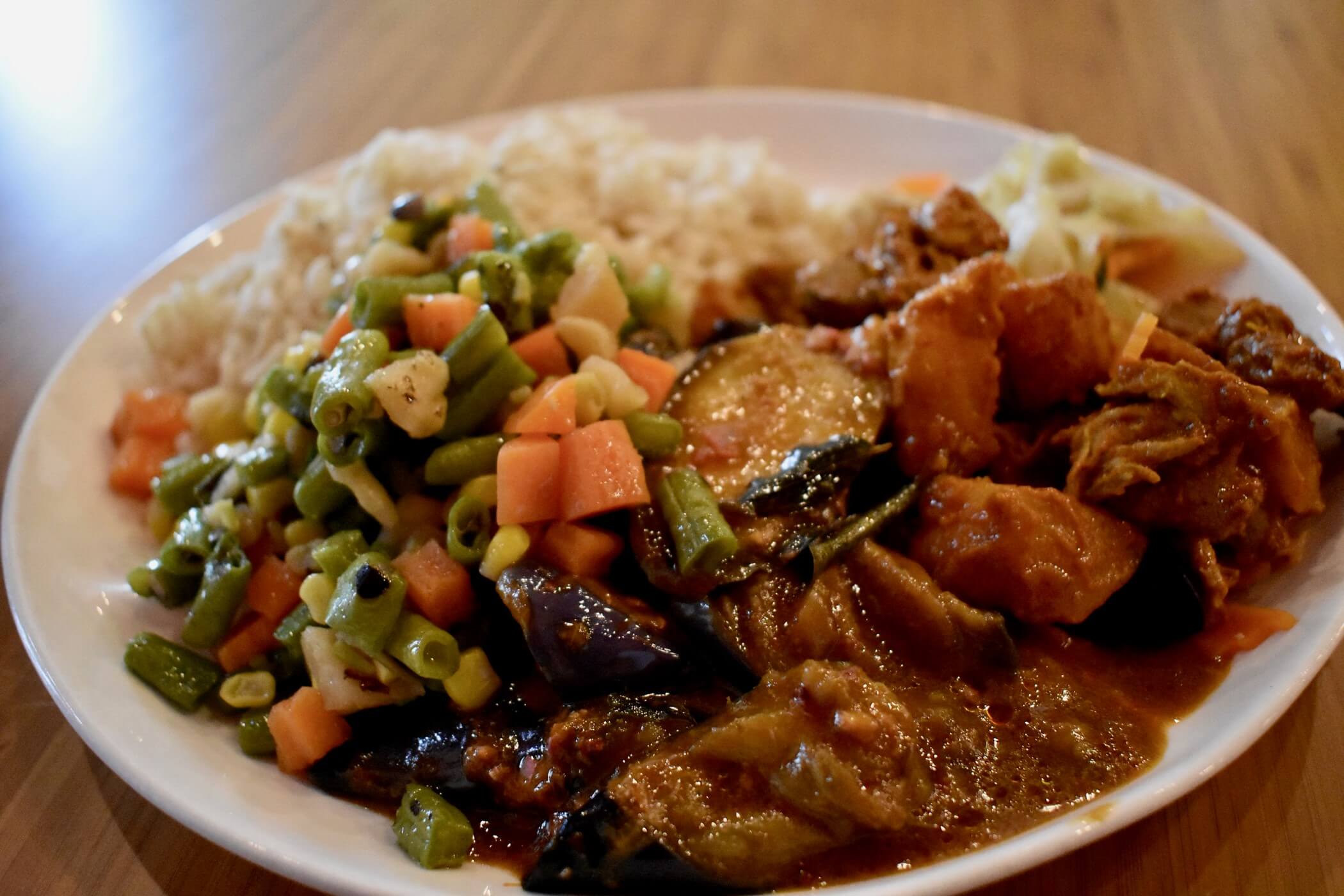 Cloud Dreaming ($$$)
Owned by the same people as Sushi Kitchen, this quiet little oasis is a great spot if you're craving Western food. I had a mushroom burger and David had a tofu burger – both were tasty but very messy! The chips were really very salty, which was a shame, but they saved themselves by serving the best oat milk coffee and vegan cake.  Cloud Dreaming is 100% vegan.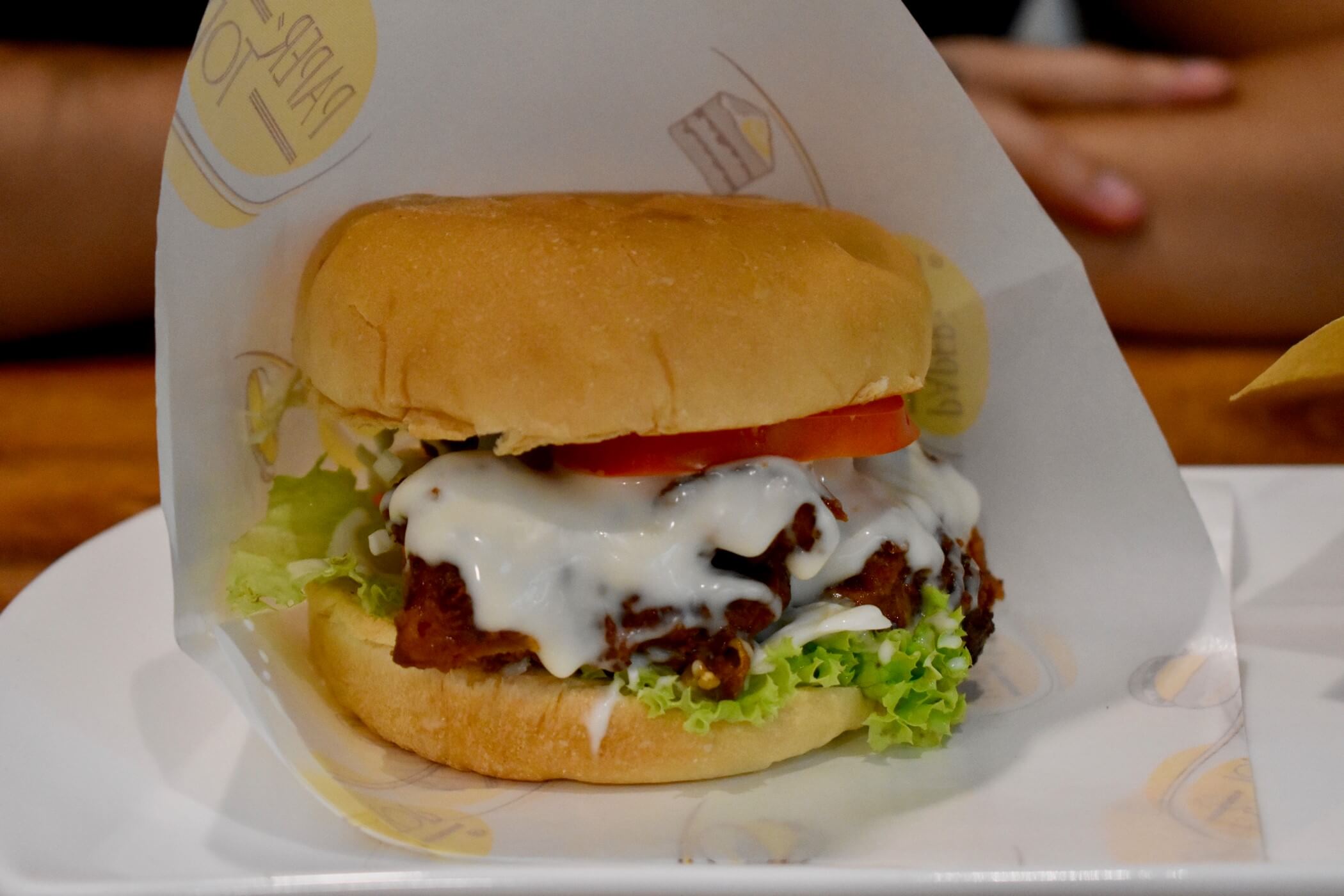 EE Beng Vegetarian ($)
Another great budget choice, this place gets packed out quickly come lunchtime, so head there early for the freshest food and to be sure to get a seat. There is a huge buffet of veggie dishes, noodles, rice, mock meats and side dishes. Help yourself and pay at the counter, where the cashier will cast a swift eye over your plate before judging the price. We got a little carried away and piled our plates high, but still only paid around 9 or 10 MYR. Good coffee too. The food is 100% vegan.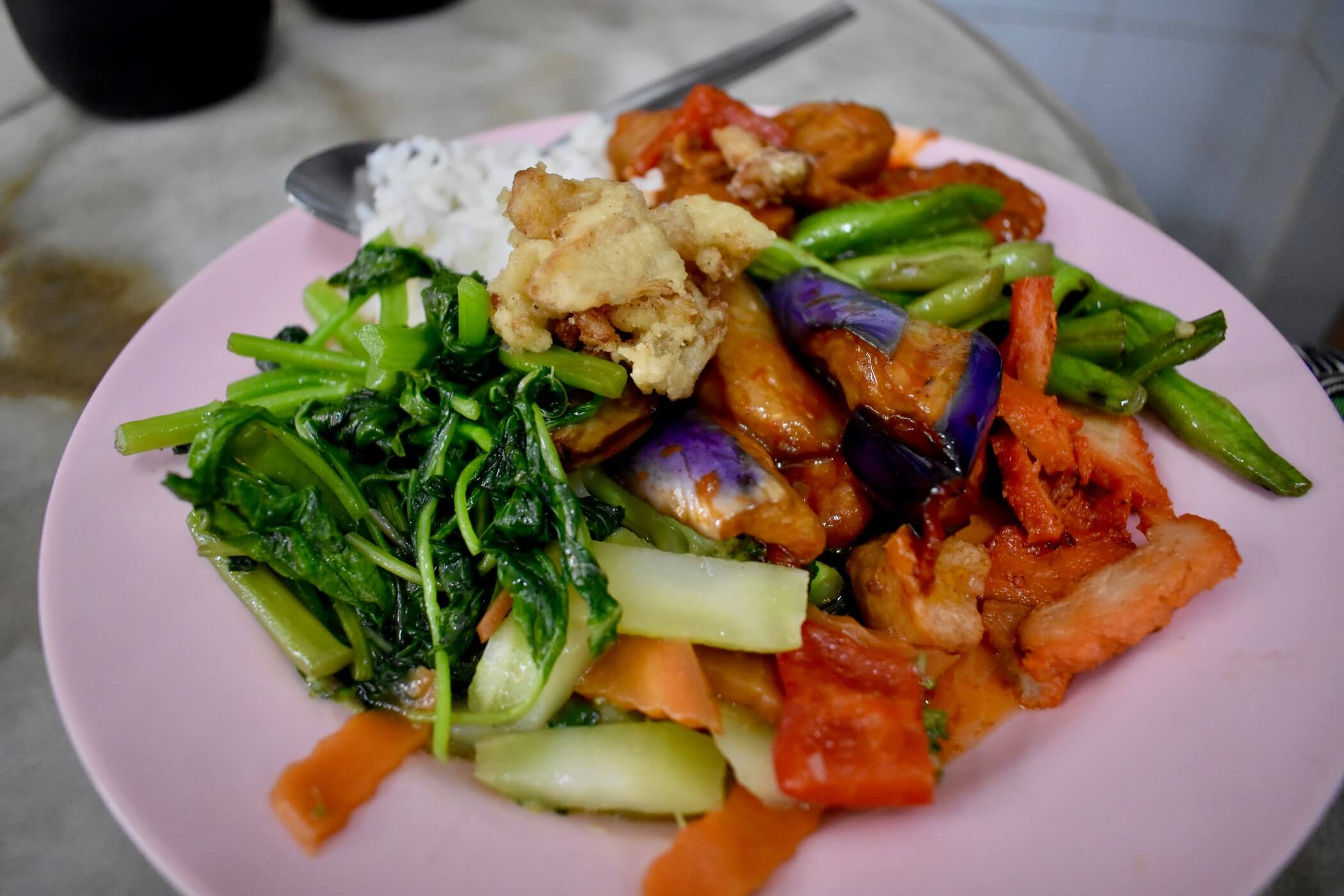 Fa-laugh-el ($)
Forgive the awful pun, because this is hands down some of the best falafel we've ever eaten, served up by a super cheery team outside Reggae Bar. Both times we went, they were doing free drinks for ladies too, so that's a plus! If you like eating falafel while listening to Bob Marley on loop and watching the world go by with a cold beer, this is the place. Falafel wraps are 100% vegan, including the garlic sauce (yay!)
Asia Cafe ($)
There is a stall in Asia Cafe (a collection of street stalls/hawkers only open at lunchtime) called Friends of Vegetarian Food. They do different dishes depending on the day of the week – when we went they were serving up huge bowls of Curry Mee. This is a spicy curry broth with thin and chunky noodles and tofu puffs which soak up all the sauce like tasty little sponges. It's probably the cheapest vegan food in George Town!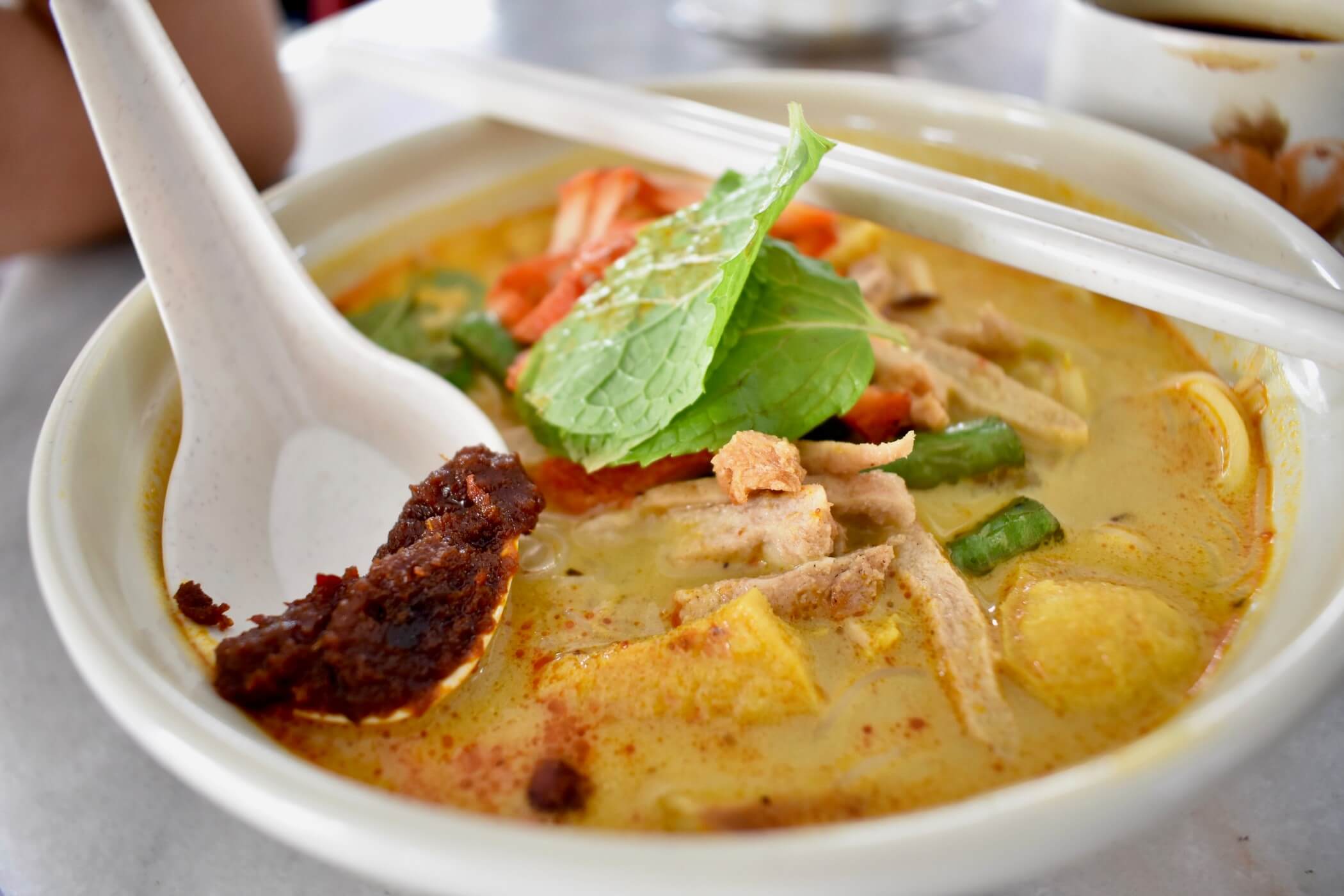 Yun Shan Ge Vegetarian House ($$)
Another place which varies it's menu depending on the day of the week. The owner was so friendly and helpful. She loves talking people through the menu and introducing her version of Nonya cuisine. We both had mushroom Rendang which was bursting with flavour and shared a plate of spicy stuffed dumplings. She even brought us a free stuffed sesame Pao which was fluffy and delicious. 100% veggie and more than happy to help with choosing vegan items.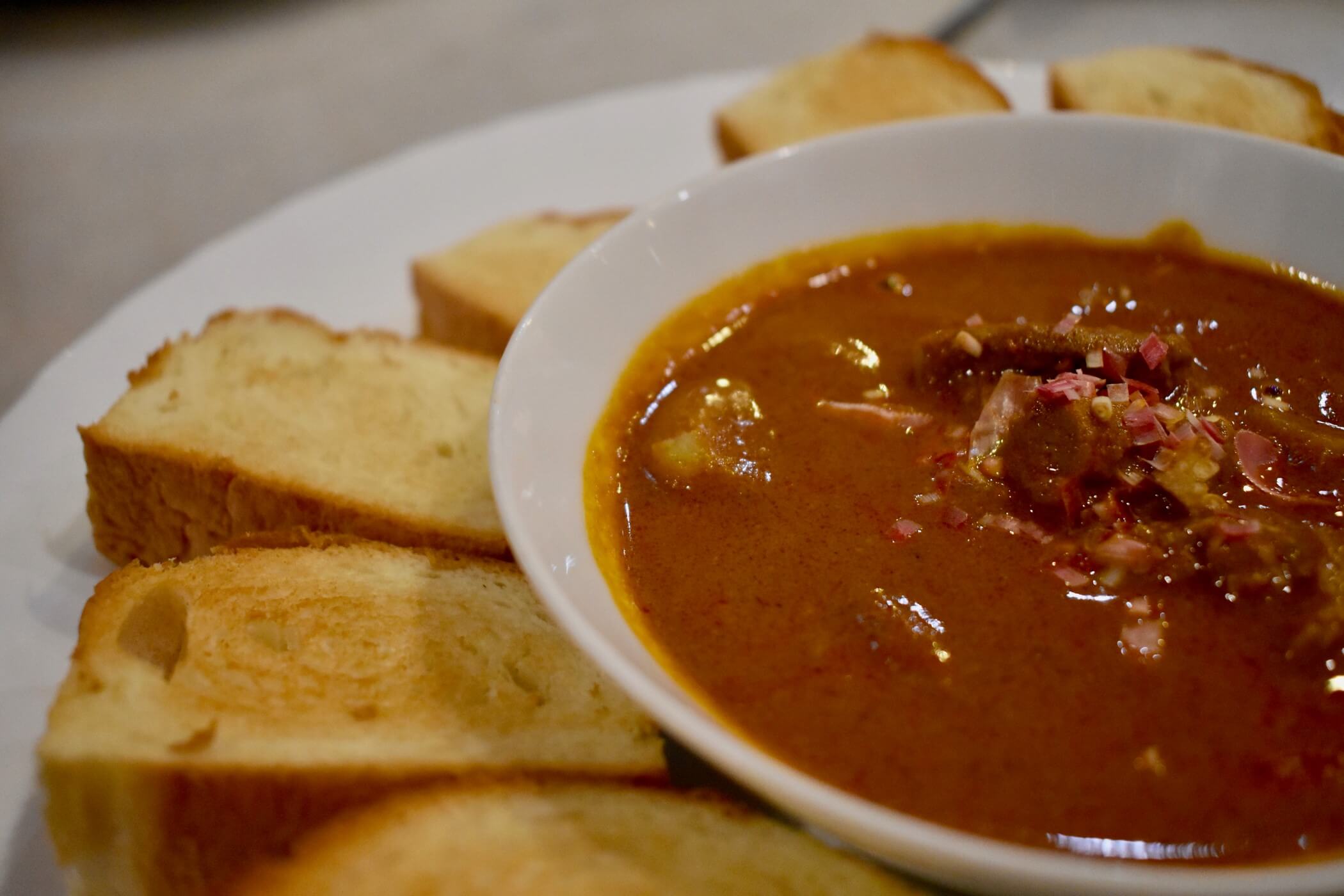 Yun Shui Ge Vegetarian House ($$)
Yes, the name is confusingly similar to the one above, but they are not the same! Considering that it is slap bang in the middle of one of the most touristy streets in town, this place is surprisingly good and not too expensive. Their Laksa is delicious and really well balanced. David's Rendang wasn't spicy enough for his liking though! It's all veggie and the friendly staff are happy to help with vegan options.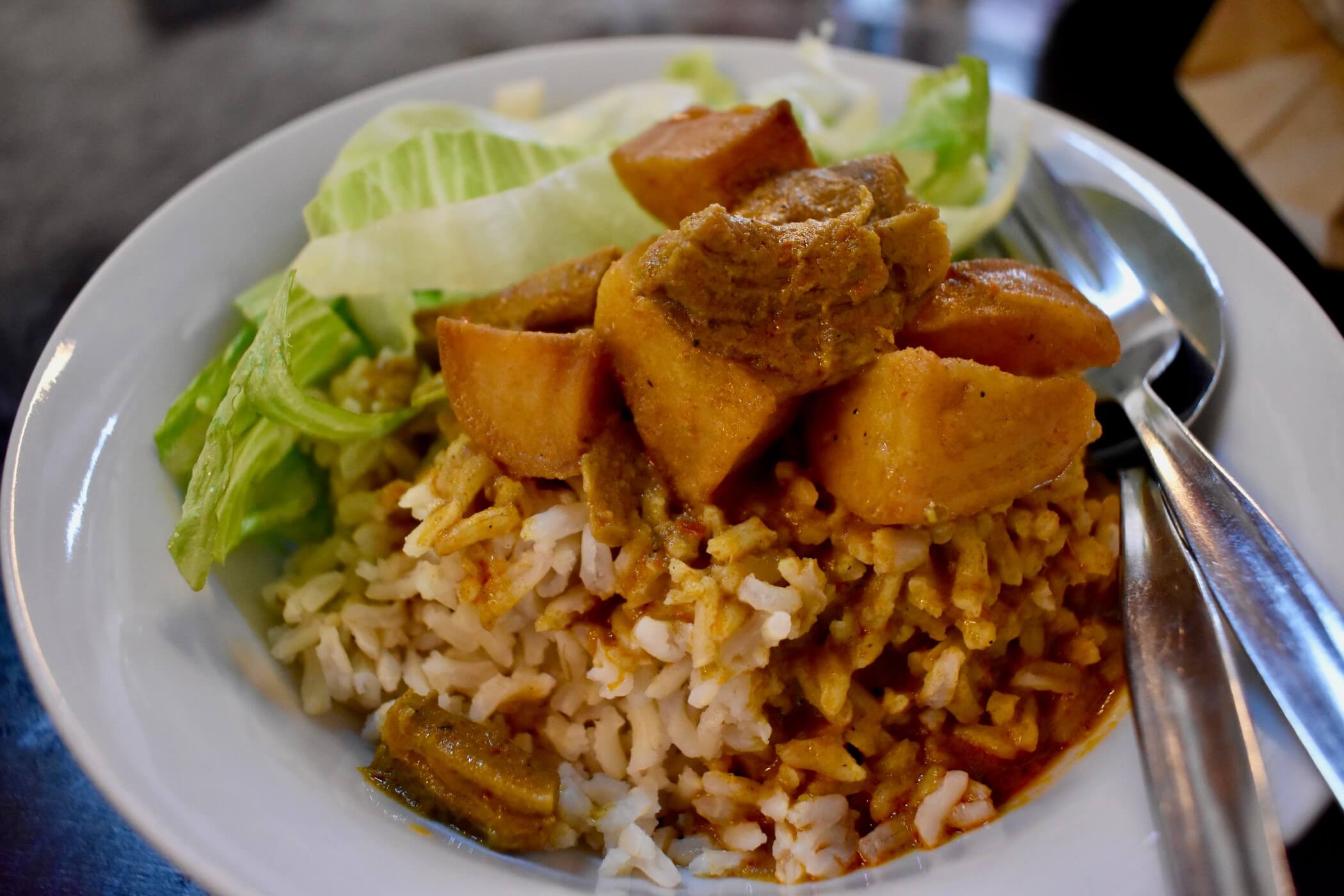 Lily's Vegetarian Kitchen ($)
If you want to try vegan food in George Town but also authentic versions of local dishes, without breaking the bank, Lily's is for you! The menu is huge and has all the Malaysian classics like Curry Mee, Laksa, Rendang, Nasi Lemak, Hokkien mee and more. David's Curry Mee was delicious and super spicy (just the way he likes it!) and my Hokkien Mee was full of flavour. We shared some satay skewers again and the sauce was really good (I wasn't lying when I said we order satay every time we see a vegan version on a menu!) Everything is vegetarian and egg-free, but there is dairy in some of the (mainly Western) dishes.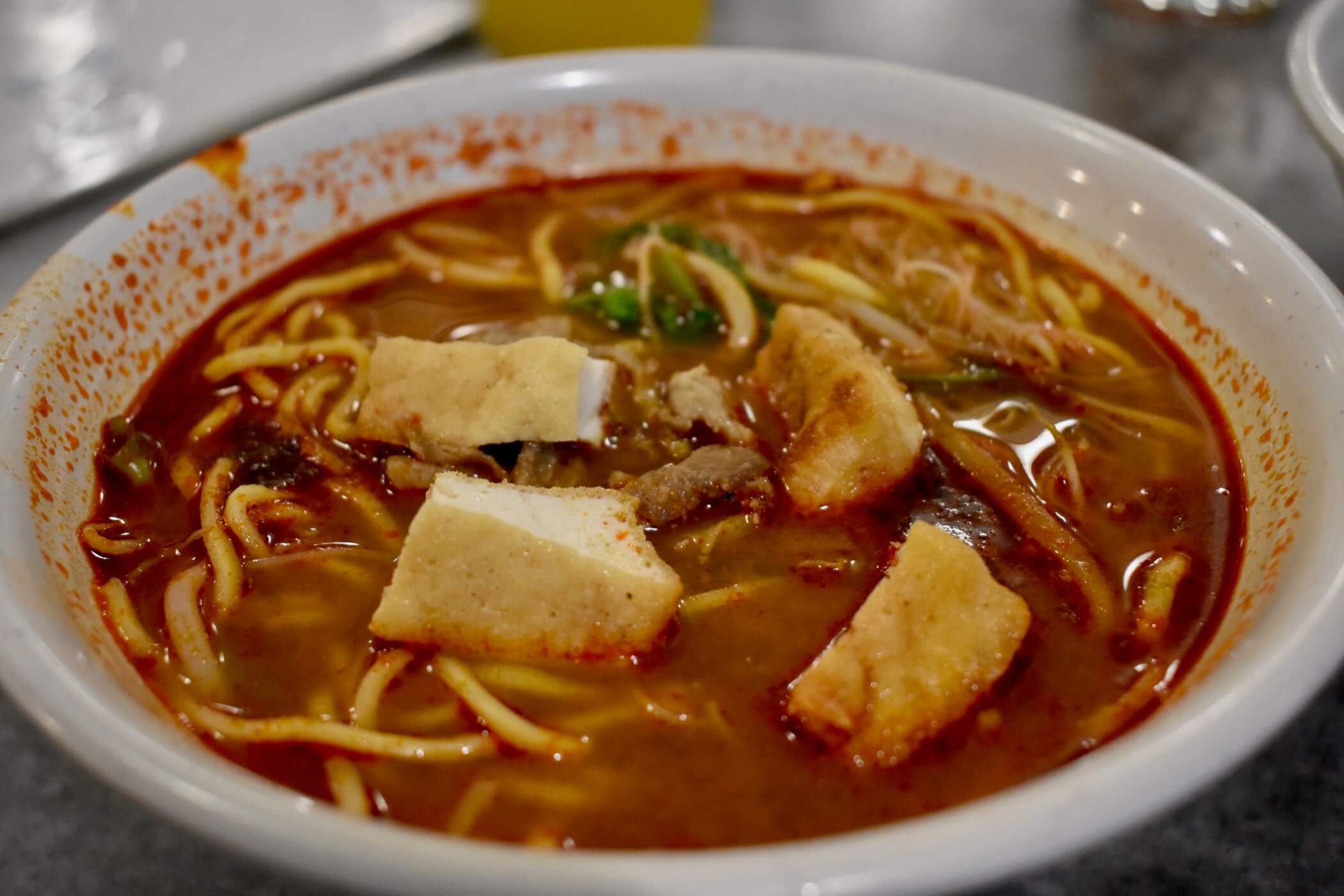 The Mugshot Cafe ($$)
A cosy little cafe where you can get really good coffee with soya milk, without the staff acting like it's a weird request! We spent a nice afternoon here drinking great lattes and using their wifi shamelessly! Unfortunately, the tempting range of baked goods that you can see next door isn't particularly vegan-friendly, though the staff were helpful and pointed out a couple of things we could have (and the bread looked great!)
Vegan Food in George Town – A Note on Pricing!
We've tried to give you an idea of what sort of price scale to expect, but even the places marked $$$ are not really expensive by Western standards. Our amazing meal in Pinxin felt expensive but then we remembered that it was still only about £10 per head. For the standard of food, it's still brilliant value.
Penang is Malaysia's food capital, but you can also check out our posts on Kuala Lumpur, Melaka and Ipoh to find out how easy it is to find vegan food in this country.