Pai, North Thailand
Not everyone's cup of tea
Pai is one of those places where travellers congregate – a pretty spot by the river, nestled in the hills, where you can buy vegan wraps and quinoa porridge. It's hardly authentic Thailand. Yet it still remains a charming place to while away a few days or even weeks. Most long-term travellers reach a point where they need to stop for a little while and recharge their batteries. Hampi in India, Ubud in Bali, and Pokhara in Nepal are the kind of places that spring to mind. Yes, they are in beautiful locations but have become so much a part of the backpacker trial that you can also get any kind of creature comfort there.
Seasoned travellers may well turn their noses up at these places. However, when you have been on the go, hopping from place to place for months, stopping somewhere such as Pai and enjoying a rest can be exactly what you need. I mention this because I know Pai is not everyone's cup of tea, however we absolutely loved it! So much so that we extended our original stay from three days to a whole week.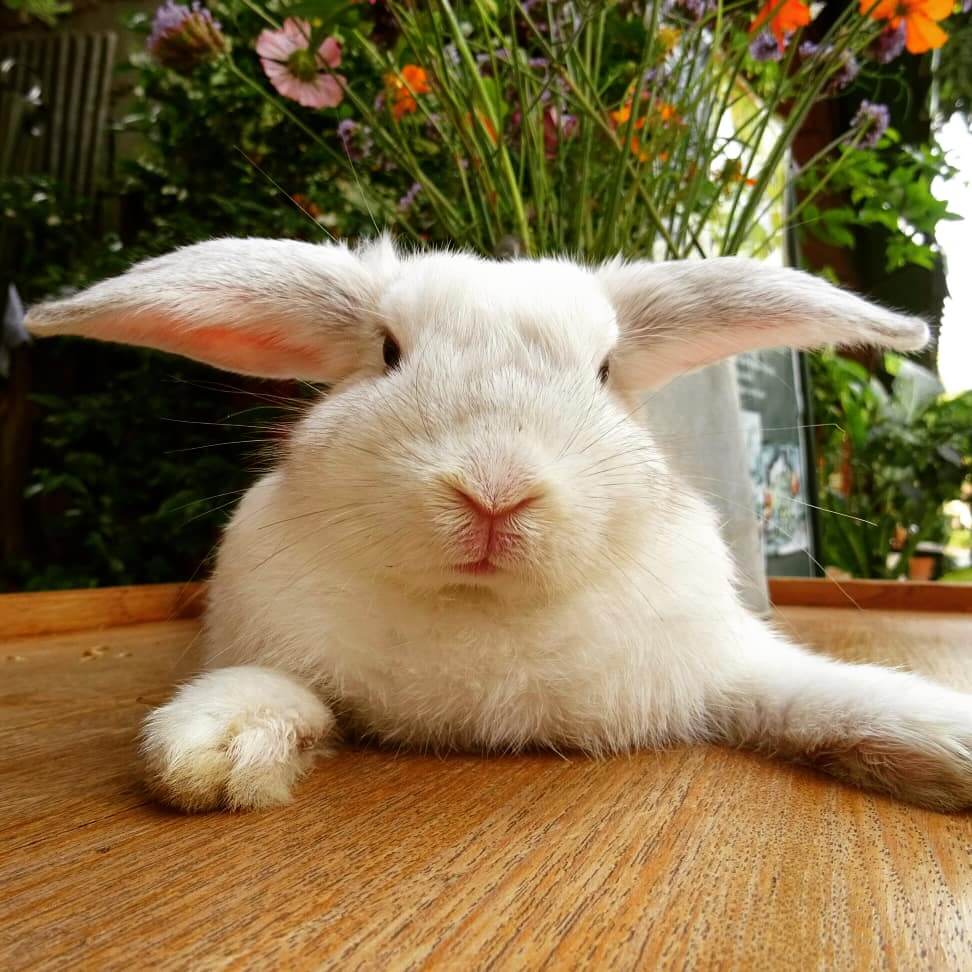 Shaking off the travel sickness
Once we staggered off the bus from Chiang Mai, our stomachs needed some time to recover from the journey. The route is picturesque and mountainous but has over 700 twists and turns in the road! We found our accommodation easy and fell in love with our little cabin, set in a beautiful garden by the river.
Apart from general lazing around, Pai is famous for a few other things – mostly the incredible countryside the surrounds it and its nightly street food market. We were very excited to get stuck into the street food scene here and we were not disappointed. Over the course of the week we sampled a whole range of both Western and Asian delights from classic Pad Thai to pizza, from one of the best Thai green curries we've had so far, to tasty little tofu-massaman filled pasties.
One evening we had vegan houmous and falafel stuffed pitta breads that were nearly as big as our heads.  There were also plenty of sweet options, including some incredible vegan truffles and moreish brownies. The food scene doesn't end with street food stalls either. There are so many amazing cafes and restaurants in Pai, from local food stars to health food destinations.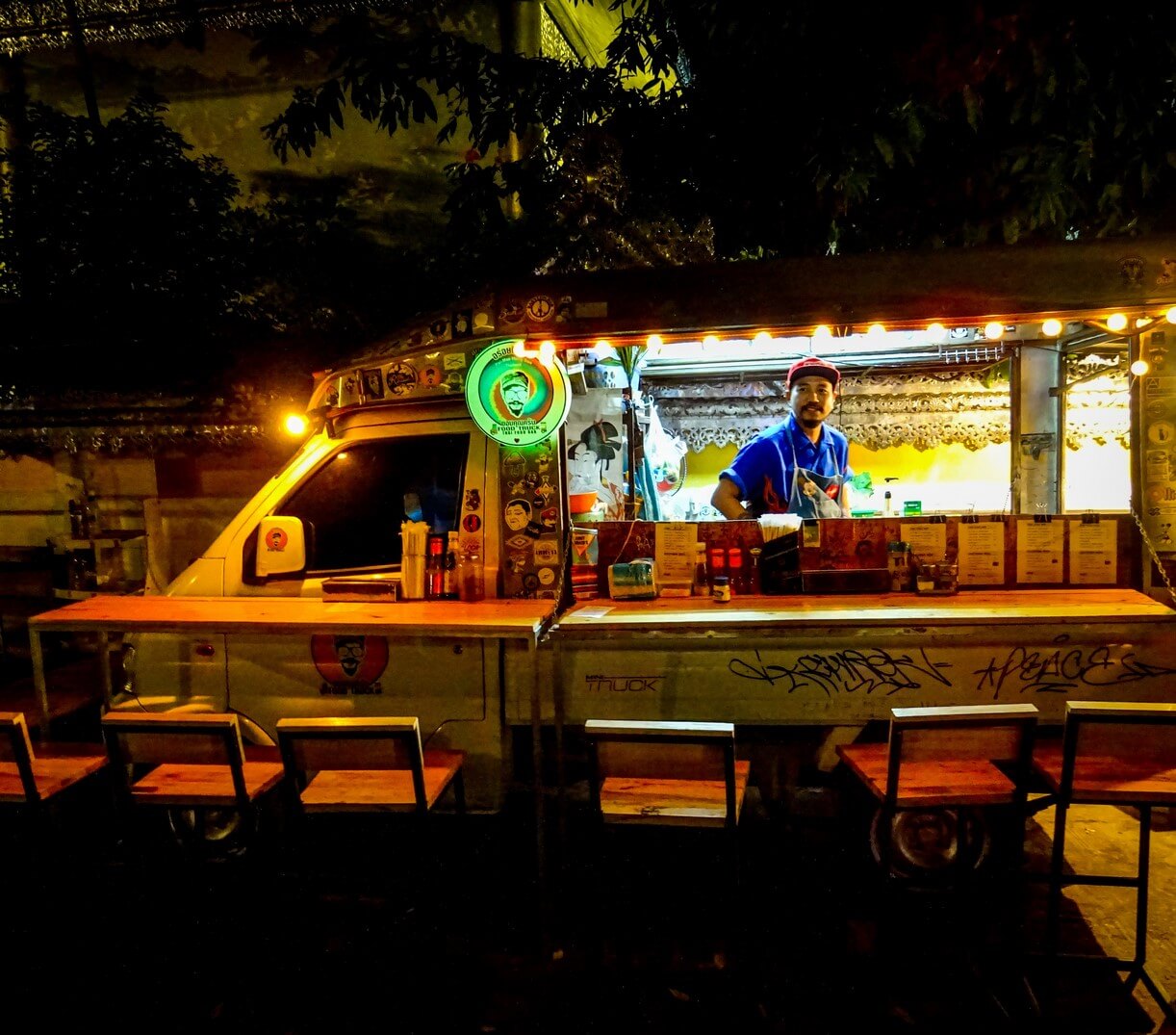 Taking a tour
It seems like everyone who visits Pai rents a scooter or a motorbike to get around. Considering the amount of people we saw wandering around with scooter related injuries (arms in slings, burns and grazes) and our lack of driving experience, we decided it probably wasn't for us (also our Mums are reading this – hi!)
Never fear, if you don't have your own transport there are plenty of ways to get out and see the sights. In fact, we actually saved money by joining a day tour. We visited 6 sights in one day and paid 500 baht each, which included lunch and entry fees. We worked out that if we had hired a scooter and paid the entry fees ourselves, plus bought lunch and water etc, we would have spent much more. It was one of the best days we've had so far. We were lucky to be with a group of nice people and the places we visited were awesome. First we stopped at the giant White Buddha overlooking Pai, otherwise known as Wat Phra That Mae Yen. This serene statue sits atop 353 steps but is worth the climb as it is a peaceful site with fantastic views.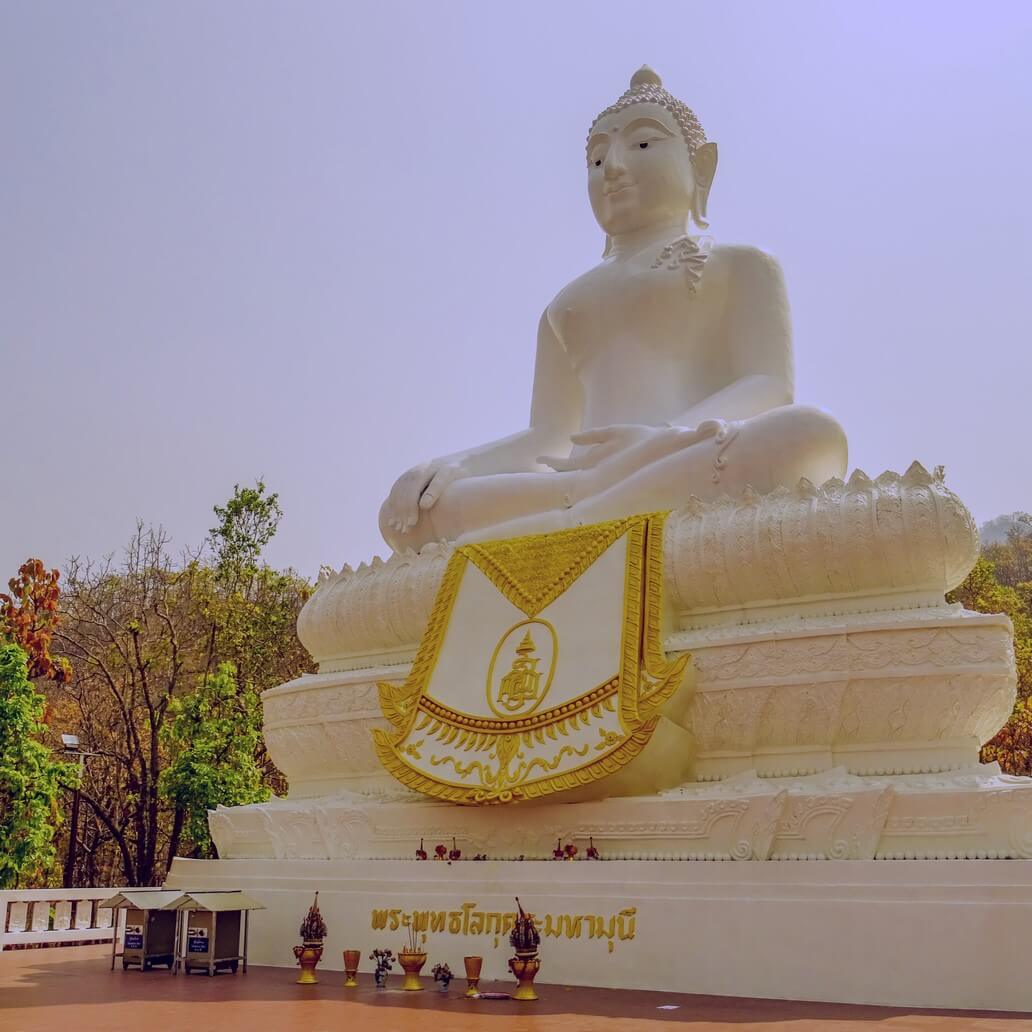 Then we stopped at a viewpoint which admittedly wasn't great since it was quite a hazy day and we couldn't see much. But after this came the high point of our day – a visit to Lod Caves.
Lod Caves
This network of three caves is 1,666 meters long and is home to many bats, which we could see zipping around above our heads. It is forbidden to enter the caves without a guide, since there is little in the way of health and safety provision. The guides are locals who know the cave systems inside out and will take you around in a group of two or three with a proper gas lantern. They point out interesting features and facts. Stalactites and stalagmites loom out of the darkness as you make your way along the rock paths and up winding staircases. The guides really know their stuff and explain how the various features are formed and how old they are – as well as pointing out funny shapes!
The highlight is a bamboo raft ride through the darkness to the third part of the cave system. The paddle whooshes quietly in the dark, as fish splash around the boat eager for food and bats whirl and squeak overhead. The whole tour takes around an hour and is fascinating.
After a quick lunch of Pad Thai outside the caves we piled pack into our songthaew and headed to the next stop – Sai Ngam Hot Springs. I had been looking forward to this, bikini on underneath my clothes at the ready! We had an hour to spend here, floating in the crystal clear water which was a lovely 34 degrees. For someone who loves baths and hasn't had one in nearly 6 months, this was luxury!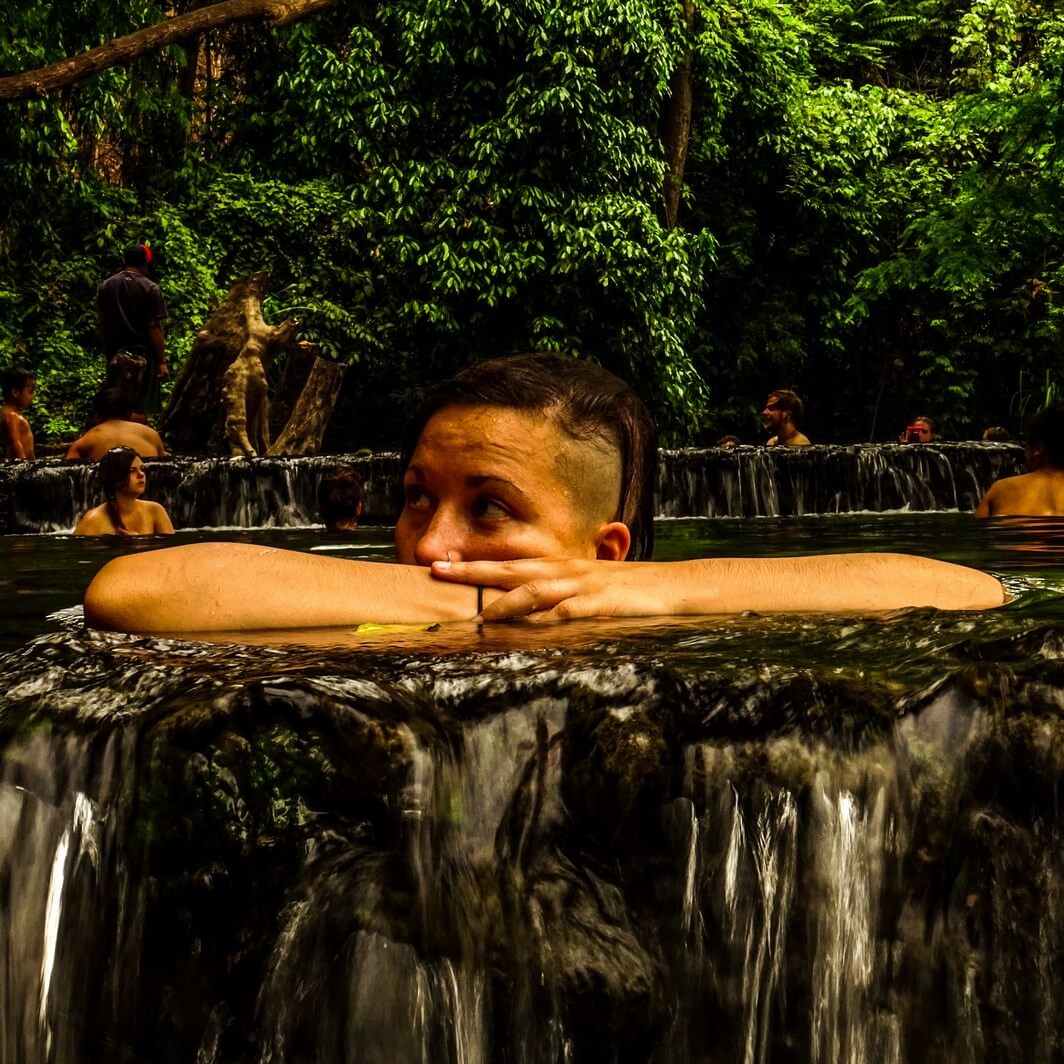 Incredible Pai Canyon Sunset
After drying off and climbing back into the pickup truck, we made a very brief stop at Mo Paeng waterfall.  This was kind of underwhelming since it was dry season but I'm sure is lovely during the wetter months. Our driver was in a bit of a hurry now as the final part of our day was sunset at Pai Canyon, so we hurried back into the van and sped off again.
Pai Canyon was a revelation – we climbed a series of steps and then suddenly we were on a ridge of red earth with the most incredible view stretching out ahead of us. We scrambled along a little way and found a spot on the edge where we could sit back and enjoy the sunset. In the background, someone plucked an out-of-tune guitar (why is there always a guy with a guitar?) David took the incredible photo at the top of this post, which I'm sure you'll agree is his best yet (I know I'm biased, but come on!)
Tattoo time!
The other main thing we did in Pai was add to our collection of tattoos. There are many shops and artists to choose from here but we returned to where David had some done a few years ago – the lovely people at Monkey Magic Tattoo. I finally added to the small wrist tattoo of the word 'Imagine' which I had done years ago. My design features a pile of books, and on my opposite arm I added a travel themed tattoo. Now my two favourite things are represented! David had a cover-up/addition to one on his arm in a trash polka style which looks incredible and took a painful 7 hours. You can see it featured on their Facebook site here: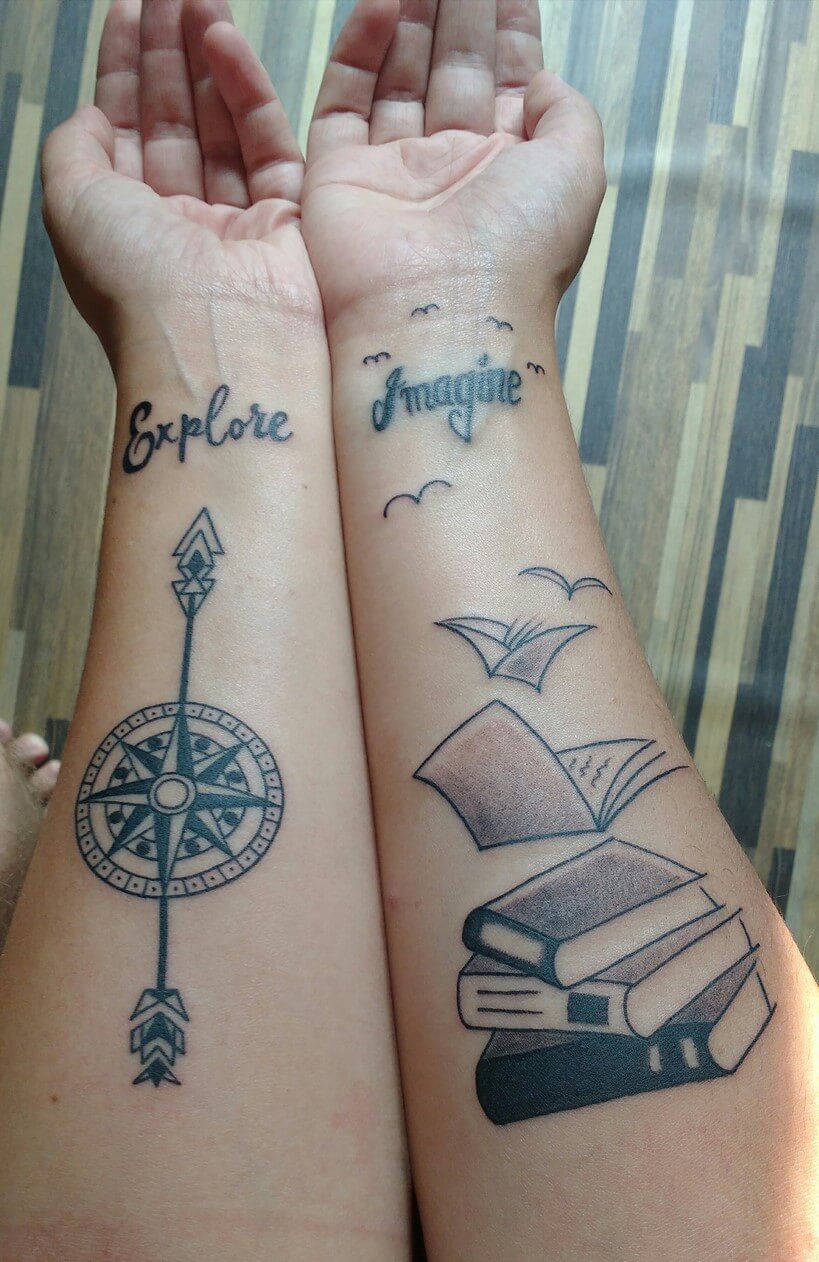 Moving on
It's true that Pai is not for everyone – we've definitely heard people say that it's too touristy. But if you fancy a break and chance to recharge your batteries, and experience a slower pace of life for a few days, then it may well be the place for you. As we sat on outside our guesthouse drinking a cold beer and watching local kids playing in the river as the sun went down, we can't say we regretted extending our stay here for a second!
We're now back in Chiang Mai and gearing up for Songkran. This is the Thai New Year which is marked by a giant water festival and water fights in the street.
See you the other side of Songkran, hopefully dried off and with some awesome pics to share. C & D xx
Our Top Tips for Pai
We loved the food and the friendly chilled out vibe at Ganesh – their Khao Soi is incredible
We stayed at Canary Guesthouse where we had a private garden bungalow with a bathroom for 400 baht per night, it was comfy and cosy. They did a great buffet breakfast for 90 baht too.
Our day tour was with Let's Go Pai Adventures – it was great value and the driver was good.
It's expensive at 120 baht but the vegan houmous and falafel pitta from the walking street was incredible, and gigantic.
Art in Chai is a cosy little cafe with proper masala chai and yummy veggie burgers.
This post contains affiliate links. You can find out more about this here.