Getting Soaked for Songkran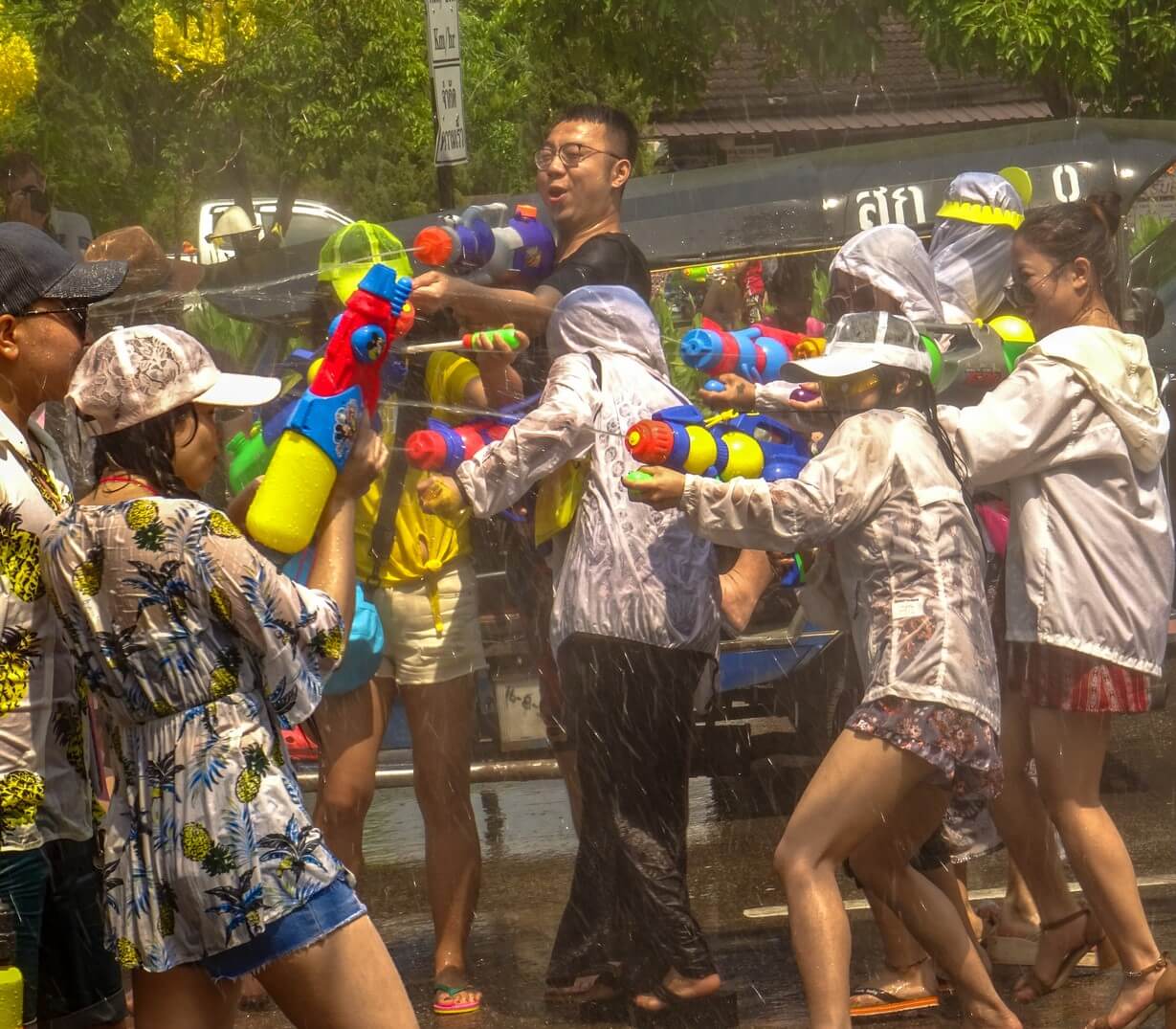 Happy New Year from Thailand! No, we haven't gone back in time a few months – in Thailand the New Year traditionally starts on 13th April and the festivities are called Songkran. This was one of the highlights of our trip so far as the holiday is celebrated by a giant three-day long water fight around the country!
After our return from the oasis of Pai, we stayed in Chiang Mai for a further week, as we knew that we wanted to hang around and experience Songkran in this awesome city. But first we had the fun bureaucratic challenge of extending our tourist visas. There are two ways of doing this. Firstly we could have gone on a 'border run' which means crossing over into a neighbouring country and crossing back again to get a brand new visa on arrival. Visa rules seem like they are always in flux and advice changes regularly – although border runs are not technically illegal, the Thai government discourages them. I had visions of being stuck in no-mans-land and not being allowed back into the country, so for the benefit of my anxiety we chose the second option. At 1900 baht each, this is probably the more expensive option, but it was easy and painless –  we were in and out of the immigration office in couple of hours. All we needed to do was fill in a form and hand it over with copies of our documents, and wait to be called forward. Freshly stamped and approved, we now had another 30 days to spend in Thailand and celebrated with a veggie burger and sweet potato chips at one of the (many!) vegan restaurants in the city.
We had our first taste of Songkran on the Thursday evening – although we knew it was a public holiday we mistakenly thought that the water fights would not start until the next day. A bucket of ice water down the back soon proved us wrong! We dodged our way to dinner and back, via a 7-Eleven to arm ourselves with a water gun each for the following day.
The pouring of water on others during the festivities symbolises purification, a washing away of the previous year's sins or bad luck. Songkran is not an opt-in festival – if you are out on the street you will get wet! There's no metaphorical white flag, no asking nicely to be spared, so you had best get yourself a bucket or water pistol and join in the fray. During the three-day weekend, we got soaked head to toe each time we ventured out of our guesthouse! The thing we enjoyed most about it is how everyone, young and old, threw themselves into the celebrations – we watched a family with three young children having so much fun dumping water on every single person who passed their front door, and an elderly Thai lady giggled with glee after ambushing us with a bucket over the head! Locals and visitors alike joined in street-wide battles, while tuk-tuks and pickup trucks cruised the streets loaded with people and tanks full of water, ready to administer drive-by attacks on everyone they passed. Though the big tourist areas such as Thapae Gate turned into huge street parties, it was also fun to wander the smaller streets throughout the city, seeing shy smiling children's faces peeking out, giggling delightedly at the chance to jump out and attack, or whole families working together to fill and refill buckets, making sure no-one passed by their patch unscathed!
We also had a cooking class at our guesthouse – because it was a public holiday the owner and her family were having a traditional Thai BBQ and they invited us to help prepare some food in the morning and then join them to eat in the evening. We made vegetable spring rolls, slicing up carrots and cabbage before stir frying them with glass noodles and rolling them up tightly in ready-made wrappers and deep-frying them. Though the rolling was kind of fiddly and some of the spring rolls ended up a little fatter than others, it was fun and I found the process kind of therapeutic even. Eating our own creations dunked in plum sauce was delicious! We were also shown how to make mango sticky rice and learned how they make different colourings for the rice. At the end of the session we were pretty proud of our handiwork!
Unfortunately our volunteer placement to teach English fell through which is a bit of a bummer.  However we are going to enjoy being tourists in Thailand for a couple more weeks and then do some teaching when we reach Cambodia instead. We're off to Chiang Rai tomorrow to see the White Temple! C & D xx
More of our Top Tips for Chiang Mai
Tien Sieng Vegetarian Foods is a cafeteria and shop who specialise in 'mock meat' – I had a delicious bowl of Khao Soi with 'duck' meat so convincing I had to ask twice to make sure it wasn't real! Also it only cost 30 baht!
We stayed at Sister House again which we already raved about on our last Chiang Mai post – they were booked up for the first few days so we stayed at Villa Vacay for a couple of nights before moving on. We'd recommend them too – good value at 400 baht per night for a double room with air con, shared bathroom and excellent location. It's run by a friendly couple, with a good social area and free tea & coffee.
There are so many vegetarian/vegan restaurants in Chiang Mai that you are spoilt for choice! We loved Miranda's Cafe for great coffee and cake, Blue Diamond for Thai food (and also cake) and Vegan Heaven for their burgers.
We're going to do a separate post for Songkran tips so stay tuned!