Kamphaeng Phet: Off Thailand's Tourist Trail
After the craziness and crowds at Songkran, we felt like getting off Thailand's tourist trail for a few days, and Kamphaeng Phet seemed like it might be the place we were looking for. We heard that it was a quiet city with an interesting UNESCO historical park. When we looked it up on the map it was roughly halfway between Chiang Mai and Bangkok, our next destination – perfect!
The only problem was, we weren't entirely sure if it was possible to get there! Apart from special AC coaches on the most popular inter-city routes, it turns out that it's impossible to find out bus timetables online here. We had to just turn up at the bus station and hope that there was a bus heading in the right direction. It was bus station roulette! We had a plan B in our minds too, but luckily we spoke to a helpful person at the ticket counter when we arrived. She booked us onto a bus that was leaving in half an hour. It was a four-hour journey to Tak, and then an hour in a shared pickup truck for the last leg to Kamphaeng Phet.
We liked this little city straight away, though it is nothing special really – just an everyday small Thai city with people going about their daily lives. It's clear that tourists don't visit often. There were very few signs in English and we could probably count on one hand the amount of Westerners we saw on one hand the whole time we were there. This did make some things a little challenging, but kind of fun too. For example we visited the large night market in the city centre in search of some food but there was not a single stall with English signs or menus. We were definitely off Thailand's tourist trail now!
We had to frantically Google how to say "vegetarian" in Thai. Eventually a stall owner took pity on us and produced a steaming bowl of vegetable tofu noodle soup, a plate of fresh spicy stir-fried vegetables and a mound of fluffy rice. Along with a cold beer each, football on a tiny fuzzy screen, and surrounded by loads of Thai families eating and having fun, it was a perfect introduction to the city.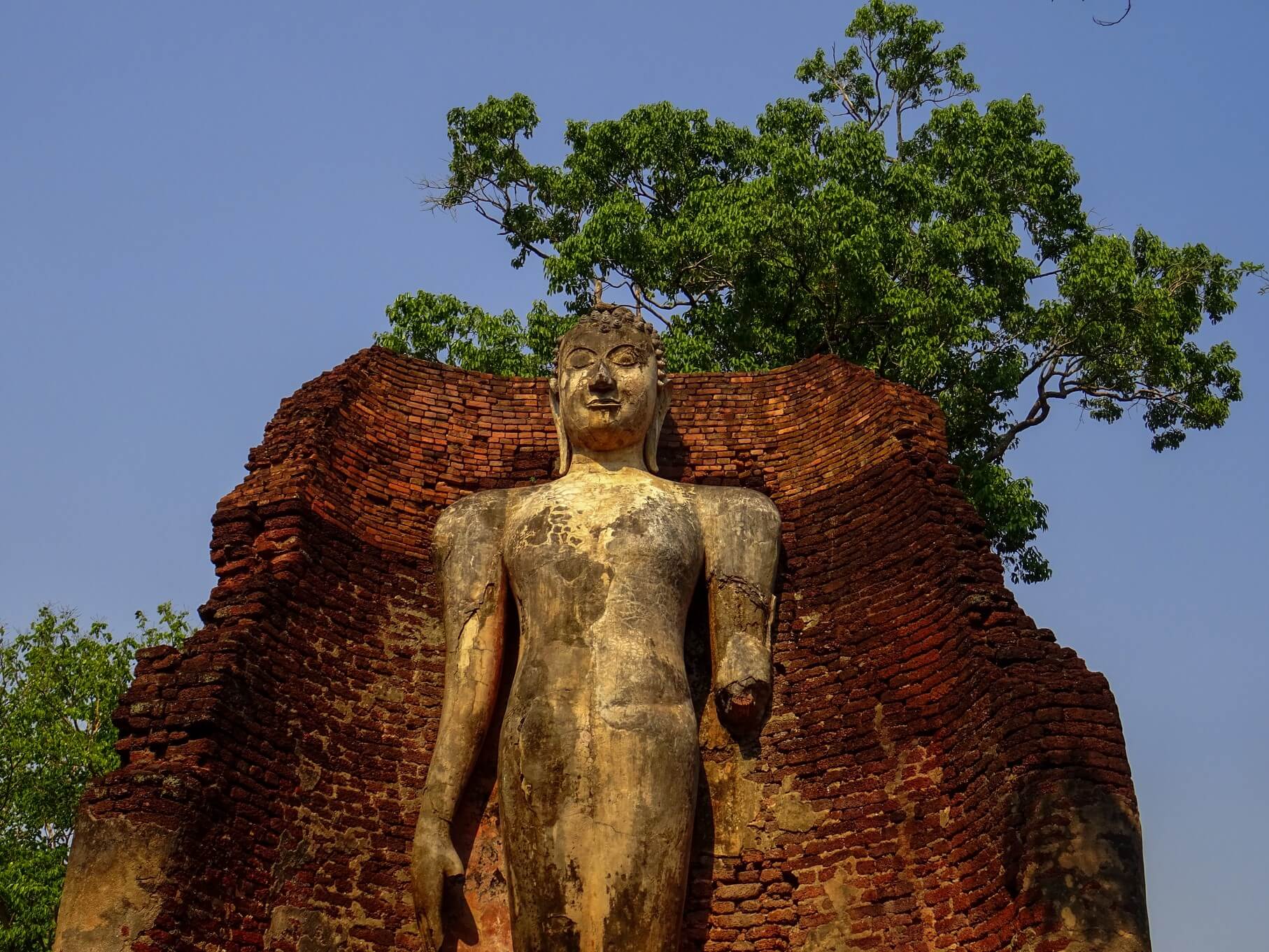 The main attraction in Kampaeng Phet is the historical park. Alongside Sukhothai and Si Satchanalai it forms the UNESCO World Heritage Site Historic Town of Sukhothai and Associated Historic Towns (a bit of a mouthful!) A short cycle ride north of the city, this fascinating park only cost us 150 baht to get in. We spent a really fun afternoon biking around the empty roads and checking out the ruins.
We were literally the only visitors there. This was probably a good thing considering how much we were sweating after our ride (seriously, who thinks it's a good idea to cycle in 40 degree heat at the hottest part of the day?!) Kamphaeng Phet translates as "wall of diamonds" which refers to the towns historical role as strategic defence post – firstly for the kingdom of Sukhothai and later for Ayutthaya. There are several ruins of monasteries and temples, secluded in a pretty green forest.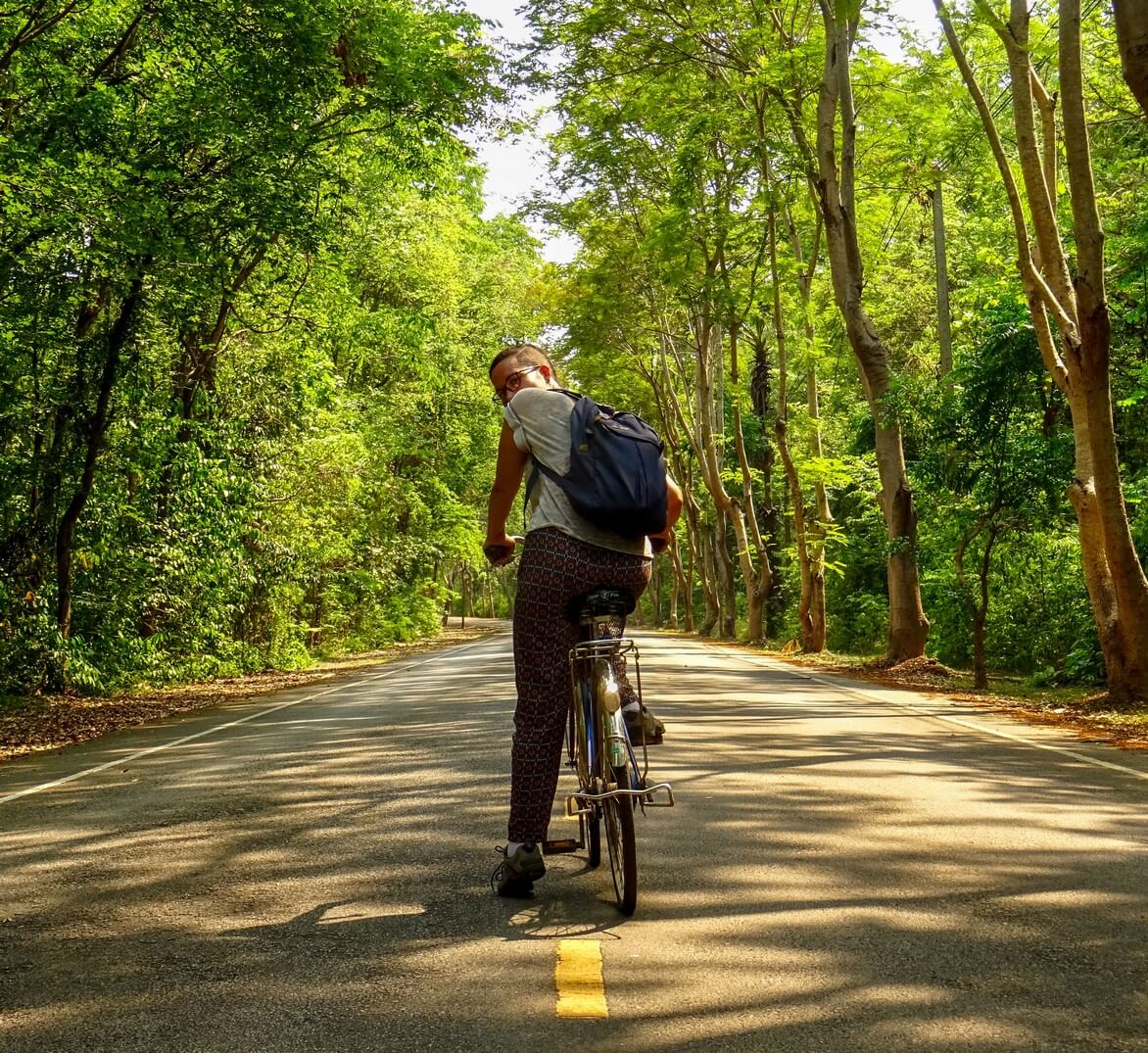 One of the other things we loved about this city was the public park in the centre. We found it during the day and wondered why it had so much exercise equipment available. In the afternoon heat it was deserted and looked unloved, with rusting workout stations. Later when the day was cooler, we headed back to have a run and do some exercise ourselves and the park was transformed. It was full of locals jogging, stretching, working out, chatting, picnicking, pushing kids on swings…it was lovely.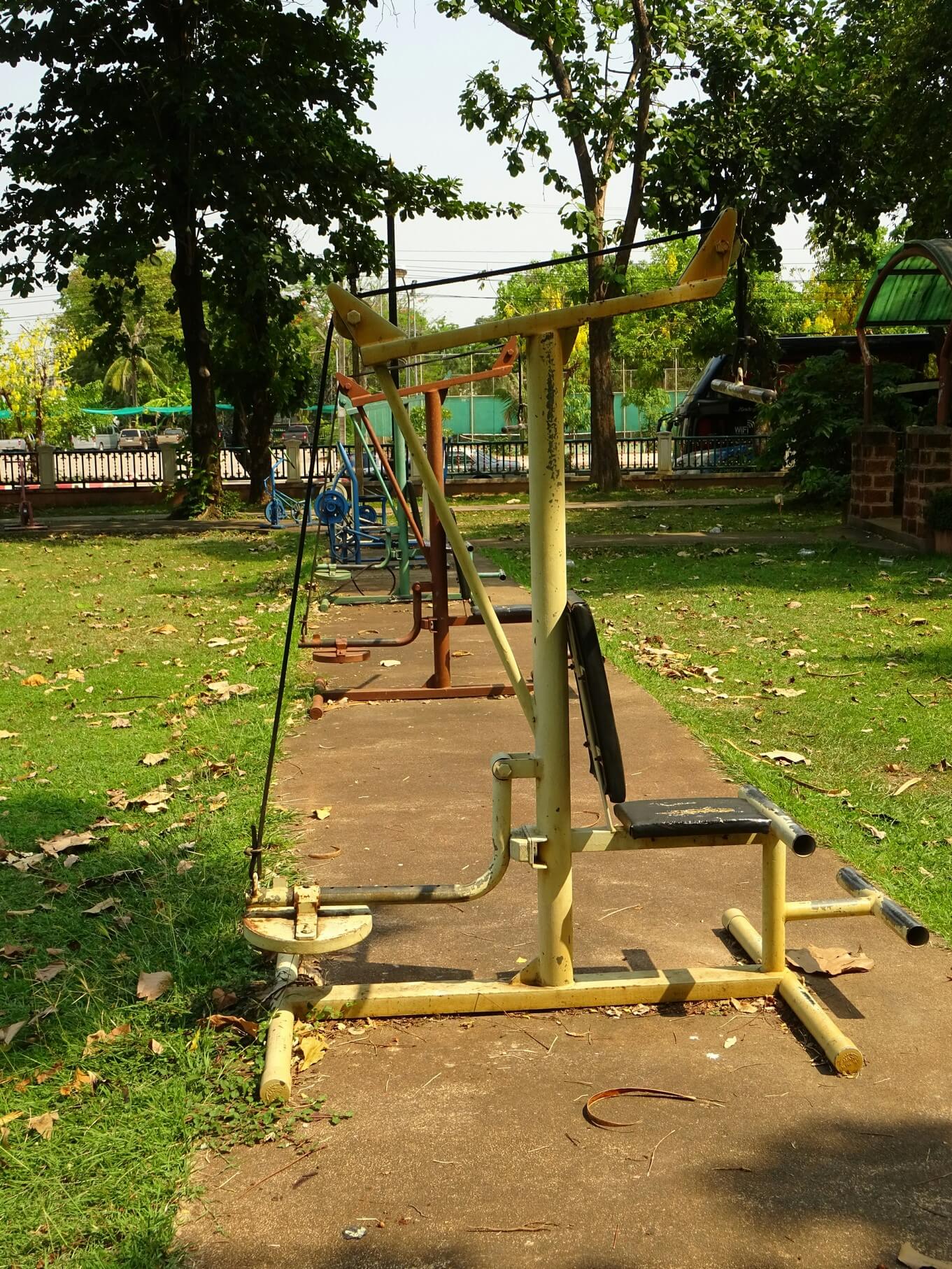 We're really glad that we had the opportunity get off Thailand's tourist trail and see a more authentic, everyday side of the country Kampaeng Phet. We would totally recommend it. Now we're in completely the opposite atmosphere as we're back in busy Bangkok, reuniting with one of our favourite travel buddies for a few drinks, and tomorrow we are headed for one last Thai beach session with a stay on Koh Chang before crossing the border to Cambodia. C & D xx
Getting off Thailand's Tourist Trail – Our Top Tips for Kampaeng Phet
We stayed at Three J guesthouse – the owners were warm and welcoming but be warned it is quite rustic and you will be sharing the outdoor toilet with lots of critters and creepy crawlies! It only cost us 300 baht per night for a private room though.
There is good coffee and drool-worthy cake at Elizabeth Coffee, as well as cute UK themed decor!
The night market is buzzing and full of interesting food at ridiculously cheap prices – but no English signs so you might want to look up any special diets in a Thai phrasebook first! We found veggie food but had to ask.
Hiring a bicycle is the best way to see the Historical Park, as it's too large to walk around the whole site in the hot sun. Ours cost 50 baht for the day, from Three J Guesthouse.