Visit Chiang Rai: Bikes, Burgers and the Blue Temple
Why should you visit Chang Rai? This delightfully quirky city is an easy four hour bus journey away from the traveller and ex-pat hub of Chiang Mai. The city is mostly famous for it's White Temple but has lots more to offer too. It has the feel of an up-and-coming city that undoubtedly will become more popular on the tourist trail. We saw plenty of other visitors wandering the city streets, but compared to Chiang Mai it was a lot quieter.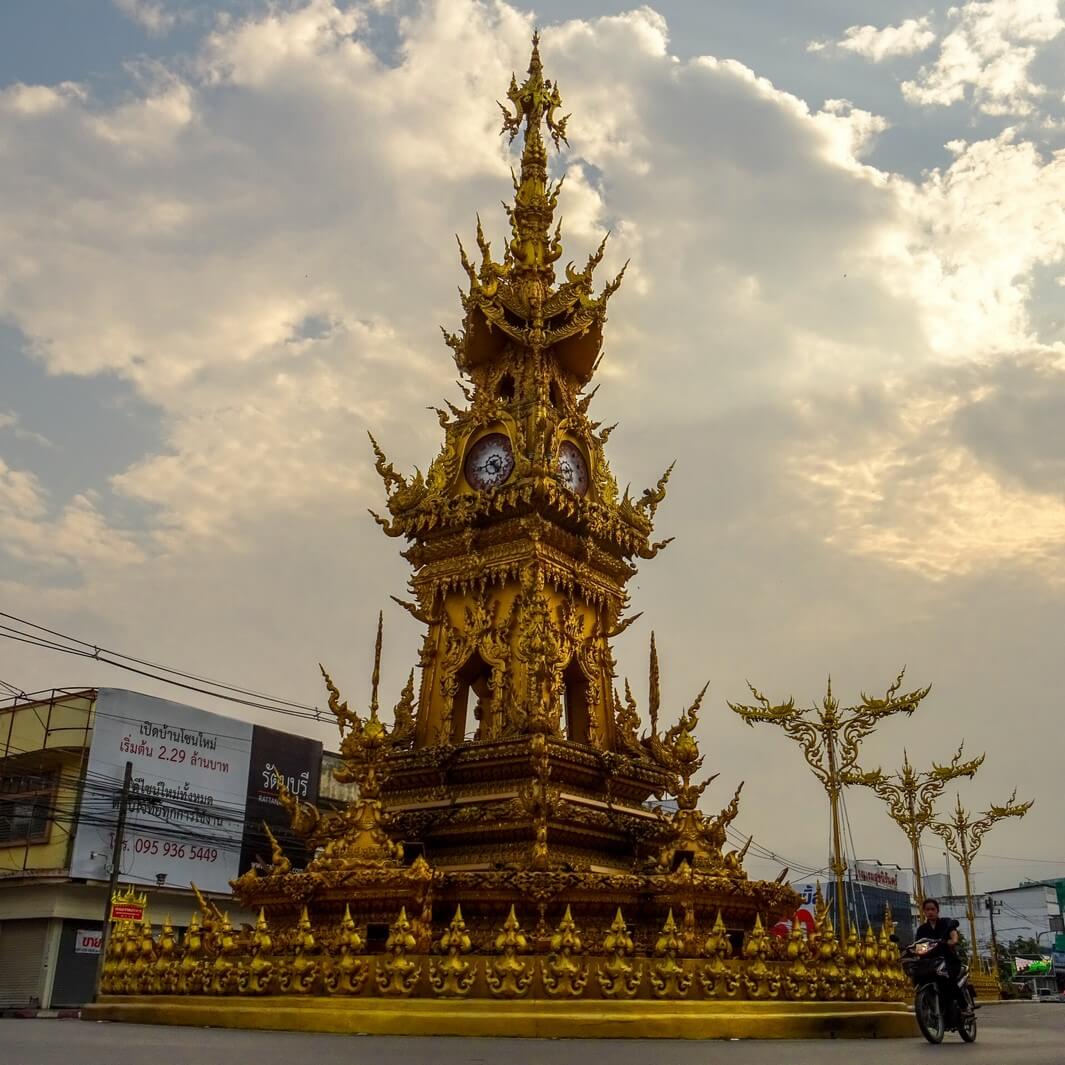 We had two days in Chiang Rai and plenty of things to fill them with. We arrived late afternoon and decided to have a rest before heading out to explore the city in the evening. It turned out this was not the best plan since we dozed through the nice weather and emerged hungry and groggy into a gigantic thunderstorm! Dodging puddles and slippery paving slabs, we found our way into a small street-side bar, grabbed a table away from the rain pelting through the open front and waited out the storm with good food and cold beers.
Hilltribe Museum
The next day we started off with a visit to the Hilltribe Museum. This is a fascinating if slightly rough around the edges introduction to the varied hill tribes who call Northern Thailand home. We watched a short video which introduced us to several different tribes, detailing where they had originally migrated from and outlining some of their customs and traditional forms of dress. After this we were free to wander around the displays – a couple of rooms with tribal objects and typed signs. A lot of the information was concerned with the opium trade and how it had impacted on Thailand's hill tribes throughout history. It was fascinating and we certainly learned a lot more about opium than we expected! We'd recommend popping in here if you visit Chiang Rai.
Temples Galore
In the afternoon we hit up not one, not two but three beautiful Buddhist temples. Wat Phra Kaew is Chiang Rai's most important temple, being the place where the famous Emerald Buddha was discovered in 1434. According to legend, lightning struck the temple and when it split open the image was revealed. This was a really peaceful temple to visit. It also had a small museum and pond full of turtles! There is a replica Emerald Buddha on display here now as the original resides in Bangkok. We also visited Wat Phra Sing with its purple jade Buddha image, and Wat Klang Wiang with its intricate elephant statues. It could be easy to get temple fatigue when you visit Chiang Rai, but they're all so different and beautiful that it would be a shame to skip one.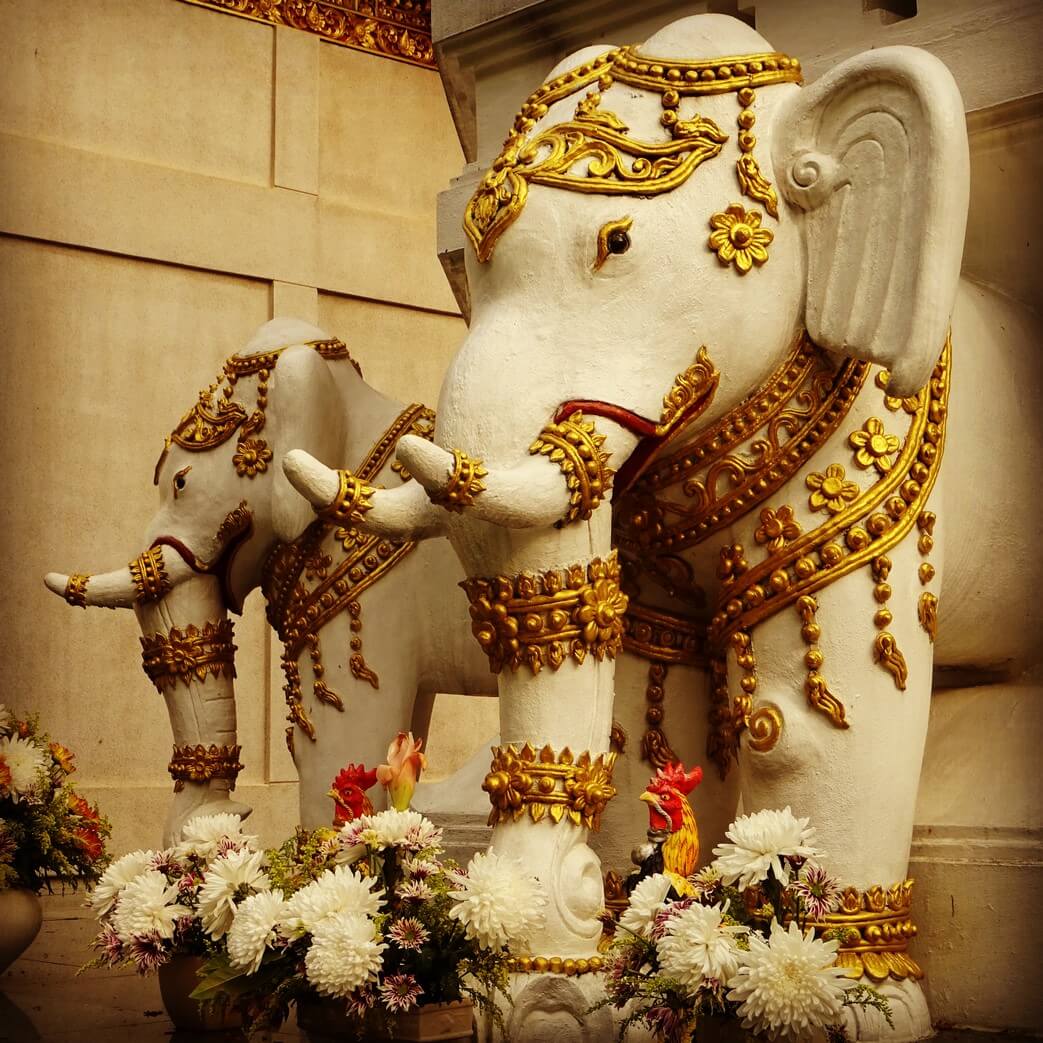 On Your Bike
On the second day we rented a pair of bicycles and decided to ride the 13km out to the famous White Temple. I was a little apprehensive about this since I hadn't been on a bike in years, and I'm a little nervous of road traffic. However, once we left the city and I realised that the road was not busy I started to relax and really enjoy it, despite the rickety gear-free bikes!
The White Temple
When you visit Chiang Rai you must visit the White Temple! Otherwise known as Wat Rong Khun, this modern temple was designed in 1997 by artist Chalermchai Kositpipat. Although it is referred to as the White Temple, it is in fact an art exhibit and not officially a temple. It's difficult to describe this place to be honest – it's fascinating, bizarre and a little creepy but undoubtedly beautiful. The main structure is whitewashed and inlaid with thousands of tiny mirror fragments. The building seems to shimmer and glow.
To enter the temple visitors must cross a bridge over a pool of outstretched hands, past ghoulish sculptures of grasping limbs and leering skulls. The hands symbolise greed and desire, and the bridge over them shows that the way to happiness is to forgo temptation. Unfortunately photography is prohibited once inside, because the decoration is incredible and also really weird! Mixed with traditional Buddhist imagery are murals of war, terrorist attacks and nuclear explosions, as well as popular imagery such as Neo from the Matrix, Pokemon, Michael Jackson and Spiderman!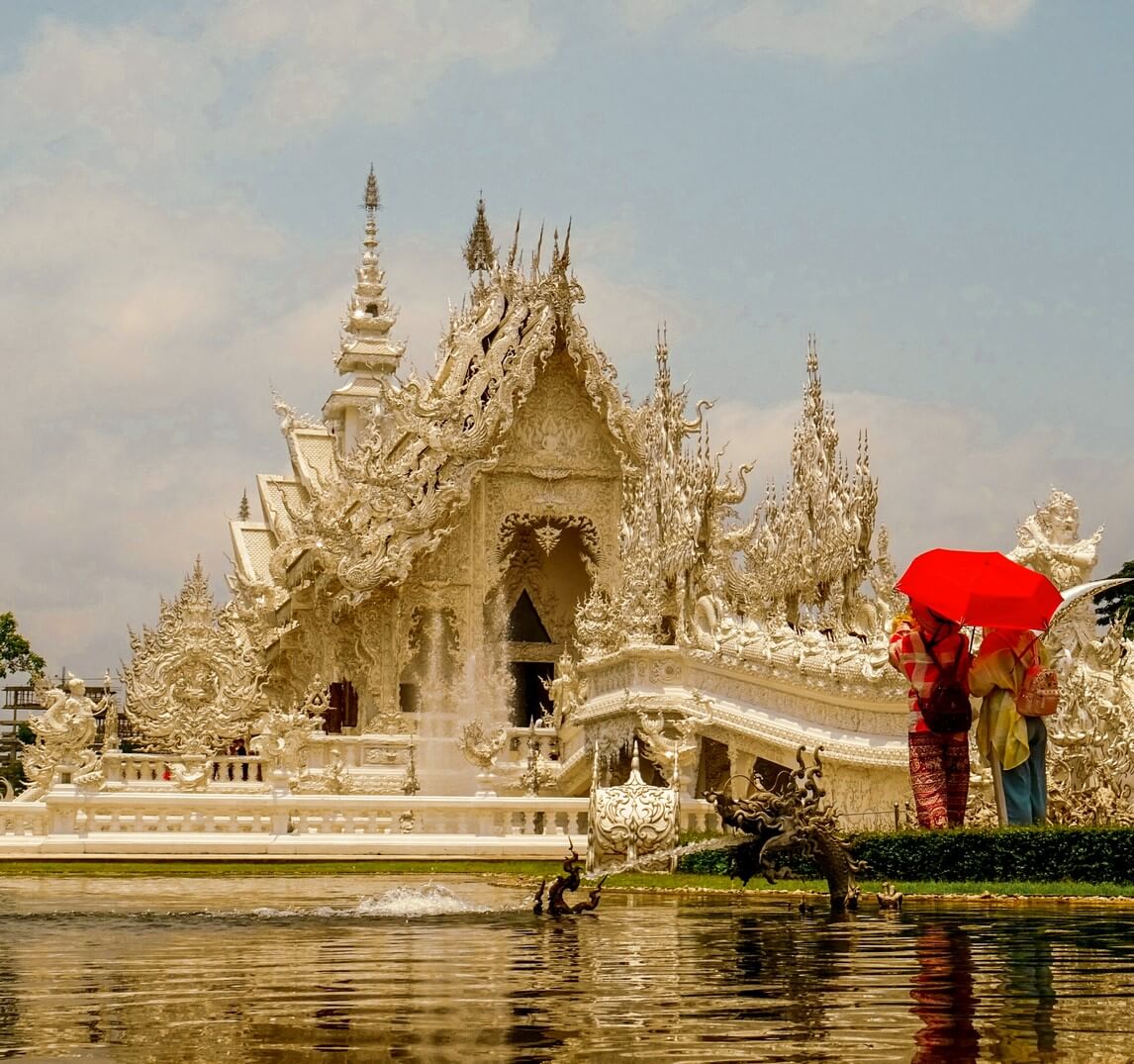 The Blue Temple
After a sweaty cycle ride back to the city we stopped for lunch at the amazing Barrab. The staff at this Northern Thai restaurant were so welcoming and friendly. After all the exercise we demolished our food – a huge bowl of spicy Khao Soi and a tangy papaya salad. We had one short cycle ride left, to the Blue Temple in the north of the city. Wat Rong Suea Ten was honestly one of the most stunning temples we've ever seen! The whole thing is such a vibrant blue with intricate details all over, including some incredible coloured dragons and a beautiful standing Buddha statue. The inside of the temple is equally stunning as well, with painted walls and ceilings.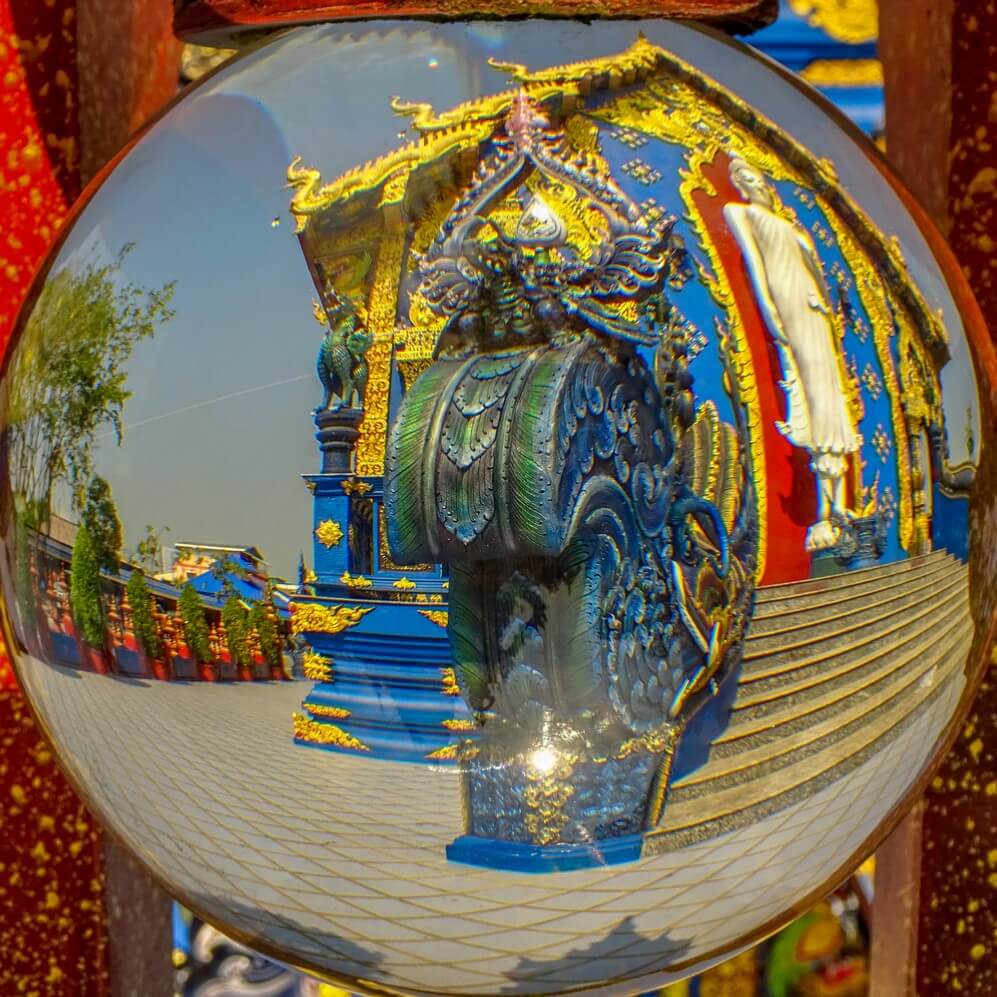 Cat Cafe
We dropped off our bikes and headed back into town on slightly wobbly legs. We had promised ourselves a visit to the cat cafe in the centre of town. It was meant to be a reward for the 32km of cycling we had done, and we were not disappointed! With a slice of chocolate fudge cake between us, we relaxed and took in our surroundings. It seemed like there were cats on every surface!
I had been a little worried that the cafe might be a gimmick – that the cats were only there to make money. But I was really pleased to see that they were well cared for and the place was very organised. There were 'rules' printed out on each table, including warnings not to feed the cats or try to pick them up. One rule was not to disturb them if they were sleeping! There were also plenty of high up ledges and perches were the cats could go and rest if they did not want to be disturbed by visitors. Most of the cats were stretched out luxuriously on the long sunny ledge at the front window, napping and being admired by passers-by.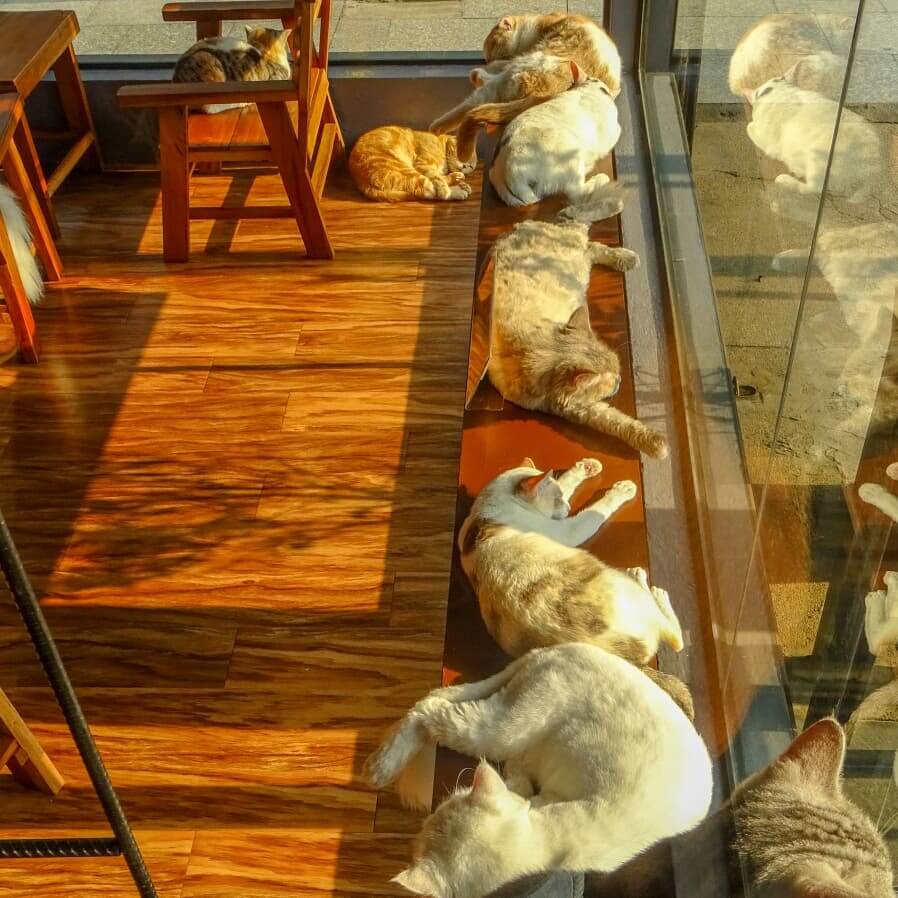 Beautiful Burgers
That evening we rejoiced at the lack of a thunderstorm, finally, and headed out to Heaven Burger for dinner. Oh my god, they served the best veggie burger that we have ever tasted, no exaggeration! We weren't expecting it at all! Perfectly seasoned patties made of roasted veggies and mash, in a soft toasted bun with fresh salad and incredible homemade pesto, teamed with crispy wedges and a cold beer, the best ending to our day! If you visit Chiang Rai you must check out Heaven Burger – you'll thank us!
Although, it seemed we'd celebrated too soon about the lack of thunderstorms as the heavens opened on our way home. We ducked under an awning and watched the lightning for about 10 minutes before finally braving the run home. We really enjoyed our visit to this cool and quirky little city. But we will always remember it with the skies lit up, the rain falling down and the rumble of thunder!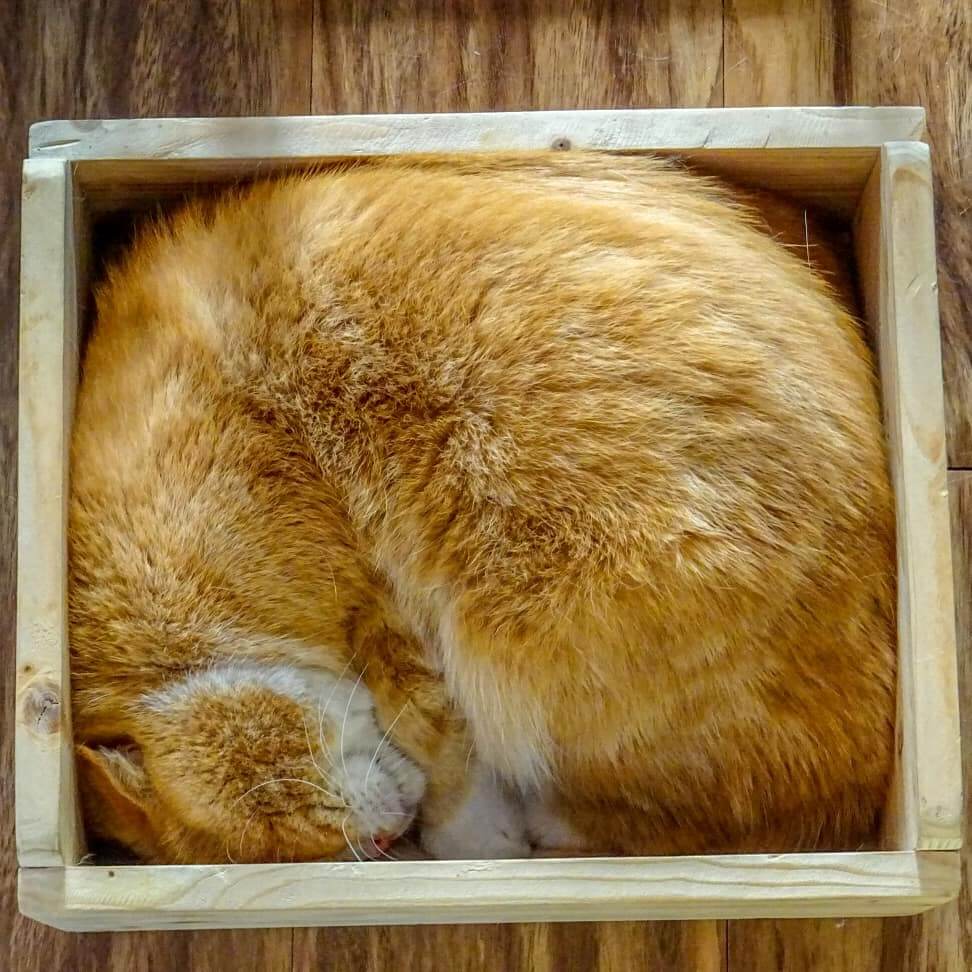 Visit Chiang Rai – Our Top Tips
We stayed at Ann Guesthouse – it cost us 400 baht for a double room with private bathroom. The location was fab, the breakfast was free and the shower was the holy grail of both hot and powerful!
Barrab serves delicious authentic Northern Thai food. The staff are great and love to explain the different dishes on the menu. It's also much cheaper than it should be!
Heaven Burger seems like someone has just opened a restaurant in their from room. It's a bit rough round the edges. But believe us as soon as you bite into the veggie burger you won't care about anything else.
Fat Free bicycle hire are cheap and friendly. We rented city bikes for 50 baht a day including helmets and locks. They also do mountain bikes.
The Hilltribe museum only costs 50 baht and is really thoughtfully put together and interesting.
Please note this post may contain affiliate links. You can read our affiliate policy here.