Hot to Trot at Angkor Wat – Tuk-Tuks, Towers and Tomb Raider
Angkor Wat?
Angkor Wat is the largest religious monument in the world, located near the city of Seam Reap in Cambodia. Dating from around the 12th Century, this gigantic site contains ruins of many temples. Actually, Angkor Wat refers only to the the main temple, while the UNESCO World Heritage site is referred to as the Angkor Complex. During our trip we visited 6 different parts of the complex but there are loads more sites that you can visit if you have the time and the stamina (not to mention the money for multiple-day tickets). It's like a super-sized version of one of our other recent destinations, Kamphaeng Phet in Thailand.
Sunset at Phnom Bakheng
The entrance tickets, although a little pricey at 37 dollars, cover you for a 24 hour period. This means that most people purchase their tickets in the evening and head to Angkor Wat to watch the sun go down. Its certainly an incredible place to watch the sunset amidst the warm stones and their history. If you don't mind sharing, that is! Our tuk-tuk took us to the Phnom Bakheng temple. There were lots of other visitors and we were free to wander around the ruins. Most people set up camp on the very top. But we avoided the jostling for lens space by perching further down. We still had a fantastic view, as well as plenty of time for some silly posing before the sun set. The evening had been rainy, but miraculously it cleared, and the heavy clouds made for a moody and dramatic sunset.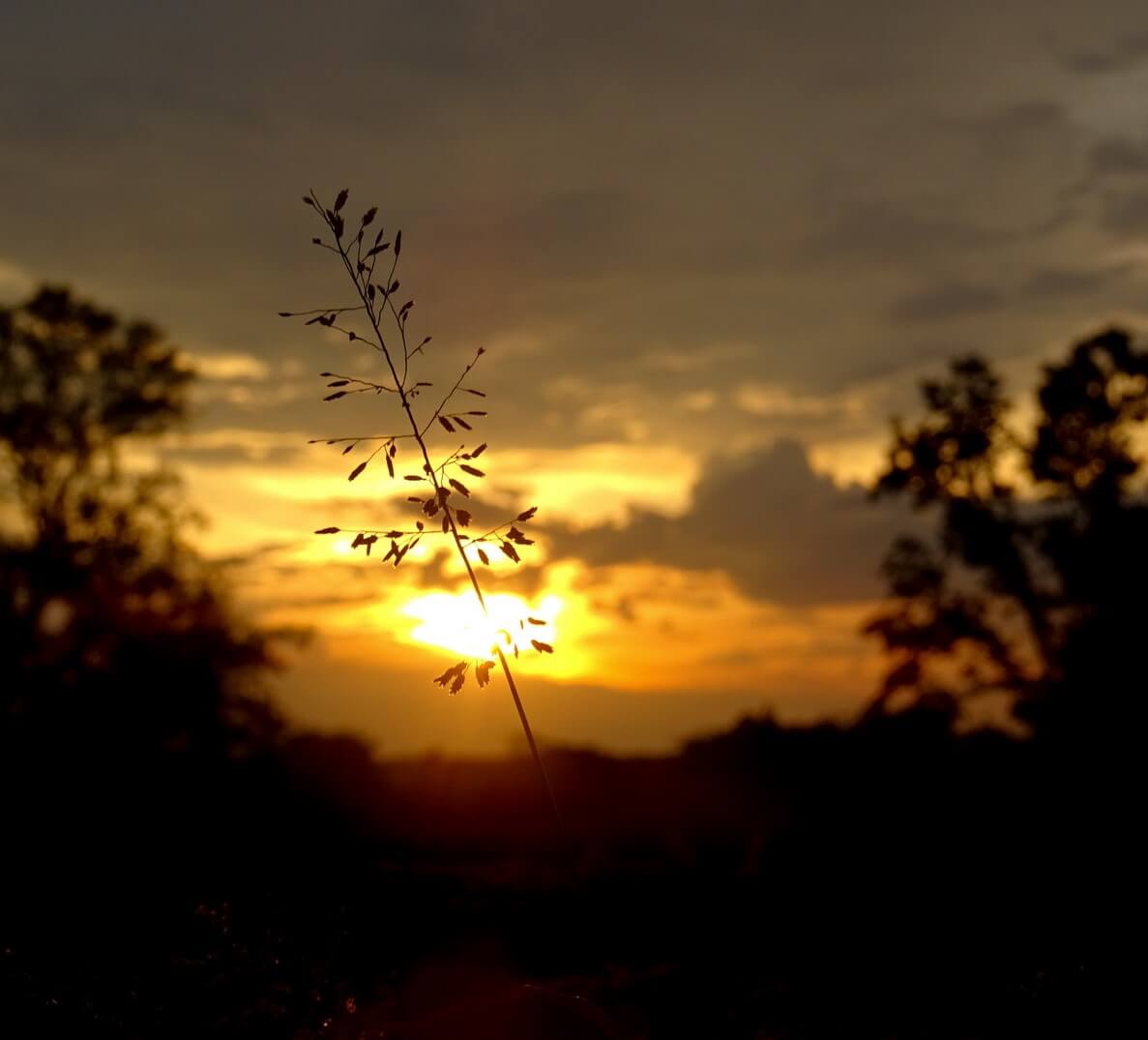 Sunrise at Angkor Wat
Being suckers for punishment, we set our alarms for 4am the following morning. Our tuk-tuk driver picked us up at 4.30am, seeming far too chirpy for the time of day. We chugged through the quiet streets in the dark, yawning. Things got busier as we approached the complex and by the time we arrived and walked to Angkor Wat itself, we were part of a huge stream of people. We found a spot by the water, where we could watch the sun come up. Unfortunately the morning was cloudy and we did not get to see much  of a sunrise. It was still an amazing experience though, and we took our time exploring Angkor Wat in the early morning light.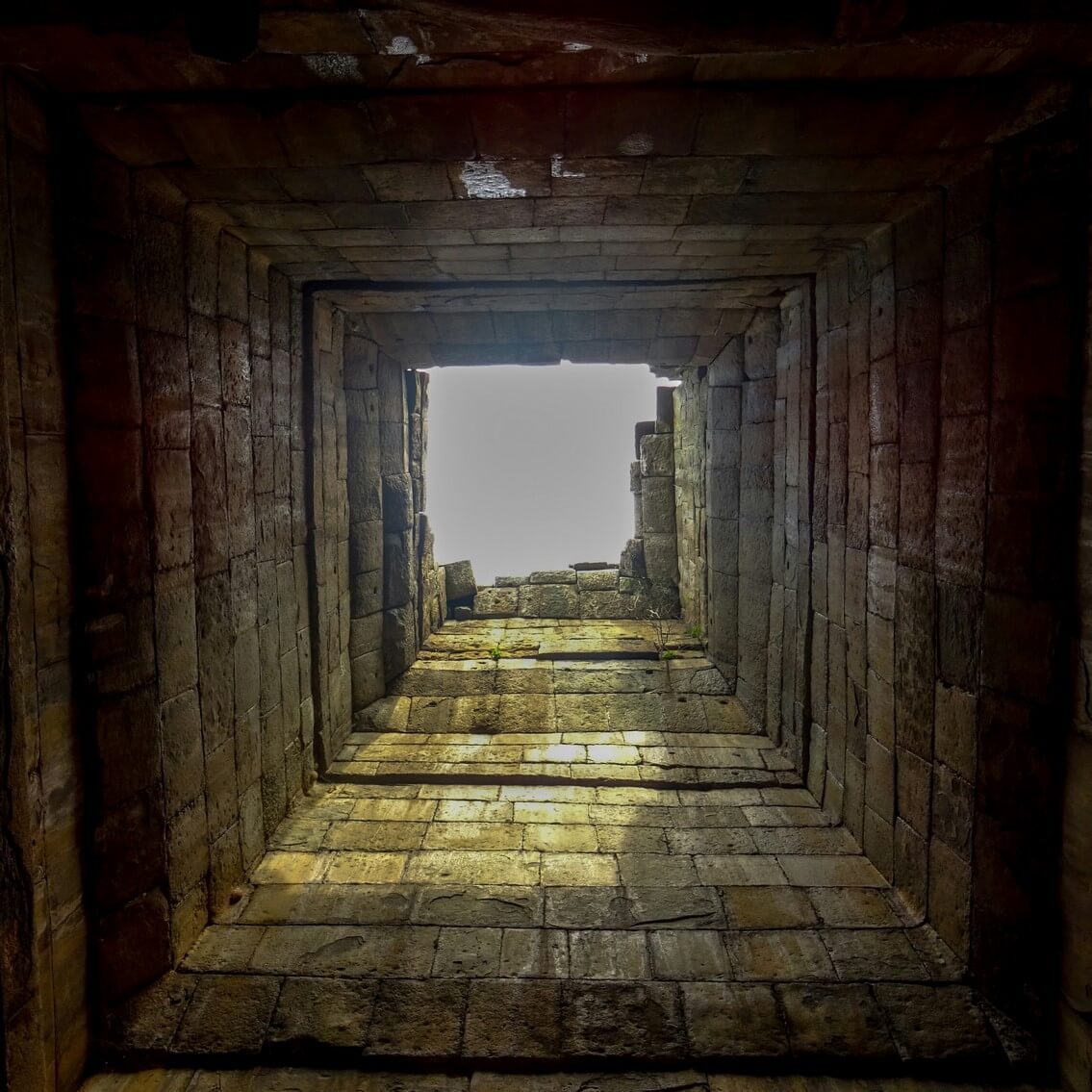 Bayon Temple – The Temple of Faces
This is one you may recognise from photos. We were awed by it in person however, since photographs can't do justice to the sheer scale of the place. The temple has 37 standing towers, many of which still have their giant stone faces intact. This temple involves some very steep steps, and we definitely started to feel the heat of the day! We spent a long time at this site, admiring the craft and artistry of the huge faces. There is a debate around who the faces are supposed to represent. They could be a combination of Buddha and the Khmer King Jayavarman VII. Either way, they are impressive and serene.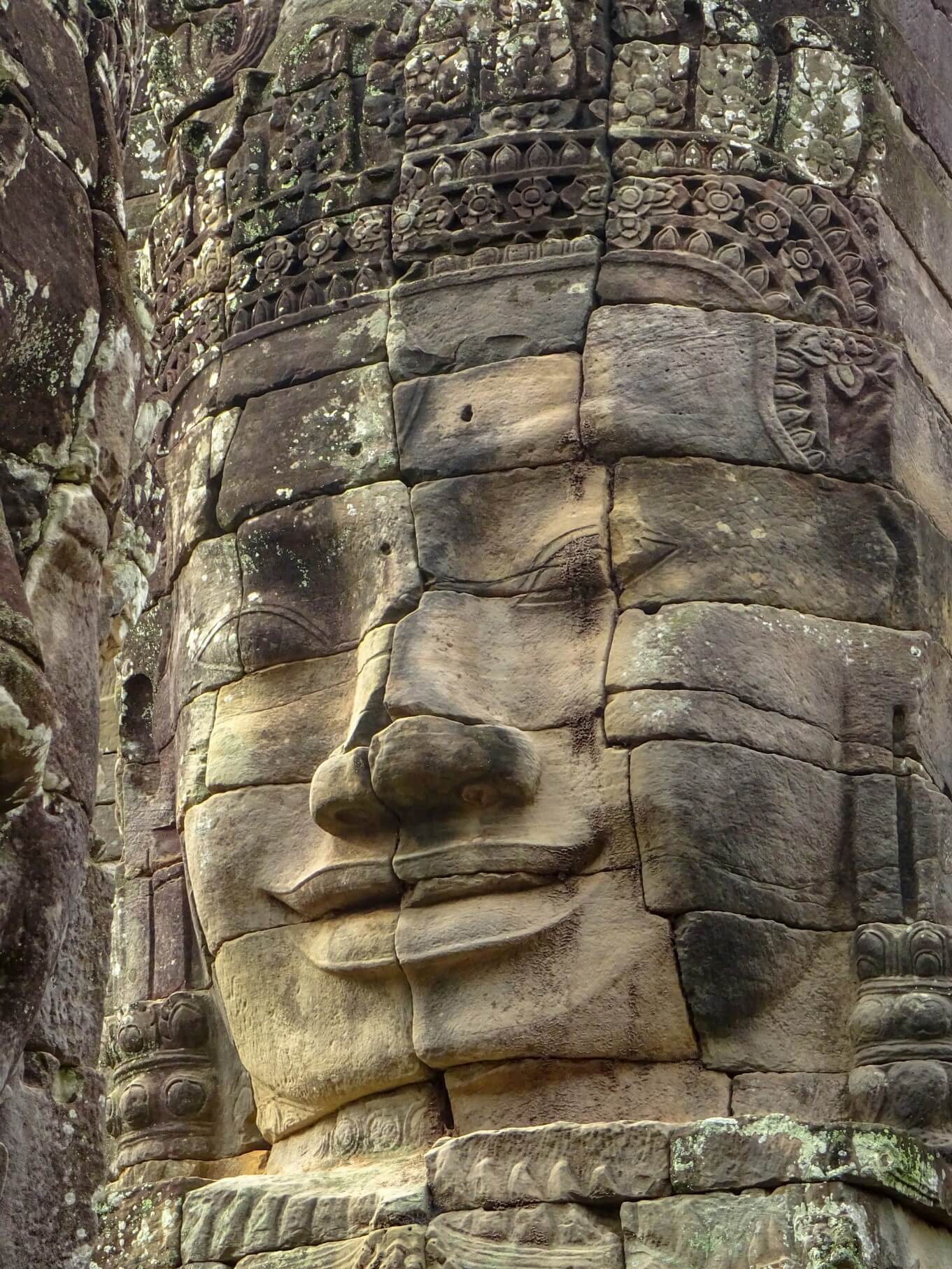 Baphuon Temple
This site is newly restored, and features a giant stone reclining Buddha on one side. It also has lots more very steep stairs! The scale of this place is amazing – the photo at the top of this post is the view from the top. And below you can see me standing next to the wall for scale. This temple was a lot less busy which was great – less selfie sticks to battle past! By now the heat had reached about 40 degrees and we were really feeling it. We also found a small overgrown site round the back of this temple, where shady trees had started to claim back the stone walls for themselves.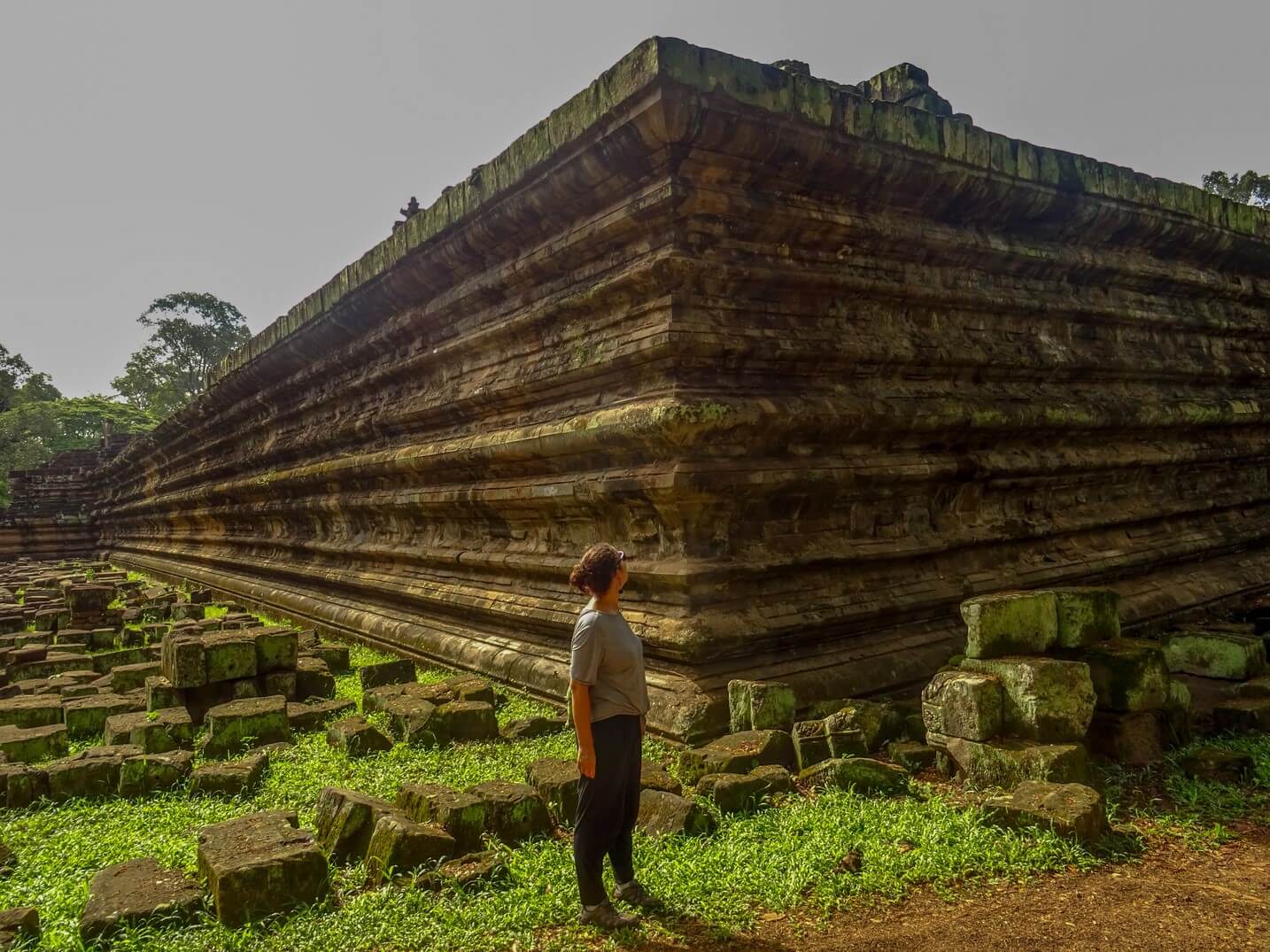 Angkor Wat's most famous face – the 'Tomb Raider Temple'
Ta Prohm dates from the late 12th/early 13th Century. Since Angelina Jolie filmed Tomb Raider here in 2000, the site has become synonymous with the film. We passed so many people doing their best Lara Croft poses at this temple! Aside from all that, the site really is jawdropping. Lots of conservation work is going on here as the forest tries to take even greater hold on the walls. Seeing huge ancient trees twining around and bursting through the stone is amazing. It really does feel like a jungle temple. After reading about Angkor Wat and wanting to visit for years, it felt pretty surreal to be here.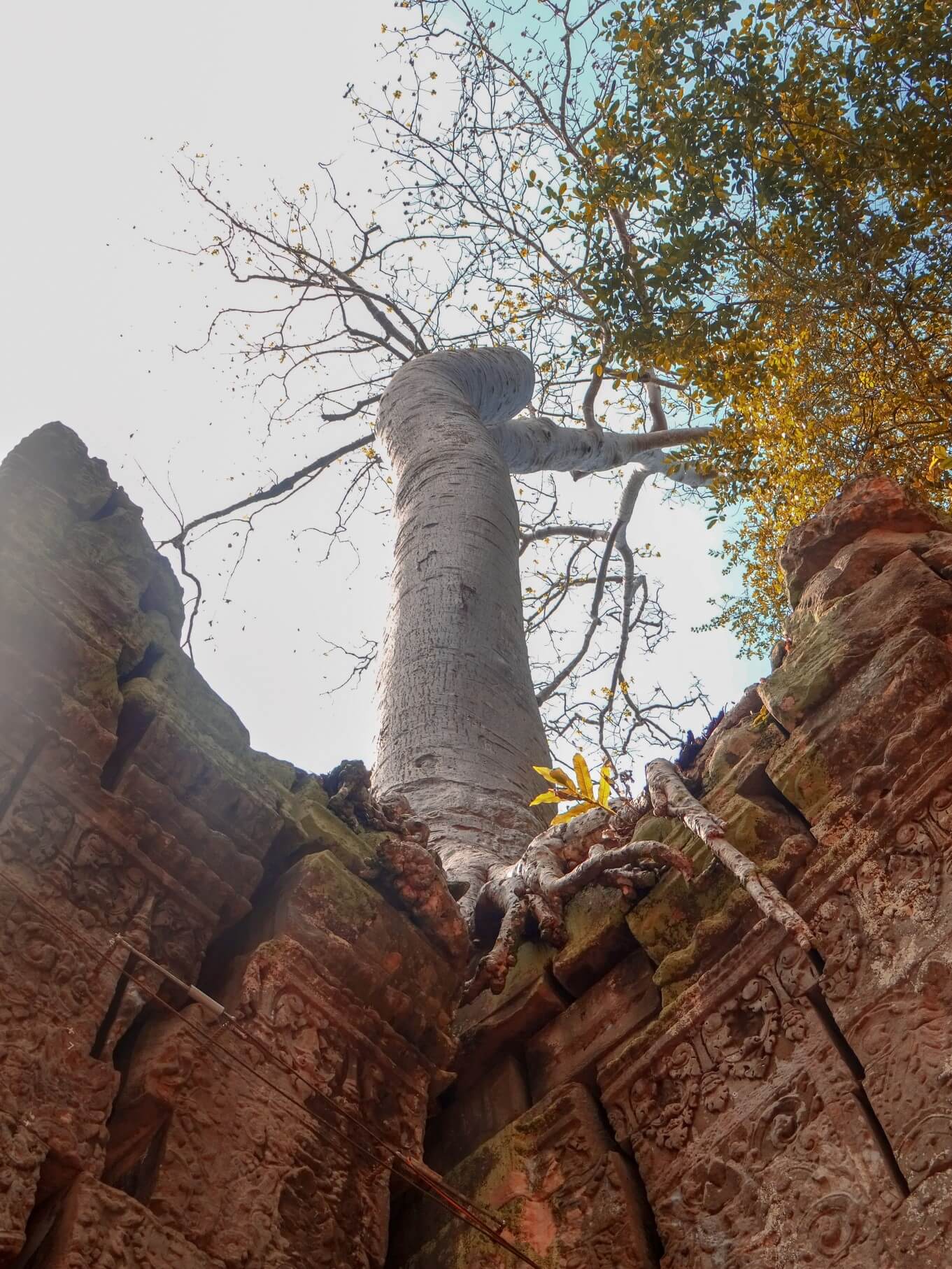 Banteay Kdei
Our final stop served as a Buddhist monastery under Jayavarman VII. This is quite a large temple but thankfully it is all on one level – no more stairs! Again this one was fairly quiet and we had fun rambling around and having a closer look. We even found a local resident – this fairly scary looking spider! Funnily enough, I was less keen to stand by this one for scale! By this time we were starting to struggle with the fierce midday heat, and our stomachs were rumbling. We sank gratefully into our tuk-tuk and zoomed back into town.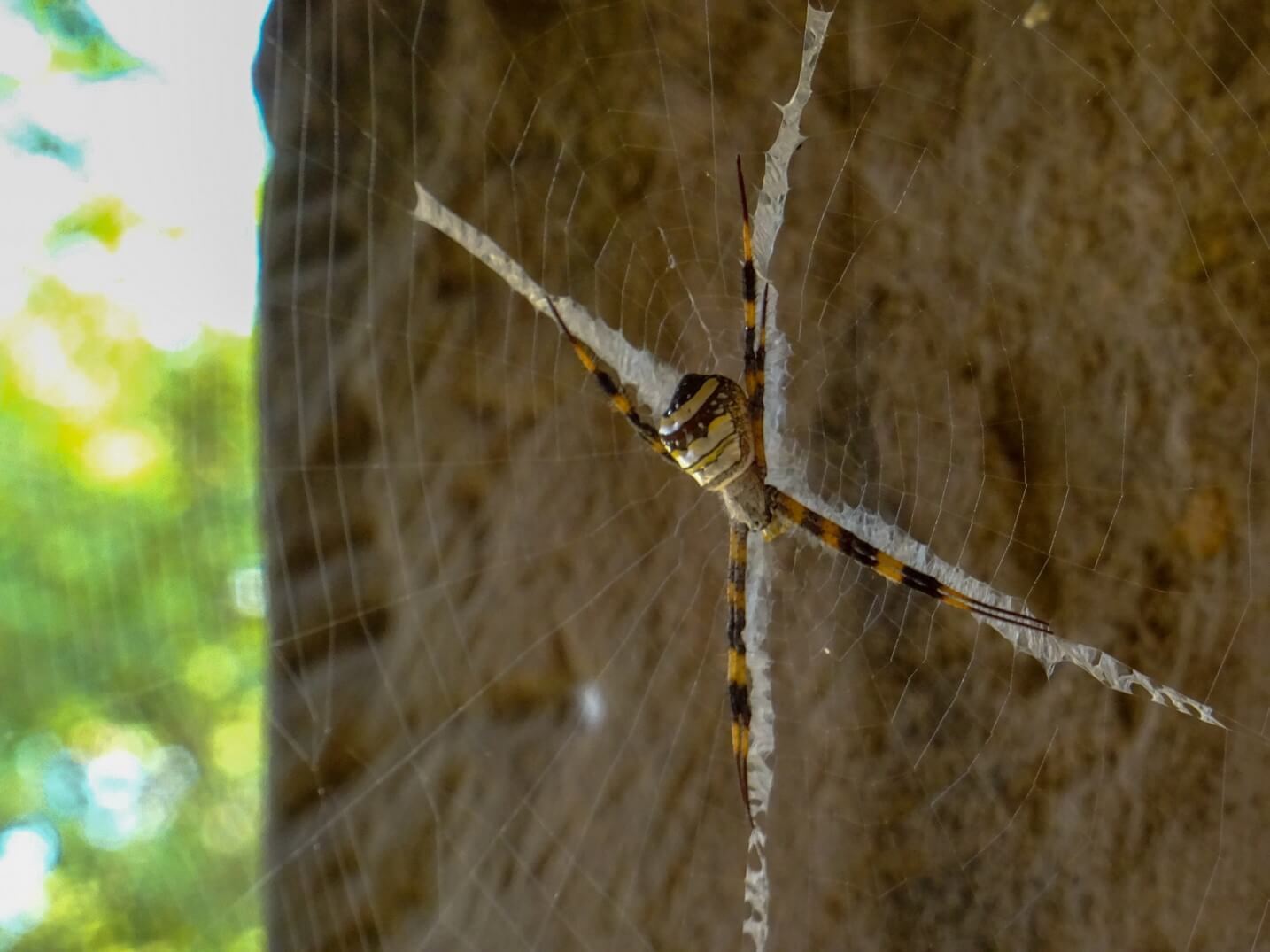 More than just Angkor Wat – our Top Tips for Siem Reap:
We stayed at Panda Angkor Inn – the manager Han was so lovely and helpful, and also his mum was an amazing cook. It cost us 5 dollars for a double room including breakfast.
Tuk Tuk Tacos is our new favourite restaurant – they sell vegan pulled jackfruit tacos, and amazing frozen margaritas for only 2 dollars!
We also love Peace Cafe – a fabulous social enterprise who serve delicious veggie and vegan food. They work closely with the local community, providing aid, training and education. They also run yoga classes, language classes and a monk chat session.
Remember that Angkor Wat is an important site for Buddhists. Dress appropriately, no shorts or vest tops!
Check out the official website for Angkor Wat here.