Vegan Street Food in Siem Reap – A Fabulous Food Feast!
Is there any vegan street food in Siem Reap?
We've mentioned before how Cambodia is an unlikely vegan paradise. There are so many amazing restaurants available here in Siem Reap, and in Phnom Penh, that we are spoilt for choice. But we initially assumed that the street food would be out of bounds for us. There are food carts and street-side vendors all over the town. At first glance there is a plethora of fried meat, fishy noodles and other carnivorous offerings. However, we delved a little deeper and when we scratched the surface we found a surprising amount of vegan street food in Siem Reap!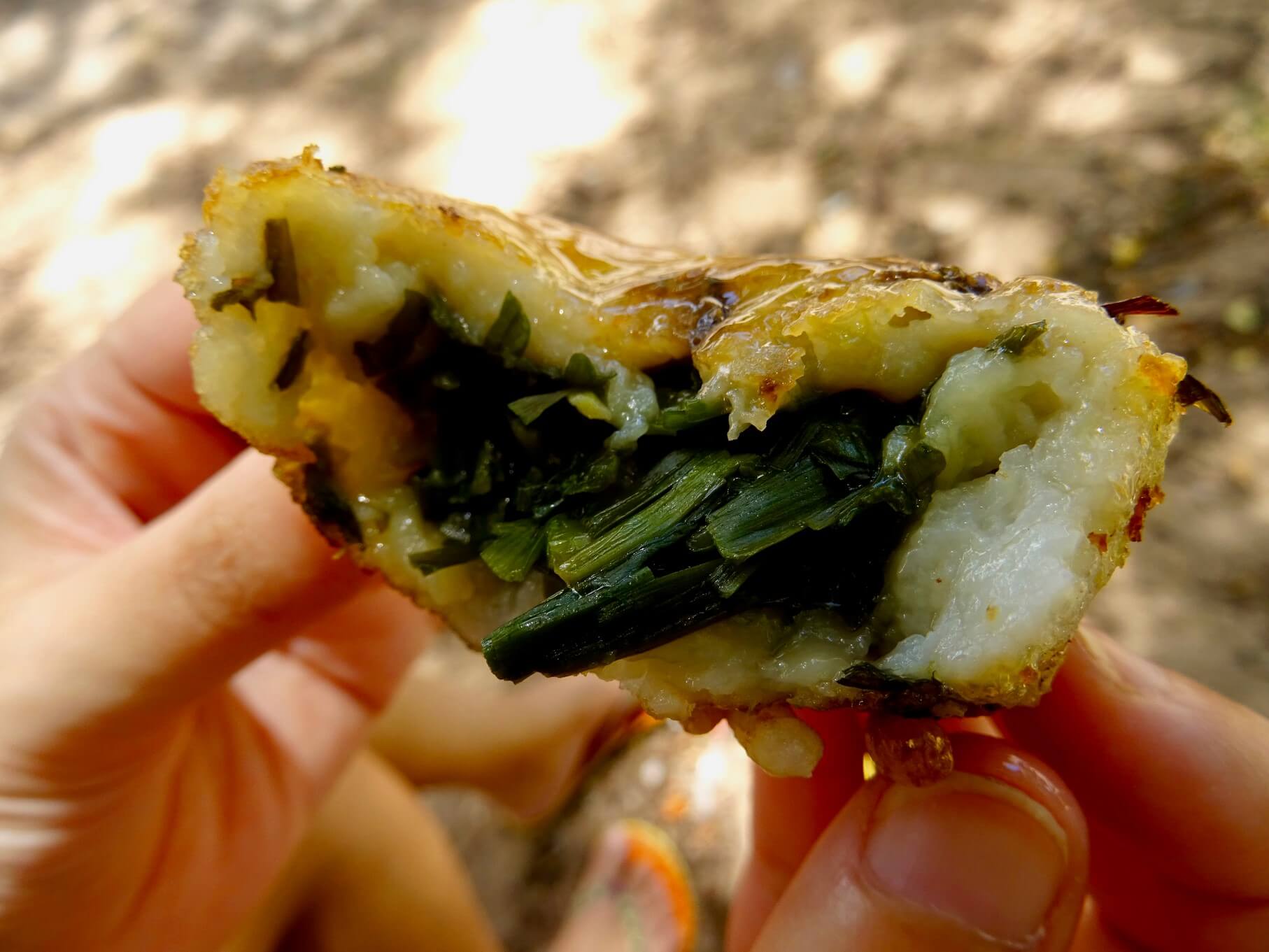 Chewy Chive Cakes
This was our first taste of vegan street food in Siem Reap, and the first meal that gave us an idea of what we might be missing by discounting the street food stalls. Nom Ga Chai are light, chewy little dumplings, made from a rice flour dough. Greasy and fresh from the hotplate, they are pillowy when you bite into them and then they split open to reveal their tasty filling. Generously stuffed with wilted chives, you could almost convince yourself they count as one of your five a day (that's what we are telling ourselves anyway!) The vendor at our local veg market always has a pile of these on the go, on his hotplate. He smiles at you and says hello as you pass, and somehow you find yourself sitting down and tucking in, even though you told yourself you were going to walk past this time…

Better Battered Banana Fritters
These are easy to find, looking like long pieces of battered fish sticking out of street vendor's baskets. In fact, they look so like a piece of battered fish that we ignored them for ages. This week we made the discovery that they are actually whole bananas, deep-fried in batter. Even better, the batter is apparently vegan friendly! They are called Chjake Jeun. There is a stall on the way to our house, and if we stop at the right time we see the lady who runs it cheerfully bashing the bananas flat. We think these taste so good, we'd happily eat them along with some chips as a vegan version of the seaside staple fish and chips! (Makes note to self – try making this with plantain…)
Corn on the Cob
Sometimes sold from food stalls, sometimes push carts. Or often just by an old lady sitting by the side of the road with a bucket. These hot steamed corn on the cobs make a delicious snack on the go.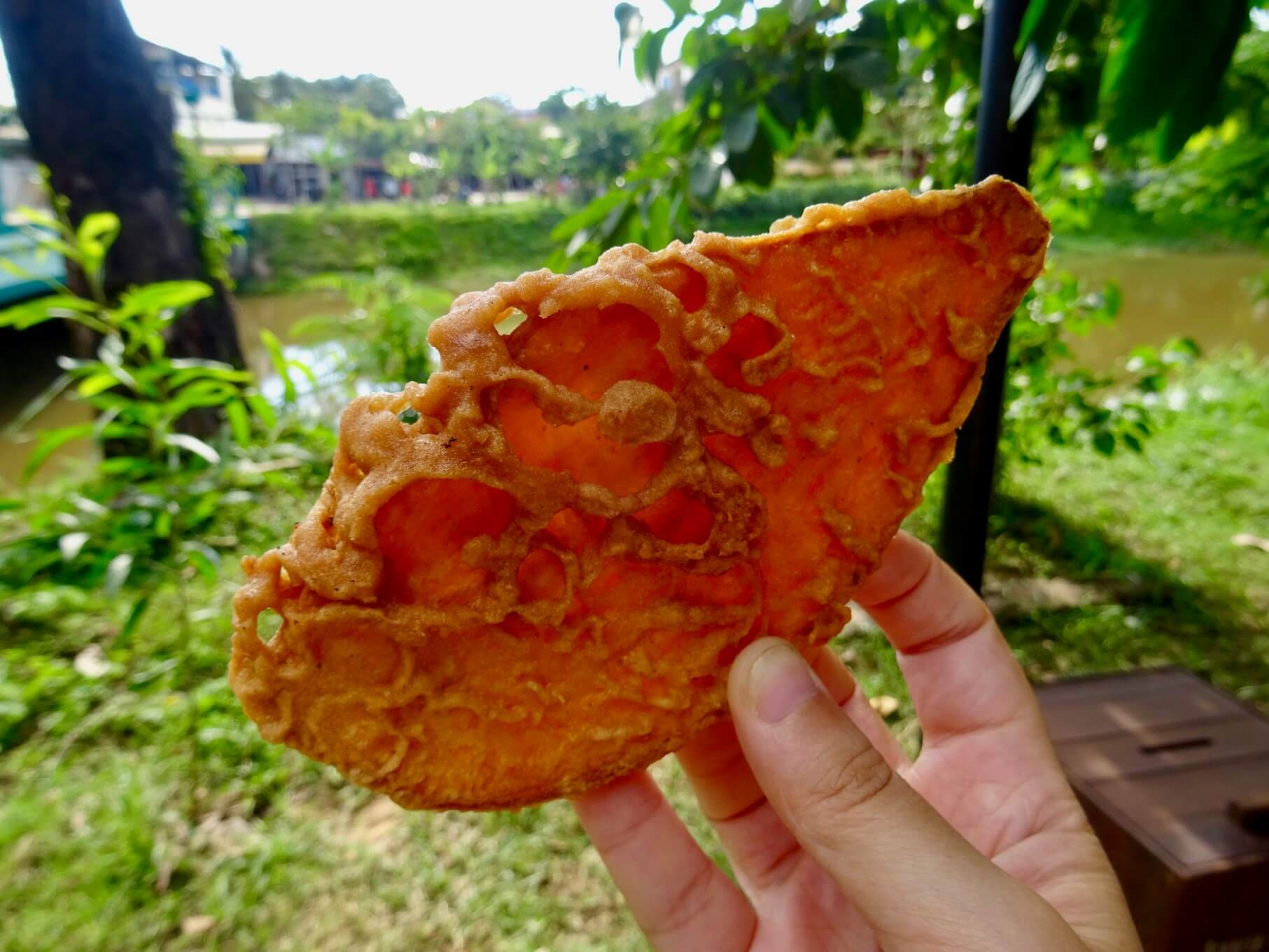 How Do I Love Thee Sweet Potatoes? Let Me Count The Ways
We've been eating fresh, hot steamed sweet potatoes from our friendly neighbourhood street vendor for weeks already. We pick them up on our cycle ride back from the gym in the morning, and make them into soups, falafels or sandwiches. All sounds very healthy doesn't it? Well, yesterday we discovered that you can also buy them thinly sliced, battered and deep-fried, and honestly our allegiance might have shifted. We've also seen them cut up and friend with fresh coconut which looks absolutely delicious.
Sweet potatoes are also used to make tasty little cakes called Domlong Ang. They are amazing when gobbled fresh from the grill.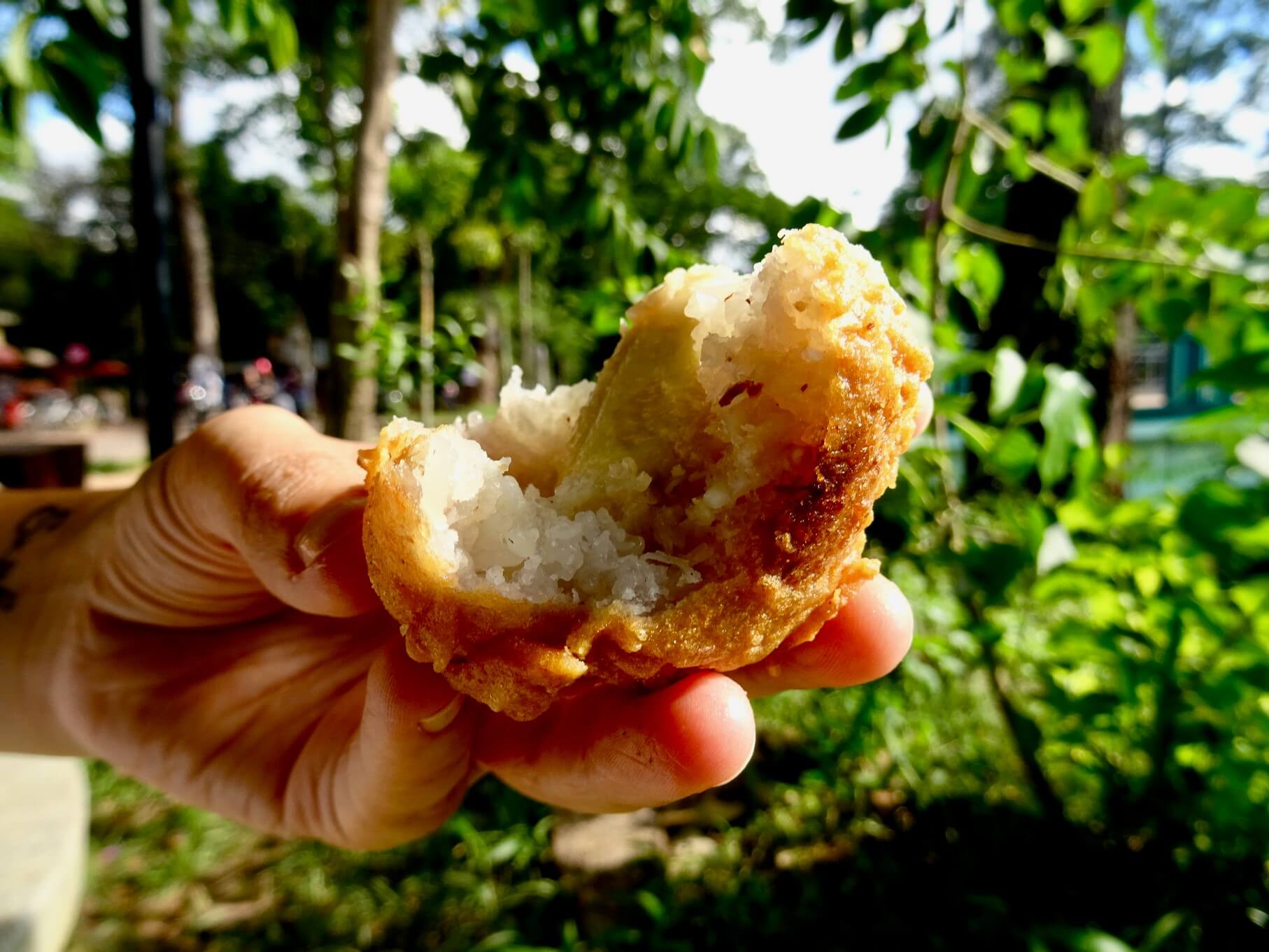 Golden Balls
Out of all the vegan street food in Siem Reap, these might be our favourite. A couple of chunks of sweet ripe banana, rolled in a mixture of sticky rice and fresh grated coconut, and then fried. The outside gets browned and turns chewy and crispy, the rice is sticky and sweet and then the hot banana melts in your mouth. Phwoar!

More Ways With Bananas!
Yeah, so it turns out vegan street food in Siem Reap is pretty banana heavy…As well as the yummy banana fritters, and the tasty coconut balls, you also get bananas with sticky rice. Ripe bananas are coated in sweet sticky rice and then wrapped in banana leaves. Called Nom An Som Ang, these cook slowly over a hot grill and are sold from little push carts all over town. Inside the blackened leaves, the sticky rice is warm, smoky and slightly caramelised, and the banana is hot and sweet. These are really filling little snacks that we quite often buy on our way home. Usually we burn our fingers trying to unwrap them in our eagerness to eat them straight away! Most of the little carts selling these also sell plain grilled bananas on skewers, which are a nice sweet snack too.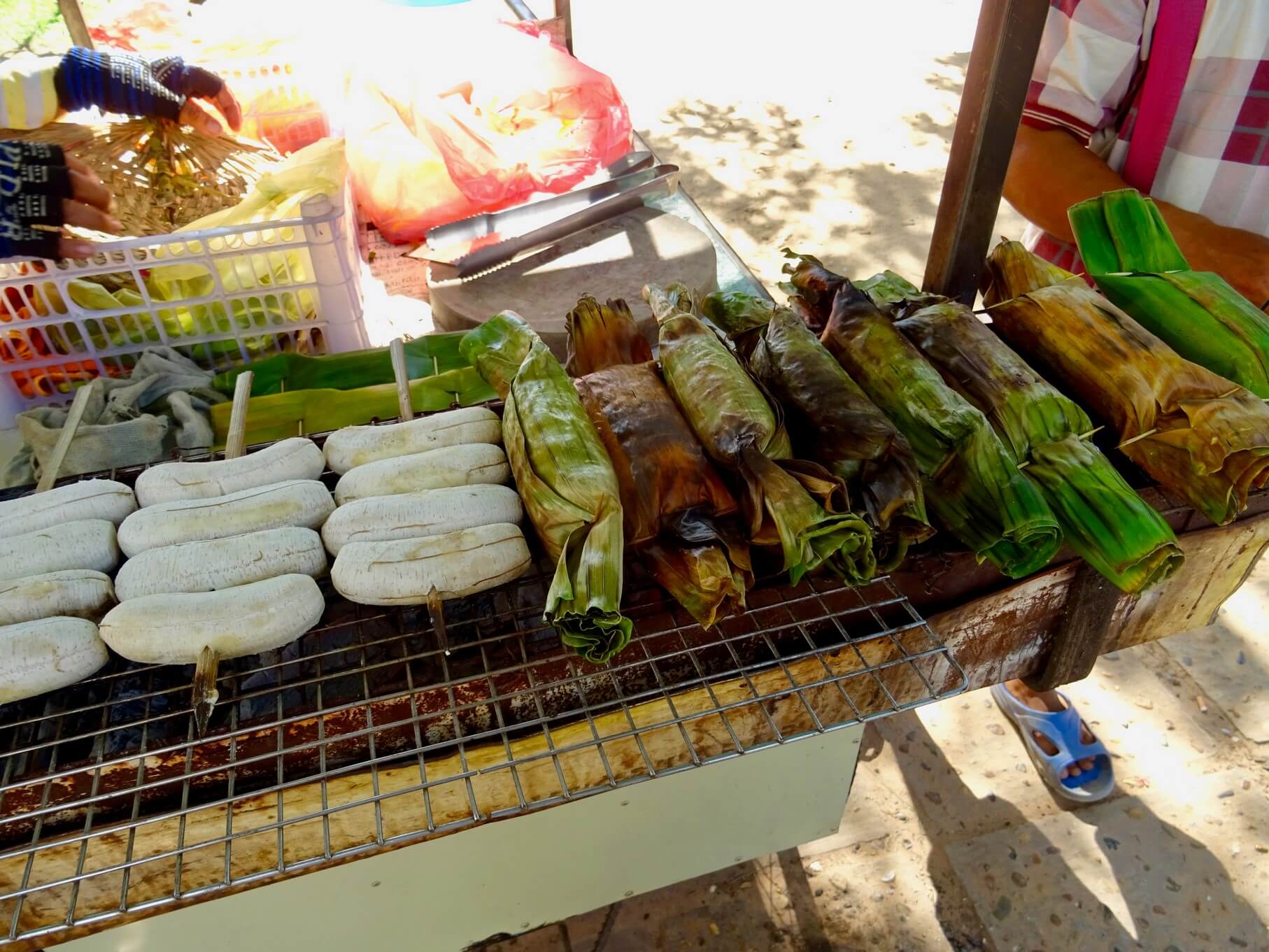 Fresh Spring Rolls
Often called summer rolls in Vietnam, these are a lighter fresher version of the deep fried spring rolls you may be familiar with back home. They are made with delicate rice paper and stuffed with veggies, usually shredded cabbage, and carrots, alongside thin vermicelli noodles and fresh herbs. They will often have meat or seafood in there as well, though we've found some stalls selling plain veggie ones too. Be careful with the dipping sauce too – usually the vendors have a few kinds. There is a bright orange sweet chilli sauce which is fine. But sometimes the darker chilli sauce will have some fish in. Give it a sniff, or ask if it is OK to eat. If you think these tasty little rolls sound good, our friends over at veggievagabonds.com have a great easy recipe here.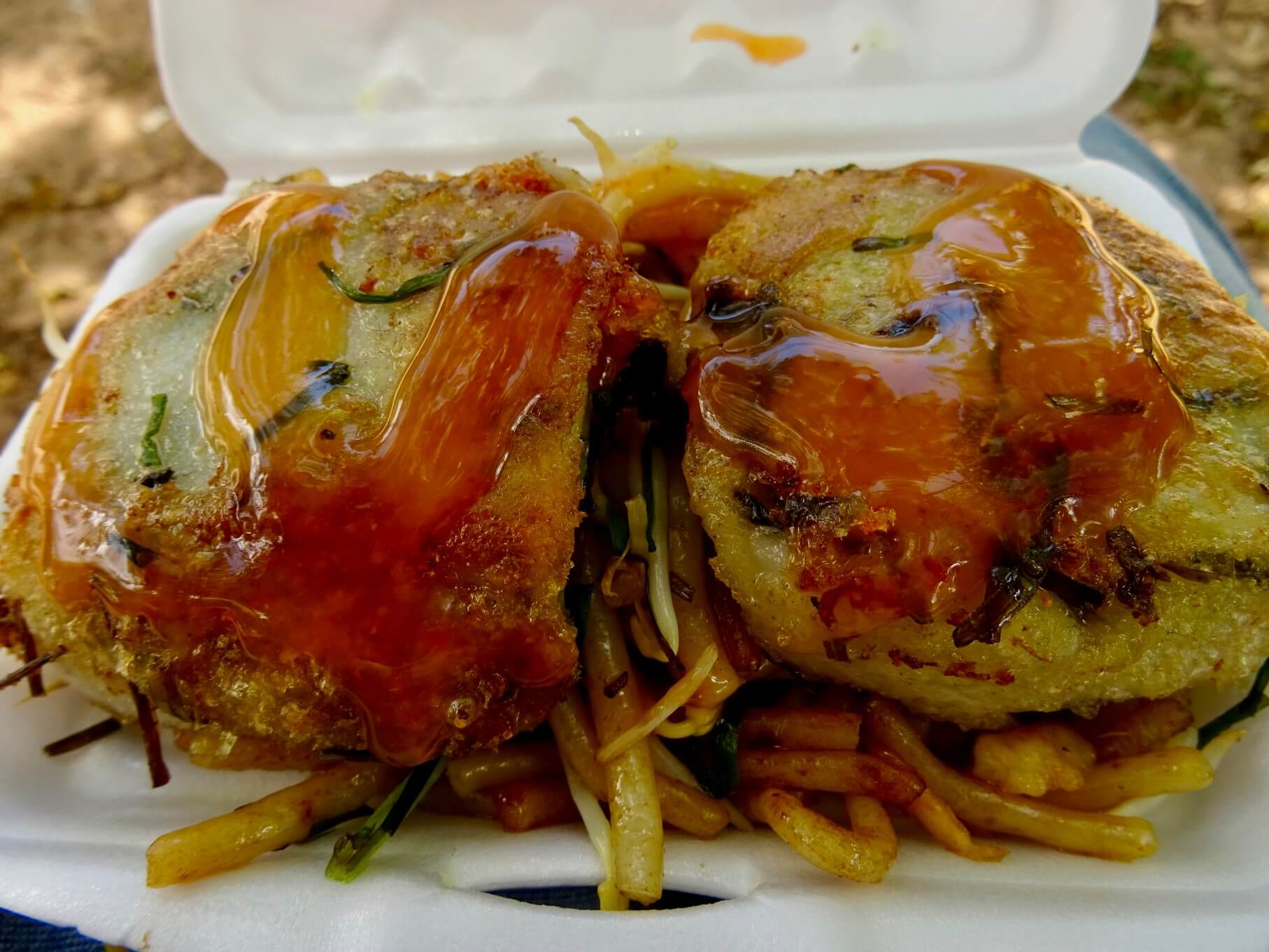 Oodles of Noodles
For something a bit more substantial we like these fried noodles, called Lort Cha. They are short, chubby noodles made from rice flour. The texture of them is really nice. They are fried up with beansprouts, leafy greens and soy sauce. The vendors selling these will often ask if you want a fried egg on top. This is the traditional way to serve them, so just make sure you've made it clear you don't want an egg! The noodles are really good with one of the chive cakes on the side too.
This is all the vegan street food in Siem Reap that we have found so far. We're sure there is more to discover yet though! Let us know in the comments if you have a favourite street food from around the world! C & D xx
Please note this post may contain affiliate links. To read our affiliate policy please click here.