Bambu Hotel Battambang: A Peaceful, Eco-Friendly Retreat
Our time in Cambodia is well and truly ticking away now. We are heading to Malaysia at the start of August for the next leg of our travels. But before that we wanted to explore a little more of this fascinating country. What better way to do this than to spend a weekend in the small city of Battambang. As you know, we are always on the lookout for green and eco-friendly ways to travel, and Bambu Hotel Battambang ticked all of our boxes!
We received a complimentary stay at Bambu Hotel Battambang, but nonetheless all opinions are our own.
Where is Battambang?
Battambang is referred to as Cambodia's second city, although due to the tourist boom in Siem Reap it seemed smaller to us. It was established as an important trading post and remains a useful hub between Thailand and Cambodia's capital Phnom Penh. Like many other places in Cambodia, the French Colonial influence is still evident. There are many interesting temples nearby which you can visit. To reach Battambang we had an easy four hour mini-bus trip from Siem Reap.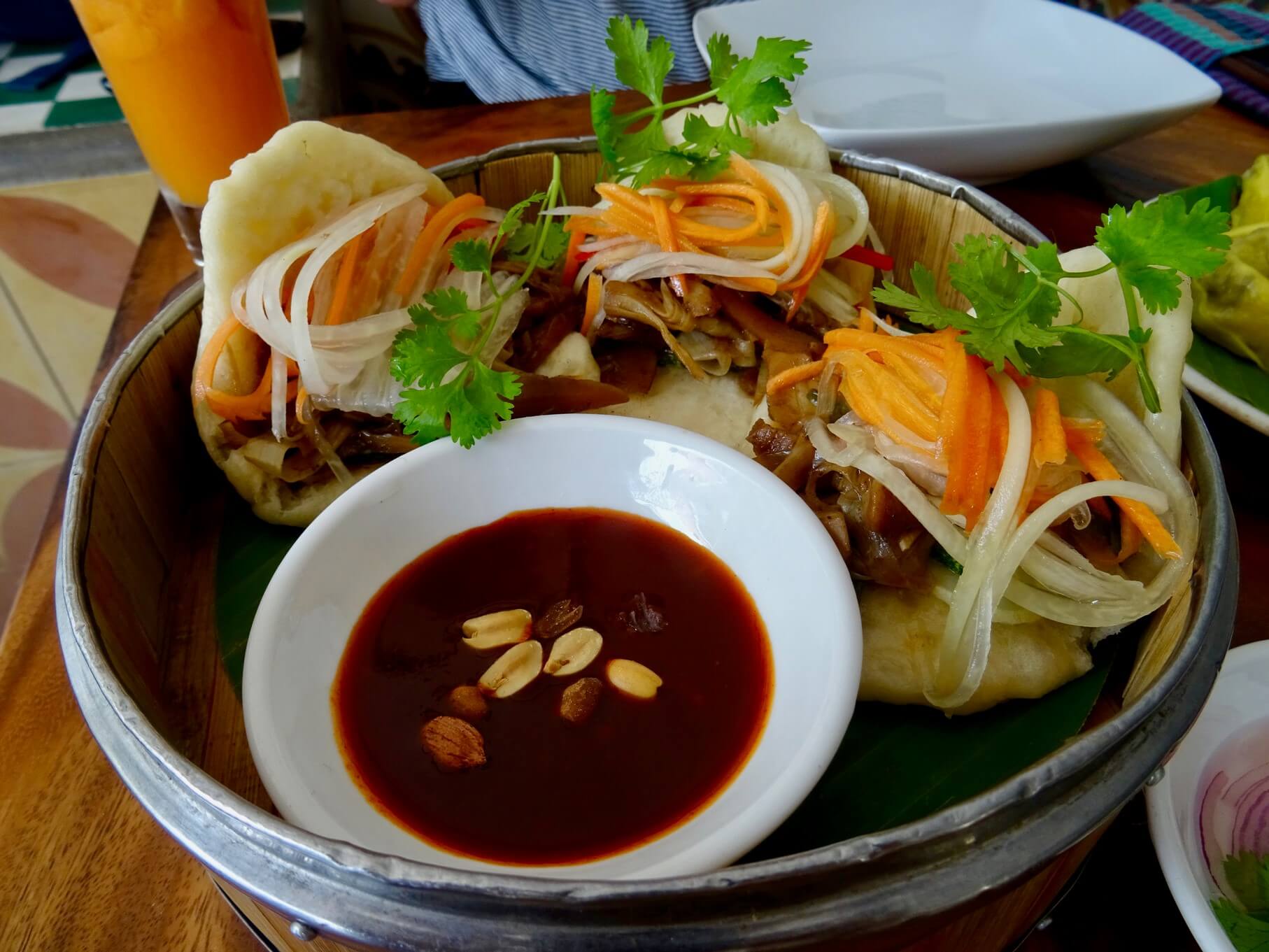 Amazing Vegan Lunch
Our bus pulled into the city just in time for lunch, which was great planning! We made a beeline for a restaurant called Jaan Bai. This social enterprise has lots of veggie and vegan options on the menu and is run by the Cambodian Children's Trust (CCT). As soon as I saw bao buns on the menu I knew what I wanted to order (for real, I will never visit a place that offers vegan bao buns and not order them. Bao buns are life). In addition to pulled jackfruit bao, I also had some mushroom and eggplant dumplings. David went for a traditional Khmer curry. We loved it so much we ended up going back for lunch again two days later, just before we boarded the bus back to Siem Reap!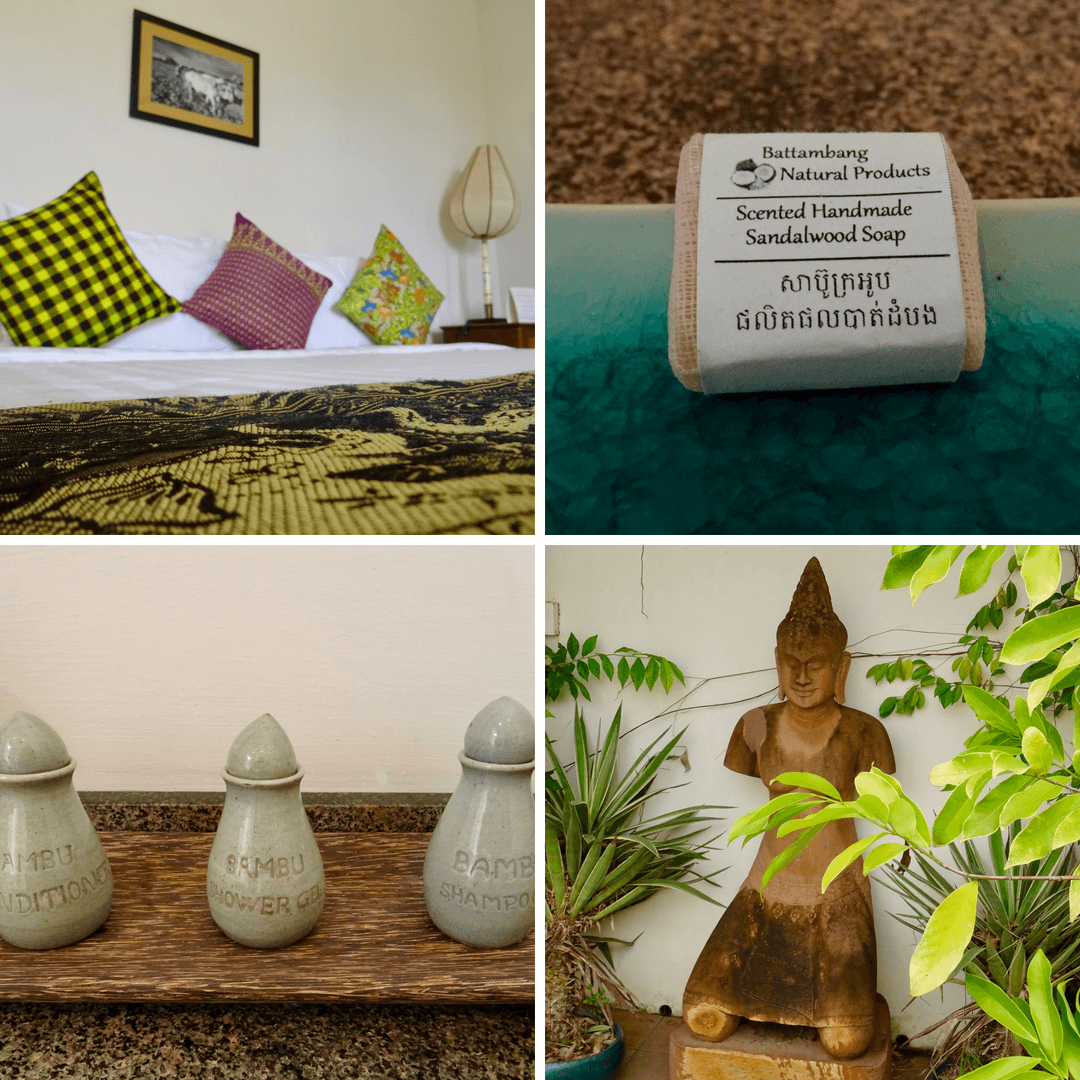 Checking into Bambu Hotel Battambang
We were really excited to arrive at Bambu Hotel, since we had read all about their eco-friendly credentials online before arriving. As we walked through the entrance we could see the swimming pool sparkling tantalisingly through the doorway. We were greeted with cold glasses of freshly squeezed orange juice (from the local speciality green oranges) and shown to our room.
This boutique hotel pays so much attention to detail. Everywhere we looked there were little decorative touches that really made the place special. In our room we were impressed by the overall effect of the decoration, aspects like pretty cushions, quirky photos and interesting furniture. Not to mention the huge private balcony once we threw open the shutters, complete with a hammock each (you guys know how I feel about hammocks!) Inside the huge bathroom, there was a gorgeous rain shower and giant sink. We looked at each other and couldn't believe how lucky we were to be staying somewhere so beautiful.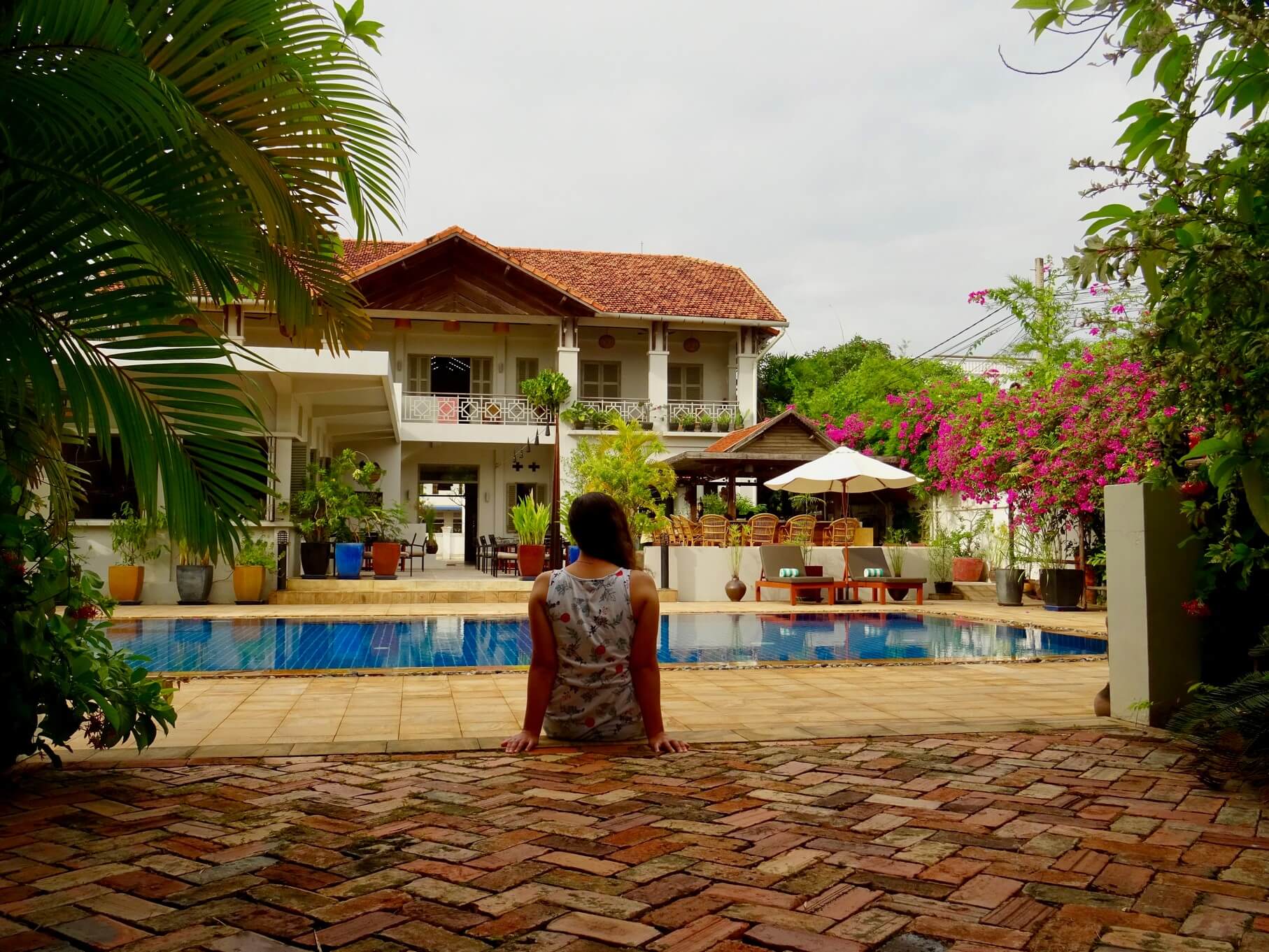 What Makes Bambu Hotel Battambang Eco-Friendly?
Quite a few hotels pay lip service to being eco-friendly. Yet most of the places we have stayed provide single-use water bottles for their guests, along with little bottles of toiletries and plastic toothbrushes. Often the towels and linens will be replaced each day, when really, how often do you change your sheets and towels back home?
In the bathroom there were two glass bottles, filled with fresh drinking water, along with a note explaining that the hotel has stopped providing plastic water bottles. The staff are happy to refill these glass bottles at any point. They also sell good quality reusable bottles with their own logo on. Instead of throwaway fiddly plastic tubes of shampoo etc., we had cute ceramic containers which were refilled every day.
The hotel itself is constructed using local materials, and was built with local labour. The majority of the furniture was made in Battambang. The pretty swimming pool area is filled with local plants, creating a peaceful green oasis with an array of colourful flowers. The pool itself uses saltwater, which is free from damaging chemicals – better for the environment and for guests! As well as all of this, the building uses solar panels to provide most of the power.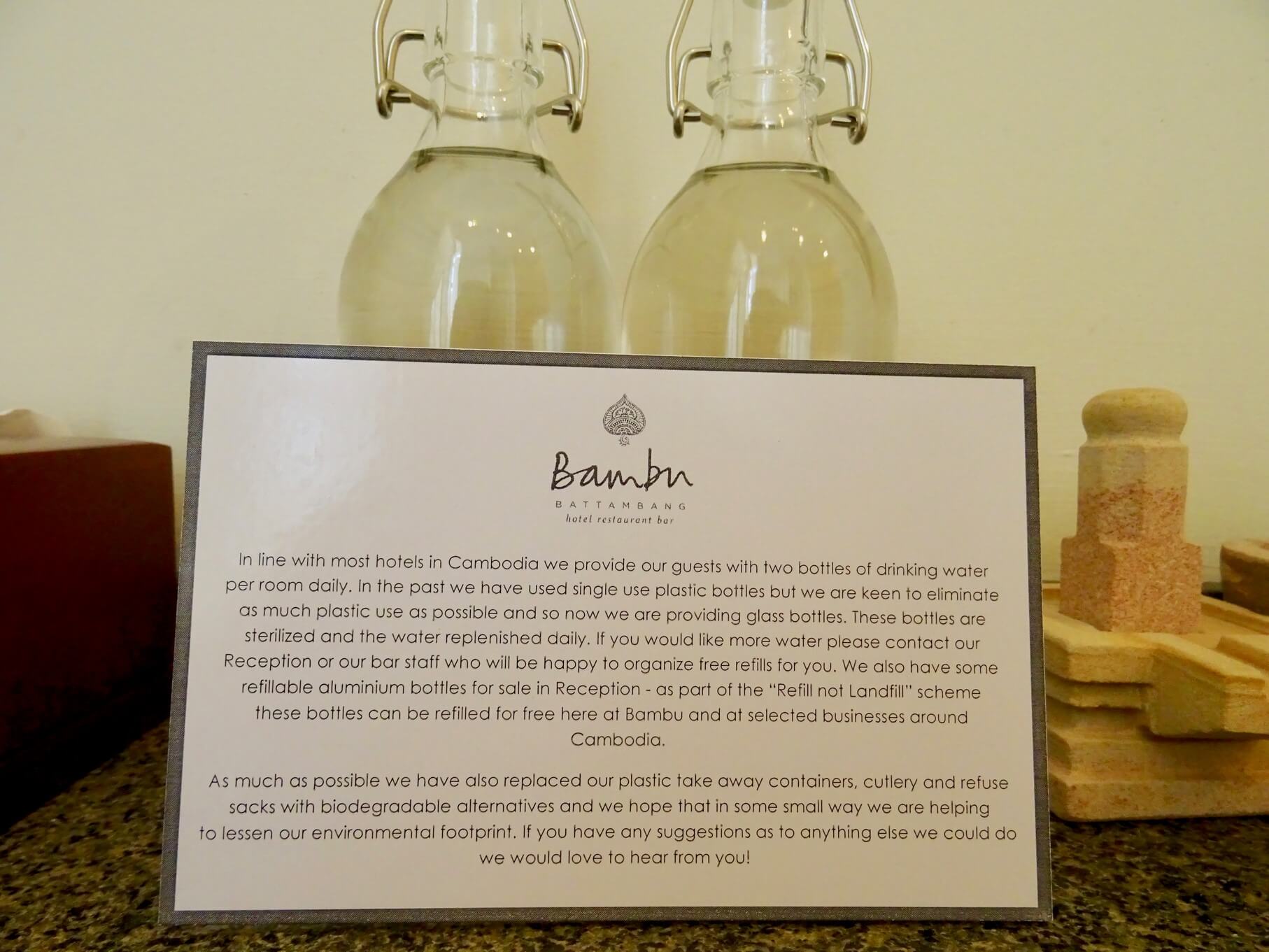 A Fun Day Out in Battambang
Along with all the usual hotel policies left in the room, there was a typed note from the owner. He had taken the time to write a personal guide to Battambang for his guests, in an engaging style with his own recommendations for things to do. After a ridiculously comfortable night's sleep, we flicked through this guide and decided to take a tuk-tuk out to Wat Banan. Whizzing through the countryside, we had a glimpse of everyday rural life in Cambodia. Bright green rice fields and lush forests passed by, while kids waved and shouted hello, and dogs dozed in the sun.
When we arrived at Wat Banan, we had the place completely to ourselves. After the hustle and bustle of touristy Siem Reap it was a little surreal, but very pleasant. It cost $2 each for entry. At the top of quite a few steep steps, the five towers of Wat Banan sit with a 360 degree panoramic view of the countryside. It is an Angkor-era temple that is well worth a visit.
After this, we thought that we couldn't visit Battambang without checking out the famous bamboo train. Sadly the original bamboo train was closed down recently in order to replace the buckled track. Some enterprising locals have laid new tracks elsewhere, and charge $5 for a trip on the rails. It was a pretty fun experience! With only a single track, everyone has to get off when two carts meet. The drivers lift the carts off the track and walk round each other!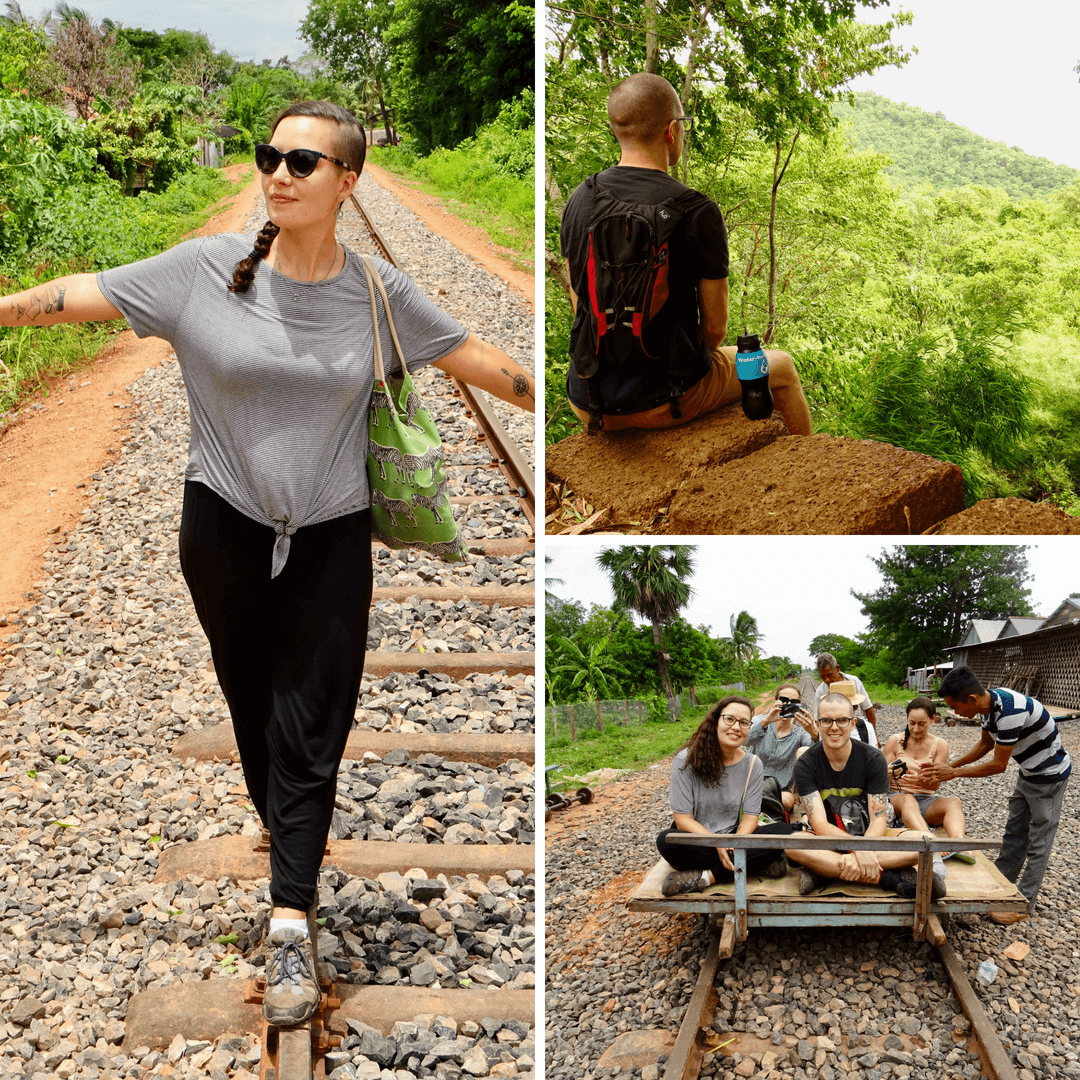 A Sociable Evening at the Bar
After our action packed morning, we spent the afternoon relaxing by the pool. In the evening we caught up with Pat, the hotel owner. Sitting at the welcoming outdoor bar, light with fairy lights, we chatted with him about how he had ended up in Cambodia, and why he decided to make Bambu Hotel Battambang eco-friendly. He built the hotel himself back in 2009 after falling in love with this country and its friendly inhabitants. For him, making the hotel eco-friendly was a no-brainer. He said he is surprised that more people don't do it – as well as being better for the environment it also cuts running costs. Feedback from his customers regarding the hotel's green policies has been really positive, and the local staff and community are learning from his example.
Sustainability is not only good for the environment, but supports a strong local community and builds the local economy. Bambu Hotel Battambang.
The hotel also supports a local village school and grassroots project. By providing free English classes, Slarkram English School gives children a chance to enhance their career prospects. The school has been running since 2005 and hopes to lessen the gap between urban and rural areas. Guests can visit the school and help students to practice their English.
Later we ate dinner in the cosy hotel restaurant, which has a good number of vegetarian options. There are vegan options on the menu, although they are not clearly labelled. I had a delicious and very garlicky spaghetti dish, while David opted for another Khmer veggie curry.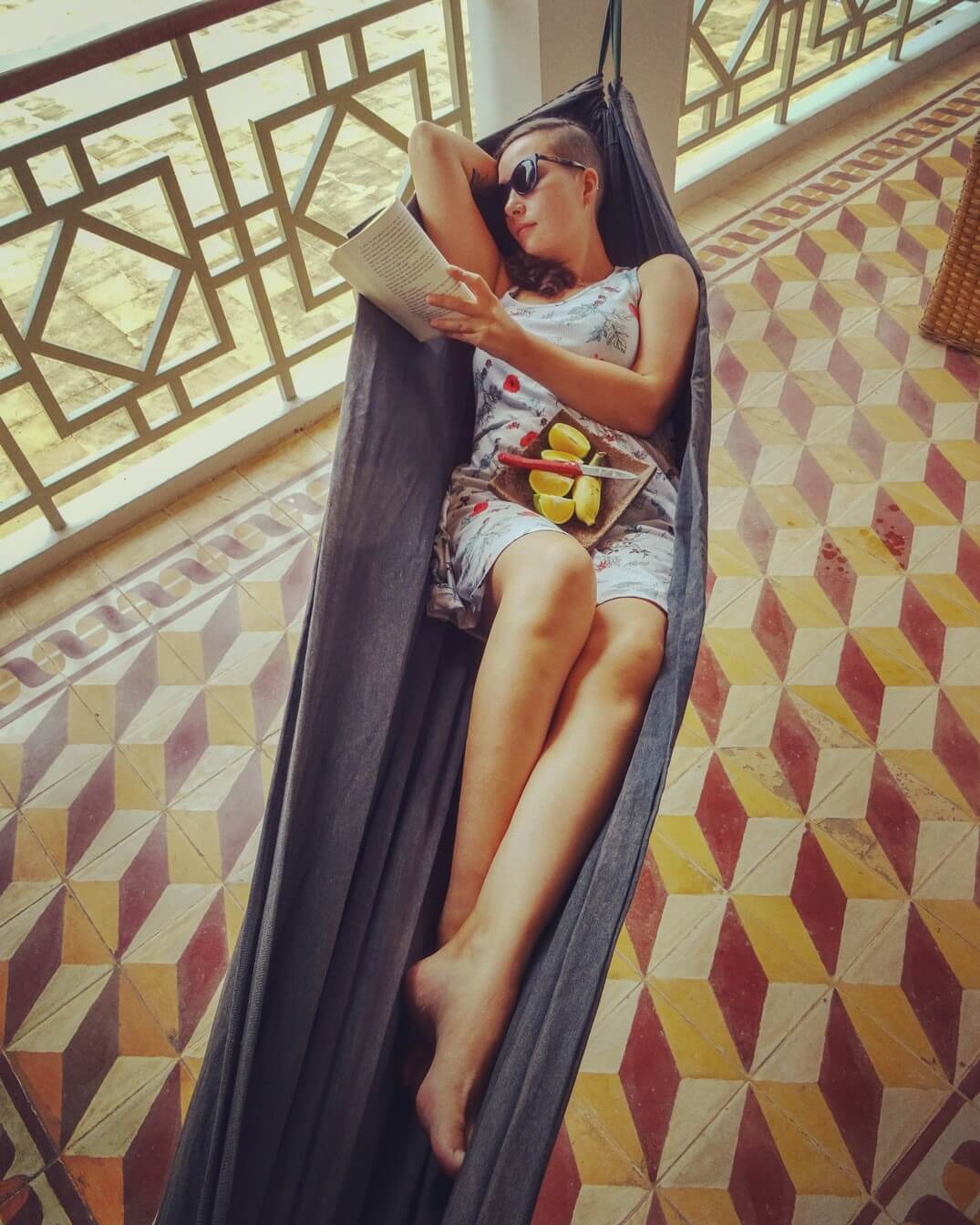 Would We Recommend Bambu Hotel Battambang?
If you're looking for a peaceful and friendly place to stay, we would definitely recommend Bambu Hotel Battambang. We were made to feel welcome from the moment we walked in. The design and attention to detail is impressive, and the eco-friendly aspects really sold it to us.
This page contains affiliate links. To read our disclaimer you can click here.