Four Days in Melaka: Amazing Food in a Picturesque Setting? Me-Like-A Melaka!
Four Days in Melaka
Being backpackers on buses once more
We have to say, after our three month break in Siem Reap, it was a bit of a shock to the system to start lugging our rucksacks around again! Luckily the transport system in Kuala Lumpur is super easy. We had one sweaty 15 minute walk to the nearest station from our hostel and after that it was plain sailing as we headed to the bus station by metro. BTS bus station in KL might be the biggest one we've seen so far. However, it was a far cry from the chaos of an Indian bus station or the confusion of a Thai one. It was ridiculously clean and organised. Finding our bus to Melaka was easy. Now we just had a two hour air-conditioned journey of giggling along to podcasts and eating biscuits – luxury! We were really looking forward to our four days in Melaka. You can scroll to the bottom for our top tips, or look out for the restaurant names in bold.
Our hotel turned out to be right round the corner from a great little vegetarian Chinese buffet, Chin Hua. We didn't waste much time in dumping our bags and heading out to grab some lunch! We always find the best way to explore a new city is on foot (not to mention we needed to walk off the giant lunch!) so we spent the afternoon wandering around the cute streets in the old city centre.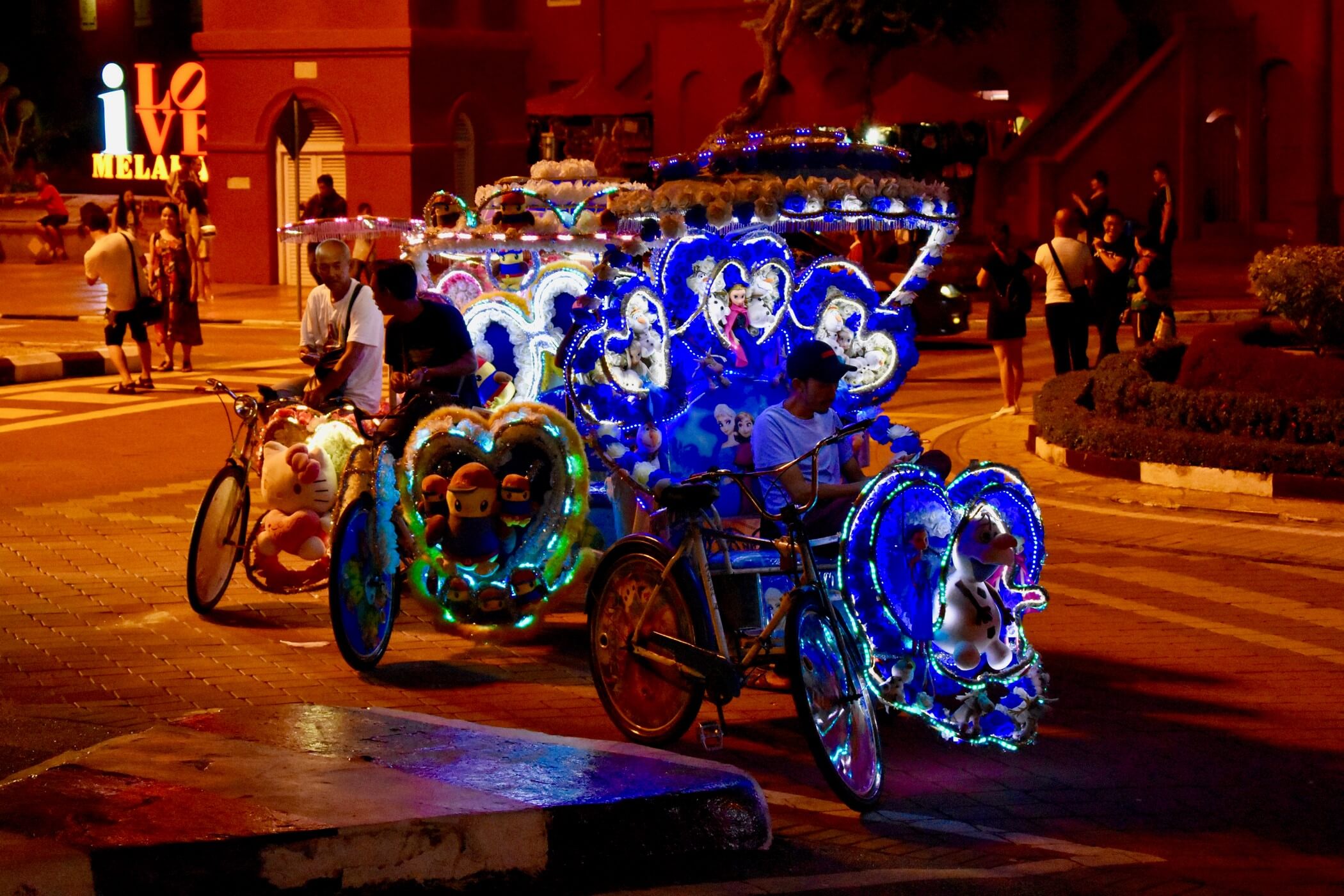 As night fell we couldn't help but notice the glitzy trishaws which Melaka is known for, racing around the streets with their music and lights on full. Not sure if you've ever seen a pink sparkly Hello Kitty decorated rickshaw pumping out drum & bass but let us tell you, it's a hell of a sight! After dinner and a well-earned (and expensive – no more Cambodian beer prices!) drink in the Geographer Cafe we turned in, excited to explore the city properly the next day.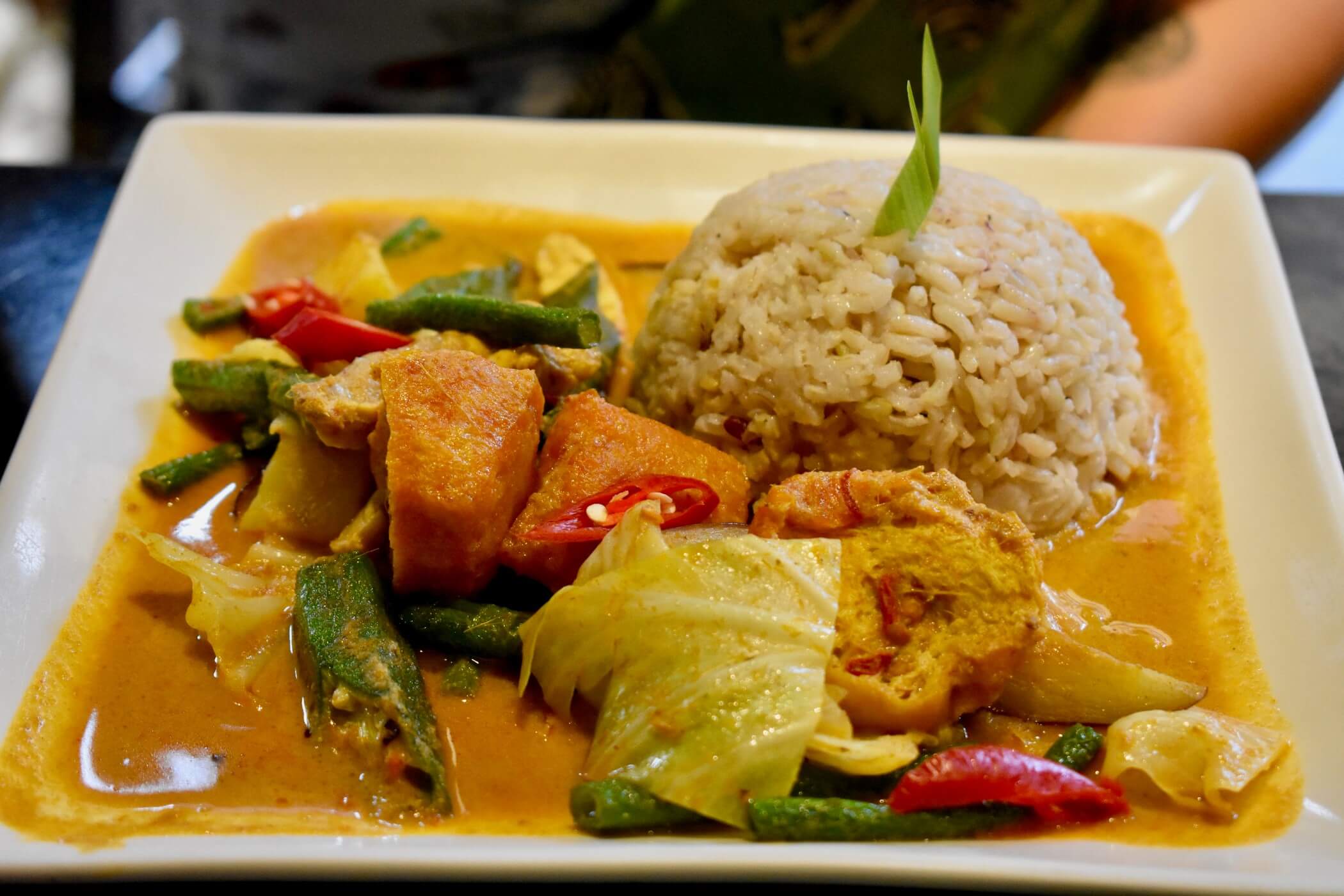 Four Days in Melaka – Day One. Lots of boats!
You may have guessed by now that food is one of our favourite ways to get to know a country! After a lazy morning we headed to another vegetarian restaurant for lunch. After a few days of mock-meat heavy Chinese food we were craving something a little less greasy, and the Green House hit the spot. I had a curry with potato and lion's mane mushrooms. I'd never tried these mushrooms before and to honest, they blew my mind a little. The taste and texture was so meat-like that I'm sure it would be easy to fool people with them. Move over jackfruit – there's a new meat substitute in town! I should tell you what David ate, but to be honest I was so excited about the mushrooms that it eclipsed everything else!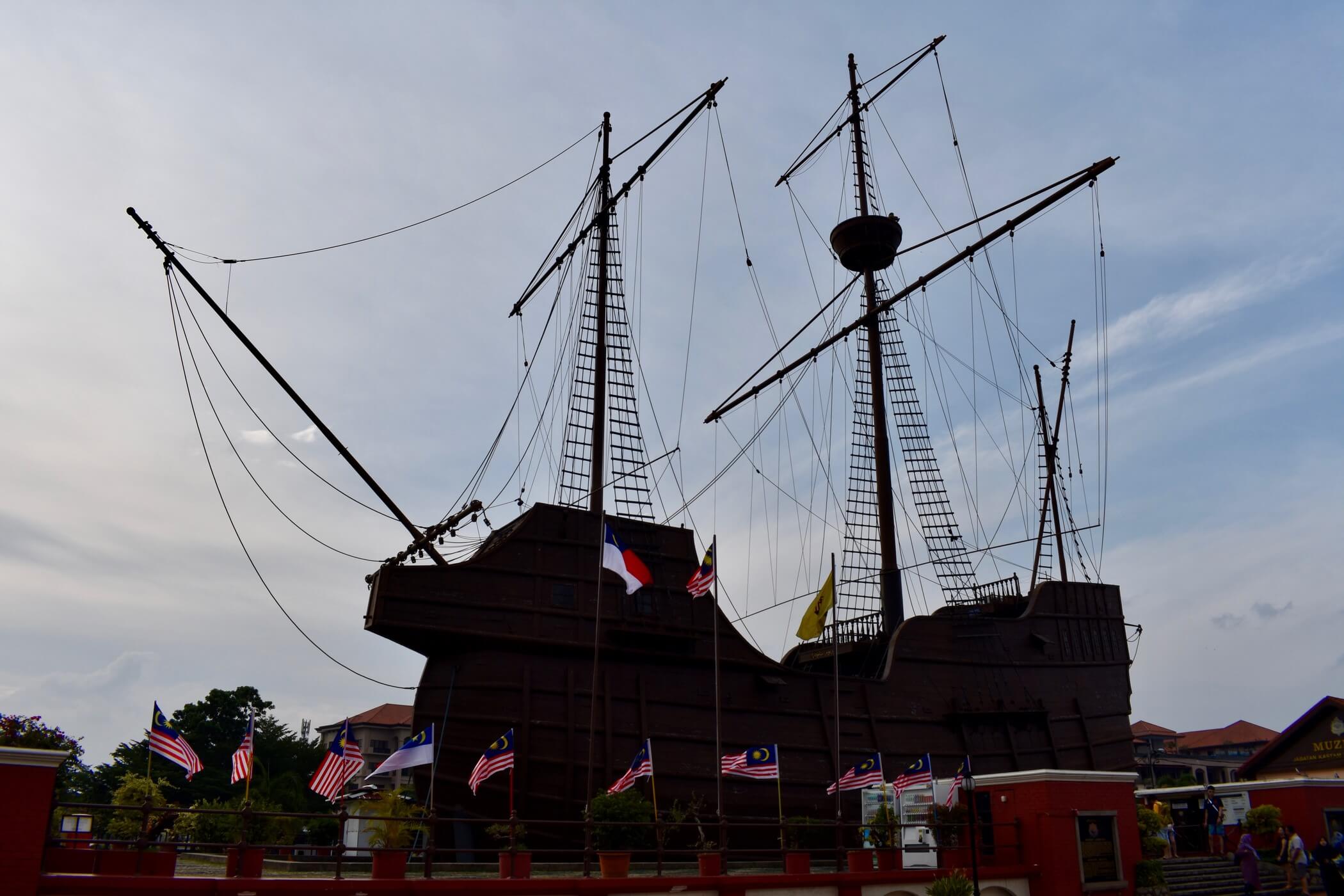 In the afternoon we checked out the Melaka Maritime Museum. This was great value as you get to see three museums with one ticket. The most exciting one is actually inside a replica of a Portuguese ship, the Flor de le Mer. You certainly can't help noticing it if you're in Melaka! Apparently the real ship sank on it's journey back to Portugal, stuffed full of plundered treasure from the Melaka Sultanate. Now the precious cargo is probably lost forever. The museums are fairly informative and well put together. We did find the third museum, all about the current Malaysian navy, a little dull. But I'm sure people who are into military history would find it fascinating – plus there's a full size helicopter inside to entertain the kids.
For dinner we tried the top-rated Indian restaurant in town, Pak Putra. Although the veggie/vegan options were really limited, the naan bread was the best we've ever had. Soft, pillowy and hot, fresh from the Tandoor oven – yum!
Four Days in Melaka – Day Two. Pretty riverside walks and hectic night market.
Day two was a clash of the old and the new! We looked around the old fort area, with the ruin of St. Paul's Church perched on top of the small hill. This church dates from 1521 and was built by the Portuguese. The whitewash walls and red stonework are really pretty, and there's a great view of the city.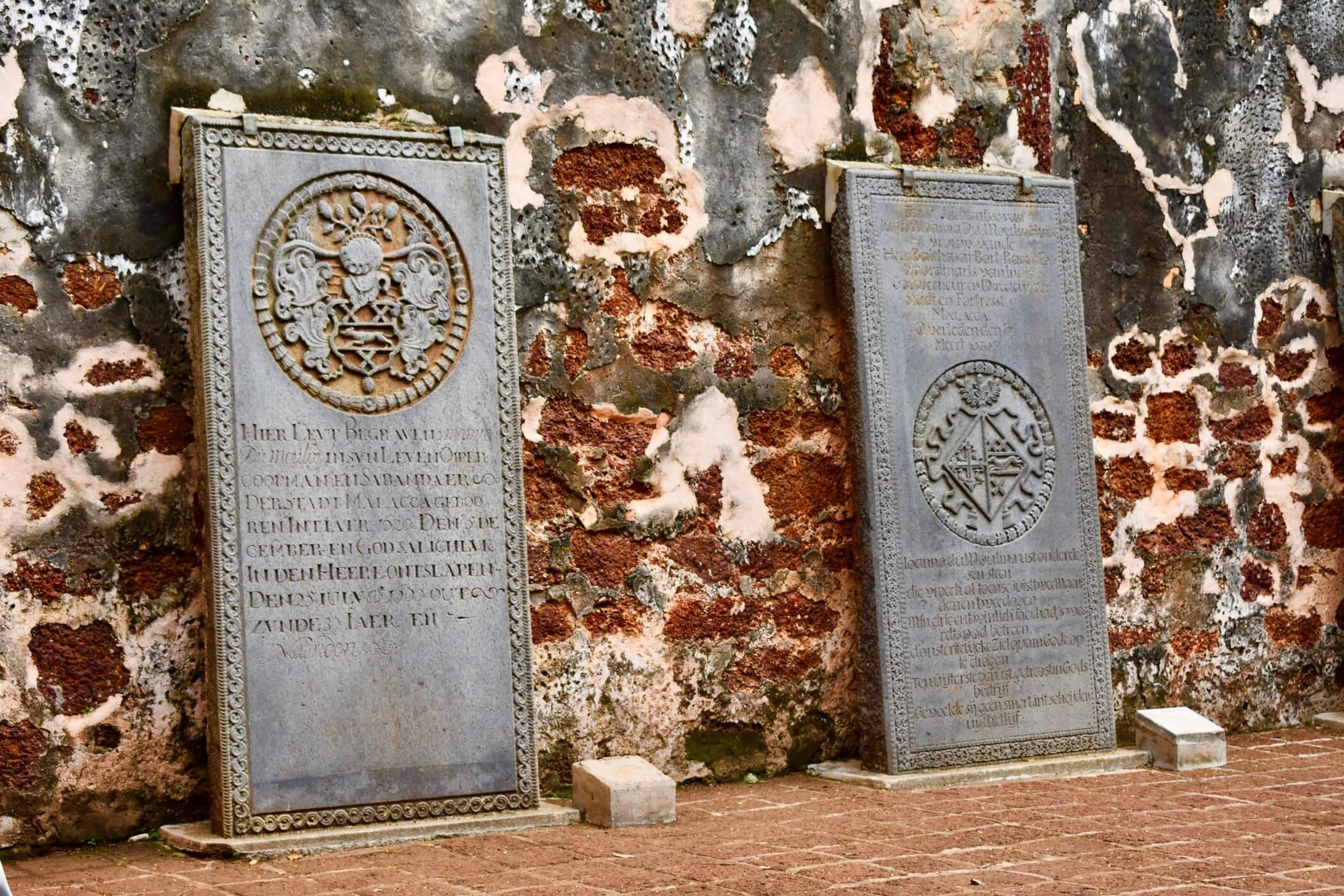 We stopped nearby for an amazing lunch (yes, at yet another Chinese vegetarian restaurant. Honestly, these places are lifesavers for vegan travellers in Malaysia!) At Man Yuan Fang I had Kung Po mushrooms which were so tasty – crispy, sticky little morsels covered in spicy sauce and sesame seeds. David had a veggie nasi lemak which came with some pretty good veggie KFC style chicken.
Melaka is just so damn picturesque, we spent the afternoon wandering along the riverside. With the pavement cafes, vibrant colours and gently flowing canal, we really felt like we'd been transplanted into a European city. Apart from the giant water monitors, which would look a little out of place!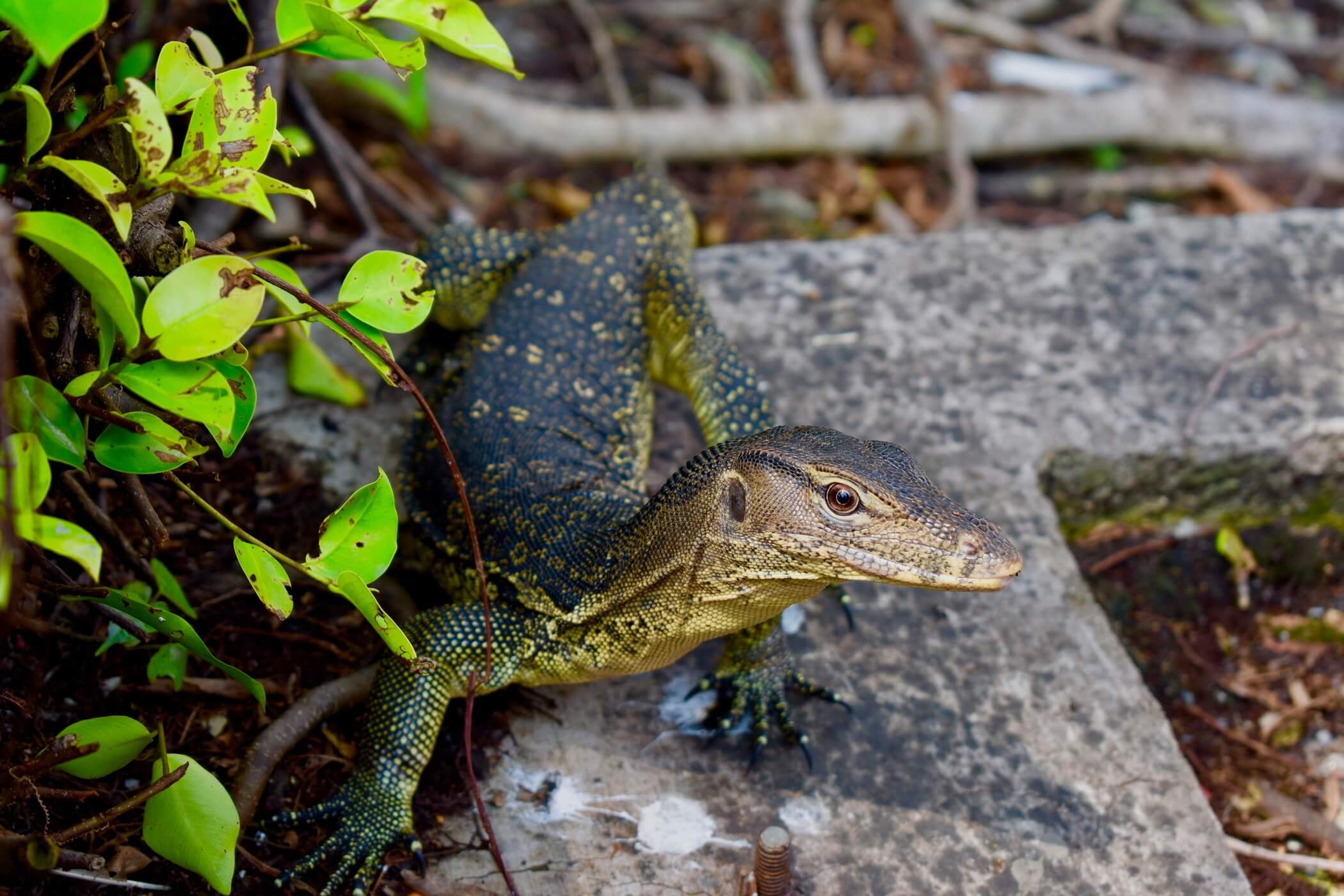 After an awesome banana leaf meal at Selvam we headed over to Jonker Street to check out the night market. To be honest it was a little overwhelming, since the street itself is quite narrow. Add a row of market stalls to each side plus a whole load of eager tourists and it soon becomes difficult to navigate! It's worth checking out for the experience but we decided to avoid it for the rest of the trip! On the way home we stopped for a quick dessert – the local speciality of Cendol. This is shaved ice, coconut milk, palm sugar, rice noodles coloured green with pandan juice, and red beans. Sounds kind of gross, right? It's actually pretty damn tasty – the overwhelming sweetness of the palm sugar is balanced out by the more savoury taste of the beans. And who doesn't appreciate worm-like green noodles in their pudding?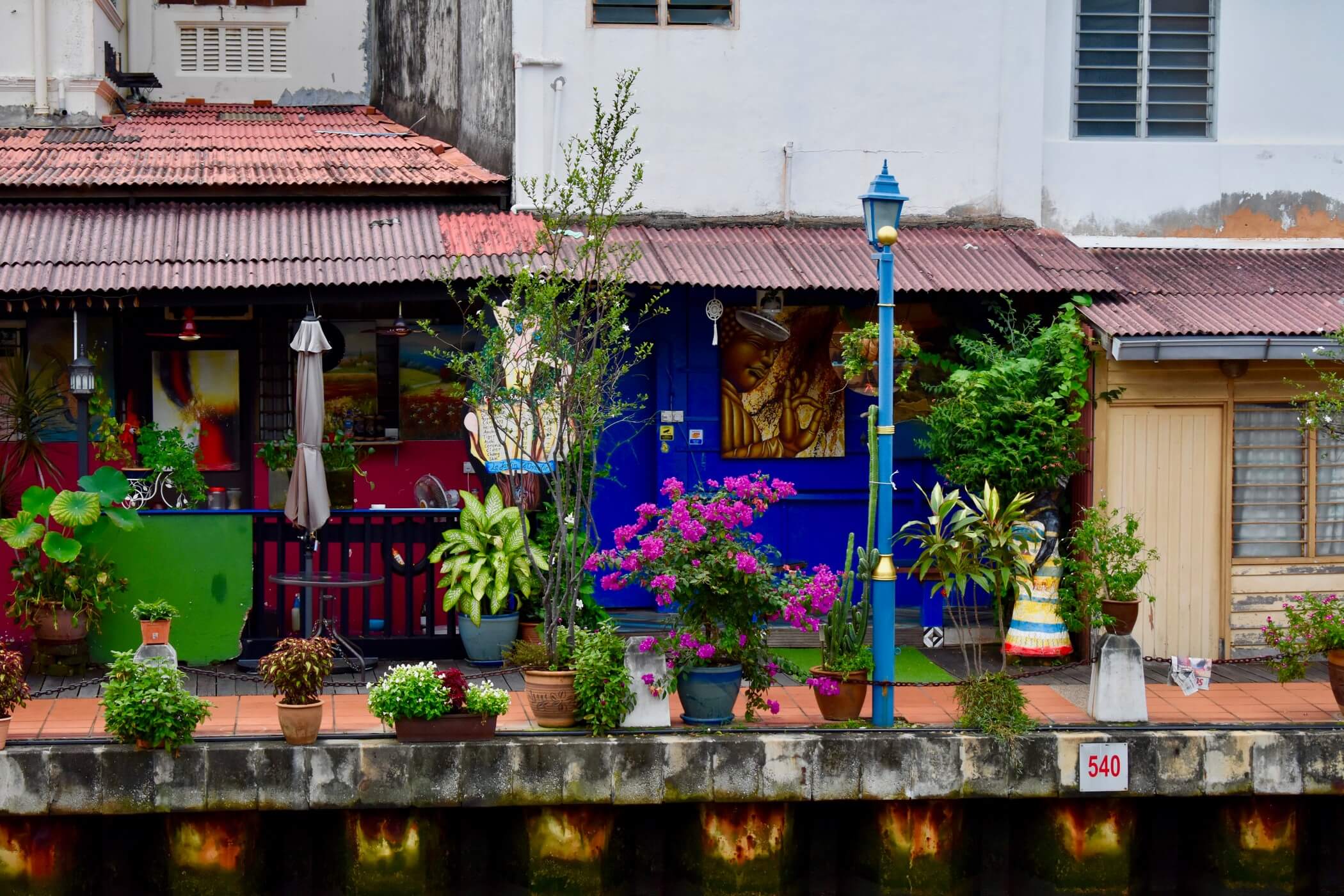 Four Days in Melaka – Day Three. Street art and a special day.
Our third day in the city also happened to be our two year anniversary. Yay us! We celebrated the best way we know how – with food of course! There wasn't a cloud in the sky as we trekked across the city in the blazing heat, making a special trip to a highly recommended veggie restaurant, Vege Good. This was the spiciest yet, but we were up to the challenge! As well as our tasty curry dishes we shared some satay tofu skewers which were out of this world. We love satay, but it's almost always reserved for meat dishes. When we see a vegan version on the menu we'll order it every time!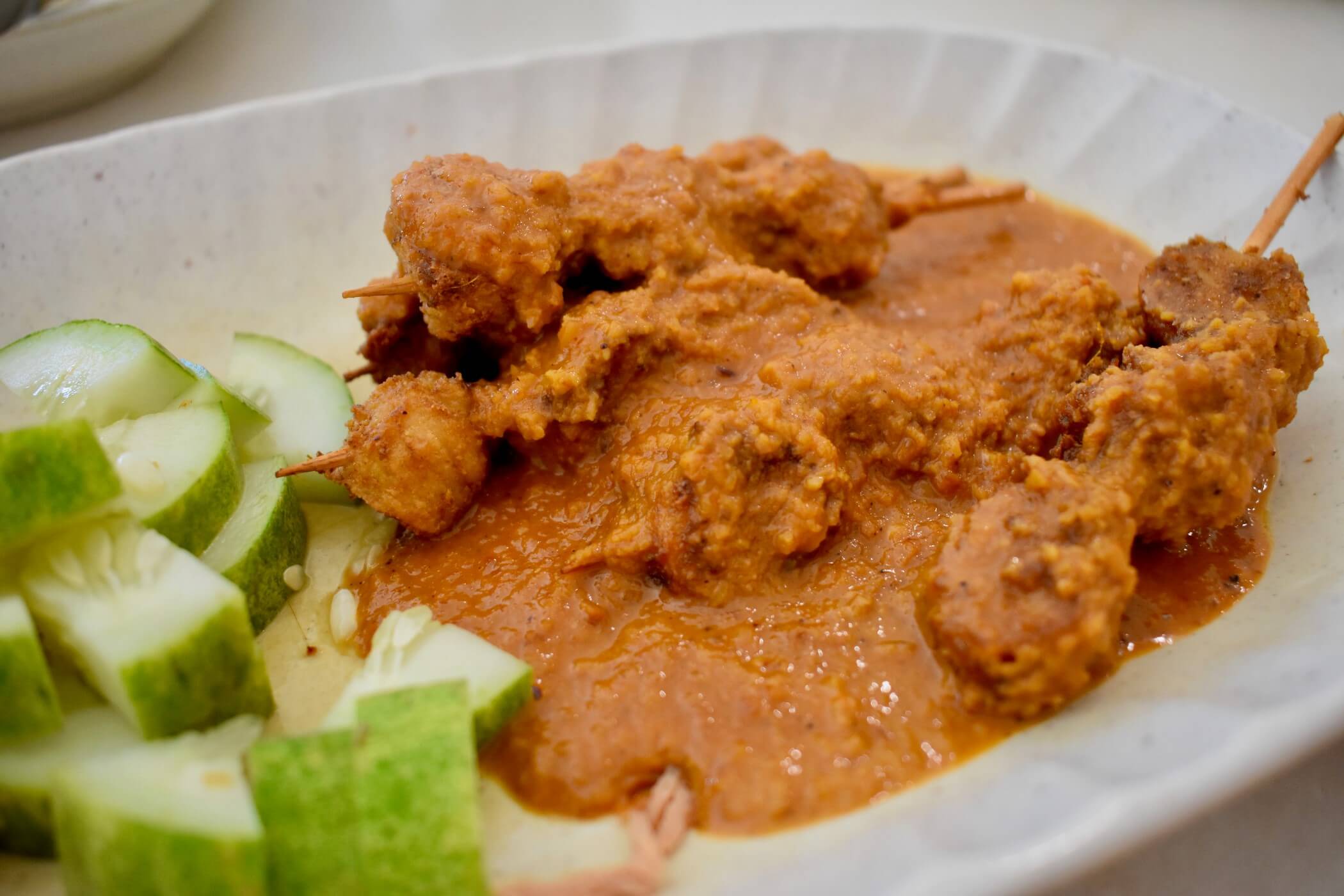 Melaka has a pretty good street art scene, and we had fun wandering around the winding streets in the early evening sunlight trying to find as many pieces as we could. My favourite is the orang-utan, and David loved the huge vibrant mural of four women. There's also a fun street of little interactive pieces.
For our anniversary dinner we headed to somewhere a little higher than our usual budget, Seeds Garden Bistro. It was a mixed bag to be honest. David's vegan pizza was really delicious, and the fresh spring roll wraps that we shared were tasty and beautifully presented. I had a fairly bland pumpkin soup but it did come with some yummy basil toasts. Our main criticism was that the portions were all pretty tiny!
We rounded off the day with the return of Premier League football. In the cosy but slightly cheesy Sid's Pub we toasted to an amazing two years together, and also caved in and got some chips to supplement our tiny dinner!
Four days in Melaka – Day Four. Mosque at sunset.
We needed to check out of one room and into another, so we spent the morning hanging out at the hotel and doing backpacker-admin tasks (looking at bus times, booking hostels etc, very boring!) By the time we'd finished it was time for lunch – yay! We were going to check out somewhere recommended by some fellow travel bloggers (Hi Veggie Vagabonds!) but unfortunately it was closed. The sun was beating down and our stomachs were rumbling as we headed to our plan B…only to find that was closed too! Finally, in one of those serendipitous moments, we found one of the best restaurants of the whole four days in Melaka. At Mori Vegetarian Tea House I had black vinegar and ginger 'pork' and David had a veggie curry. You remember those mushrooms that I was raving about earlier? Well, they popped up in my lunch, masquerading as pork. It was probably the most delicious Chinese dish I've had in my entire life. For real. David's curry was really fragrant and full of flavour too.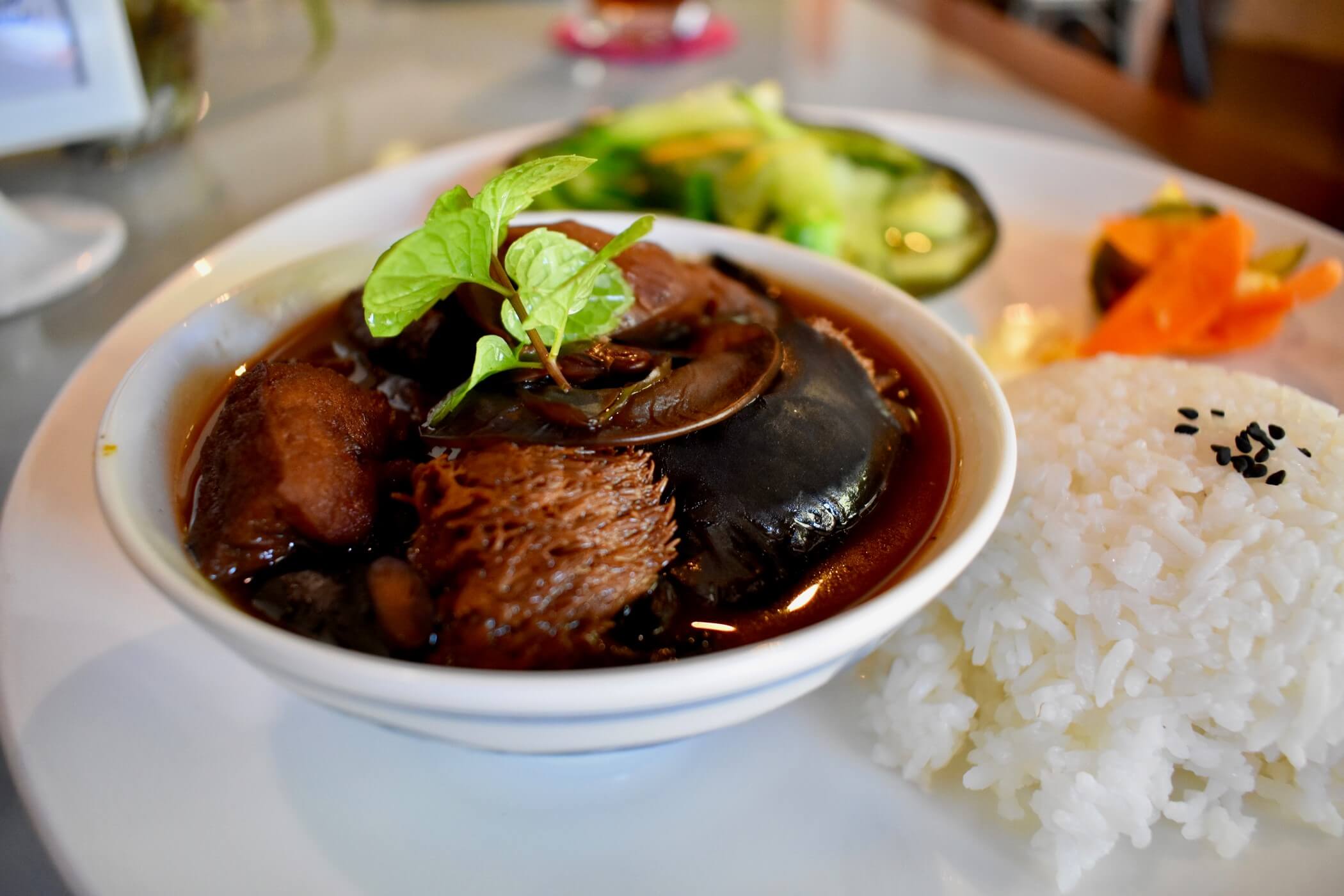 Our task for the evening was to catch the sunset at the Melaka Straits Mosque. This new building was constructed in 2006 and is dubbed the 'floating mosque' as it is built over the water on stilts, and when the water level is high it looks like it is floating above the sea. We had to do a bit of a power walk over there as it's a little way out of town, but the sunset was more than worth the effort. The whole sky turned pink and purple, while the mosque glowed green and the call to prayer rang out over the bay.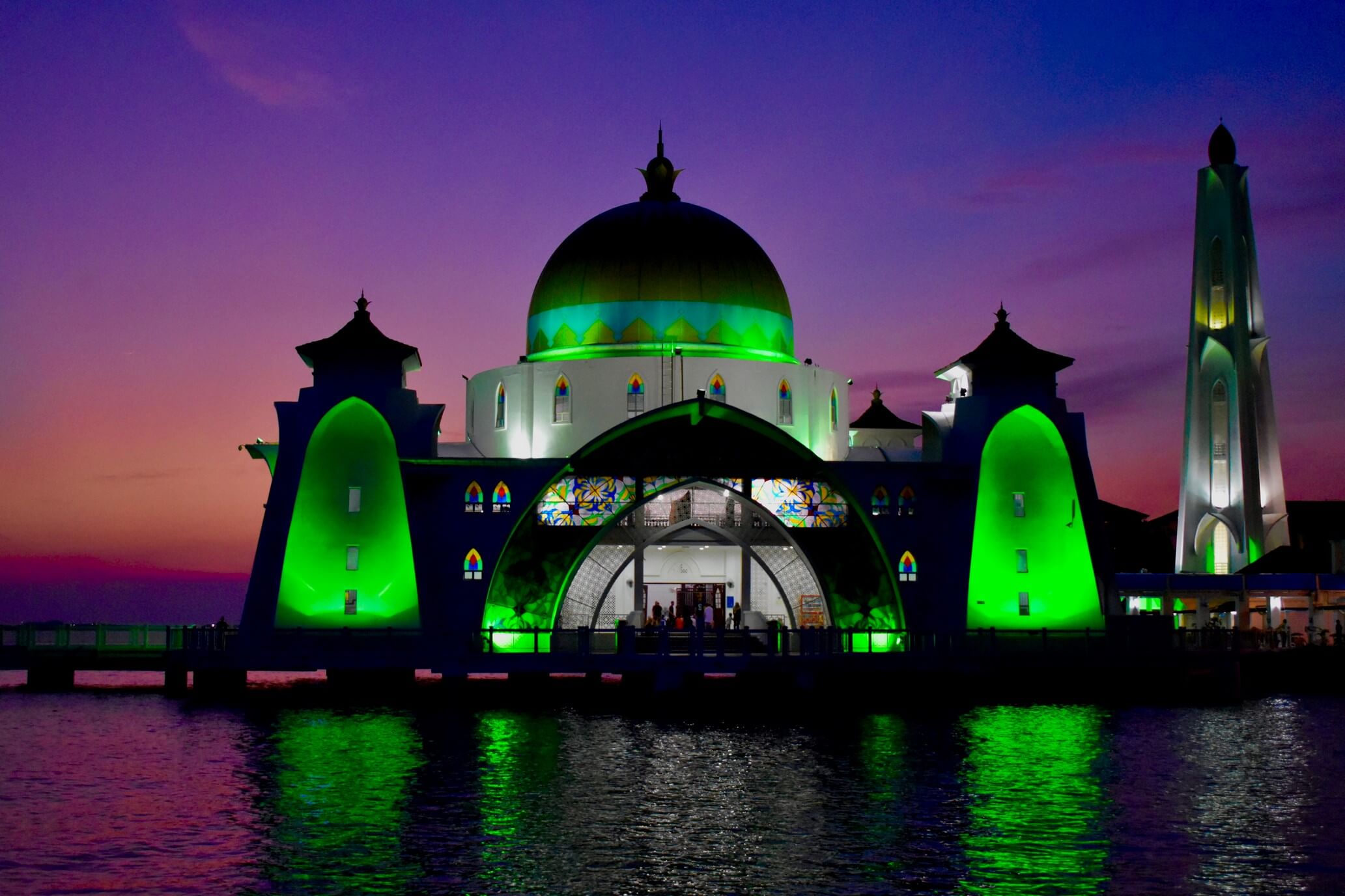 We're off to the Cameron Highlands tomorrow. Hopefully we'll be having a little break from the intense heat amidst green tea plantations and mossy forests. Sounds great! C & D xx
Our Top Tips for Four Days in Melaka
We stayed at Riverside Cardamom which cost us 52 MYR per night for a private room with shared bathroom. It was really comfy and quiet, with air conditioning, free tea & coffee and hot showers. There was never anyone around to ask for information though – we think we were alone in the building for the first night!
Vege Good is a fab veggie restaurant – there seemed to be just one lady running it on her own while we were there and so was so lovely. The tofu satay was amazing, and there is loads of choice.
Mori Vegetarian Tea House did the best food of the whole stay…the black vinegar and ginger 'pork' was out of this world. Not cheap, but the set meals are good value.
The Melaka Maritime Museum only costs 10 MYR for entrance to three separate museums, so it's good value. Plus, you get to go on a big fake boat, and who doesn't enjoy that?
Wander the streets of Chinatown and along the canal side to soak up the atmosphere and see some impressive street art.
It's worth the effort to get out to Melaka Straits Mosque for sunset – it's crowded but the view is amazing. We walked there and back, but it was quite a walk and it was very dark on the way back. Maybe get a Grab taxi.
Bus 17 goes from the bus station straight into the centre of town for only 2 MYR, and all the main sights are within walking distance from the centre.
We hope you've enjoyed these tips for four days in Melaka. Let us know in the comments if there's anything we've missed! Just so you know, we use affiliate links in this post. You can find out more here.