Vegan Travel in Thailand: It's Easy and Tasty!
Thailand is one of those places that people dream about visiting. Have you ever been stuck behind a desk and wished you were on a paradise island with crystal blue waters? Or been stuck on the Underground and daydreamed about lush green forests? Thailand has something for everyone, and the good news is that vegan travel in Thailand is now easier than ever! Here are our top tips.
Vegan Travel in Thailand – is it really easy?
Veganism is actually fairly well-known in Thailand, so you might not have to struggle to explain to people as much as you might expect. The country has a fairly high Buddhist population, many of whom follow a vegetarian diet. Often the Asian interpretation of vegetarianism excludes eggs too, and since dairy is not a huge part of traditional cooking here, you're usually in good hands. There are fresh fruits and vegetables everywhere. Market stalls overflow with green veggies, and hawkers sell freshly cut mango, pineapple or dragonfruit slices to eat then and there.
There is even a special word in Thailand which refers to veganism – Jay. This means food that is free from all animal-derived ingredients. You can proudly proclaim chan gin jay (female) or pom gin jay (male) – which basically means I eat vegan food.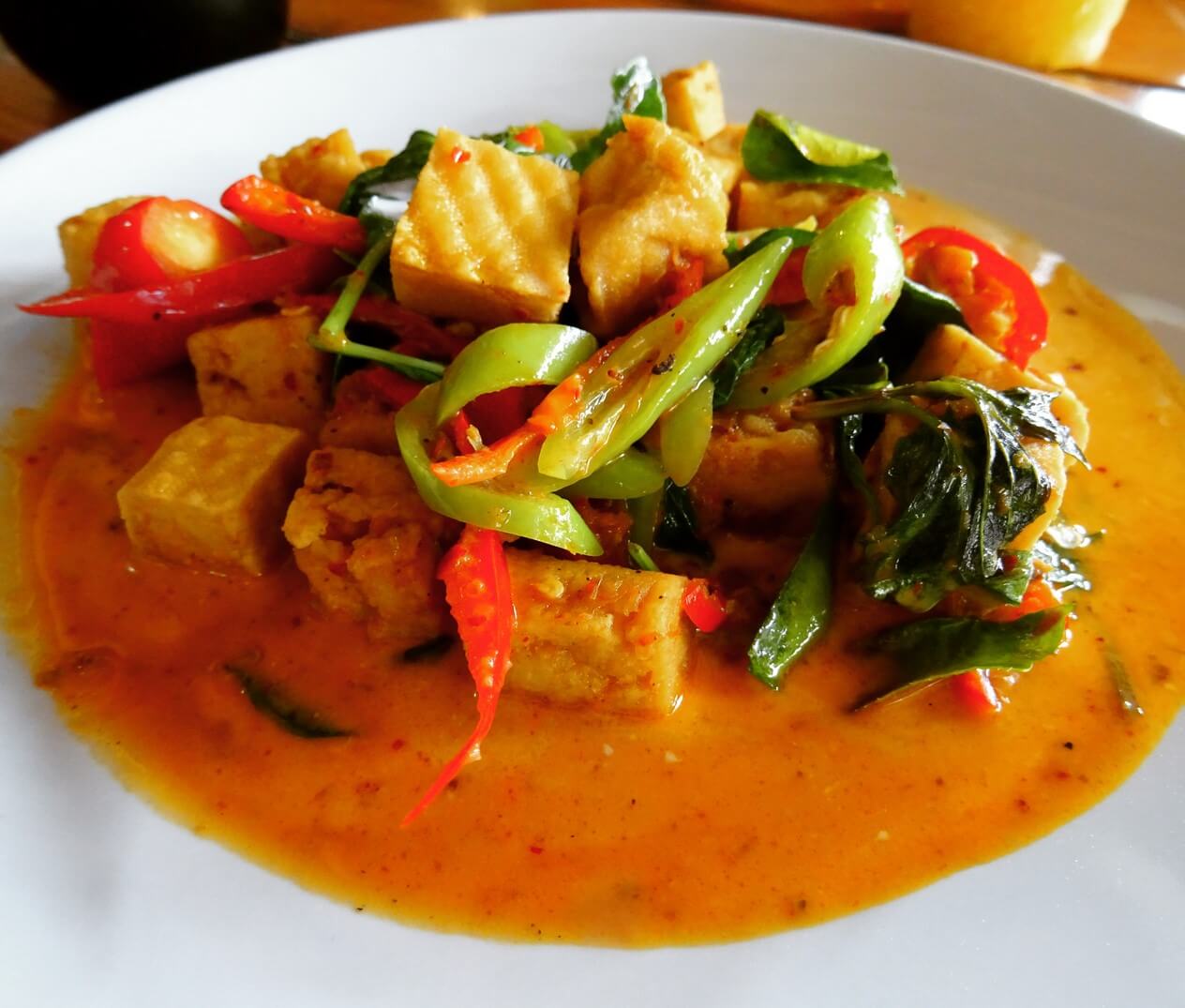 Vegan Travel in Thailand – Thai Dishes that are Vegan
It may surprise you that some traditional Thai foods are already vegan. Yes, there is meat on skewers everywhere, and fish ball soup, but that's not all there is. Fish paste is used as part of the base in many dishes such as Tom Yum, so some care is needed even if a veggie option is offered. But other dishes tend to have a vegan base, so you can happily order a tofu or vegetable version and not worry. Here are some of our favourites:
Stir-fried vegetables
This is the easiest vegan dish to get hold of and if you're craving fresh crunchy veggies in a tasty sauce then it's perfect. Basic versions will be mixed veggies such as cabbage, broccoli, carrots and morning glory, stir-fried in a savoury soy sauce, sometimes with chilli. If you're in a restaurant with a larger menu you'll often find a few options to choose from – for example mushrooms and ginger, or morning glory and chilli. The basic mixed fried vegetable dish is called Pad Pak – make sure you clarify that you don't eat fish sauce (nam pla). It will usually come with rice, and there are little pots of dried chilli to add if you want a kick!
Vegetable fried rice
Otherwise known as Khao Pad, this is your basic vegetable fried rice and is another dish that you will find easily. Contents can vary, from plain veggies to tofu or cashew nuts. Make sure you specify no egg (kai).
Pad See Ew
This is a tasty stir-fried noodle dish. The main components are wide flat noodles, stir-fried in soy sauce. Then you can usually specify if you want meat, egg, or veggies added. As with many street stalls, you can add things like dried chillis and chopped peanuts to taste.
Summer rolls
Ok, so these are technically Vietnamese but are eaten widely all over SE Asia. These are the spring rolls' fresher cousins! They consist of very thin rice paper rolls, stuffed with crunchy raw veggies such as carrot, beetroot, cucumber and greens. Dunked in a sticky soy sauce or sprinkled with sesame seeds, they make a great snack!
Mango sticky rice
Oh boy, I couldn't write a post on Thai food without mentioning this amazing dish! Sticky sweet rice served with fresh mango and coconut milk drizzled over the top – what isn't to like?
Vegan Travel in Thailand – Vegetarian Restaurants
Vegetarian restaurants are where vegan Thai food really comes into its own. Here you can happily tuck into veggie versions of traditional Thai dishes such as Green Curry, Massaman Curry and Papaya Salad without fear of any lurking fishy notes! You'll find vegetarian restaurants almost everywhere in Thailand. Many will be cheap local places, often Buddhists, offering veggie buffets or simple dishes.  There's the ever-present pot of dried chillies on the table if you want more heat.  Many of these places offer varieties of mock meat which are interesting to try and often really convincing! You may find the occasional egg dish lurking on the menu or in the buffet, but if you ask they'll usually understand and be able to point these out for you.
When searching for veggie stalls or restaurants, look out for the symbol "jay". It will be written either in Thai ( เจ) or in the traditional Chinese character (齋). It will often be in red on a yellow background. You'll see it on products in shops such as 7-Eleven too!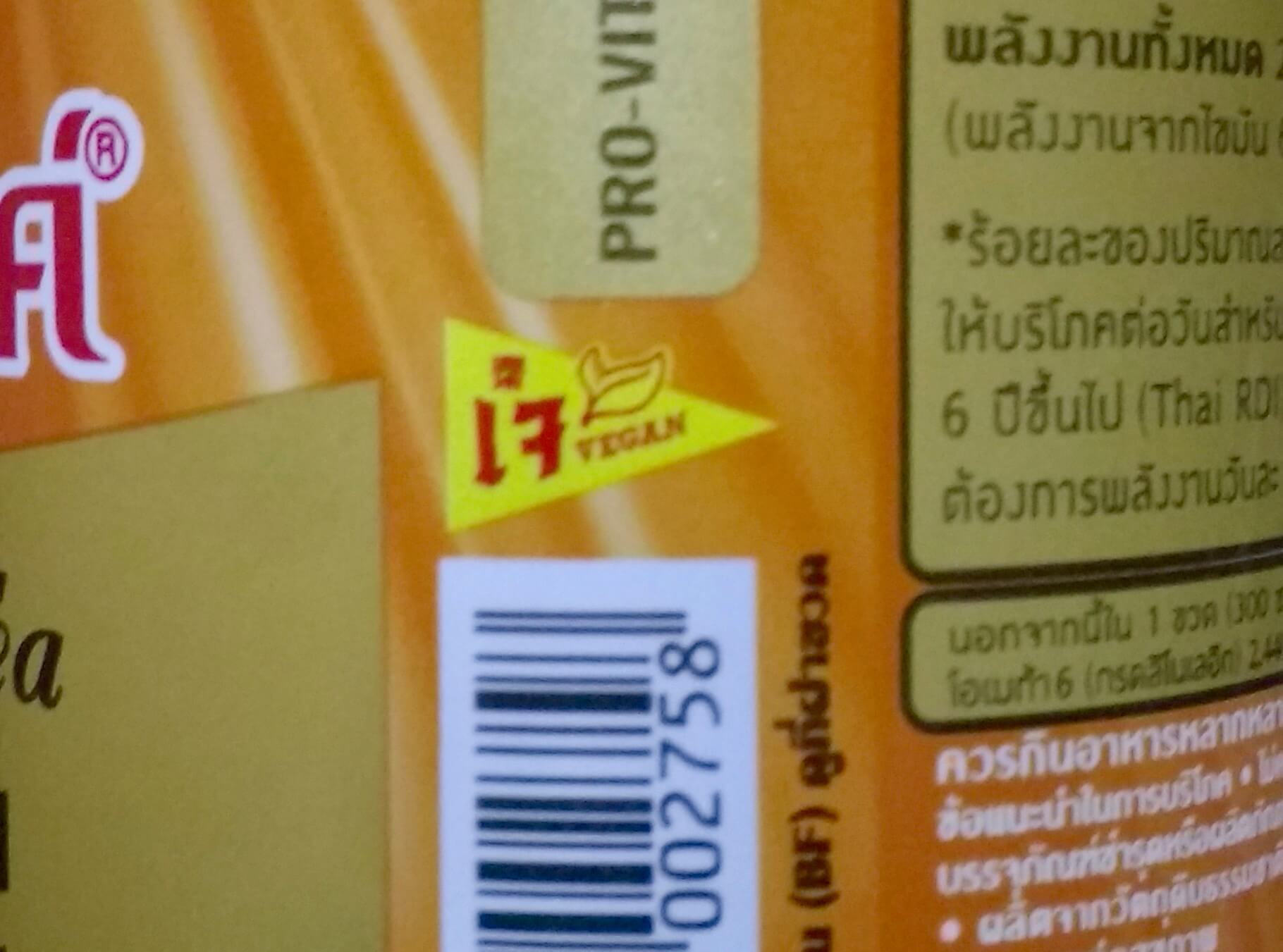 Vegan Travel in Thailand – Our Favourite Spots
Destinations which have been on the traveller circuit for years are now offering an amazing selection of vegan foods, from traditional Thai dishes to exciting new creations. Here are some of our favourites from the backpacker hotspots:
Chiang Mai 
I think we'll have to write a separate post on vegan food in Chiang Mai at some point! There are just so many amazing places to choose from. At the budget end, there are street food stalls such as Lada Vegetarian Food (they do a vegan Khao Soi which is amazing!)and Chinese places like Tien Sieng. For those travelling with Omnivores, there are great options at Blue Diamond and Kat's Kitchen. Vegans will feel like they're in paradise with vegan cakes on offer at Bodhi Cafe and a pure vegan menu at Goodsouls.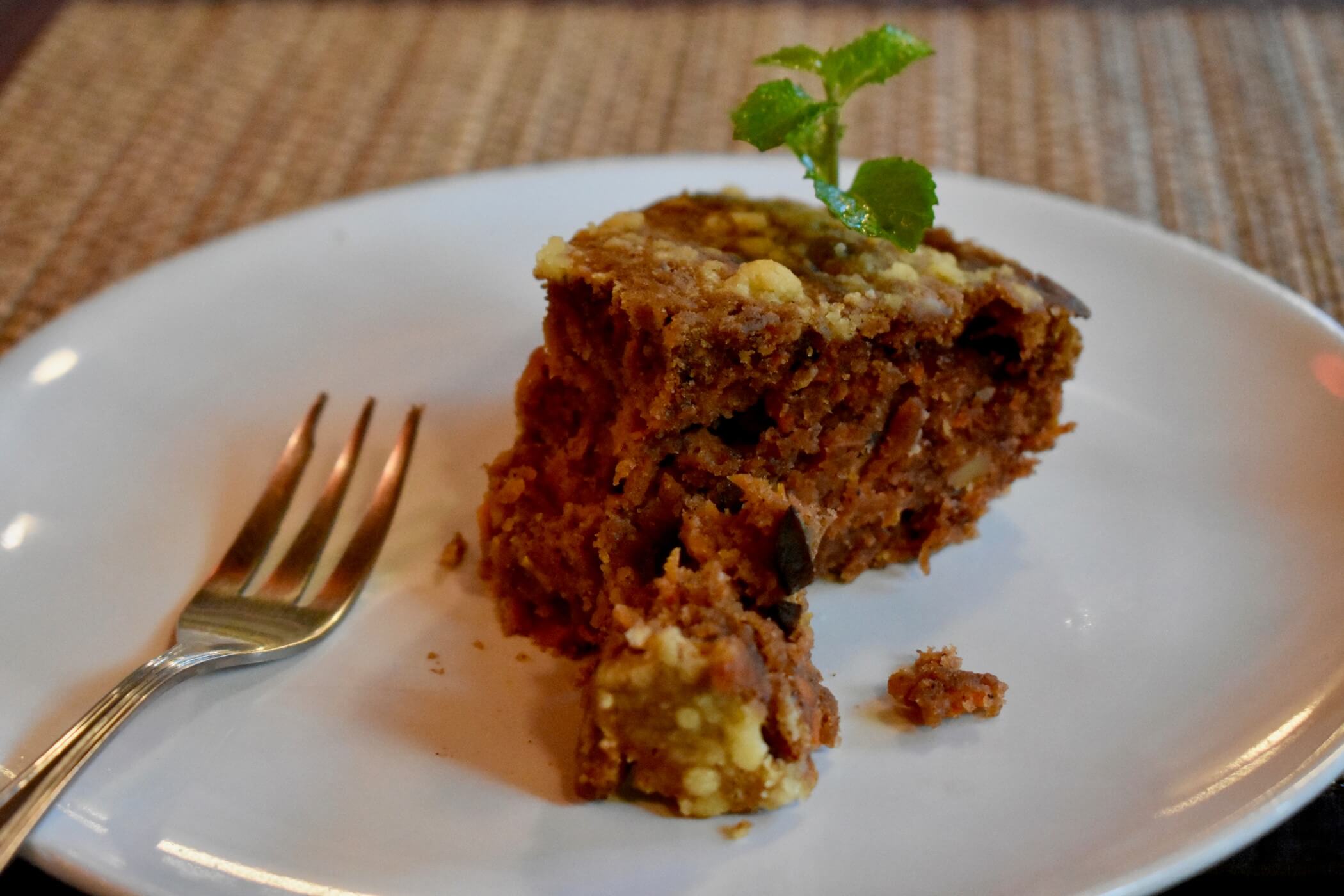 Bangkok 
We were blown away by the amazing Veganarie in Bangkok, where we enjoyed pulled pork burgers and fried chicken waffles. Their 100% vegan menu is huge and features Thai and Western food alongside cakes and milkshakes. It's not cheap, but worth a splurge. If you're in need of a cheap option near Khao San Road, there are huge falafel pittas at Shoshana's or the incredibly cheap and basic Arawy. Also highly recommended are Broccoli Revolution and May Veggie Home.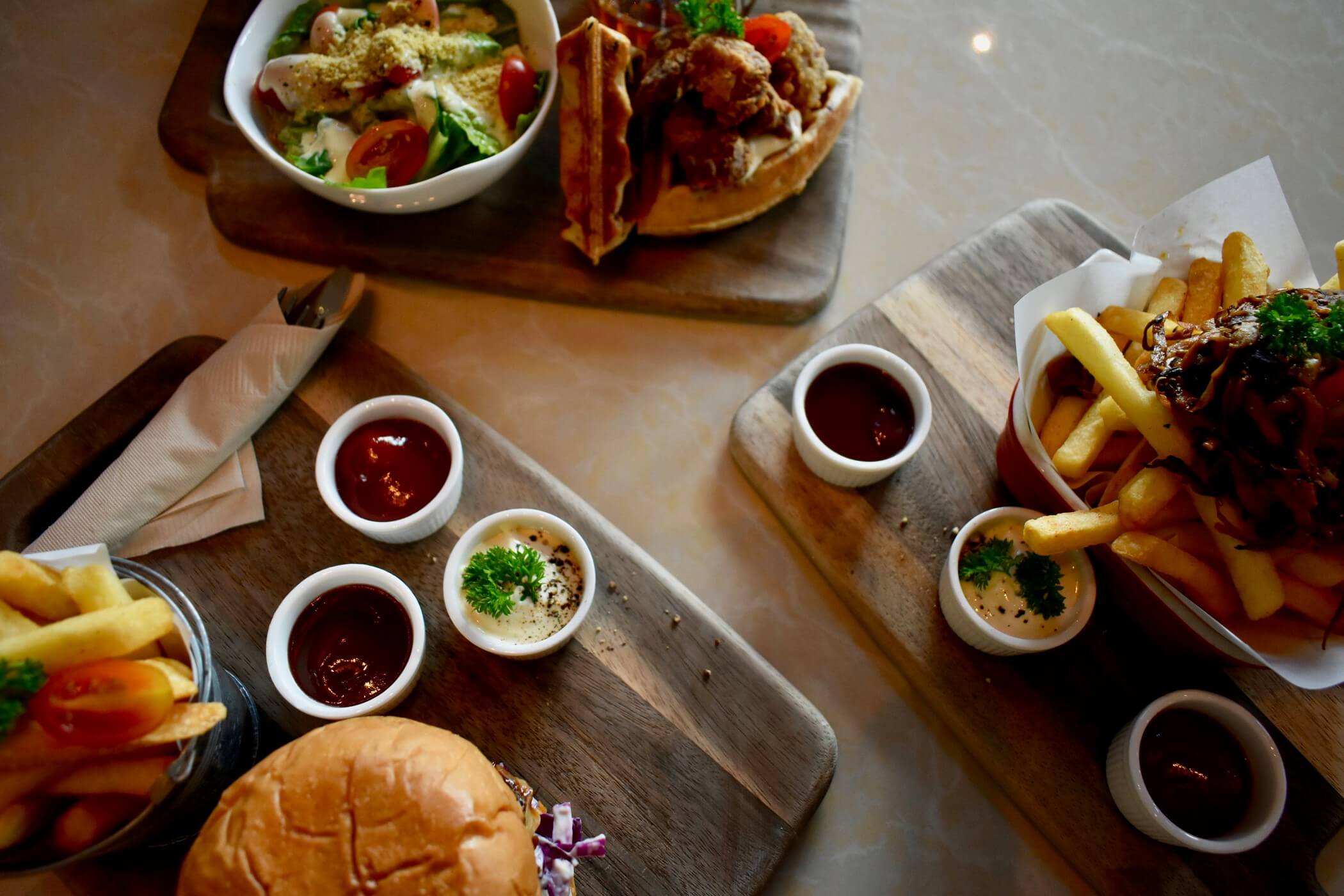 Pai
We loved Pai. We intended to stay for two days and ended up staying for just over a week! To read about some of the amazing food we found there (including a falafel pitta bigger than my head!) you can read our post here.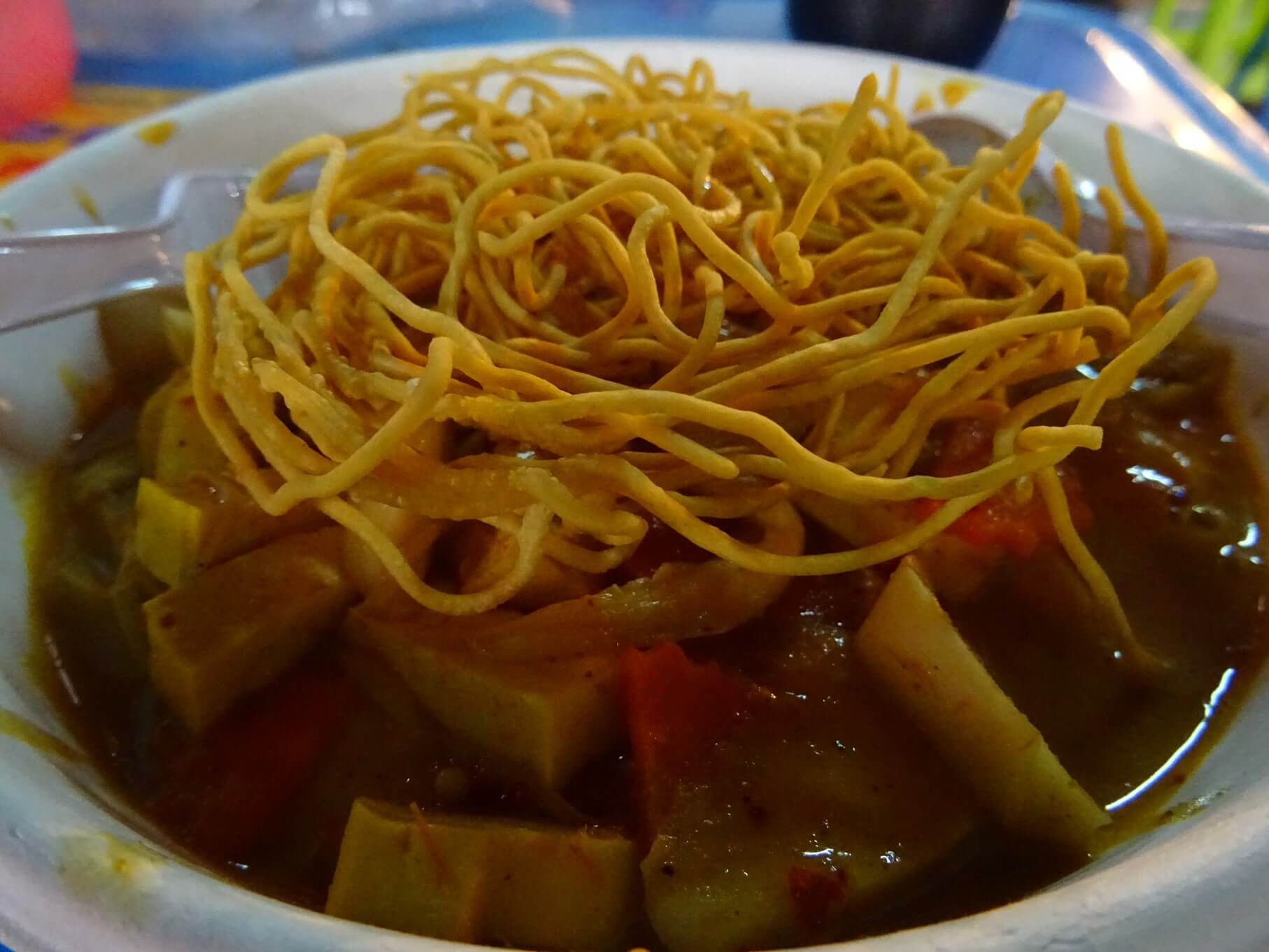 Vegan Travel in Thailand – Some Useful Phrases
As stated above the most useful phrase is Gin Jay. (It's pronounced to rhyme with kin, not the alcoholic beverage!)Because 'Jay' refers to a religious diet, vendors are likely to take this more seriously than trying to explain what you do not eat. It's such a handy catch-all phrase! You can just tack it onto the name of whatever food you are ordering, for example, "Vegetable Green Curry Gin Jay" or you can say at the start of your order chan gin jay (female) or pom gin jay (male) which basically means I eat vegan.
You can also include these phrases if you like:
Mai sai kai – without eggs
Mai sai nam pla – without fish sauce
We hope this is a useful beginners guide to vegan travel in Thailand. Please let us know in the comments if you have any other handy tips!
And as always, Happy Cow is your friend!