Vegan Sri Lankan Dhal Recipe with Coconut Roti: A Comfort Food Feast
Welcome to the second in our recipe series! We've eaten so many amazing dishes on our travels, and one of the things we enjoy most is experimenting with those new flavours in our kitchen, then coming up with our own versions of classic national dishes. Today we have something really delicious to show you. Here's a vegan Sri Lankan dhal recipe, served with tasty and easy to make flatbreads.
What is the food like in Sri Lanka?
Oh man, if you ever visit Sri Lanka, you are in for a treat. There were lots of reasons why we fell in love with this beautiful  country, but food was definitely one of the main ones. Whether you are a meat-eater, veggie or vegan, there is something for you.
One of the staple meals is simply referred to as Curry and Rice. You'll see it on menus up and down the country. This refers to a plate of rice with at least two different types of curry, usually more, served with roti breads or poppadoms and a spicy symbol or fiery pickles. This is always accompanied by a delicious, fragrant lentil dhal. We fell in love with the style of dhal they serve in Sri Lanka. It's comfort food at its finest. Warming, fragrant, lightly spiced and laced with coconut milk, it is the dish that will stay with us as one of our favourite memories of this amazing country.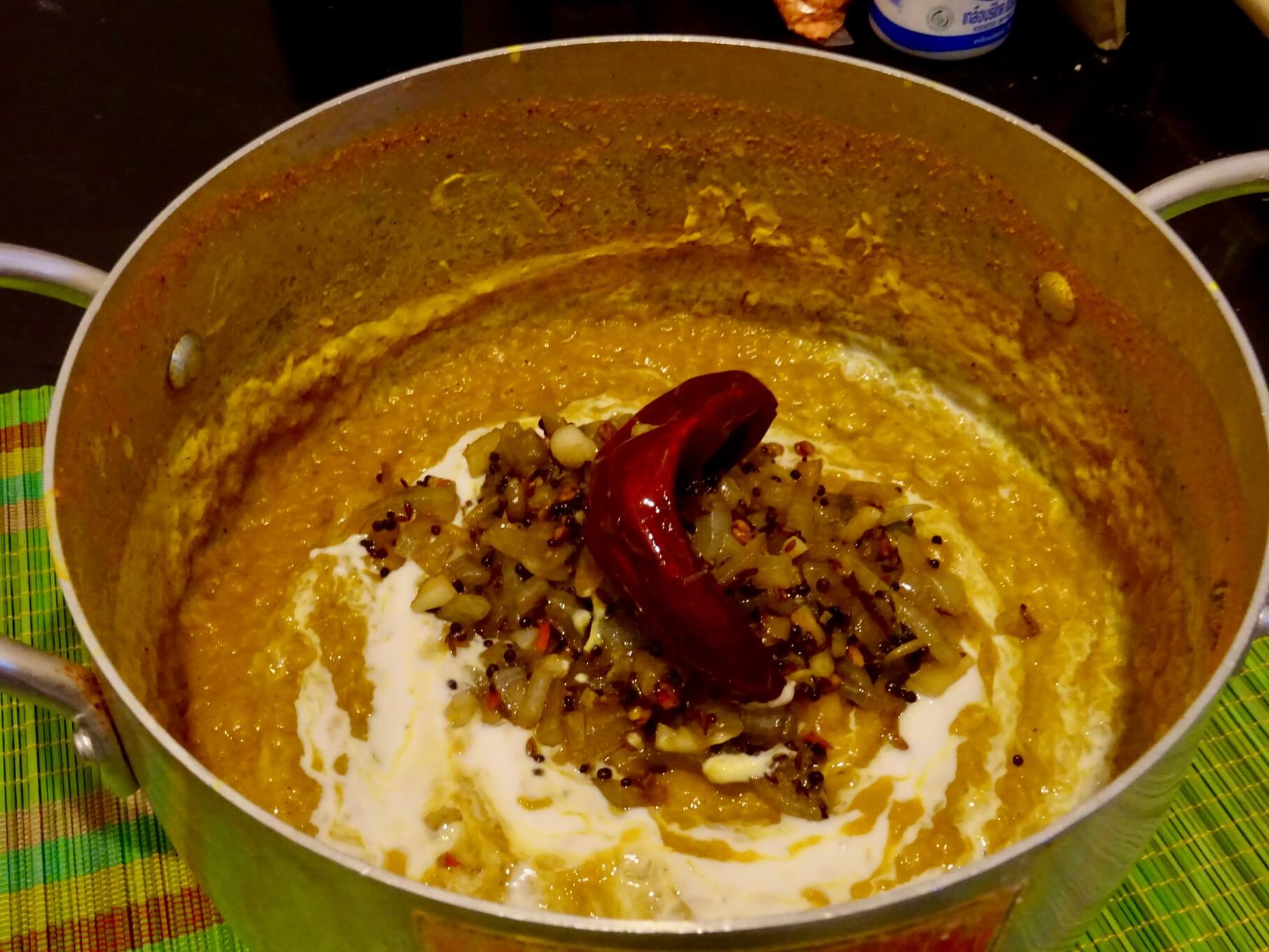 What is dhal, and why is Sri Lankan dhal so good?
Dhal is an all-encompassing term used for a curry or soup made from dried split pulses. Usually lentils but it can also include split peas, split mung beans or even black chickpeas.
Dhal is one of my favourite foods because it is healthy, versatile and (most importantly) cheap! When I lived in a grotty studio flat in Brighton which ate up most of my income, I used to buy red lentils by the kilo and make huge batches of dhal to keep me going. It's eaten all over the Indian subcontinent and there are so many varieties that it's mind-boggling. Different countries and regions will use varying methods and spices. You might get a spicy black lentil soup in one area, then order dhal in another country and get a thick yellow smoky stew.
Sri Lankan dhal is lightly scented, made from red lentils simmered with turmeric. The dish is topped with fried onions and spices. It can be quite fiery but when you make it yourself, the topping mixture can be adjusted to taste! It is usually finished with a swirl of coconut milk to add extra creaminess.
What are coconut rotis?
Coconut roti, or pol roti, are eaten all over Sri Lanka for breakfast. But if you don't fancy them as a breakfast dish they go really well with our vegan Sri Lankan dhal recipe! These flatbreads are made with fresh coconut. They can be eaten plain or made with chilli and red onion in the mix, as we have done in our recipe. They are amazing served with a spicy sambol – freshly grated coconut mixed with finely chopped chillies, red onions, black pepper and lime juice.
Vegan Sri Lankan Dhal Recipe
This recipe makes enough dhal for four if served with rice. Or it serves two greedy people like us straight out of the bowl and scooped up with warm roti!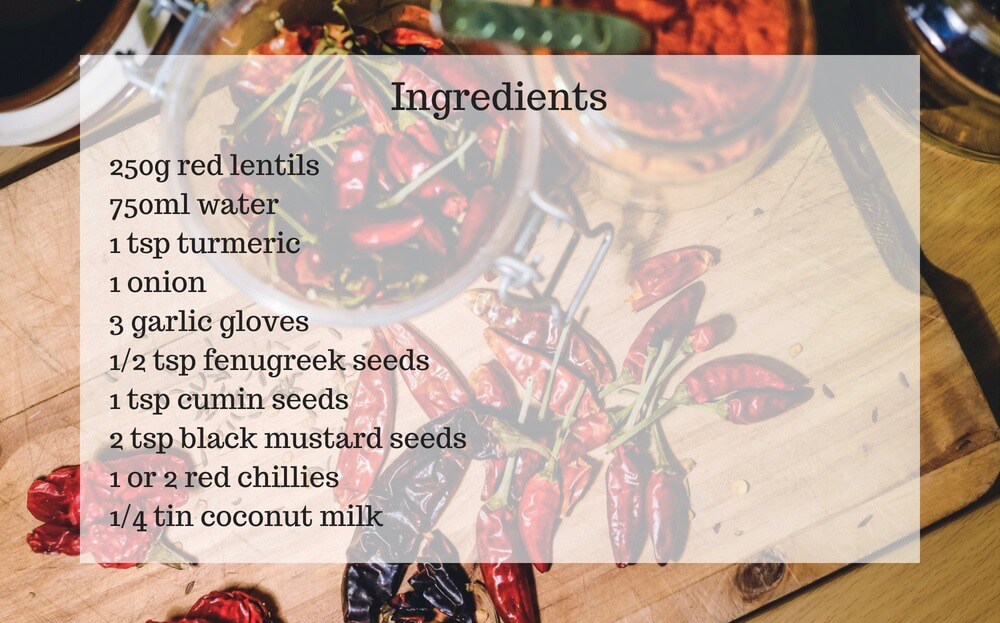 Method:
Rinse the lentils three times. Put the lentils, water and turmeric in a large pan and simmer for 30 – 45 minutes, or until they are soft and have absorbed all the water. You can add a splash more water if they are drying out and sticking to the bottom of the pan. Season with salt and pepper.
Meanwhile, make the spicy onion topping. Chop the onion, garlic and chilli, and fry in a little oil on a medium heat until soft and translucent. Next, add the mustard seeds, fenugreek seeds and cumin seeds and fry long enough for them to release their aromas.
Once the lentils are cooked, stir in the coconut milk and top with the fried onions and spices.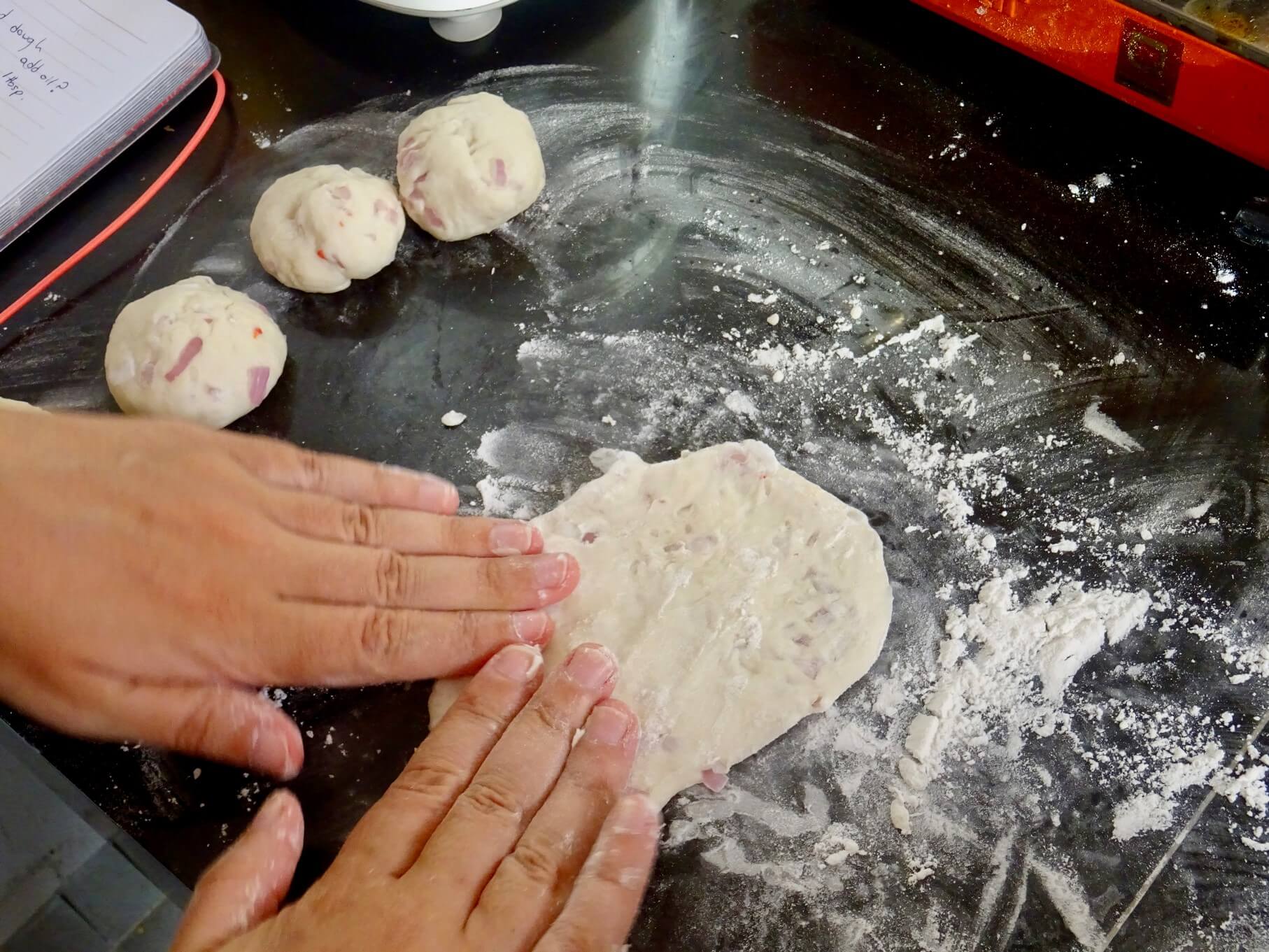 Coconut Roti:
These go really well with our vegan Sri Lankan dhal recipe. They are really easy to make, and don't even require a rolling pin! Makes 8 small flatbreads. You'll need:
1 cup (ish!) water
3 cups plain flour
1 tbsp olive oil
1 cup freshly grated coconut (you can use desiccated coconut if it is easier to find, just mix with a tiny splash of water to take some of the dryness away)
1/2 red onion and 1 – 2 chillies – very finely chopped.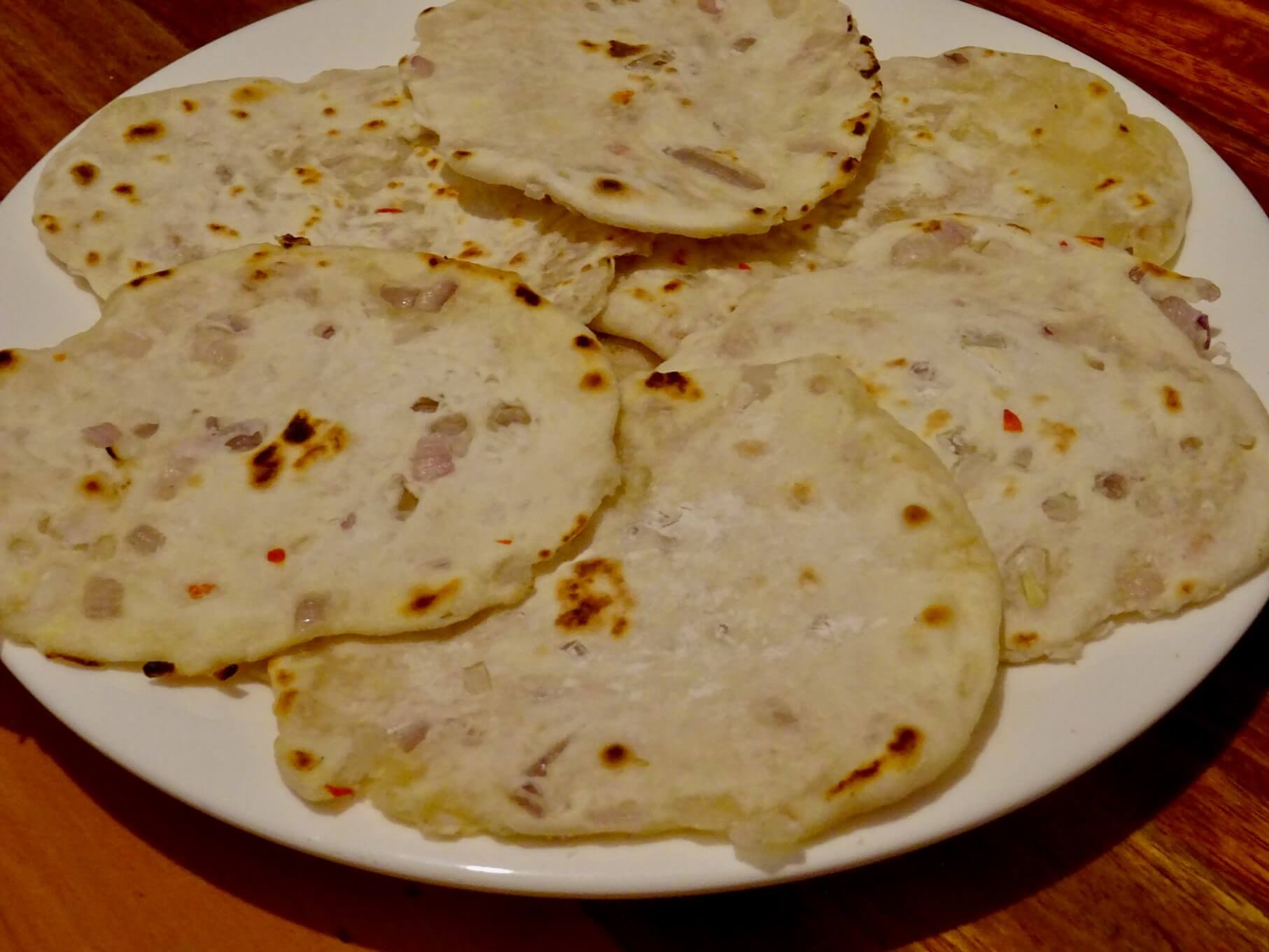 Combine the flour, water and oil to make a dough – add the water a little at a time until you reach a nice consistency. It should be smooth and not sticky. Add the coconut, red onion and chilli and knead until combined. If the onion has made the dough a little wet, you can add some more flour.
Next, divide the dough into 8 pieces and use your hands to flatten into rounds, on a lightly floured surface. They should be roughly 1/4 inch thick. Lightly grease a pan and put it over a medium heat. Fry the pieces of bread until lightly browned on both sides.
Please note this post may contain affiliate links. To read our affiliate policy please click here.