The No-Poo Method – Part 2: Giving Up Shampoo for Plastic Free July
Two weeks ago I wrote a post about my goal to give up shampoo for Plastic Free July. I'm halfway through my trial of the famed No-Poo Method, so here's an update on how it's going so far!
What is the No-Poo Method?
So, I touched on this briefly in the last post but I'll go into a little more detail here. I had no idea before I started researching this that there were so many ways to do it! You might think (like I did) that it's simply a case of stopping using shampoo, but oh no, there is much more to it than that!
There are people who swear by using a baking-powder-and-water paste in place of shampoo. There are people who wash with rye flour, or even egg! Apparently the holy-grail of a lot of 'no-poo'ers is the water only method. Being a little naive (or cocky!) I decided to go straight into doing water-only. This means that I am not using any products on my hair at all.
How do you do it?
The one essential tool of the water-only no-poo method is a good hairbrush. Technically, it should be a boar bristle brush, but obviously being a vegan that was a no-go. A good wooden bristle brush, or a sissal or cactus fibre brush is an alternative. However, this is where I hit the first snag. I cannot for the life of me find one in Siem Reap, Cambodia, which is where we are at the moment. All I can find is crappy plastic brushes, which sort of defeats the object of doing this for Plastic Free July!
The reason behind getting a particular type of hairbrush is that a big part of this method is something called 'scritching and preening'. I know, I feel like a cat when I say it. Scritching is where you use your fingertips to massage your scalp. This bit feels really nice, and I do it in the evenings while we watch a film. Then preening refers to running either a brush or your fingers through your hair in sections, to pull the oil down from the roots and into the rest of your hair. It acts as a great conditioner and a small amount makes your hair feel really soft. However, I have a lot more than a small amount right now!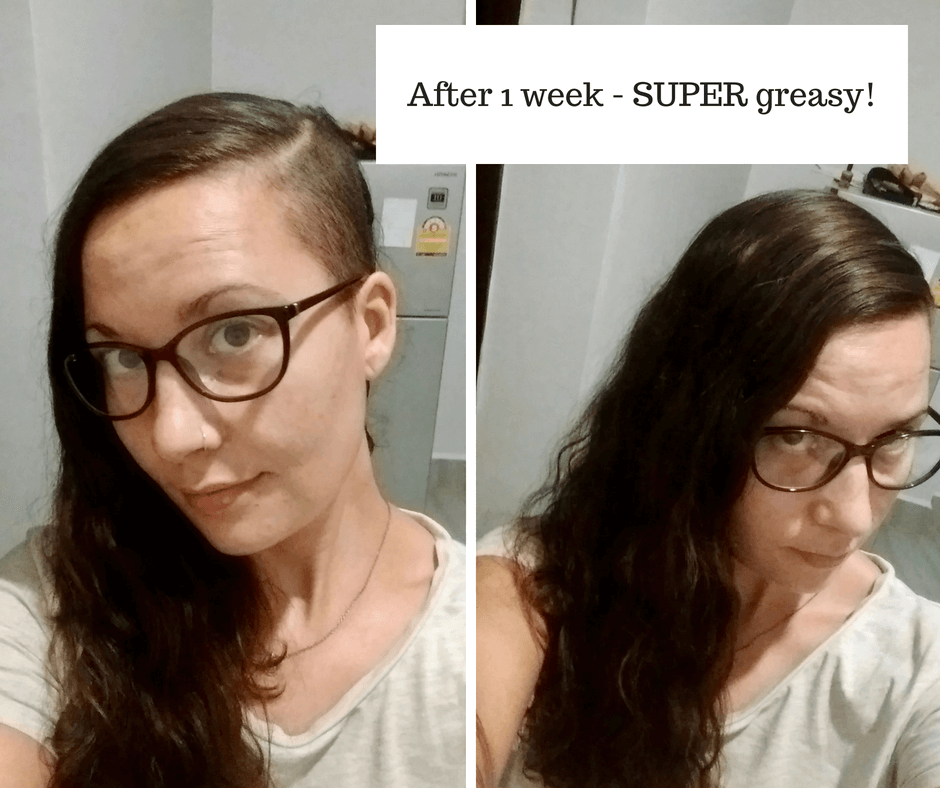 How is it going?
Honestly? Not great. I am used to washing my hair every day, and going cold turkey meant my hair was SUPER greasy after the first week. I have been scritching and preening in the evenings, and rinsing with cold water every day after the gym. The cold water is enough to get rid of the sweat and dirt. My hair smells fine, and actually feels quite nice to the touch, but it looks super gross. It has been making me feel really self-conscious this week! I've had it stuck up in a messy bun most days to hide it. However, my curls do look pretty good and my frizz has almost completely gone, which bodes well.
My experience with the no-poo method may have turned a corner this morning, when I did my second 'proper' wash. Basically this means using warm water to scrub your scalp with your fingertips and then using your fingers to pull the oils through the hair, leaving the roots clean. The first time I did this I was pretty disappointed, as my hair still looked greasy. It's quite time consuming, but this morning I had another go and finally feel like I have clean hair for the first time in two weeks! I don't know if it is because I'm getting better at the washing technique, or if my scalp is finally slowing down on the oil production, but either way I'll take it!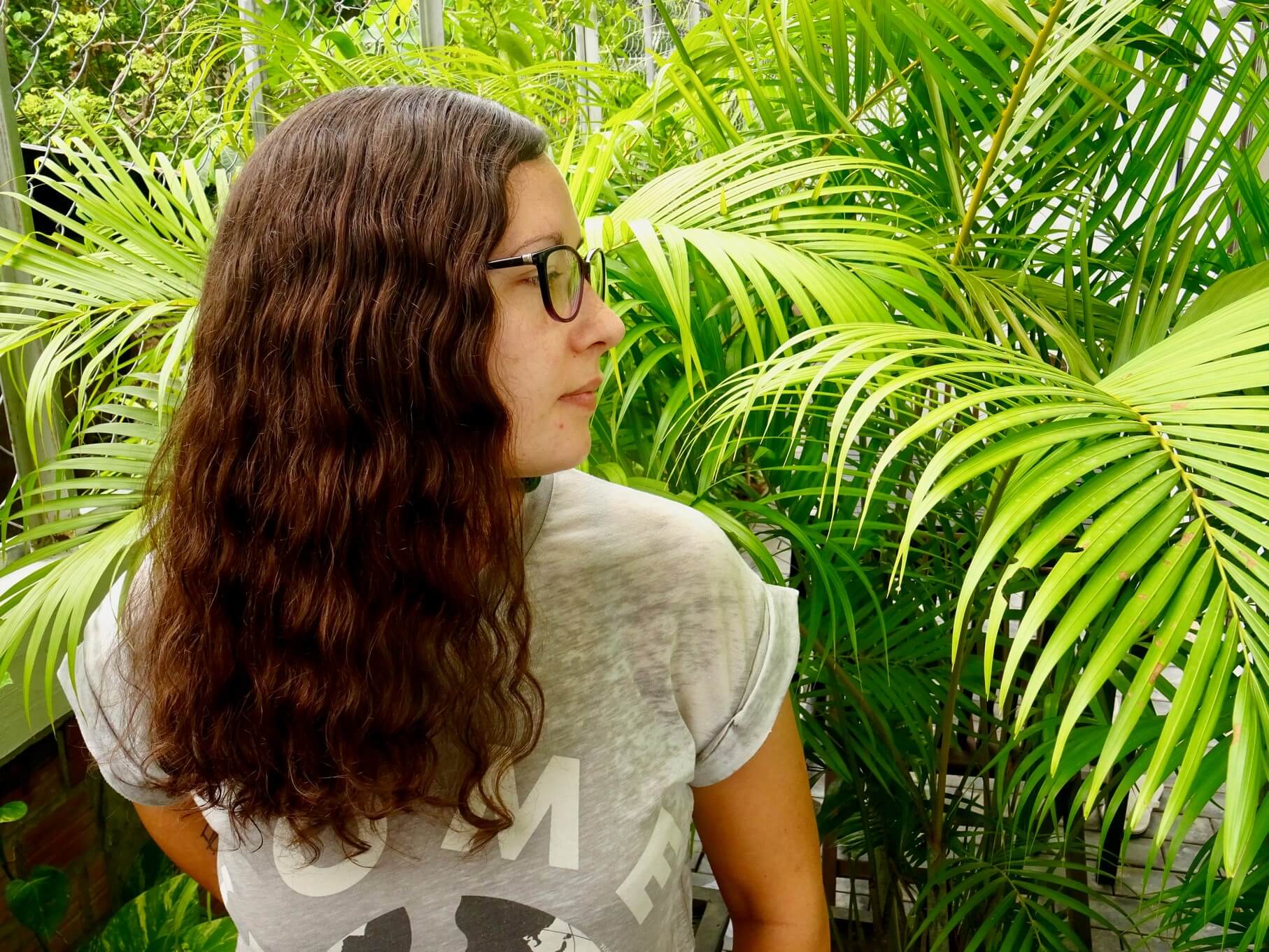 Why am I doing this again?
You can read part one here to find out more about my decision to try the no-poo method. But here's a recap! This month is Plastic Free July. People all over the world are committing to reducing the amount of single-use plastic in their everyday lives. If I'm able to cut out shampoo and conditioner, it could mean I'm using around 15 less plastic bottles a year. It sounds like a small amount, but every effort will make a difference. In the UK, we produce on average 76kg of plastic waste per person, per year. To find out more about Plastic Free July, there is lots of information and some useful hints and tips on the official website here.
Also, on a personal note, people who have successfully transitioned to the no-poo method swear that their hair is healthier and better looking than ever. The idea of cutting down on toxic chemicals and embracing natural beauty is an attractive one. If this experiment is successful, I could have great hair and be using less plastic – it's a win-win!
I'll be writing a final post at the end of the month, where I'll review my experience and give my final verdict on the no-poo method! Will the grease drive me crazy? Or will I be a convinced convert?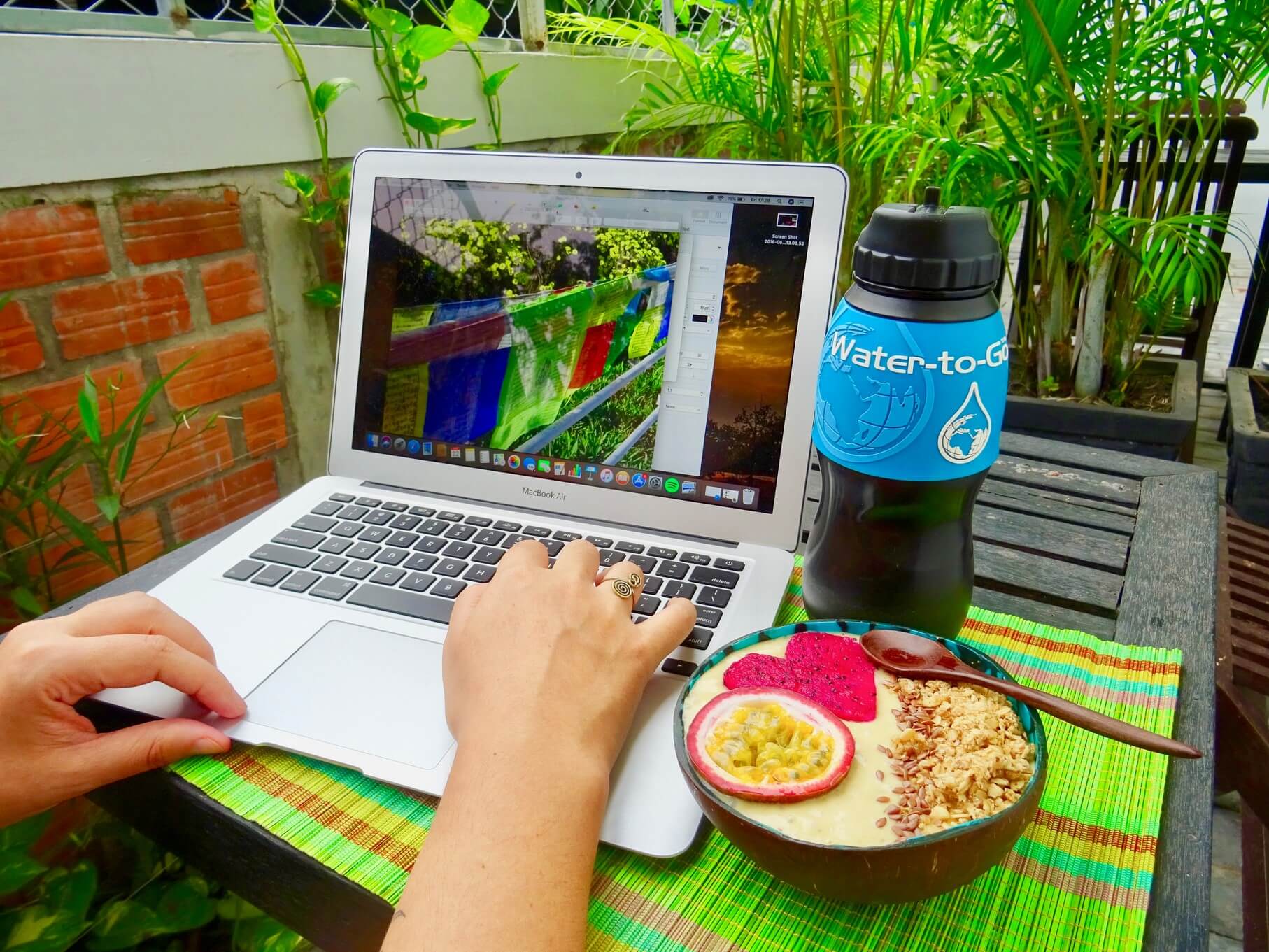 Want to know a great way of saving plastic?
While you're here – single-use water bottles are one of the biggest contributors to plastic waste all over the world. If you don't already use a refillable bottle, you should really give it a go! We use the amazing Water-to-Go bottles which have a built in filter. They filter out 99.9% of bacteria, so you can use them anywhere in the world. We've even used them to drink the tap water in India and to drink from a freshwater stream in Nepal! To read more you can check out our review here. If you fancy bagging one for yourself, you can visit their website here and enter the code 'NOFIXEDHOME' at the checkout for a 15% discount. Lucky you!
*This post contains affiliate links. You can read our policy here.