Two Days in the Cameron Highlands: Tea and Trekking in Tanah Rata
After the hustle and bustle of Malaysia's capital city Kuala Lumpur, and the heat of Melaka, we decided to head into the centre of the country to spend two days in the Cameron Highlands. Up here is a breath of fresh air, with small towns and tea plantations huddled high up in misty rolling hills. Trekking and tea are the big draws here, with trails snaking through the forests and bright green rows of tea plantations hugging the sides of valleys. You can scroll to the bottom for our top tips for Tanah Rata. You can also check out our restaurant recommendations in bold throughout.
The journey from Melaka to Tanah Rata was pretty rough. Don't get us wrong, the bus networks here are really great, with air conditioned coaches criss-crossing the country. But we had a sneaky look at Google maps before we left and couldn't quite believe the winding road we would have to travel by. Check out this screenshot!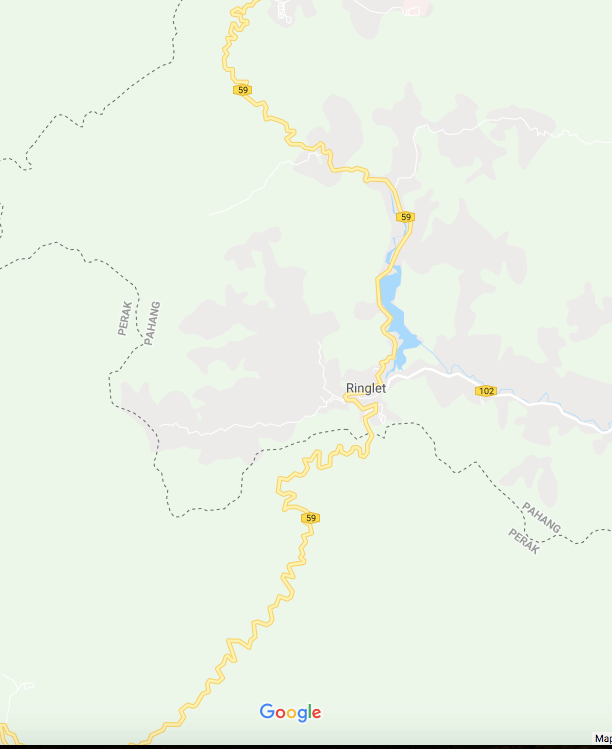 Yeah…definitely one where you'll need the travel sickness pills!
We had to change buses in Kuala Lumpur, and took the opportunity to grab some lunch at the huge bus station. We found a Malaysian place in the food court who said they had a couple of veggie dishes. Once we sat down to our food, we could tell right away that it was fishy…literally! The staff were actually really sweet, despite not really understanding the term vegetarian ("but some vegetarians eat fish, yes?") and swapped in a tasty aubergine dish instead at no extra charge.
Four hours, one desperately needed toilet stop (perhaps the giant iced tea with lunch was a bad idea!) and about a billion twists in the road later, we stumbled off the bus in Tanah Rata as evening fell.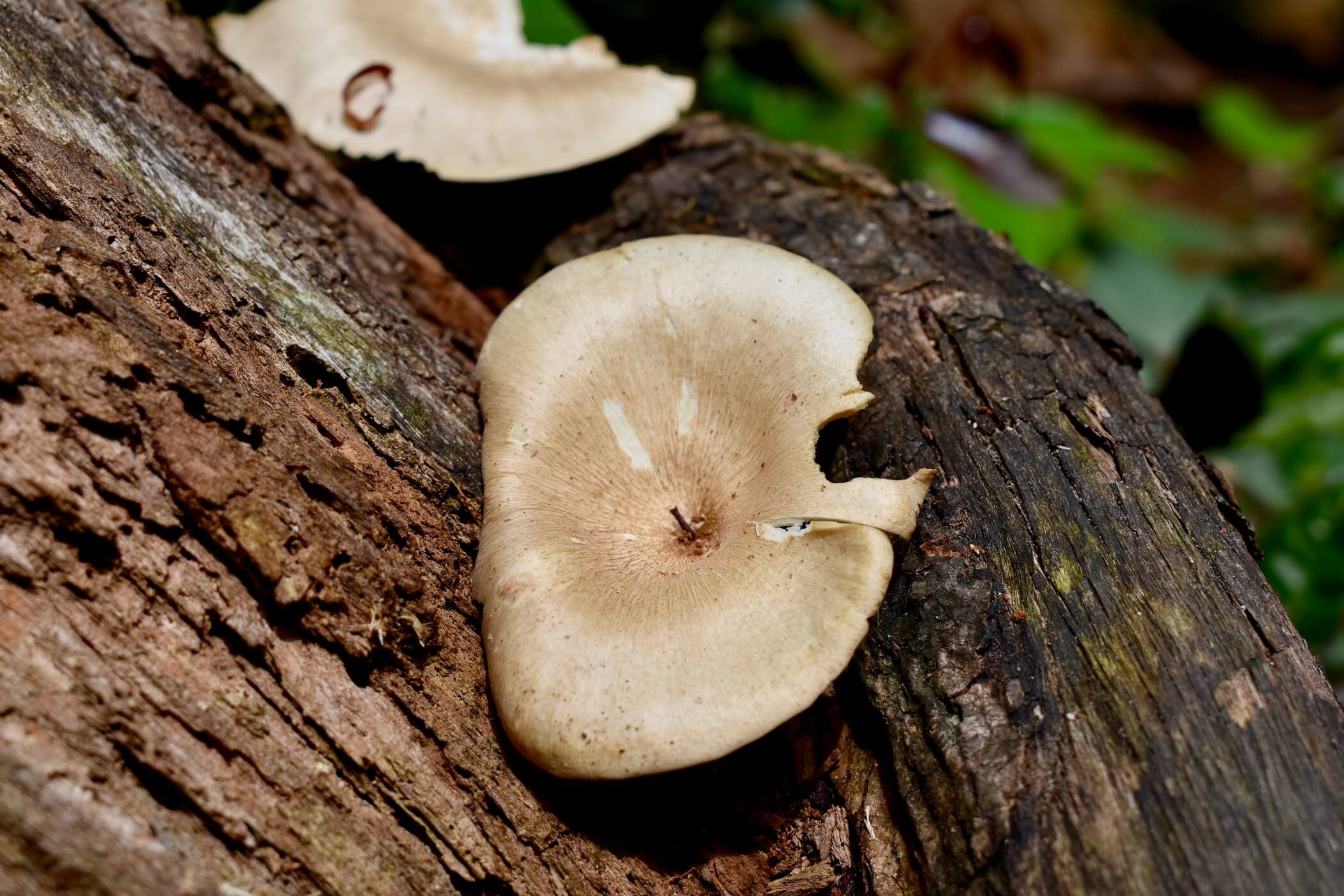 Two Days in the Cameron Highlands: Day One
We had a lazy morning on day one. For lunch, we went next door to Bunga Suria Indian restaurant. This family run place is cheap and cheerful, and does one of the best masala dosas that we've had since leaving India. Thin, crispy fresh pancakes made from rice and lentils and stuffed with spiced potato mix, served with a sambar and a coconut chutney – yum!
In the afternoon we wandered around the small town, soaked up some rays in the park, and planned our walk for the following day. We opted for trail 10 – a round trip to the top of Genung Jesar through thick forest. We chose this as it seemed to be the easiest to follow independently, while still offering a decent walk. Loads of places in town offer guided walks, and there are even rumours that some unscrupulous guides are responsible for removing signposts, to make it more difficult to walk without a guide!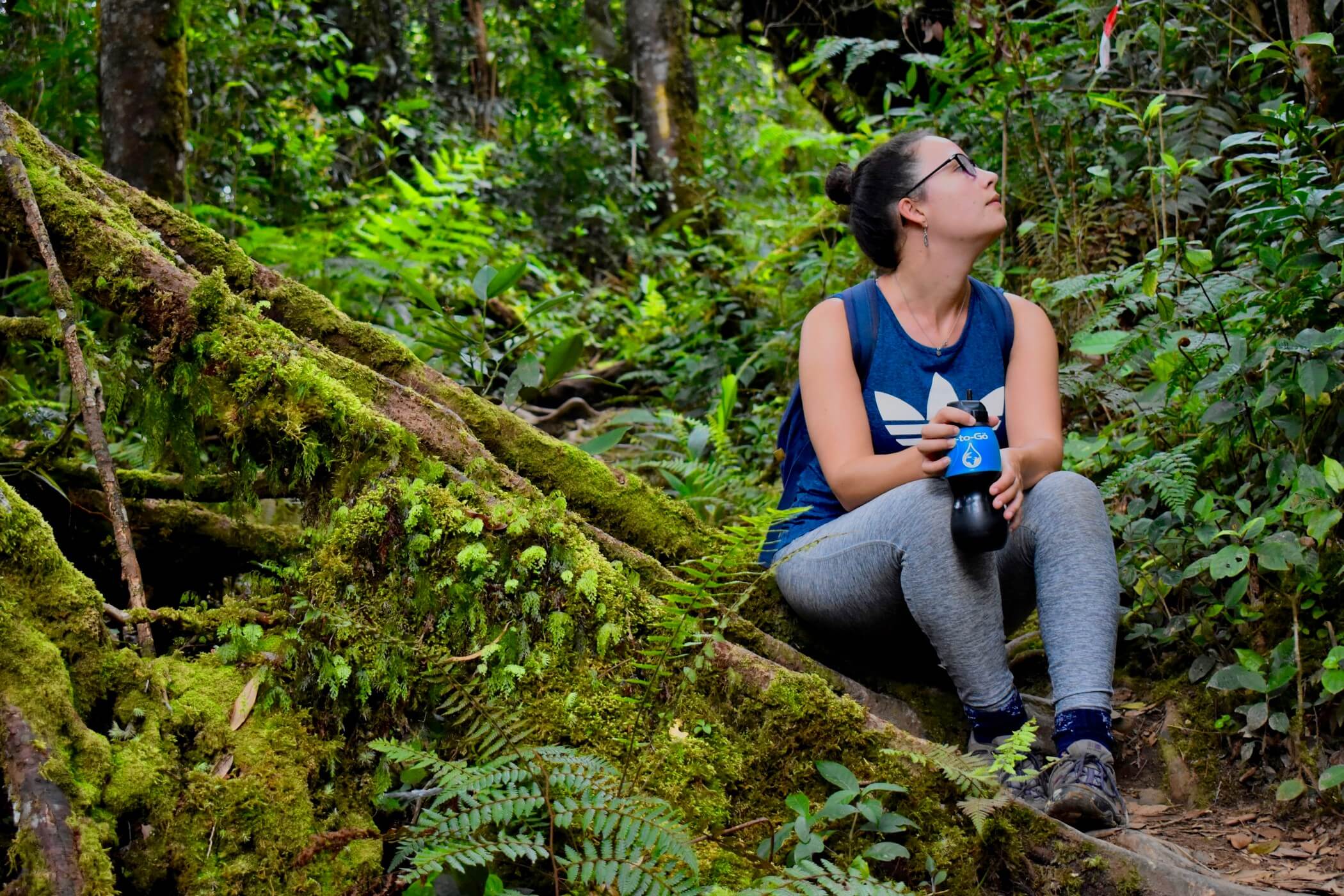 In the evening we decided to check out The Barracks Cafe. It has a peaceful, rose filled garden but unfortunately hasn't got a very vegan-friendly menu. The waitress was really friendly and completely understood what we meant by vegan, but when she checked with the kitchen, there were only two dishes we could have – a salad or mushroom and garlic spaghetti. We both opted for the pasta as it had been a while since we'd had a carb fest! The food was tasty, but quite expensive for a fairly small portion. We consoled ourselves with some biscuits from the 7/11 and an early night in preparation for tomorrow's walk.
Two Days in the Cameron Highlands: Day Two
This is what we'd come for! We were itching to get our walking boots on and stretch our legs in the hills. The day started fairly sunny and we even picked up a cute dog on the way who joined us for the first 20 minutes of our walk. As soon as we started walking uphill and into the forest, the quality of the air was unbelievable. We just wanted to take in huge lungfuls of it. It was so fresh and clean.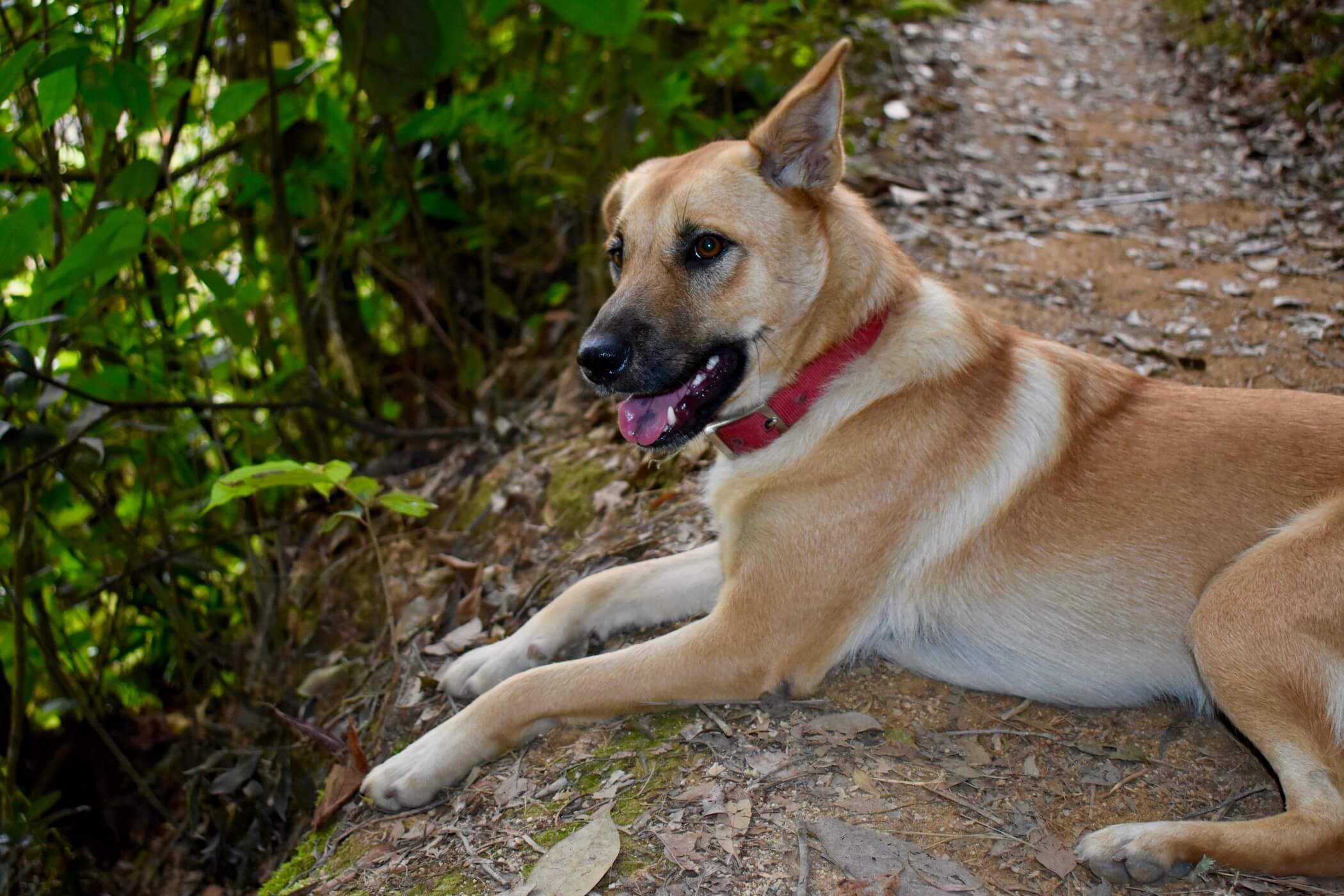 The route took us through a pretty mossy forest, with chirping beetles, vibrant butterflies and sprouting mushrooms. The walk was not too strenuous. It took us around an hour and half to reach the top. Most of the climbing was done through a sort of natural staircase made from tree roots, which was really cool. We had planned to take a detour along the way using trail 6. However it turned out to be closed off due to construction. There seems to be a huge amount of bulldozing and hammering echoing around the valleys up here. Tourism is big money here, but we hope they don't end up destroying the very nature that people have come to see.
At the top of Genung Jesar
As we neared the top we could hear screams and shrieks of laughter drifting down from the peak. We wondered what on earth could be happening up there! We soon found a group of around 50 local kids on a school outing, who had paused at the top for their packed lunches. They wanted to know where we were from and if we knew Wayne Rooney. As we sat and enjoyed a break with some biscuits and fruit juice, we had to laugh at the teachers efforts to get the whole group moving again. It took them nearly 15 minutes to round the kids up!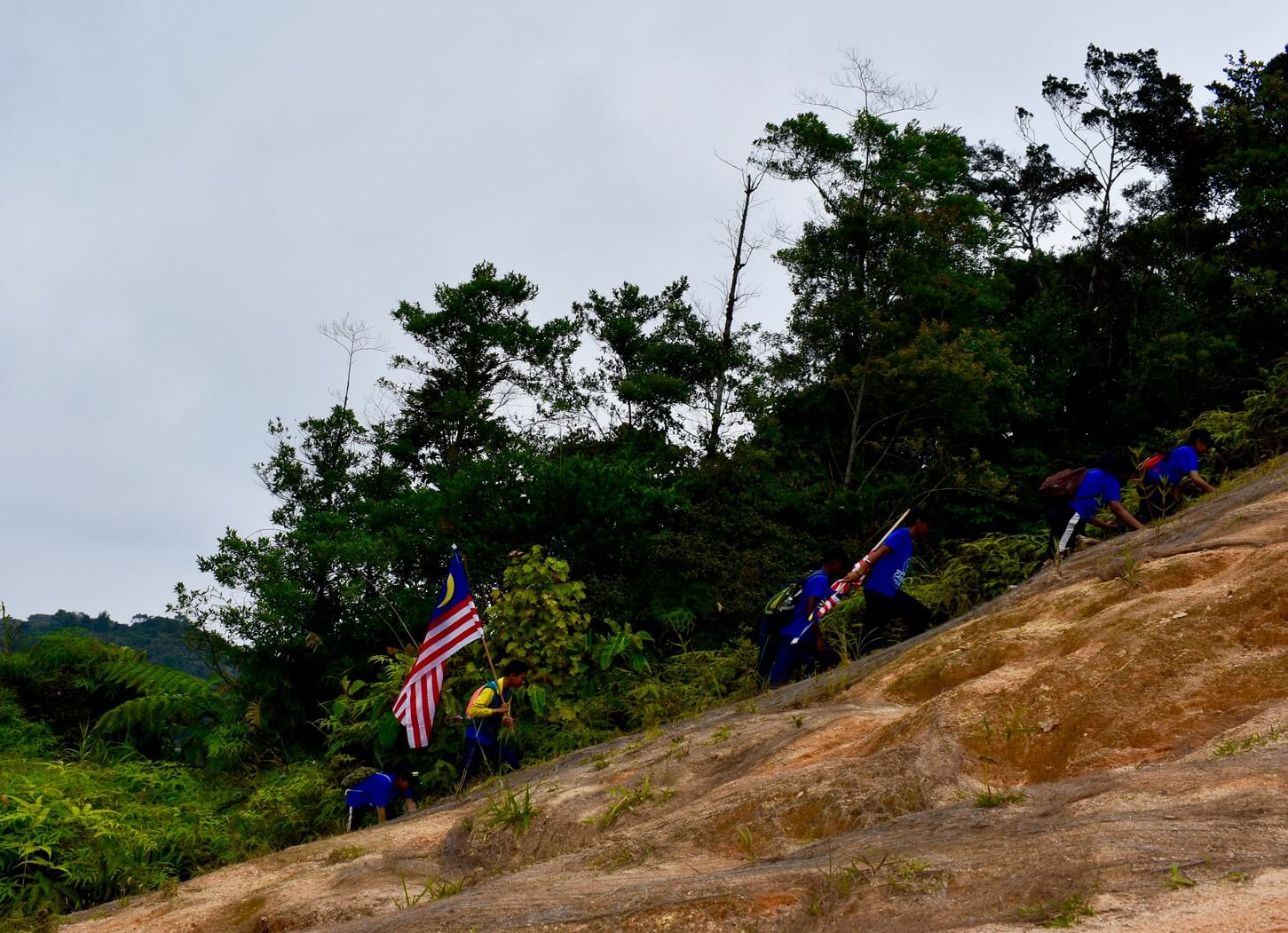 Sadly the clouds had descended by the time we reached the peak, so the view was not so great. However we still really enjoyed the walk through the forest. And I only fell over twice which is a good record for me! As we left the woods and started back down the paved road to Tanah Rata, our stomachs propelled us on as we pictured the fresh dosas that awaited us for lunch.
Eyes bigger than our stomachs!
On the last evening of our two days in the Cameron Highlands, we decided to head to Singh Chapati Urban Restaurant since we had heard amazing things. We may have got a little overexcited when we saw the large veggie section of the menu. We ordered way too much food! The standout star of the meal was the brinjal masala – that's aubergine curry to you and me. The aubergine was charred over flames before being smashed up into a rich spicy masala sauce, and it tasted incredible. We also had the aloo gobi (potato and cauliflower) and mushroom masala, all mopped up with rice and fresh chapatis. Everything is made fresh to order so there was no problem in requesting no dairy, and extra spice! We were so full afterwards that we practically waddled home, but we had no regrets!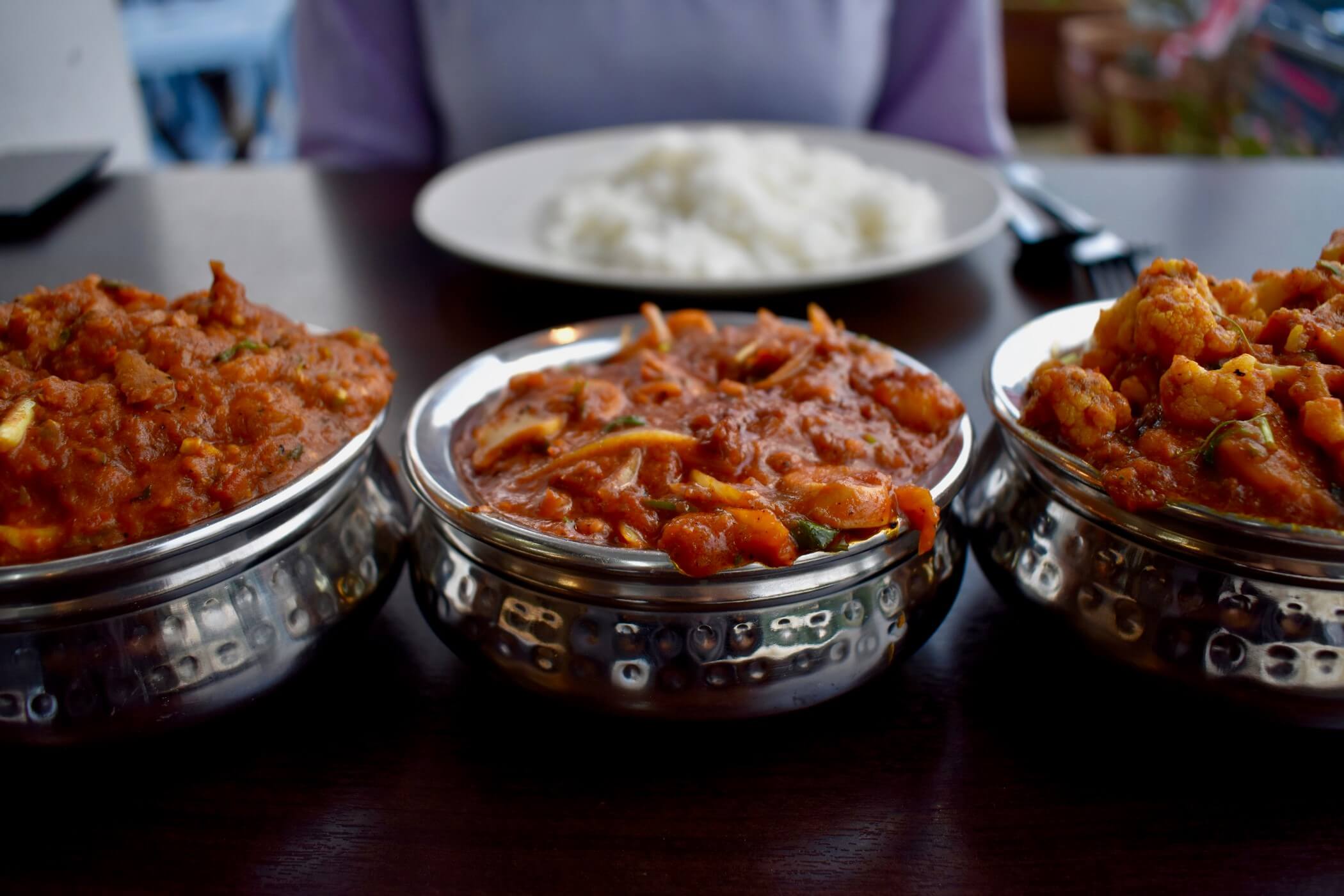 Moving On
We really enjoyed our two days in the Cameron Highlands. Fuelled by our breakfast of leftover curry on toast (to some very puzzled looks from other hostel guests!) we'll be popping some more travel sickness tablets and boarding the bus to head back down the winding roads. Our next destination is Ipoh, which is supposed to be a great destination for foodies. Perhaps we should try and get back into our exercise routine, or we'll be the size of houses by the time we leave Malaysia!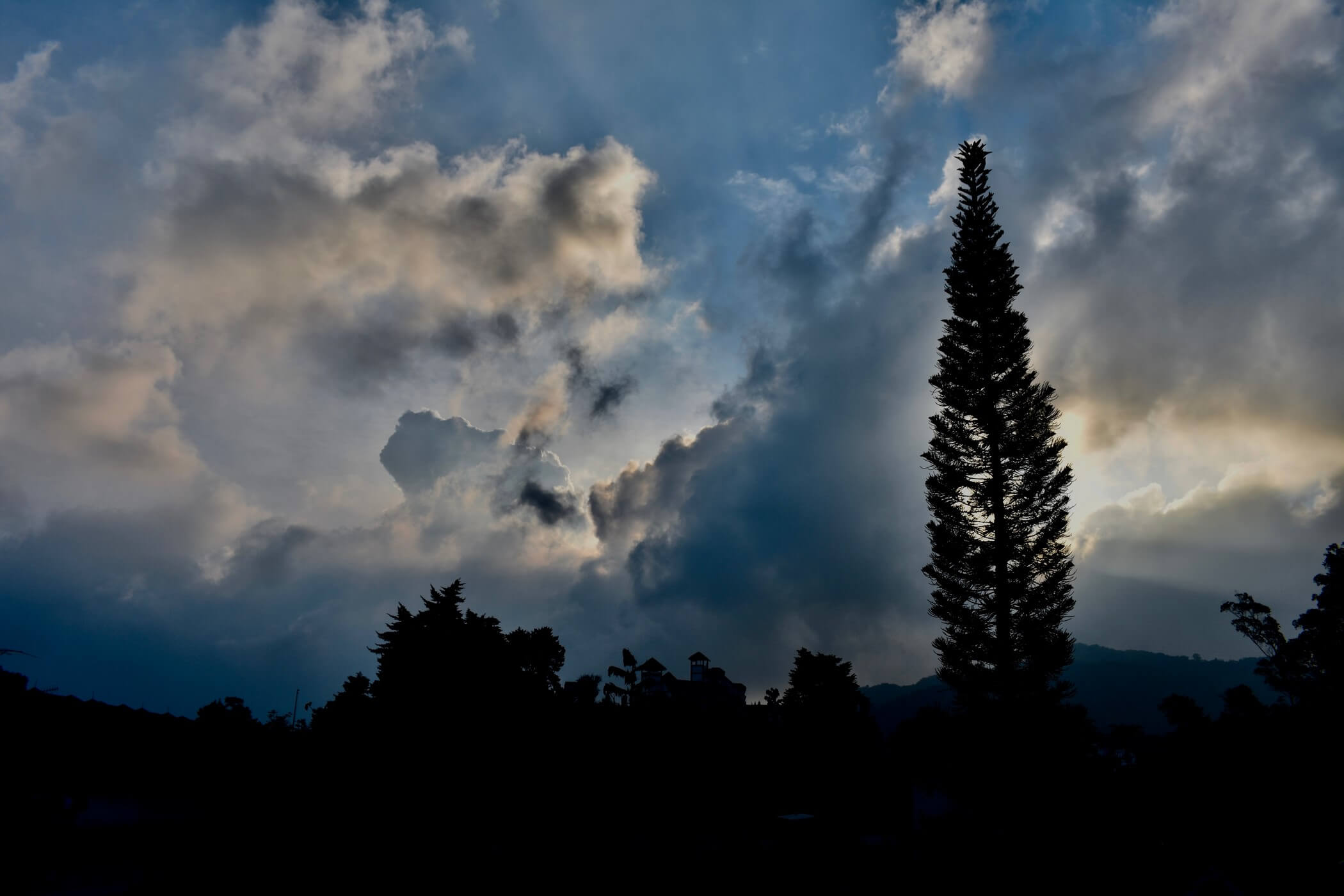 Our Top Tips for Two Days in the Cameron Highlands
We stayed at Orchid Haven. A private room with a shared bathroom cost us 60 MYR per night, including free breakfast of toast and jam. The room was cosy with a comfy bed, and the location was fab. The shower was not hot, and there was some loud (and very painful!) karaoke going through the walls until around midnight one evening.
Singh Chapati Urban Restaurant serves some of the best Indian food we've had this entire trip (seriously). It's super popular, so aim to arrive when it opens at 6.30pm. Try the brinjal masala, you won't regret it!
Check out Bunga Suria for cheap and cheerful Indian food. They have set meals, amazing dosas and a slightly dodgy looking buffet that we decided to avoid. Out of our two days in the Cameron Highlands, we ate here four times!
If you head out on a trail, let your hotel know where you are going. Trail 10 was easy to follow and not too strenuous. We heard trail 9 should be avoided due to a spate of robberies. Download maps.me app and you can view all the trails and use GPS which is really handy.
We hope you enjoyed our post on two days in the Cameron Highlands. If you have any other recommendations please do let us know in the comments! C & D xx
PS…This post contains affiliate links. You can find out more on that here.