Things To Do In North Thailand: 9 Awesome Destinations To Inspire You
We've all heard of Thailand's beautiful islands – white sand beaches surrounded by crystal clear waters, all-night parties and incredible forests. We loved our time being beach bums on Koh Tao and celebrating my birthday on Koh Phangan. But more and more people are heading north of Bangkok's bright lights and discovering a whole other side to Thailand. Here are 9 awesome things to do in North Thailand, just to get you started!
Things to do in North Thailand:
The White Temple
Just to confuse you, this bizarre and beautiful temple isn't "technically" a temple. Wat Ron Khun in Chiang Rai is a modern art exhibit in the style of a traditional Buddhist temple, but one with a twist. Your first inkling that all is not as it seems is when you cross the white bridge towards the temple entrance. Under your feet, hands twist up ready to grab, and heads are frozen in ghoulish screams. But don't worry – it's just a sculpture! The grasping hands signify desire and greed. The idea being that to obtain happiness one must forgo temptation (damn, I knew we shouldn't have had that slice of cake yesterday!)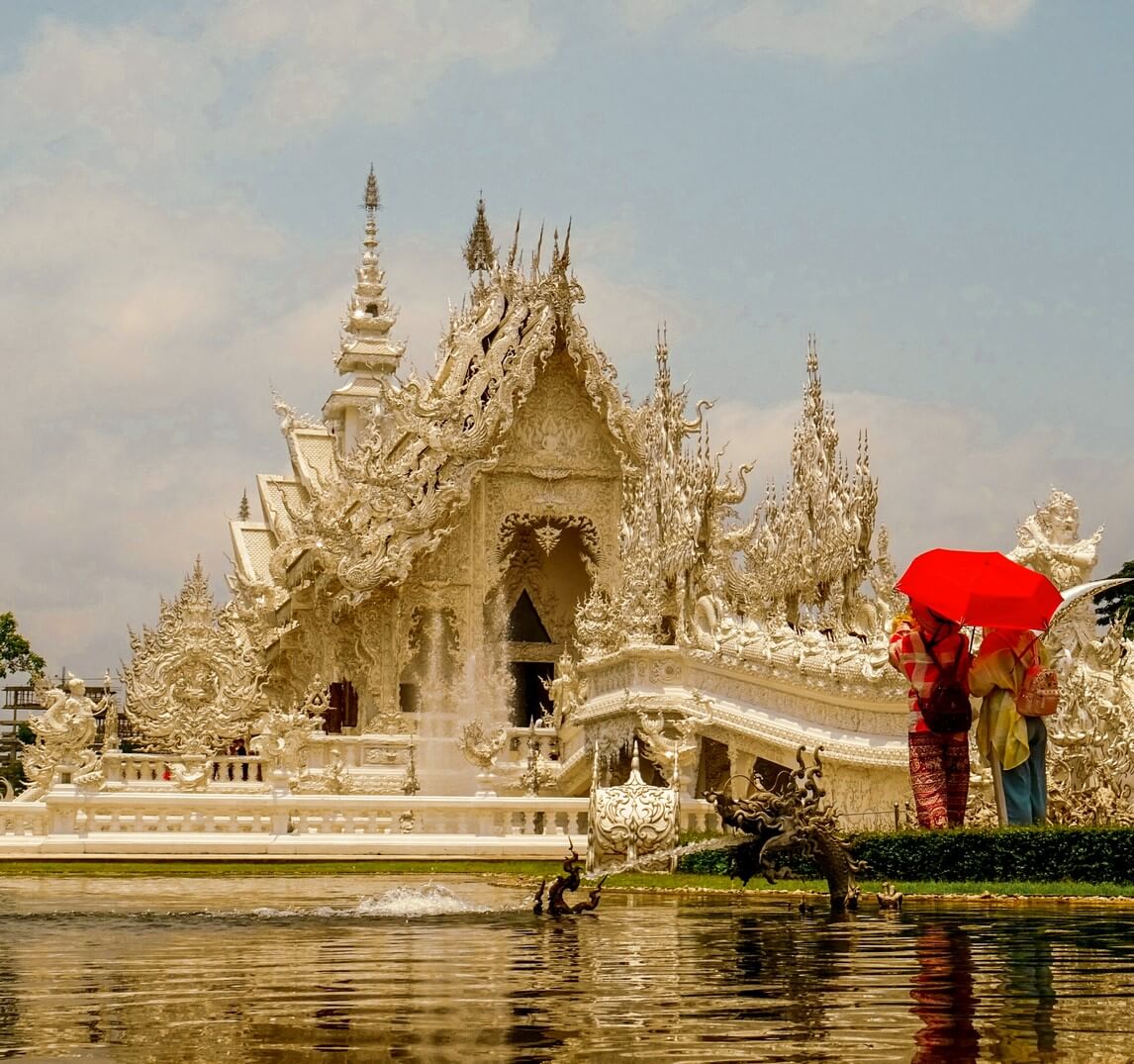 Inside, things get weirder. The intricately painted murals of fire, war and demons include some surprising Western faces – Micheal Jackson, Superman and Happy Potter amongst them. The temple complex also has possibly the fanciest toilet block we've ever seen, shimmering in gold from head to toe! So you can do your business while feeling like royalty.
Chiang Mai's Food Scene
We're not going to lie, one of our absolute favourite things to do in North Thailand is eat food! And one of the best places to do this is Chiang Mai. There are street food markets on every night, depending on where you look, as well as the Saturday and Sunday night walking markets. This is the best place to find awesome Thai dishes that are specific to the north of the country. Our favourite is Khao Soi – a spicy curry noodle soup with green veggies, shallots, lime, chillies and coconut milk. The soup is topped with deep fried crunchy noodles too. It's really easy to find stalls selling a meat-free version of this classic. If you ask them to swap out the egg noodles for rice noodles it's vegan too.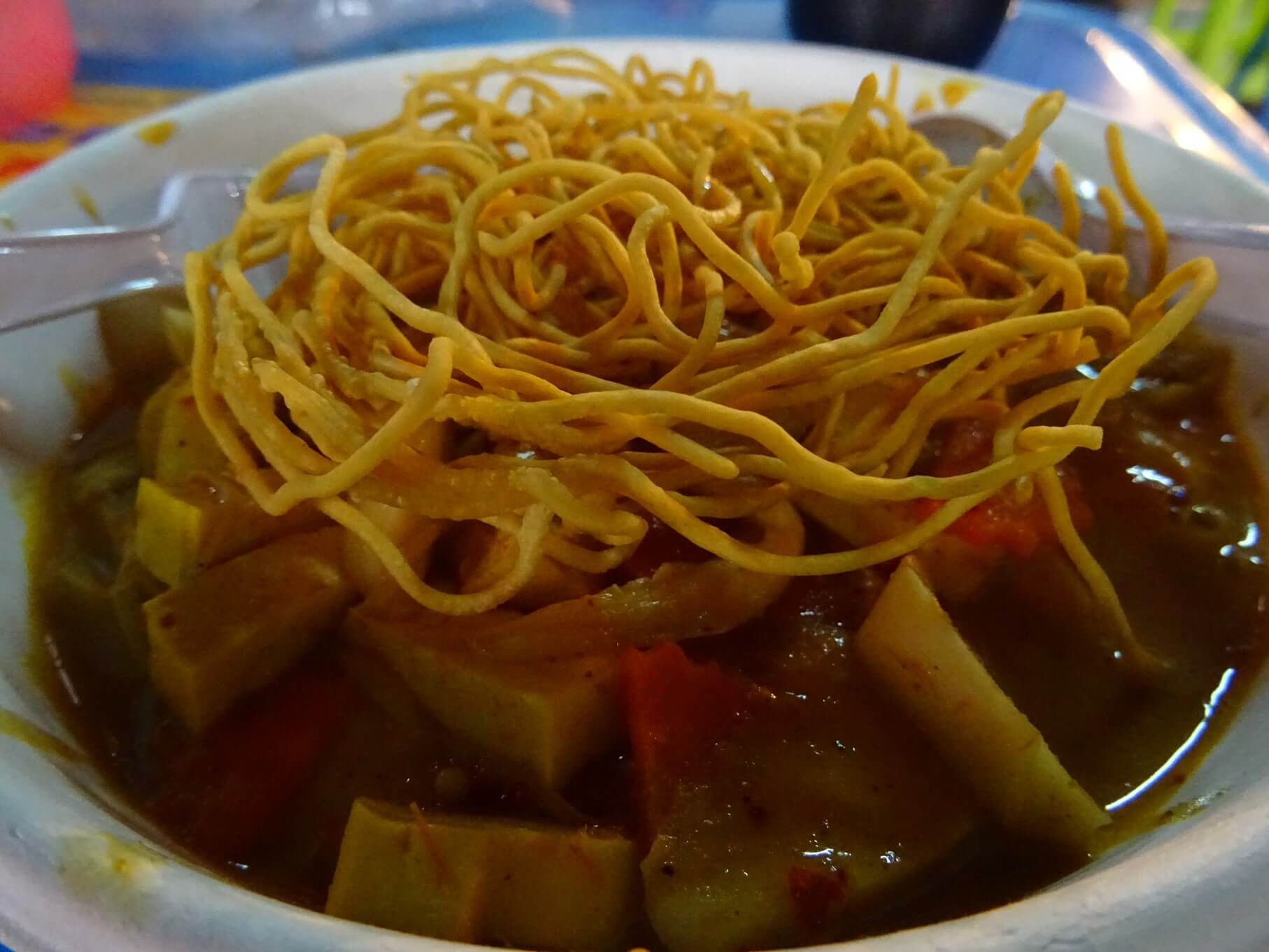 We love how easy it is for us as vegans to eat out in Chiang Mai. Try Tien Sieng Vegetarian foods for a variety of 'mock-meat' dishes. We also love Vegan Heaven, Blue Diamond, Miranda's Cafe, AUM vegetarian…the list goes on!
The Blue Temple
If you're in Chiang Rai, after the weirdness of the White Temple, the Blue Temple should be next on your list. Wat Rong Sear Tean is honestly one of the most incredible temples we've seen in Asia.
The whole building is such a bright, vivid blue that it takes your breath away. There is a giant buddha statue as well as intricate dragons and other decorations. The inside is really pretty too. This temple seems relatively quiet and unknown about by tourists so far, when we were there it was not busy at all.
Kamphaeng Phet
If you're looking for things to do in North Thailand that will get you off the tourist trail, then look no further than Kamphaeng Phet. Five hours south of Chiang Mai by bus, this little city is not on many people's radars, though we're sure that will change.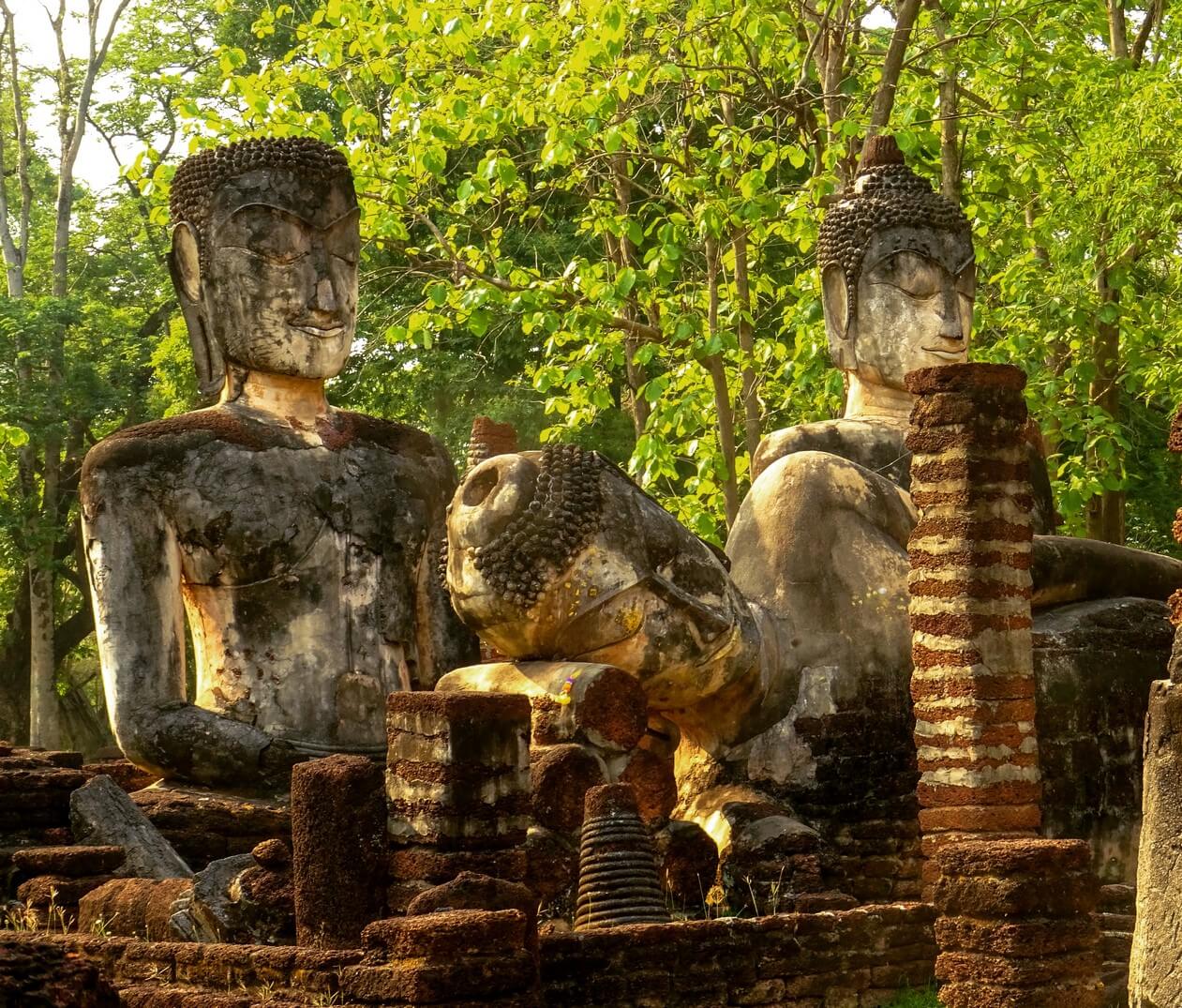 The main draw here is the UNESCO historical park. With Sukhothai and Si Satchanalai, the three sites form the UNESCO World Heritage Site Historic Town of Sukhothai and Associated Historic Towns (a bit of a mouthful!) It's really cheap to get in, and you can easily hire a bike and cycle there. We had a really fun afternoon cycling around the site, and we pretty much had it to ourselves.
Pai Canyon
We hadn't even heard of this place before our visit to the cute town of Pai. We joined a whistle-stop day trip of sights around Pai, and at the end of the day our songtheaw driver was in a hurry to get us here for the sunset. Once we got there we understood what the rush was for.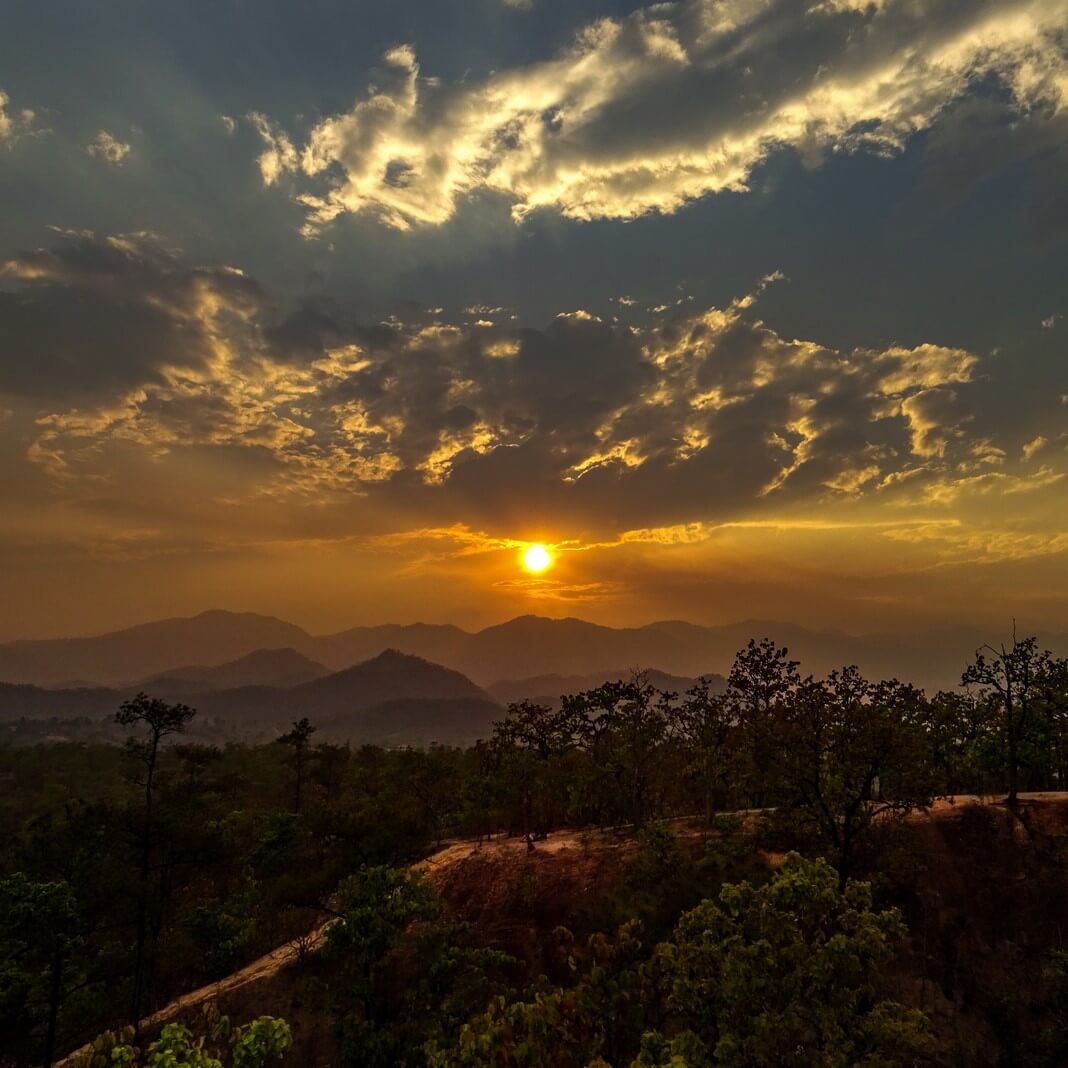 This area of red sandstone cliffs and valleys creates a stunning backdrop for the sunset, with the ochre colour of the stone echoing the orange of the setting sun. Although it's a popular spot, we clambered a little way along the edge and watched the sun going down in peace.
Songkran
If you're there at the right time of year, this should absolutely be on your list of things to do in North Thailand. Songkran is the Thai New Year festival, which takes place on 13th – 15th April each year. It's a beautiful tradition where the splashing of water signifies the washing away of sins and a fresh start for the new year to come. It's also a whole lot of fun!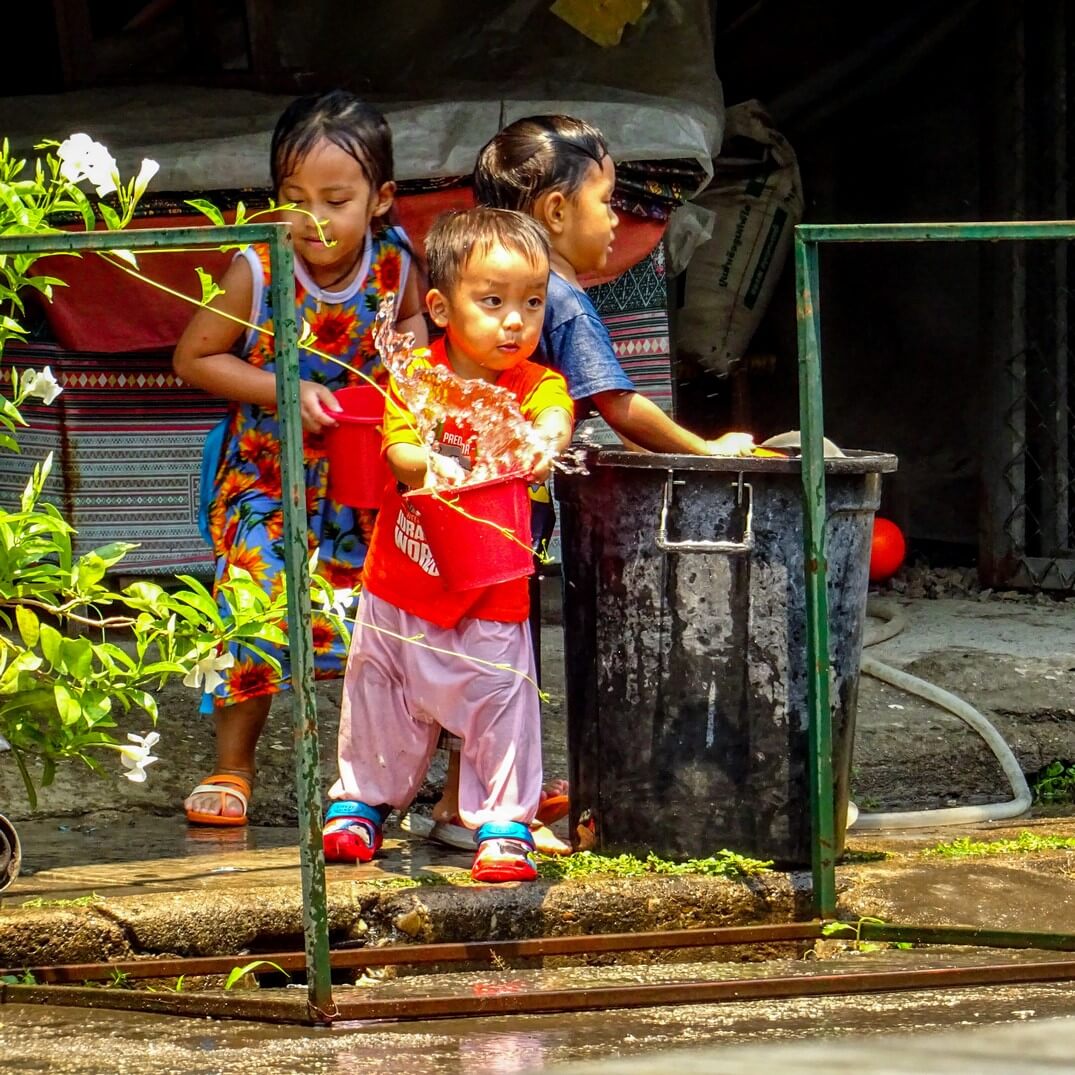 We spent it in Chiang Mai. Although there were lots of tourists involved, it was also a real family affair. We watched (and dodged) as whole families worked together to make sure no one passed their driveway or patch of road unscathed! It is not a festival that you can opt out of – if you're in the street, you're going to get wet!.
Lod Caves
We visited Lod Caves as part of an organised day trip from Pai. As a couple with no transport it worked out cheaper to do it this way. We didn't know what to expect from this place, but it blew our minds!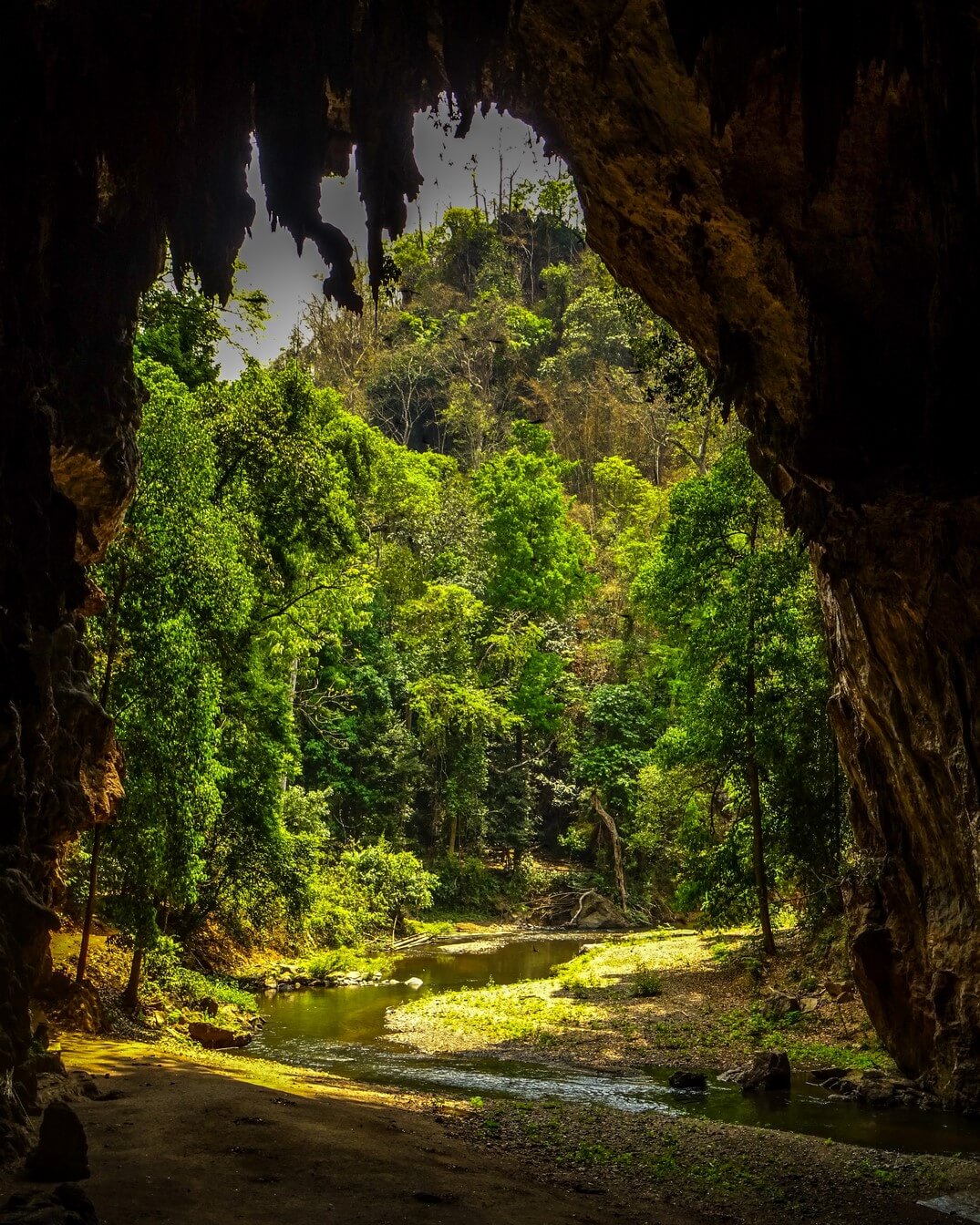 There are three caves in the network, and you are not allowed to visit without a guide because of safety reasons (which we totally understood once we saw inside!) The guides are locals who know the caves inside out. They take you around with a gas lantern and a sense of humour, pointing out funny shaped stalactites and telling us interesting facts. The caves are super dark, and you get to go on a small bamboo raft amidst the bats and catfish to get to one of them.
Pai's Street Markets
Yes, Chiang Mai has the street food crown, but Pai has a buzzing street food scene too. Pai is one of those places where backpackers congregate and has a bit of a hippy reputation. For us, this meant that it was a vegan heaven! A street food market where we could get vegan cakes, vegan noodle dishes and vegan pasta? Sign us up! Pai is not everyone's cup of tea, but we loved it so much that we extended our original three day long stay to a whole week. The main street closes to traffic every night when food and craft stalls line the road. There are also lots of peaceful cafes or lively bars to choose from.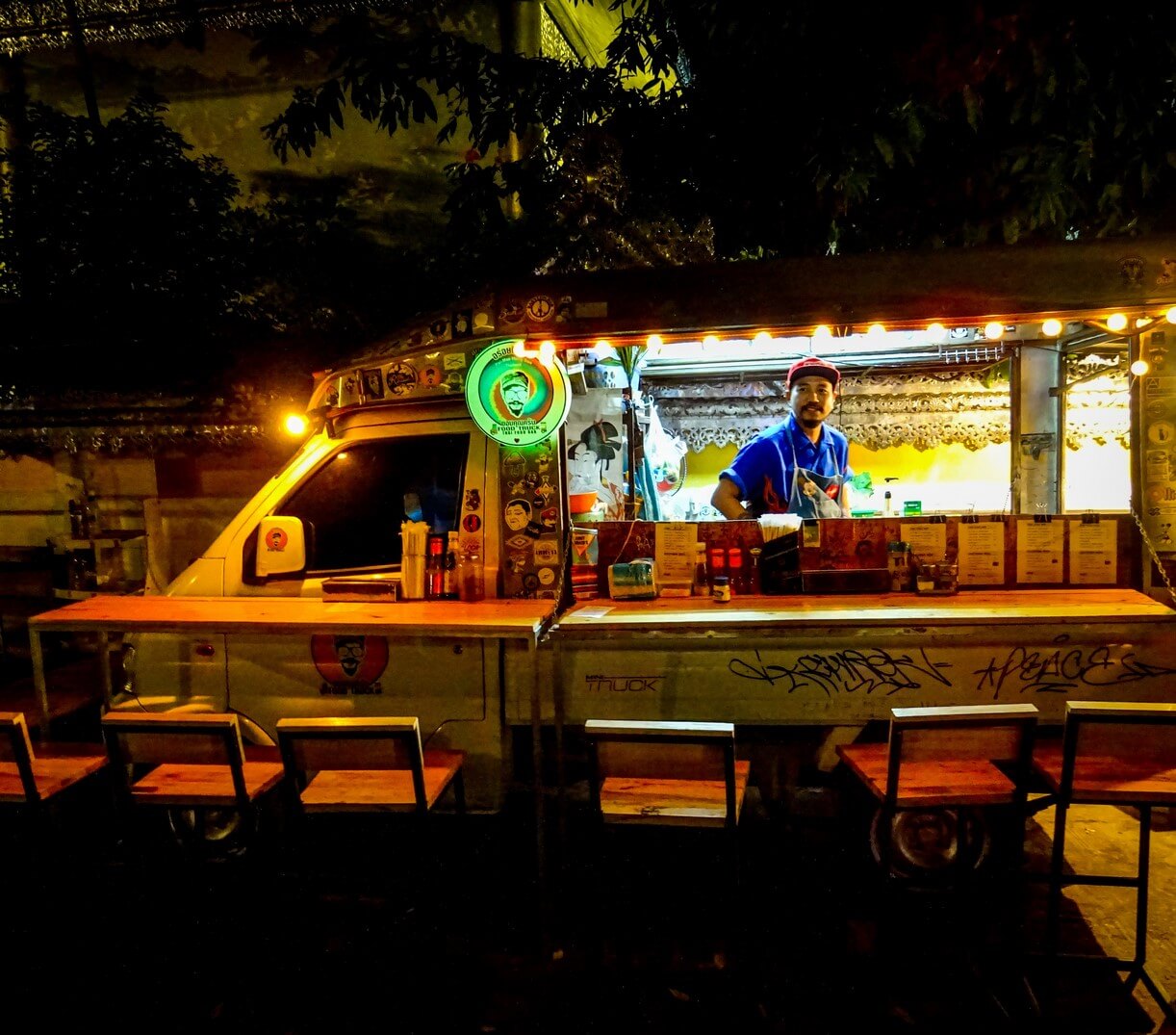 If you see the stall selling vegan falafel pitta pockets, you might think, hmm that's a little expensive. Trust us, it's so worth it. The pitta is the size of your face and stuffed full with fresh crispy falafel balls, humous, salad, chillies and garlic tahini sauce. Heaven.
Doi Suthep
Yes, ok, temples feature pretty heavily on this list of things to do in North Thailand. There's a good reason for it, we promise! Thailand has enough temples to make even the most enthusiastic visitor a little weary. But the ones in this list are some of the most beautiful we've seen in all of Asia.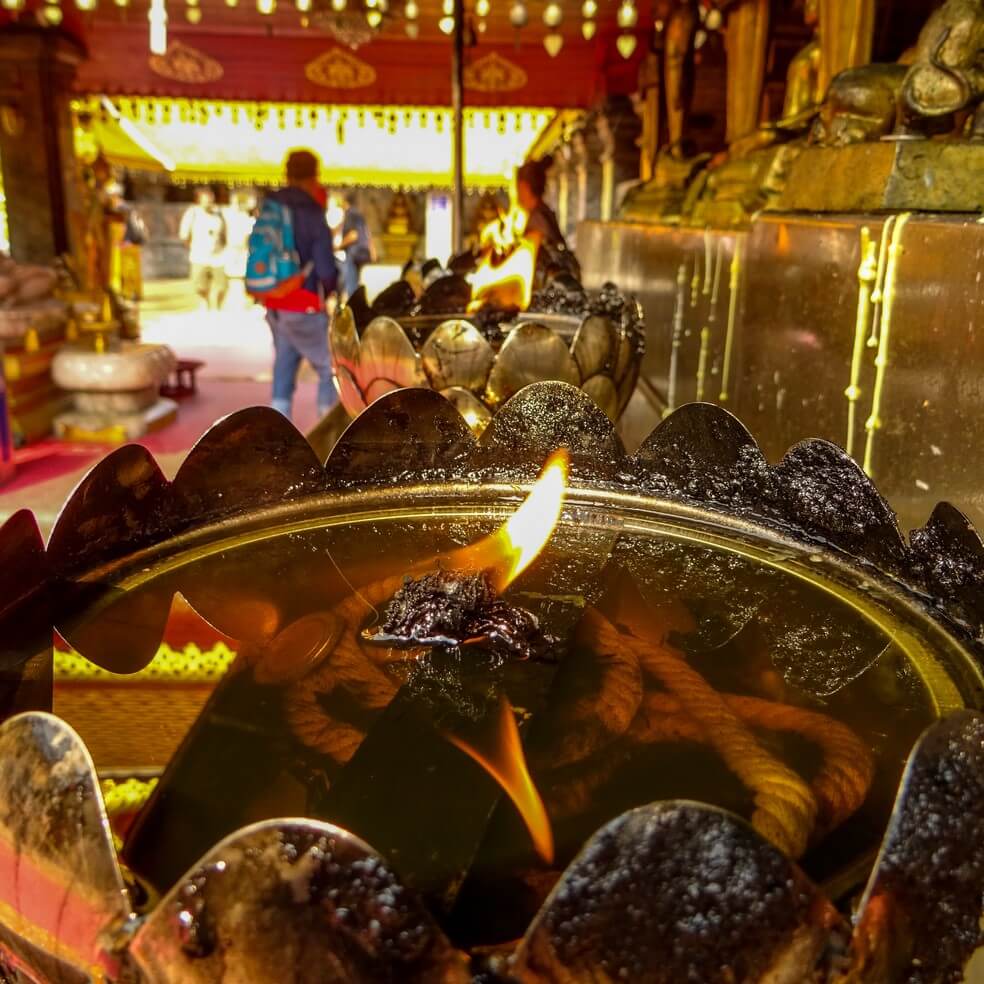 Wat Phra That Doi Suthep is located on top of a tall hill, 15km outside of Chiang Mai. This golden temple is a sacred site to many Thai people. You'll have to climb a long flight of steps to reach the temple but it is definitely worth the climb. Not only is the temple itself stunning, the views over Chiang Mai and the surrounding countryside are amazing too.
And one word of warning…
Something you may see often on lists of things to do in North Thailand is animal encounters. While there are one or two ethical elephant sanctuaries around, we were shocked on our visit to Chiang Mai to discover just how many places still offered elephant rides. There are also places that offer you the chance to pose with tigers and other animals, which are not ethical. Please read this to find out why you should be careful and do your research before visiting anywhere offering animal encounters.
We hope you enjoyed our list of things to do in North Thailand. If we've inspired you, or missed out one of your favourites, please let us know in the comments! C & D xx
This post contains affiliate links. You can read our disclaimer here.