Malaysia Travel Budget: How Much Does It Cost To Travel Here?
South East Asia is a dream destination for many yet for some reason, Malaysia seems to get less attention than its more popular neighbours. But this country is beautiful and has something for everyone. From dense tropical rainforests to lush tea plantations. From shiny megacities to paradise islands. And it needn't break the bank either! Here's our Malaysia travel budget guide to help y'all out.
Malaysia Travel Budget: Accommodation
There's a huge range of accommodation available. If you're a luxury traveller than you can find many fancy resorts. There are also many mid-range and international chain hotels. But if you're a budget traveller like us, then don't fear, you're covered too. We've found private double rooms within our budget pretty much everywhere we've been in Malaysia. And our budget is low! We aim for a maximum of £10 per night but we'll go a little over if the place includes breakfast. Sometimes we'll splash out on an Air BnB if we want to have some extras like a kitchen or a gym. But even then we've not spent more than £20 per night.
In Kuala Lumpur, there is a huge amount of choice. We recommend going for a private room in a decent hostel since you'll struggle to find a budget hotel in a central location. We stayed in Step Inn and Dorms KL which both had great locations and transport links, we felt like we were right in the centre of things. One thing to consider is that most budget places have a shared bathroom so you could end up spending a lot more if you really want to have your own!
In fact, we ended up staying in private rooms in hostels in most of the places we visited in Malaysia. It seems to be the norm to include breakfast at most hostels here so you can stretch your Malaysia travel budget even further. Our favourite was Cocoa Mews in George Town because it was run by two really friendly guys, who even took us out for lunch one day!
We did find it harder to find places in our budget when we hopped over to Borneo, since it is mainly geared to package tours outside of the main cities. But there are still a few budget options available. The most we ended up going over budget was in Sandakan. Our budget hotel was £12 per night with no free breakfast. We didn't go to any of the dive spots or into the rainforest however – these can get really pricey!
Note that there is currently a tourist tax of 10 MYR per room, per night. We've been charged this by some hostels and not by others.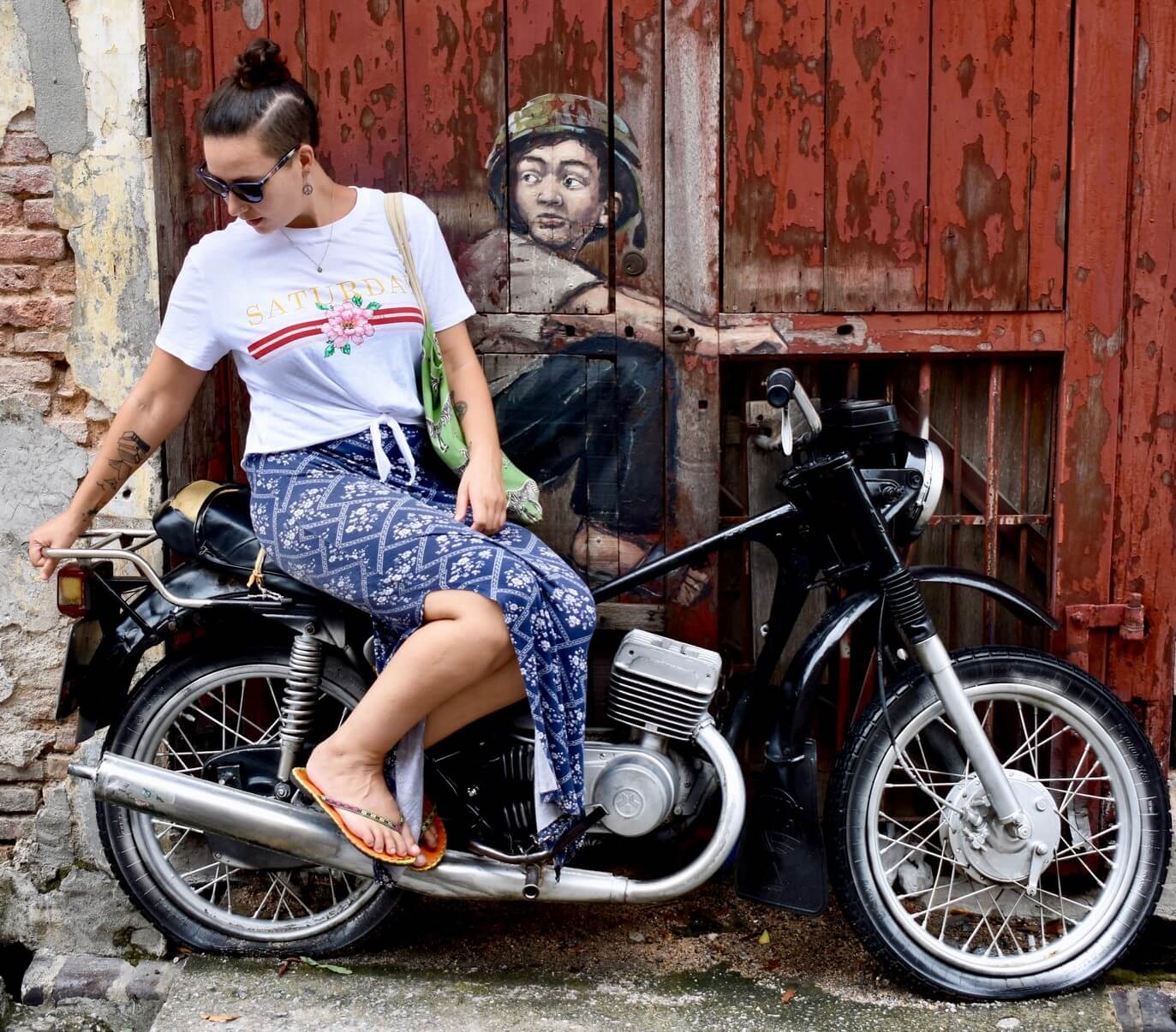 Malaysia Travel Budget: Food
Oh, food! It's our favourite thing about travelling, and Malaysia probably wears the food crown of SE Asia! The population includes Malay, Chinese and Indian, so the cuisine is really exciting.
On the budget end of the scale, you can fill your boots at local places. A bowl of curry mee or laksa might set you back a mere 4 or 5 MRY (that's less than a pound!) Even us vegans can eat well on a budget. Because there is a significant Buddhist community here, you'll often find cheap all-veggie joints. Most street hawker areas will have one veggie stall. We found one in George Town serving up hot and spicy bowls of noodle soup for 4 MYR.
There are also Chinese vegetarian buffets around, where you fill your plate and they charge you depending on the amount of food you've taken (usually by a well-practiced eye!) The best we found was the Dharma Realm Guan Yin Sagely Monastery in KL which had a huge range of veggies, mock meats, noodles and rice dishes. The most we've spent at one of these buffets is around 10 MYR (and that's because David piles his plate pretty high!)
Because of the large Indian population, there are also loads of decent Indian restaurants, which are usually really reasonably priced, and sometimes pure vegetarian too.
If you want to splash out, KL and George Town have some incredible restaurants. We had the best burrito of our lives at Sala in KL, and an amazing vegan Nasi Lemak in Pinxin in George Town (it was so good we went back and tried their burgers too, which were equally amazing!) Even at the other end of the budget scale, it's not going to break the bank. We were shocked when we spent over 100 MYR on one particularly great meal, but then laughed when we remembered that is still only around £20.
Oh, alcohol will stretch your Malaysia Travel Budget though (sorry!). You'll pay around 12 MYR for a beer in a bar during happy hour, or twice that otherwise. A can from the 7-Eleven will cost between 8 and 14 MYR. The exceptions are Langkawi Island, and Tekek on Tioman Island, where you can get duty free booze.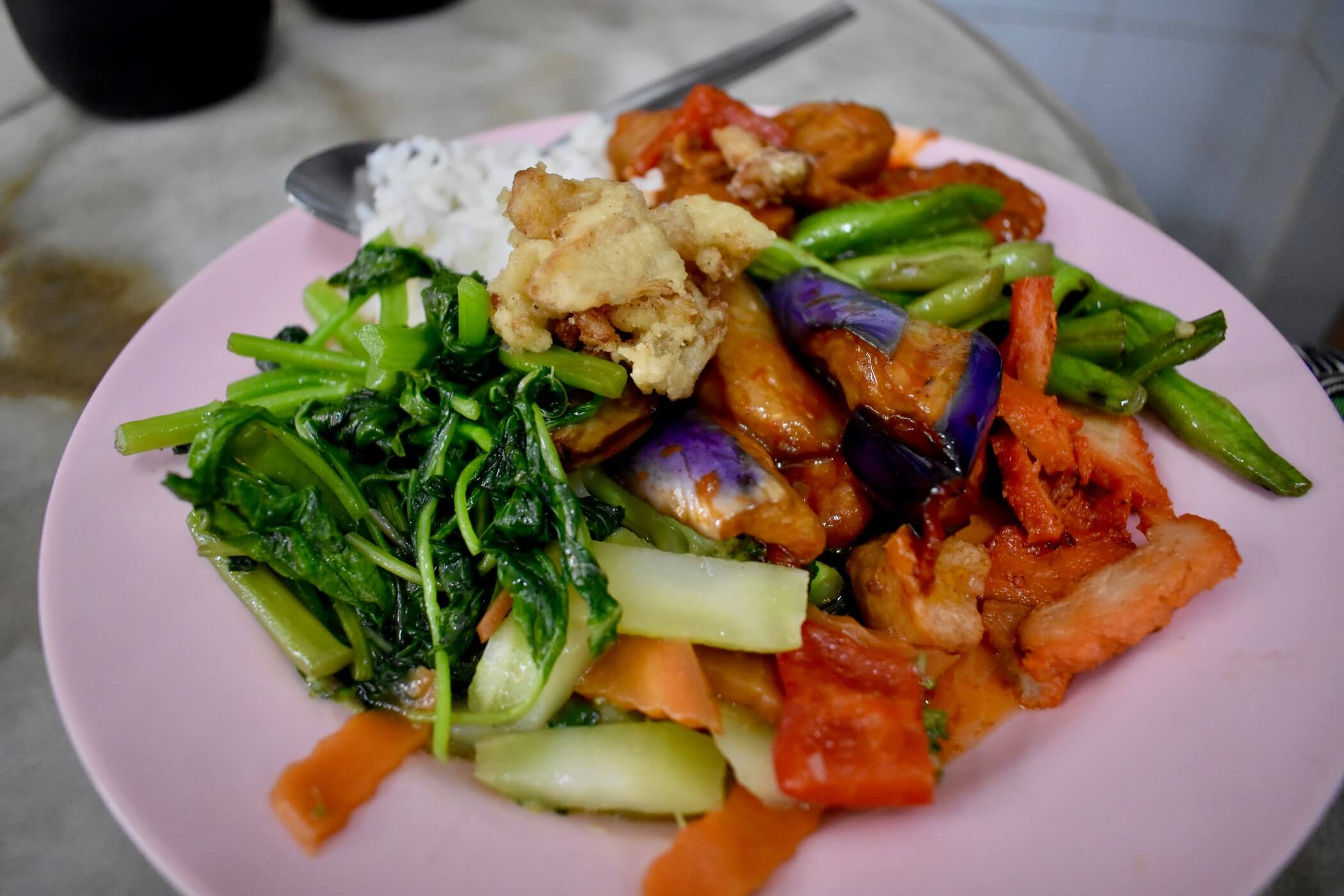 Malaysia Travel Budget: Travel
Getting around Malaysia is really easy, we've been so surprised. Comfortable air-conditioned coaches crisscross the land and can be booked from one central website even though they are run by many different operators. There is a train line, but many people have said it is more expensive and slower than the buses, so we didn't bother.
Here are some sample coach fares:
KL –> Penang = 35 MYR (about £6.50)
Melaka –> KL = 12.50 MYR (less than £2.50!)
KL –> Cameron Highlands = 35 MYR
The fares were a little more expensive in Borneo and the buses are a little more beaten up. The six-hour journey from Kota Kinabalu to Sandakan cost us 43 MYR – and it broke down half-way!
With regards to local travel, you can download the Grab app and have a taxi ready in minutes. The fares are really reasonable. Public transport in KL and George Town is cheap and easy.
We also spent 35 MYR on the ferry from Mersing to Tioman Island.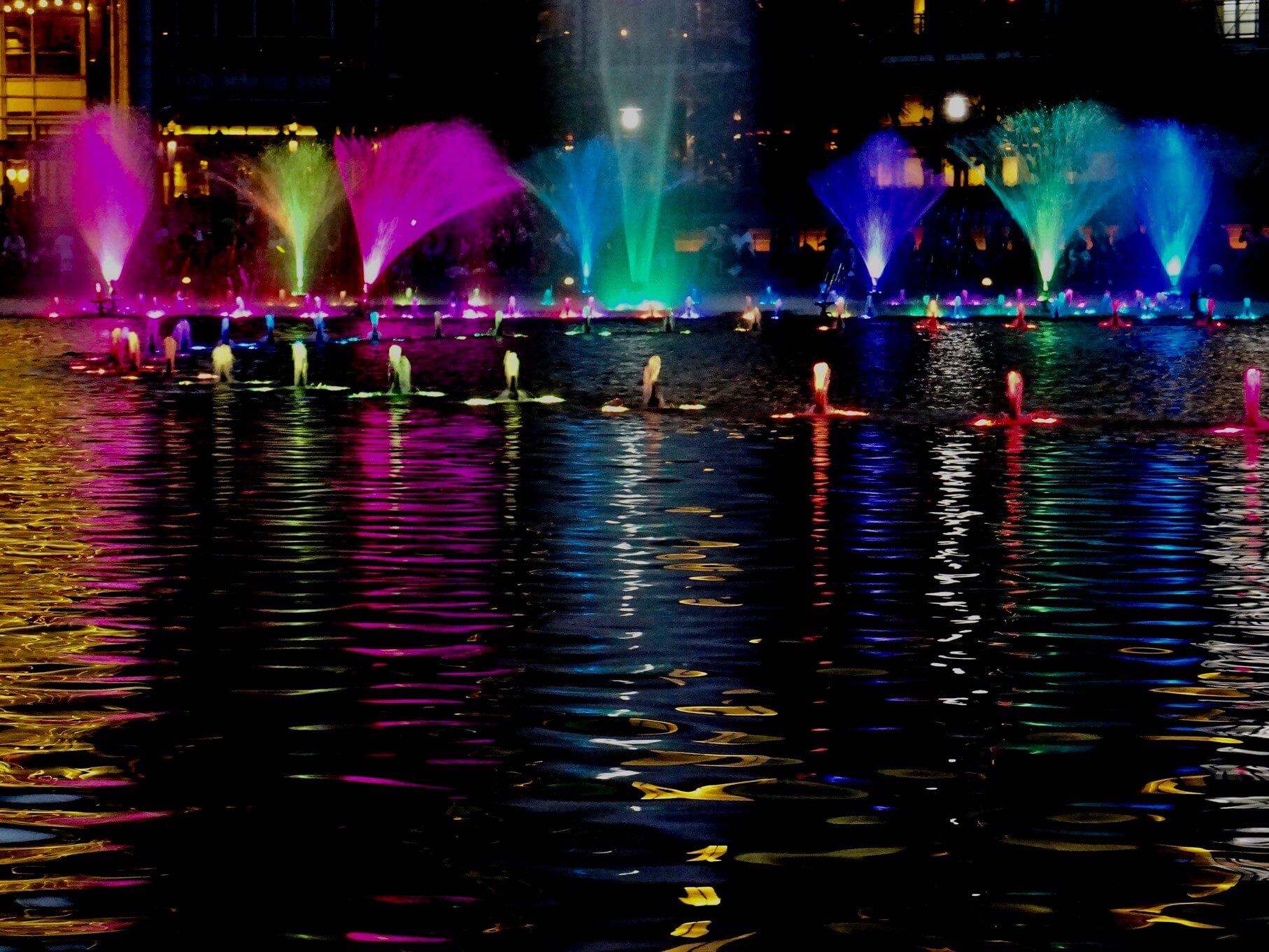 Malaysia Travel Budget: Attractions
There is always something free to do! We love to explore a new place by taking a walk around, which is always free.
In KL, the famous Batu Caves don't charge an entry fee and are easy to reach by public transport. There is also the Eco Forest Park with its canopy walkway. If you get hot, there are loads of malls where you can stroll around in the air conditioning for free! The National Museum is fascinating and costs 5 MYR. And you have to go and gaze up at the famous Petronas Towers and watch the evening light show! There's even a free tourist bus tour.
We took a free walking tour in George Town. We also walked up Penang Hill and visited the free Botanical Gardens. The clan houses are really interesting and affordable to visit. We splashed out on the Wonderfood museum which cost 25 MYR but was a fun morning. There are lots of temples you can visit for free too. You can spend at least two days just hunting for the awesome street art!
In Borneo, things can get expensive. But they tend to be bucket-list type things, so consider which activities mean the most to you and pick one or two. We went to Sepilok where we paid 30 MRY to visit the Orangutan Rehabilitation Centre and another 30 MYR for the Sun Bear Conservation Centre. This was so worth the price as it was one of the best days of our whole trip. Borneo also offers amazing diving and rainforest treks, if you're not on a budget.
We hope you enjoyed our Malaysia travel budget guide – let us know in the comments if you have anything to add! C & D xx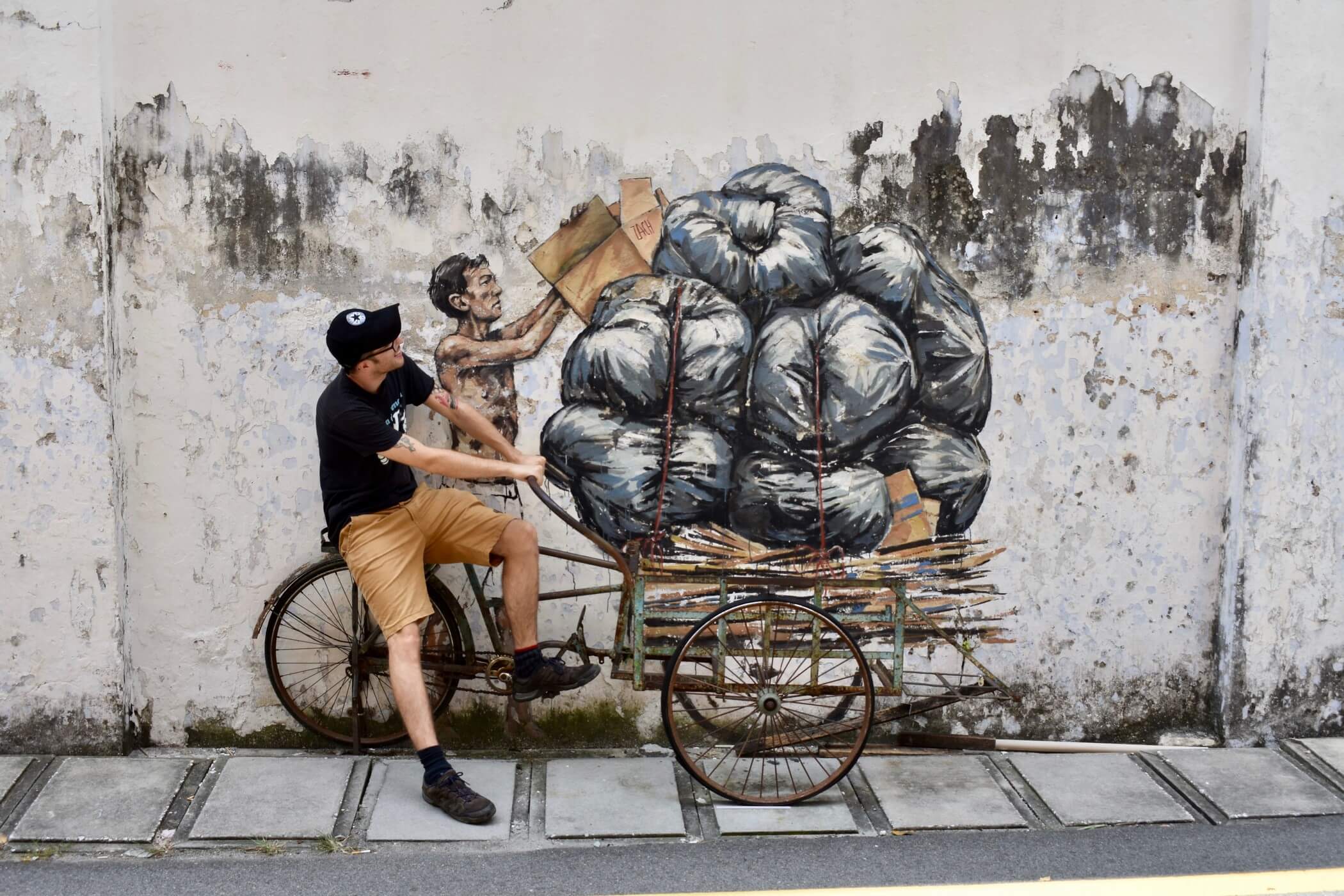 This post contains affiliate links.